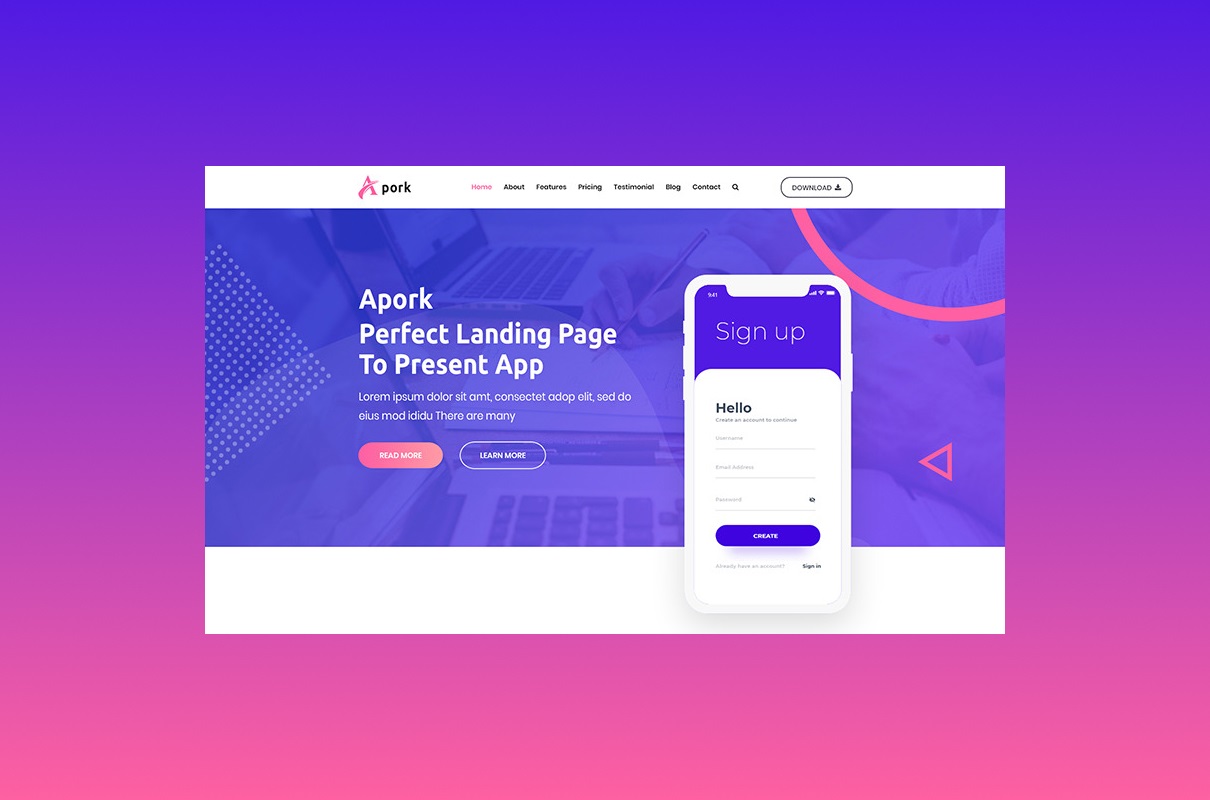 Web design gave us such a concept as a landing page. With the help of this, you encourage people to take some action in your favor. There are many advantages of such sites. Creation is quite fast, which saves your precious time. Customers' interest is constantly growing; it is gaining popularity every year. It is convenient and fast because the site has a simple navigation. Your customer immediately sees the specific service that you sell. Get to know Apork – the best offer for your landing. Without any knowledge of coding, you create a cool multifunctional product with an adaptive interface. If you need a website to present your engineering, construction, or other company, the Apork WordPress theme is what you require.
Main Features of Apork WordPress Theme
The Apork packs all the features one may need. The possibilities that this sample gives you are unbelievable. With us, you have a professional and fully responsive design, which is easy and simple to edit. Demo version, one-click install, 100% pixel-perfect design, detailed Documentation, and much more are available for you.
Search engine optimization
Getting your website one of the first in the search engine results usually takes a lot of effort. With the Apork WordPress theme, you don't have to worry about that. Others have already taken care of everything. If your website is on top, you have more customers. Let's understand why so. A person types what they require in the search bar, presses enter, and receives results from various links. If your web resource is SEO optimized, your landing is at the top. People are naturally lazy, so they open the first 3-5 tabs in most cases. So with our offer, you get more conversions. And this means more potential clients.
Make sure everything is in the best possible shape; besides, navigation should be convenient, and prices should be adequate. In this case, you convert traffic into online sales. That helps to increase the income of the company. Visitors will surely remember your project if the optimization is high-quality, the attractive product, and the design is bright. That's why they come back here. And it gives us repeat sales.
Best page builder
If you are a beginner web designer or not a designer, then the page builder is what you require. The main advantages are:
it's fast;
it is inexpensive
coding skills are optional.
Apork WordPress theme is equipped with a very powerful constructor, Elementor. With it, you have unlimited possibilities. Create whatever you want. You have a huge number of tools at your disposal. The drag and drop function allows you to drag the desired element to its proper place simply. You have an open layout, and you, as a creator, insert various components or files into it. The color panels and variety of fonts are impressive. You receive all of them in one place. Real professionals have already designed everything, so you have to use it.
Adjust each particle separately. Change or go back to the previous version without any effort. All this is possible with Elementor. You also have a library of layouts, photo collages, headers, animations, a text editor, and more. Edit via smartphone, export or import templates, form parts, and more. Moreover, it is possible to overlay an image as the background of any of your sections. In this way, the interface is unique and stylish.
Without a single line of code, you choose typography, the size of each element, frames, video and image formats, etc. If you were attentive, you could have noticed that Google's most frequently asked questions are displayed using the accordion widget. You also have such an opportunity. Accomplish the same on your website. Your text is then displayed in a compressed form, showing only part of the material. In this way, you save space for sharing more content.
Incredible animation
A cool animated web resource adds your points. Scrolling down the page, the visitor gradually sees a pop-up animation. To make such an effect, you need to perform certain actions.
Click the right mouse button on the marker of the widget or column you want to edit.
Among the extra functions, select the motion effects section.
After that, a drop-down menu appears on the screen.
Choose from 37 effects the one you want. Components on your site can fade, scale, bounce, slide, rotate, and more. It is possible to play with light or other effects.
Please add an audio player to your landing. It would be good for you. Apork helps you share songs from SoundCloud in several ways.
Enter a URL, so it is possible to customer follow the given link.
The audio can be turned on automatically after a person has entered the page.
It is possible to put on a video accompaniment to the audio from SoundCloud.
Hide or show like or download buttons.
Show comments, views, or a share button.
Customize the colors as you wish.
Text alone looks boring, so break it down with pictures. Combine photos and display them as a carousel or a three-column carousel. Fully stylized animated progress bars are available too. The design of your project is surprising when widgets, sections, columns, and other elements change when displayed. If you see a hover button, utilize this effect.
Google Maps
Beat your competitors with this feature. Traffic grows with it, and customer trust increases. Google maps is an application that allows us to find almost any point on our planet. What's more, it takes us a few minutes. A regular business address doesn't attract much attention, but if you show a map of a well-known company increases people's confidence in your business.
By adding your company to the map, you get many advantages. For the client, it is convenient and fast; 2 clicks, and he can already provide you with a route or call you. This function helps you to be higher in the search result; more people come to you. If you have several departments, then list them all. In this way, the person sees which of them is the closest. Google Maps is very convenient to operate. Anyone may zoom in or out, pave the route, or view feedback.
This application is used by millions every day. Become a part of it. Increase your traffic and income with this. Google knows everything, where each building is located, and even who visits them. That's why with Apork WordPress theme, the client always finds a way to you.
Make Your Apork The Best Landing On The Market
If you want to be successful, you have to be the best. Keep some secret tips on how to make your project gorgeous.
Add a bit of intrigue. The first headline should be captivating. Discover the details below. Share an interesting announcement, for example, about the next event or the release of a new product.
The texts should perfectly match the design. Photographs are only of good quality. Try to make the design recognizable. Come up with something special for your business.
The blocks should look the same. For example, icon – title – text – image. It is possible for you to change the order. But always the same in all sections!
Be ingenious. It is not a scientific article and not the text of a conference speech. Eliminate pathos and seriousness, and add spices to your work. For example, the description of iCloud Drive: "The good news: now you may work anywhere. The bad news is now your job is always with you."
Clarity and brevity. Everything is clear. Utilize lists and tables. Use words which known to everyone.
The main slogan. It should be easy to read. Everyone may pronounce it and read it.
Of course, these are not all life hacks. Search the Internet, follow the trends and improve your project.
Monster's Award WordPress Contest: Announcing The Winners Video
TemplateMonster is a huge and successful company in the web development market. Their activities make us proud. Their range is the best and combines price and quality. With so much variety, it's hard to pick the best items. Therefore, we suggest you review the Monster's Award and evaluate the winners. Thousands of people took part in voting.
Project Info
Date:

09.22.2022

Client:

THEME_GROUP

Categories:

WordPress

Tags:

Business, Landing, Web Design