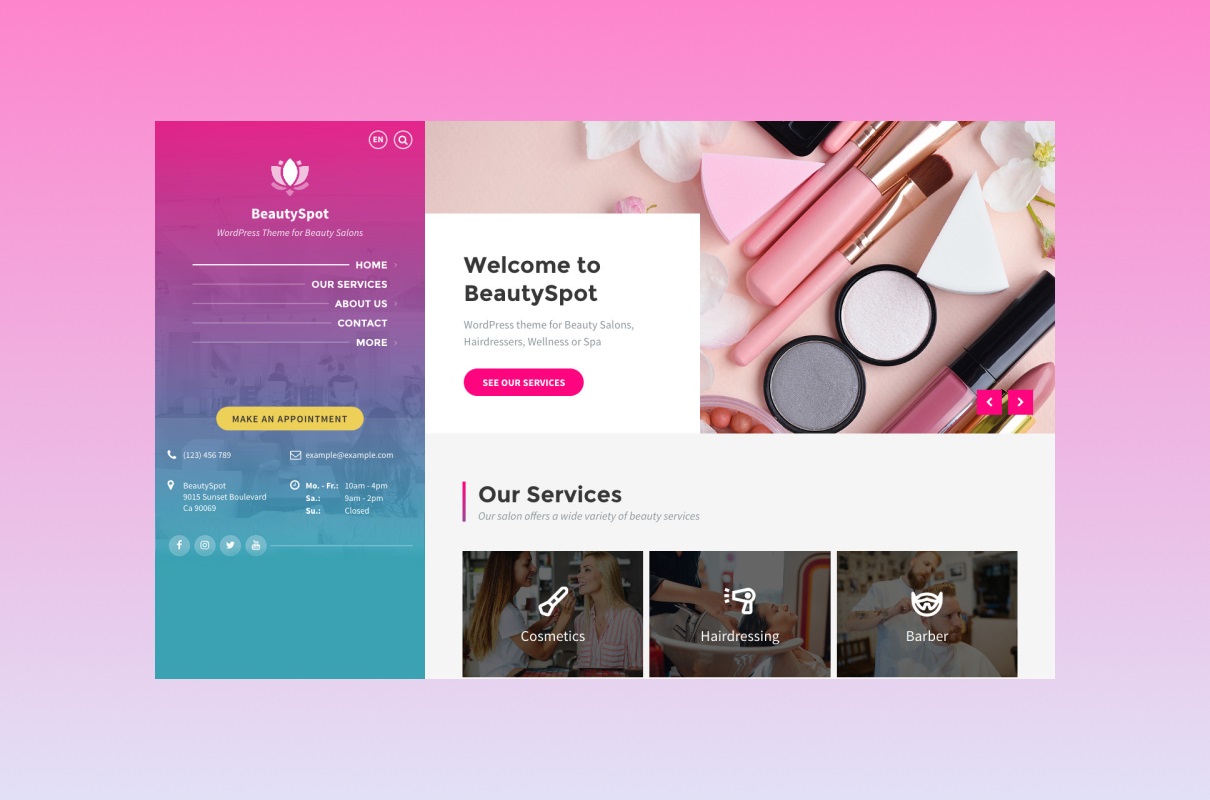 The beauty industry has grown significantly over the past few decades. And it's a good thing because it also means that a lot more people are taking care of themselves. If you've decided to create your website, that's a good deal to create one with the BeautySpot WordPress theme.
It is designed for all types of businesses in the beauty industry. So if you're an owner of a beauty salon, hair or makeup salon, spa salon, wellness center, massage services agency, or anything related to it, then you'll be shocked by this template. Moreover, if you're an individual entrepreneur and want to experiment at home, whether you're a hair stylist, an esthetician, a makeup artist, a nail tech, or a spray tanner — you'll absolutely find an outlook in the beauty industry by using this stunning and astonishing template.
In addition, it has a unique design, displaying a special block on the left side of the screen, making essential information available at just a glance. And much more features are included allowing you to build a website more effortlessly — even if you're new to this.
These Features Make Website Better
LSVRthemes created the BeautySpot WordPress theme with the finest design quality and powerful features. It's a flexible and customizable template that provides tools for redesigning templates or improvements to what's already there and efficiently promoting in Google search engine results.
In addition, it also has a "FAQ Block" that gives you the capability to put frequently asked questions by the customers and the answers to these questions. In addition, let your customers know what you do and how you get the work done. So thanks to the "Gallery Block," you will be able to add your best work, allowing new visitors to review works remotely and decide whether it suits them.
All the features, tools, and plug-ins work together to give users the power and flexibility to get tasks done, whether you're a pro or a beginner, a startup, or a large chain of beauty salons.
Discover incredible possibilities and let your imagination go wild on the layouts with intuitive to-use and multifunctional features:
Search Engine Optimization
SEO is the most important and efficient way to promote and grow in digital marketing.
Better-designed pages have significant growth opportunities, which keeps your site at the top of the ranking results. As a result — you'll be able to drive a lot more traffic, which means as many new clients as possible will come to the salon or whatever it is and use services in the future.
What's more, getting a 10x increase in promotion is possible by adding well-designed keywords related to your service, allowing you to attract and retain customers in an implicit way.
Multiple devices supported
It's true — millions of people are accessing the internet daily through their phones. As a result, your website should be easy-to-use, flexible, and fit perfectly on any device so that you may attract as many new customers as possible. Due to this feature, everything on the site is transformed automatically to any screen at any resolution.
Mega Menu
The truth is, there are some advantages to using the drop-down or mega menus:
They help conserve screen space, allowing customers to see more information.
It's making your website compact and uncluttered.
Visitors can access your site's content more quickly by utilizing a drop-down menu rather than scrolling all the way down the page.
The Mega Menu lets you add unlimited categories, like "Home," "Services," "About Us," "Contact," "Blog," "Galleries," etc. So if visitors want to see hidden items by some category, they'll tap or hover over it and be able to see more.
All of these options give your customers a convenient way to navigate the site.
Impressive high-loading speed and lightning-fast performance
People will click out if the beauty salon hasn't loaded in two seconds. So making your website speed as fast as possible will be crucial to keeping customers on your site and making their book online.
BeautySpot packs the speed you need to get more loaded pages faster. Moreover, your beauty salon never slows down thanks to its high performance.
Support for RTL languages
As a result, handling and responding to users who use right-to-left languages when a website supports the RTL feature is possible.
Anything's Possible With Plug-ins
There are a bunch of plug-ins included. However, WordPress offers even more plug-ins for any task — from contact forms and Google Maps to make any kind of animation and page builders. This platform gives users the power to create custom and unique solutions to achieve any goal.
BeautySpot delivers plug-ins that change the creation process:
WooCommerce
WooCommerce it's a convenient new way to manage commerce, control order processes, and track all site stats. Users can now add dozens of e-commerce features to the site, get notified when a customer books online, and much more — all in one platform.
WoCommerce it's a plug-in that gives you the tools right out of the box you need to manage your business like a pro, and it's totally free. What's more, running the app on your phone — all the managing processes can be done on the go.
Gutenberg
WordPress is the most popular software for creating websites or blogs. But now discover an extra layer of flexibility with many tools and features whether you're building your first site or already have experience creating dozens of — now it's powered by Gutenberg.
With an incredibly intuitive interface and a wide array of creations, Gutenberg is used in so many websites in so many different ways. It delivers multiple additional blocks for any task you do, such as media and text, image, gallery, video, columns, and so on. With their help, you'll be able to build pages without typing any line of code.
Elementor
Elementor is a powerful drag-and-drop builder that allows you to create pages and customize templates seamlessly.
With its next-level feature, "Live Editing" allows you to edit blocks or adjust any elements in real-time, so you'll see how the site is visually changing on the fly. Anyone — regardless of experience level — can use Elementor. No coding or designing knowledge is required.
Whether you're customizing a block or redesigning an entire page, Elementor's features and efficiency allow it to blow away page builders many times with its multifunctional — and ready-to take on whatever you do.
Detailed Documentation
To help users to more insight into how to use this template, they'll receive extensive documentation for free right away to their email after making a purchase. All you need to do is go to your email address and follow the step-by-step theme documentation, which will minimize set-up time.
Customer Support
BeautySpot is easy to use right out of the box, but you may also get support. The author always tries to help users get the most out of their theme, providing tips and helpful information when they need it most.
It's worth noting that responding to your request can take up to two work days.
Watch This, and You Can Build Skillfully and Work with Elementor Like a Pro
If you are new to working with this software, here is a quick and easy guide to help you get started. Take your first step into creating your own dream and bring refined, unique, and incredible pages to the Internet world — just sitting at home — in just a few clicks.
Project Info
Date:

05.8.2023

Client:

LSVRthemes

Categories:

WordPress

Tags:

Beauty