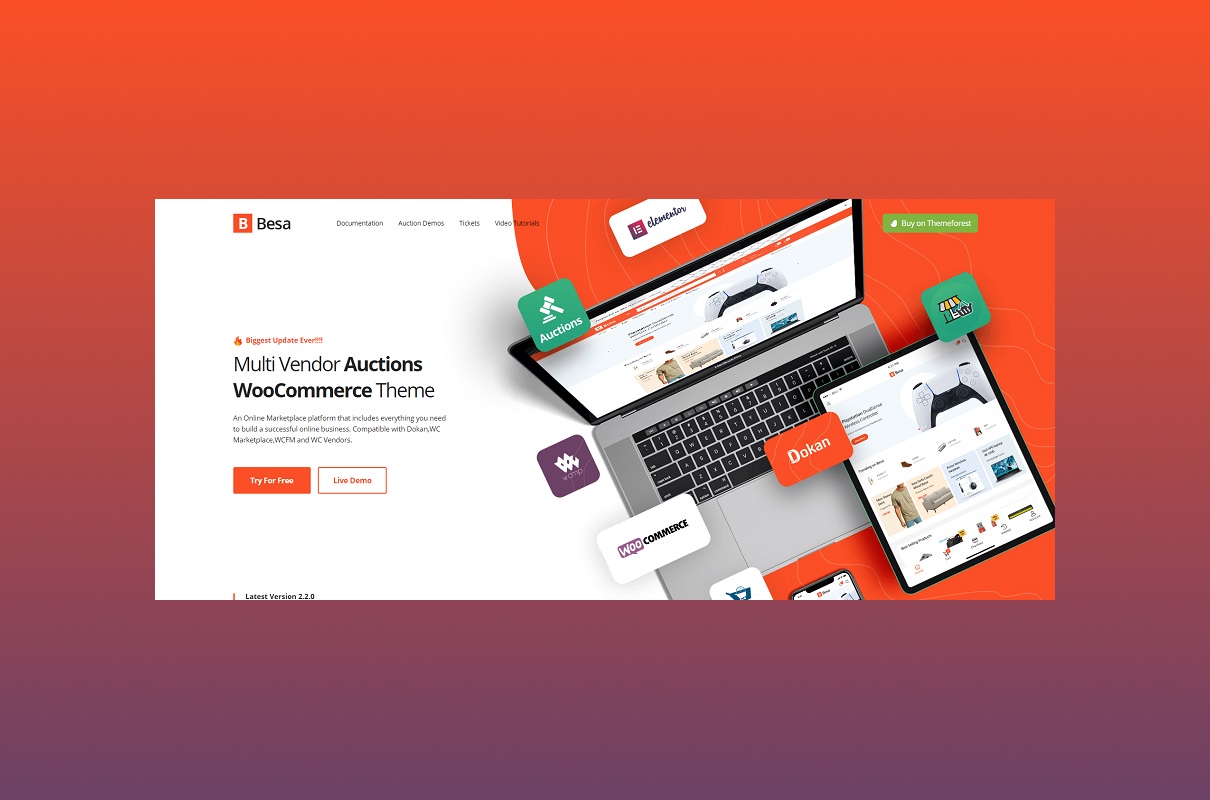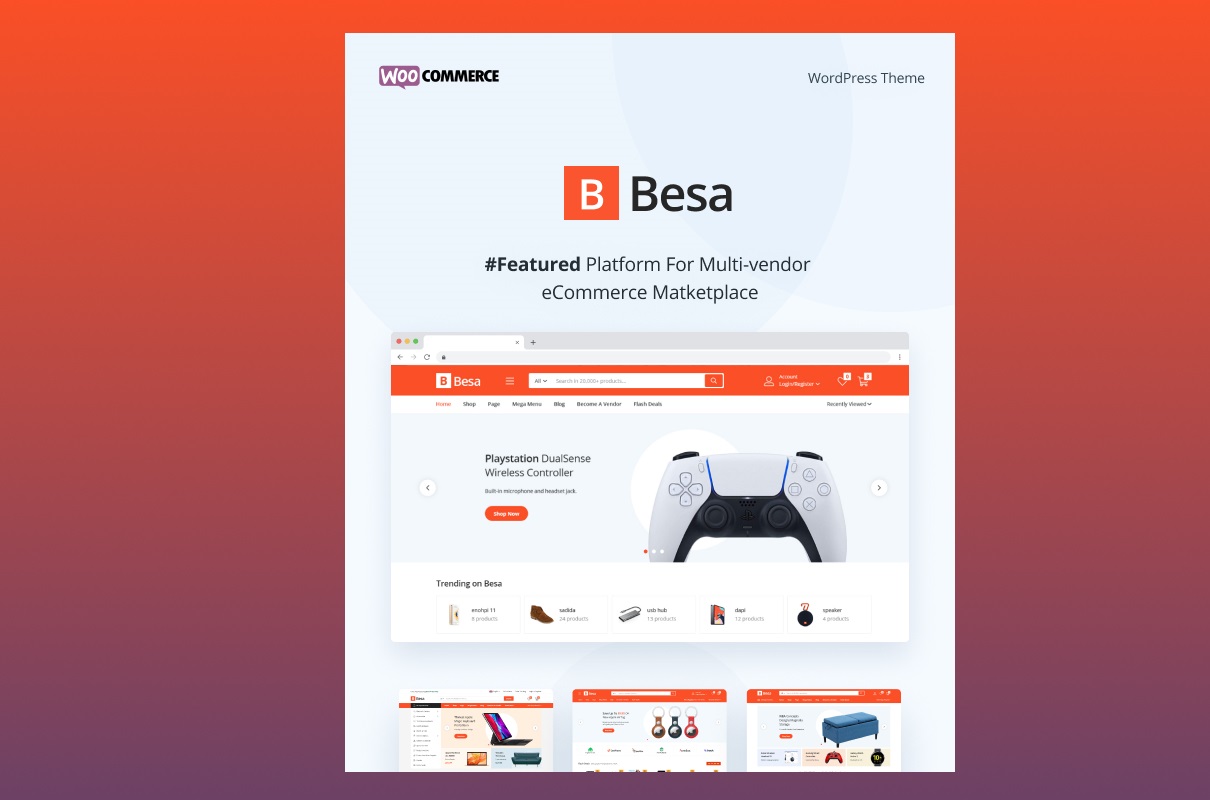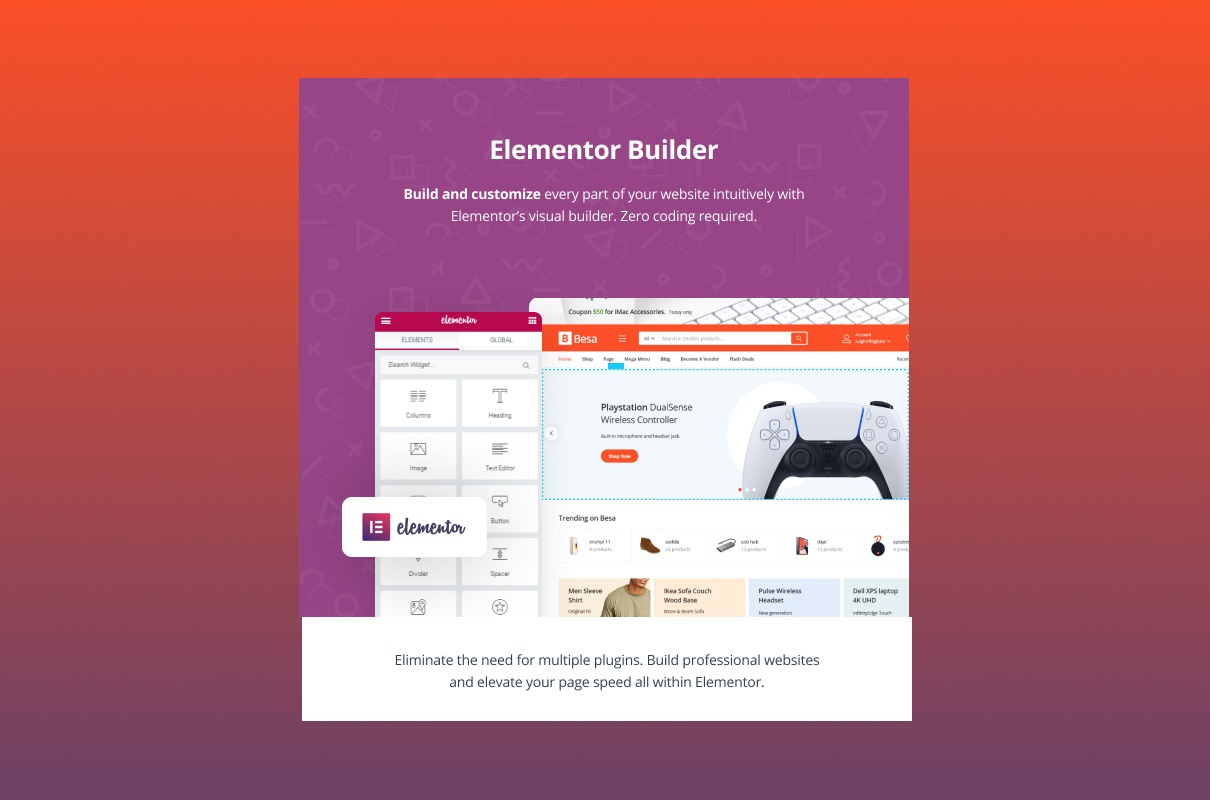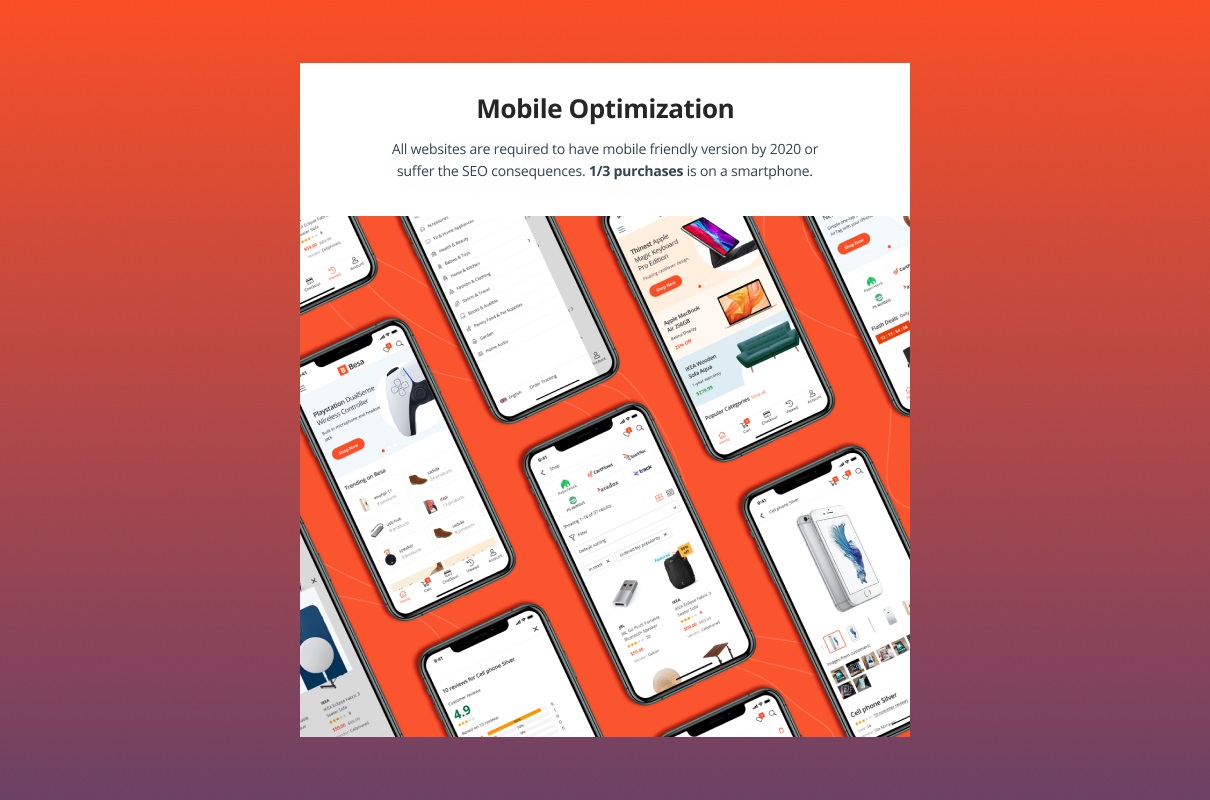 Want to be a part of e-commerce? Looking for the right sample? Welcome to Besa WordPress Theme. It is a stylish and fast template with an intuitive designer, a multi-functional menu, and a well-designed homepage with various layouts and other features. You have the opportunity to create something of your own, unique and, most importantly, profitable. Using our template, you will quickly generate platforms where other sellers can trade. You do not need specific knowledge or skills; our developers have taken care of you and your business. All you have to do is click here.
Key Features of Besa WordPress Theme
Besauct Auction Theme
If you have a penchant for entrepreneurship, you should try the bidding service. There you have the opportunity to sell anything, and you just need to find your buyer. Internet auction has many advantages. First, participants buy remotely from each other from any corner of the world. Second, you sell anything from socks to grandma's gold pendant. Thirdly, you save money since you do not need to spend on the organization of the event (hire staff, rent premises). Last but not least, the number of products you sell is unlimited.
There are a lot of awesome plugins for bidding, such as WooCommerce Auction Simple, Ultimate Woo Auction Pro, or YITH WooCommerce Auctions. Besa theme is compatible with all of them. Start now, buy the Besa theme, and you have the possibility to produce something incredible and similar to eBay, BidSpotter, or Ubid.
Intuitive Design
The set of all graphic elements on a web page is called design. It is a very important stage in the development of any resource. The first thing the viewer notices is your design. You have to make a good impression so the buyer returns to you again and does not visit a competitor's site. You have to remember not only about the appearance but about the internal component. Structure your website well; it should be intuitively easy so that the buyer has the opportunity to find what he needs quickly. If your buyer is happy, the conversion goes up. Consult with marketers, analyze the potential target audience, and choose a design for the type of goods you sell. All sections should be logically arranged and colorful. Add dynamism to your content; use pictures, photos, videos, etc. You'll do great with Elementor.
Elementor
The builder is very powerful, modern, and multifaceted, which helps you establish websites for WordPress. Elementor has already prepared a lot of interesting widgets and options for you; drag and drop any information and immediately see the preview of your creation. You are equipped with Box Shadow, Headline Effects, Hover Effects, Background Overlays, Gradient Backgrounds, Animations, Mask Options, CSS Transform, Shape Dividers, and so on. In addition, complete sets for generating a website are available to you, as well as a huge library of layouts. Our designers created it for you. Use it or just be inspired. If you want to add your template, that's no problem either. You have the opportunity to add different headings, pictures, videos, texts, buttons, slides, posts, portfolio, call to action, login, and many other options.
Embedded Mega Menu
The menu is one of the main elements of the site. Therefore, it should be convenient, beautiful, and easy to navigate. A huge number of functions and advantages are in the mega menu. You have the possibility to establish a Horizontal menu, Accordion menus, Sticky menus, Tabbed Sub menus, Vertical menus, Integration, and others. It is enough just to hover, and the department opens. The page should be dynamic and animated so you can access SMM transitions. With Mega Menu, you get more customers. Our developers have already set everything up, and you don't need to waste your precious time on it. Speed is also important. Rest assured, buyers will leave the page if it takes a long time to load. Megamenu has a convenient code for search engines that will provide you with an increase in SEO.
One of the best eCommerce Marketplace Platform
If you want to open your business, you must choose a direction. Online trading is one of the most profitable business ideas. With Besa WordPress sample, you establish incredible showcases for your online store, regardless of the field in which you work. Sell any goods: industrial, consumer goods, technical products, raw materials, resin goods, clothes, shoes, accessories, cosmetics, auto parts, household appliances, furniture, textiles, etc. Besa WordPress theme is compatible with:
Dokan Vendor (With this marketplace, you can create a store similar to eBay or Amazon. Invite suppliers to sell their items on your platform. Users have the opportunity to generate their goods, manage orders and develop their store with the help of an information panel)
WC Marketplace (Your users sell products with the assistance of visual functions through an attractive marketplace. In addition, it is possible to receive commissions automatically and split the payment during the transaction)
WooCommerce Multivendor Marketplace (Produce the store of your dreams with us. WooCommerce Frontend Manager gives you: Refund Request, Ledger Book, Flexible Commission, Zone, and Country Wise Vendor Shipping, Single Product Multi-vendor, Withdrawal and Reverse Withdrawal, Stripe Split Pay, and Store Inquiry and Review
WooCommerce Vendors (Create your own business, invite suppliers and enjoy receiving a commission)
12 Best eCommerce Website Layouts Video
Twenty-nine trillion dollars is exactly the price of the global e-commerce market. You need to be a part of it. Buying goods on the Internet has become a common practice for everyone. You have the opportunity to use patterns to design a cool website. Before choosing the one you need, analyze the market. Check out the popular eCommerce models here. We are sure the topic is waiting for a big time.
Project Info
Date:

08.23.2022

Client:

thembay

Categories:

WordPress

Tags:

Business, Fashion