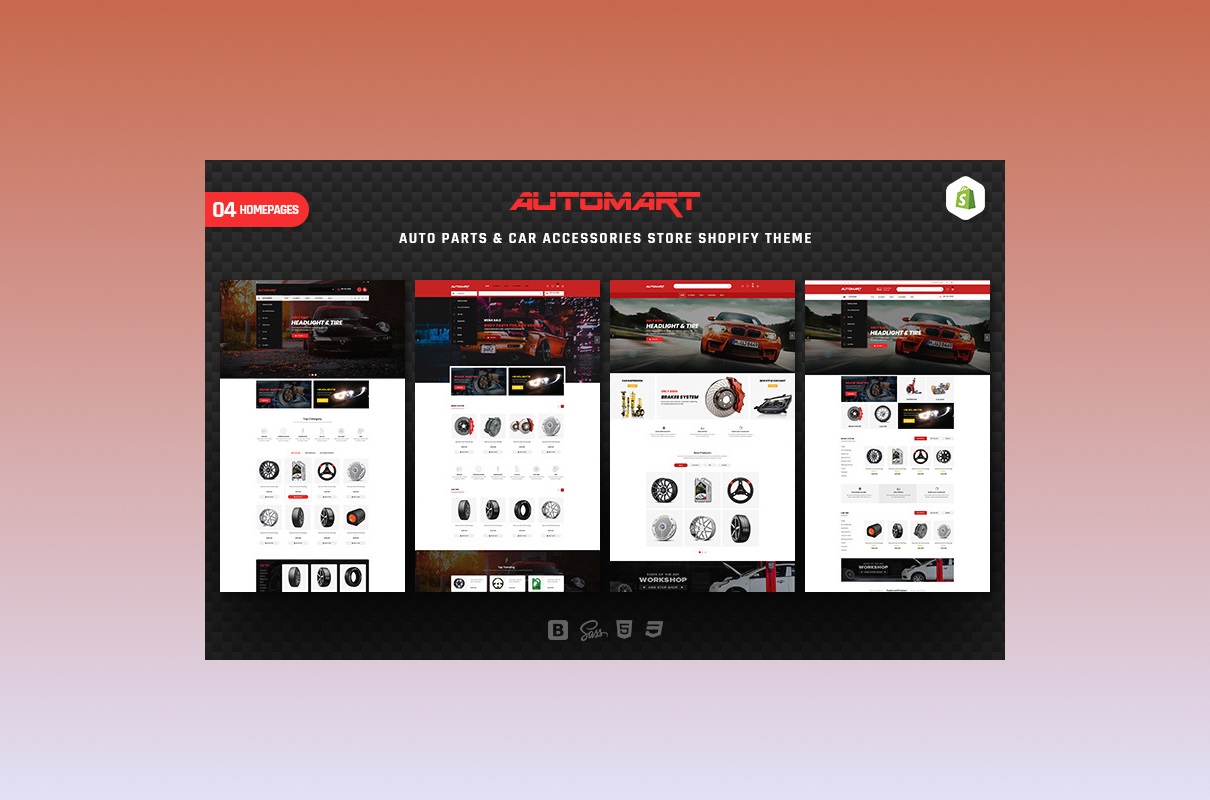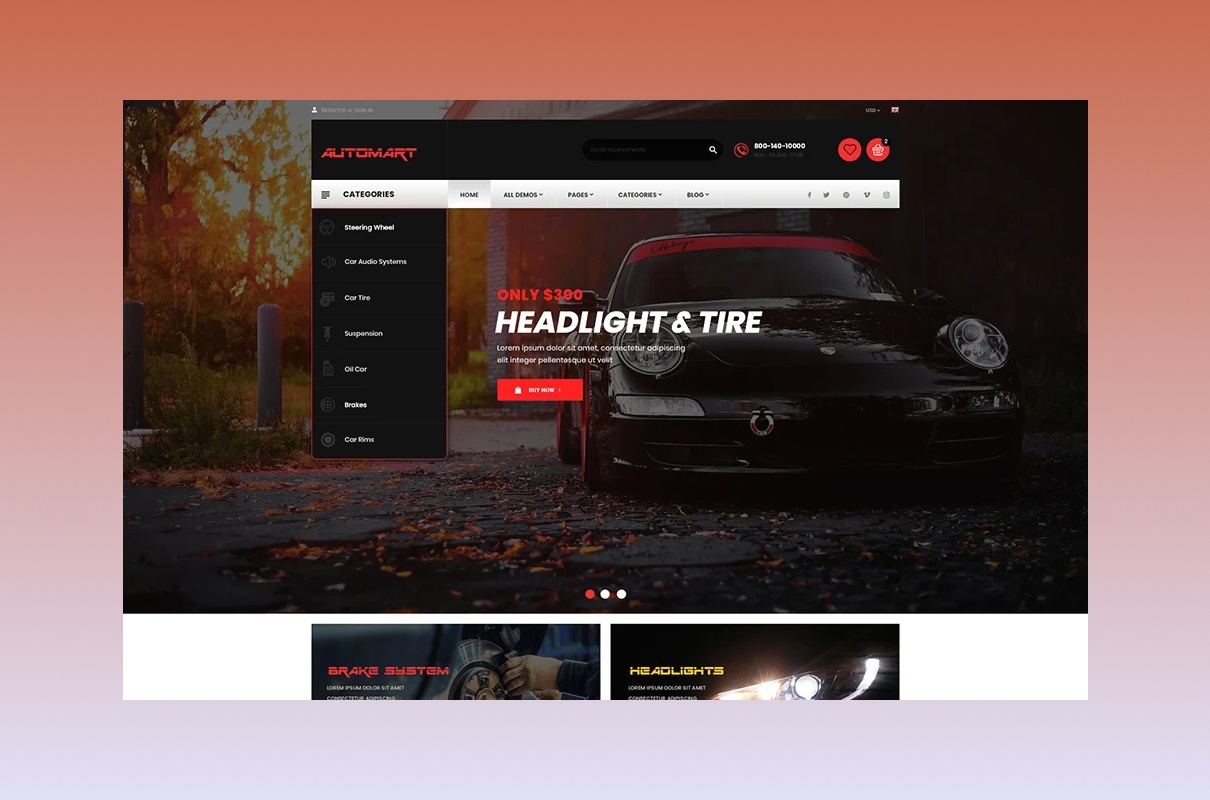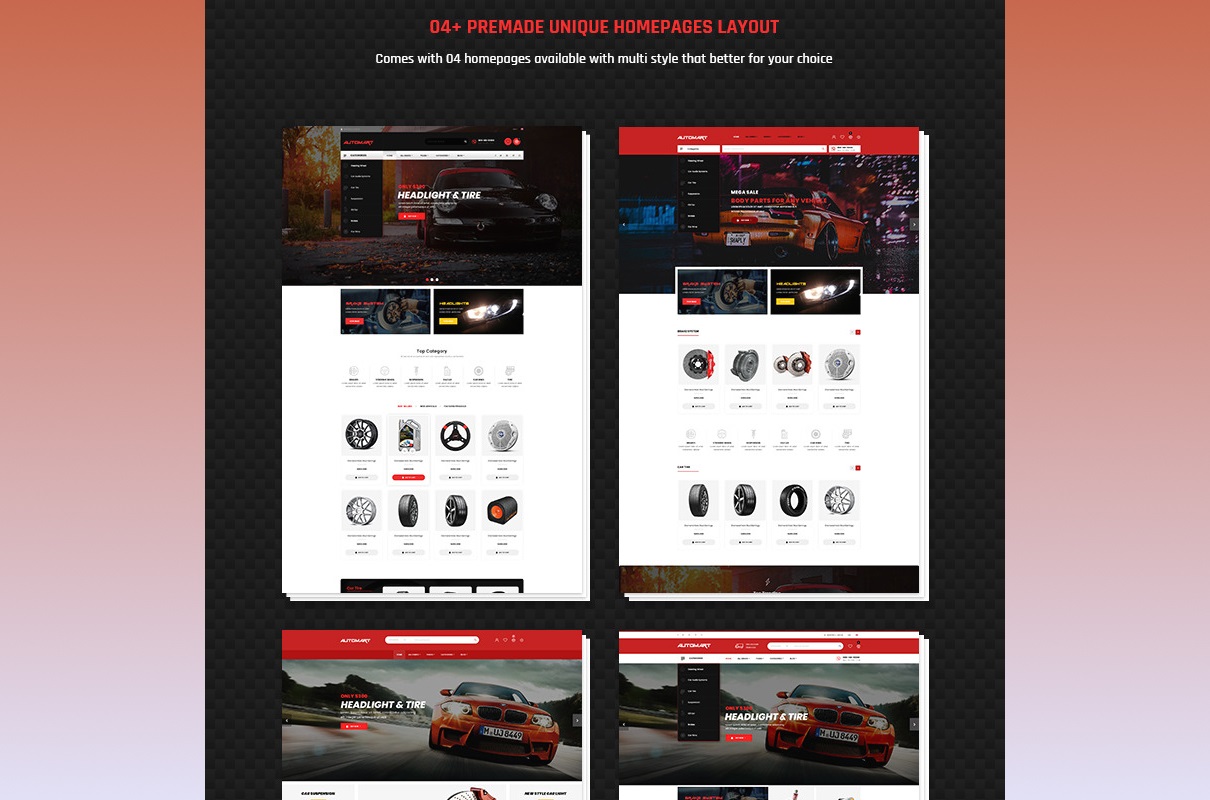 The automotive industry is one of the most profitable in the world. The number of manufactured cars is increasing every year. Almost every family has a vehicle in their possession, some have two or three. If we talk about the number of cars per thousand citizens, the leader of this race is the United States. According to statistics, about 800 units come per thousand people. Dealing with this business is profitable. Unfortunately, these devices can break and fight. It may shock you, but the chances of getting into an accident are 1 in 366 for every 1,600 kilometers. In this case, the car must be repaired. Also, you have to take the vehicle to the service station often. Whether it is for the periodic replacement of the pads or for installing a sports bumper. Running an auto parts store, you have customers. Start your website with the fantastic Automart Parts template.
Everything Is Made Specifically For You
The developers have worked hard on this project. So that you do not suffer, they have developed unique models of homepages. They are stylish and contemporary. Accommodation is available in four options, so you choose the one you like.
The menu is also an important element of any website. Organize your shop in such a way that clients quickly find the product they need. Use the submenus to highlight your categories. In this matter, it is important to systematize your goods. Invite shoppers to choose the year of manufacture, make, and model. Use the following categories:
Chemicals (tire dressings, clay bars, glass cleaners, metal polishes, and many others);
Equipment and tools (buffers and polishers, sanders, spot repair kits, headlight, upholstery extractors, carpet, ozone generators, water tanks, etc.);
Accessories (wash mitts, pads, bug scrubbers, dressing applicators, masking tapes, foam guns, and others);
Motorcycle detailing supplies (metal polishes, motorcycle washes tire care, motorcycle wheel, plastic, vinyl, or rubber care);
Filters (air, fuel, oil filters).
Be sure to divide your goods into sections. Remember, if a person finds what they are looking for quickly on your platform, they have every chance of becoming your regular buyer.
Search is also a key component. Especially if you have a large number of goods in your store. Thanks to Shopify's automatic offers module, you have a cool feature. By typing the name of the part in the search bar, this module immediately shows the results. Of course, these are only suggestions, but it usually speeds up the process for the client. Don't forget to add search filters and sorting functionality. People can choose to sort by price (from expensive to cheap or vice versa) or display the most popular items first).
Attract As Many Customers As Possible
Automart Parts Shopify Theme has all the necessary tools that help you create a popular online shop. The marketing strategy must be well thought out.
SEO optimization. This is one of the most effective ways to attract clients for free. The layout is optimized for search engines. However, take care of your content and adhere to certain rules. First of all, the title should be clear and understandable. Looking at it, the client should understand that he will benefit from it. Second, add a lot of graphic elements. It looks nice and bright. Third, write for people. Imagine that you are saying something to your friend.  Do not be overly formal. There are a lot of fonts in your use. Select only readable ones.
The top in the search results. There is an unspoken rule on the Internet: if you are not on the first page of the search results, you are not there at all. Keywords and other tools assist in this. It is hard work, but you get a long-term result with this.
Launch of email marketing. Your customers see a pop-up form to subscribe. It looks very stylish. By filling in the fields such as name and surname, email, and contact number, they subscribe to your updates. Send them regular news, promotions, sales, updates, etc. In this way, you remind yourself of yourself.
Up-Sell Products Suggest is a feature that helps increase the average amount of each check. How does it happen? When viewing an item, the plugin offers to buy an identical product, only of higher quality and, accordingly, more expensive. A clever system that gives you a chance to get more money.
Preparation For The Holidays With Automart Parts
Statistics show that Internet users are more likely to buy goods before and during the holidays. And it is not surprising. Everyone wants to please their loved ones with nice gifts. Take advantage of it. Offer gift certificates, discounts, or loyalty cards. With the support of the newsletter, inform about New Year's discounts, for example. Are you familiar with Figma? It's an online service that helps develop interfaces. Watch this video to learn how to draw a Christmas tree, ornaments, or gift box. Subscribe to this channel to stay up to date with all the latest news in the field of web design.
Project Info
Date:

04.18.2023

Client:

BEECOLOR

Categories:

Shopify

Tags:

Business, Cars