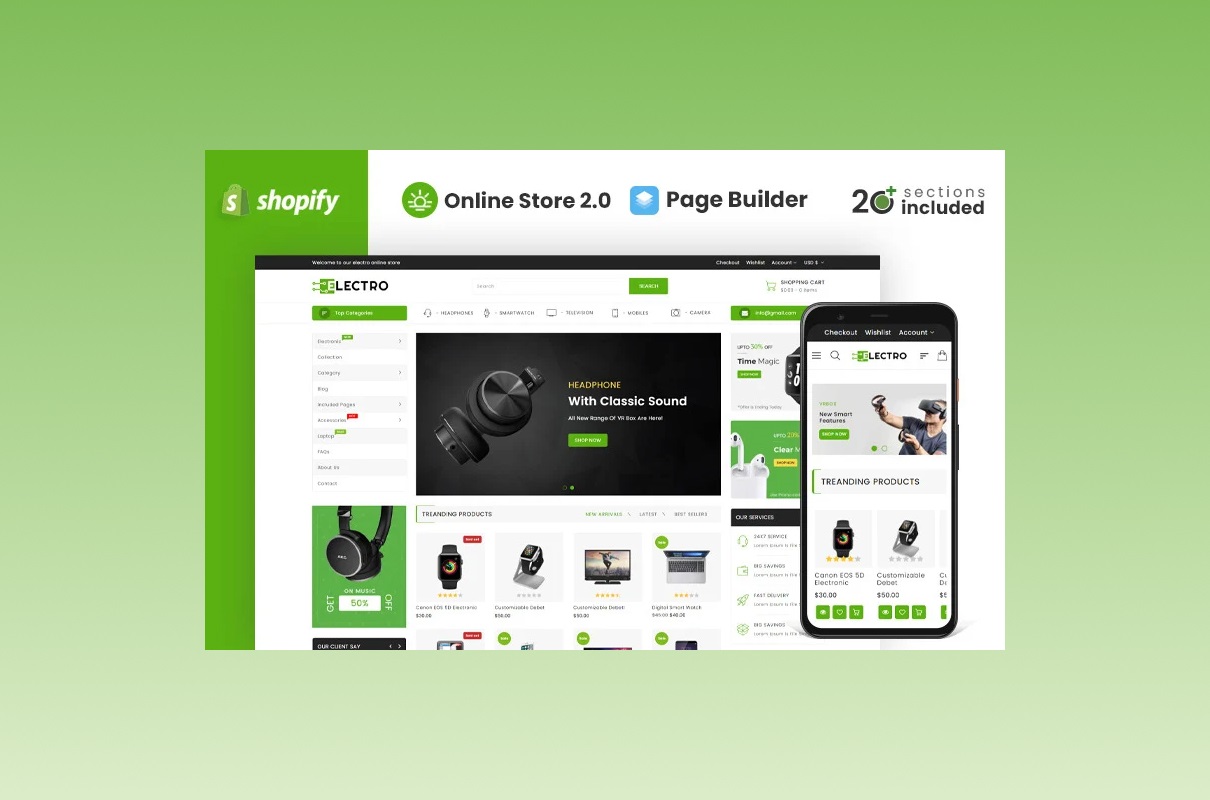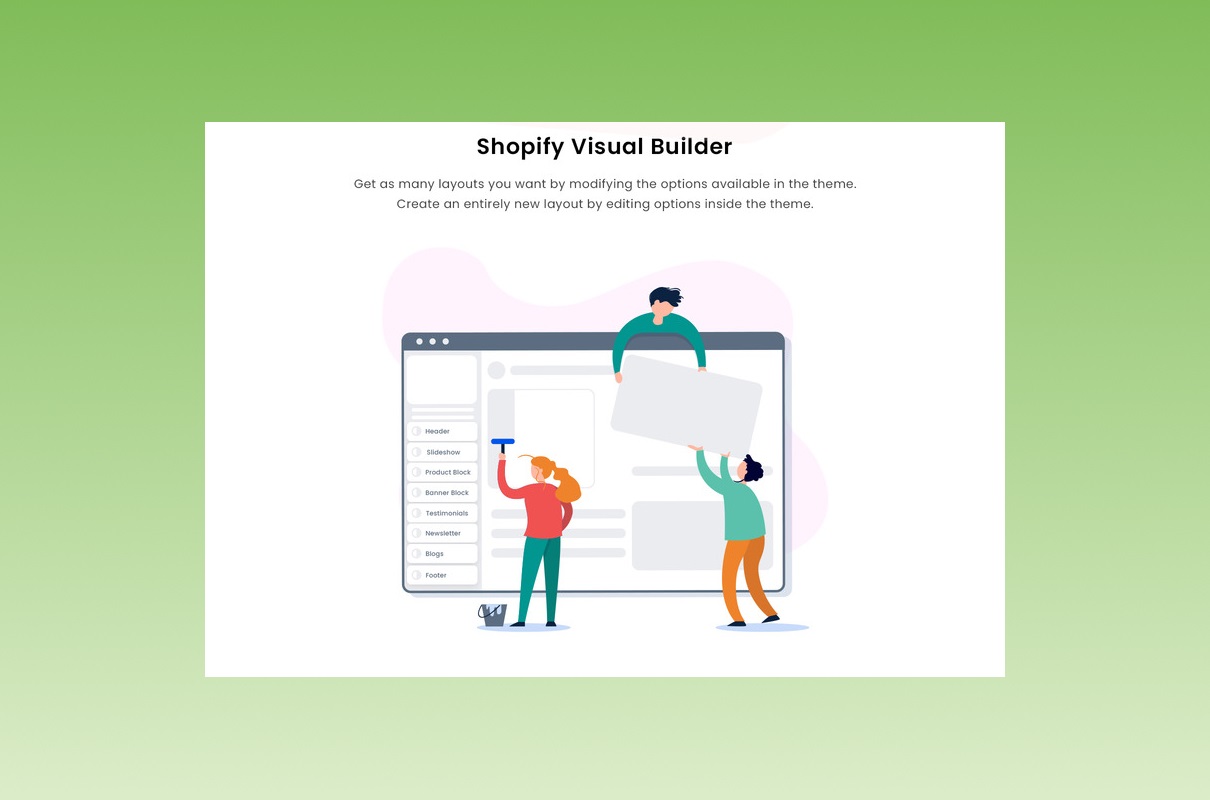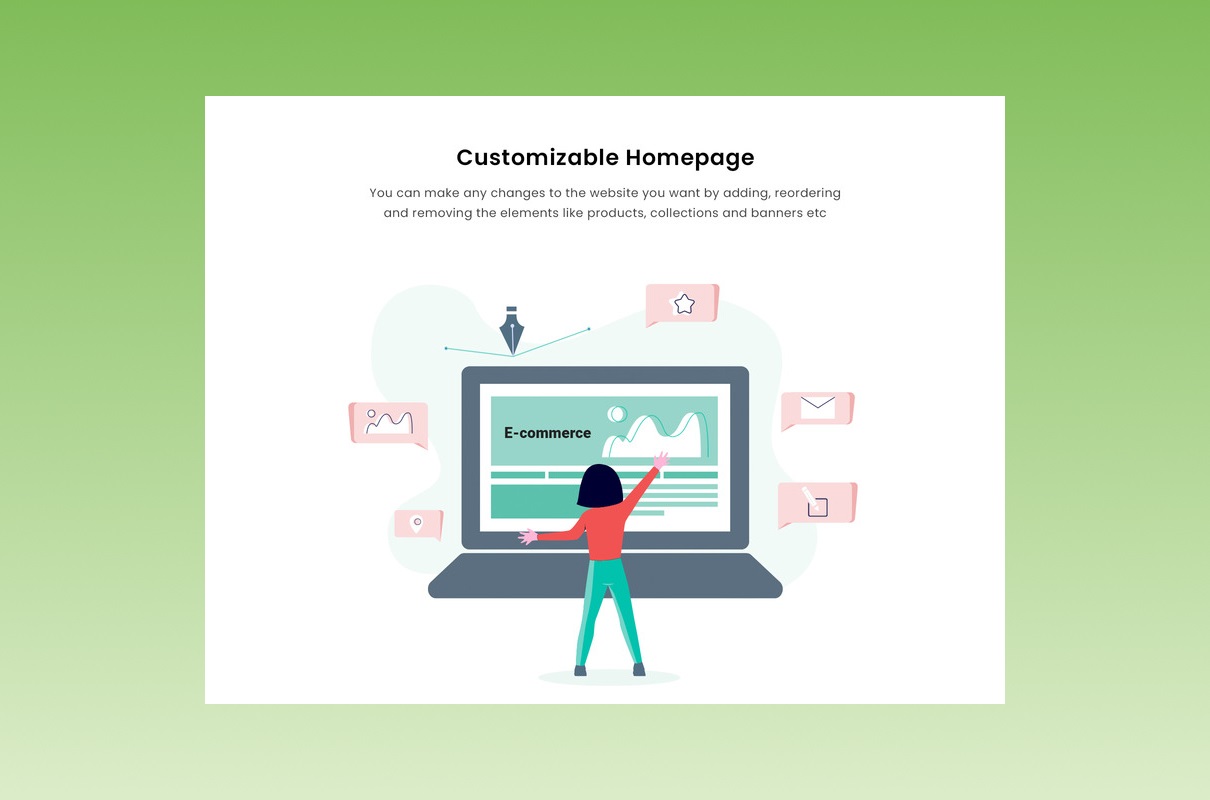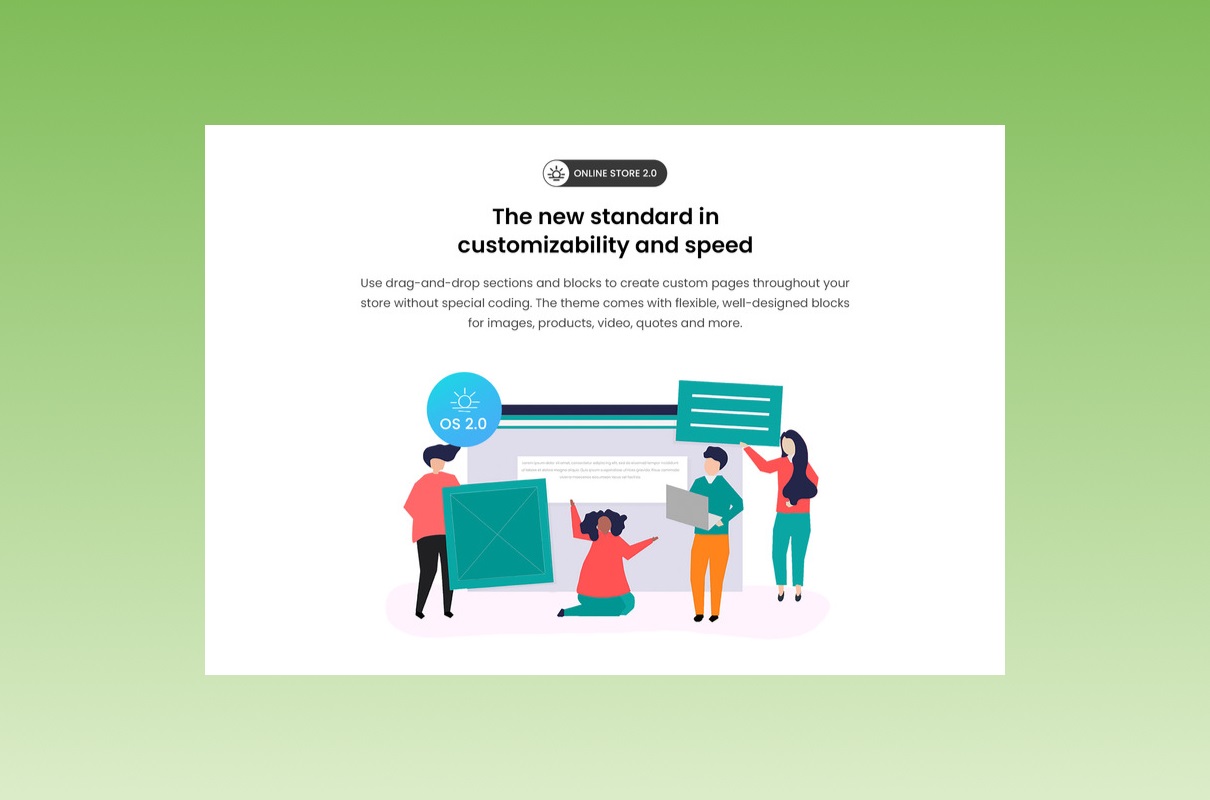 E-commerce is flourishing with each passing year. Do you know someone who has never made an online purchase? If you want to make a successful business, do it on the Internet. Use templates to quickly create an online resource. For example Electro theme. This is a fantastic solution for you if you sell gadgets, mobile devices, household appliances, network systems, and other products.
Awesome UI and UX
As much as we like it, appearance matters. People are often judged by their clothes, a book by its cover, and a website by its design. Therefore, efforts must be made on this front. Fortunately, the Electro Shopify theme peeks modern, clean, and nippy. Functionality is also necessary. You are also lucky here. More is needed to have a beautiful picture. The chic look attracts the client, but the thing that pushes them to come back is the functionality. Technological solutions such as Shopify Visual Builder, Newsletter Popup, Ajax Cart, Product Quickview and others are available.
Follow trends in this area. This is how you increase the effectiveness of your creation. Make sure that every visitor's experience is positive. This is the only way to get a permanent audience. Insert a lot of visual elements. It attracts. It is possible to modify colors, fonts, and indents in your administrative panel.
Pictures alone are not sufficient here. Write interesting articles. Don't be ashamed to be funny. Joke, be alive. In this way, you become closer to the reader. Arrange the pictures asymmetrically. Trends show that everything is moving towards minimalism. However, you may choose a different style. Classics are always fashionable, especially if you want to demonstrate stability and seriousness. It is better to select a corporate style for the company. It is appropriate to prefer high-tech for an electronic gadget store.
Parallax Miracle And Other Cool Effects
This component perfectly fits into any design. Multi-layering and soft shadows add effect. In this way, the website peeks original and impresses with depth. A person flips through the material and notices that the background moves more slowly than the nearby objects. It is prevalent in commerce. There is an opportunity to highlight some special object or logo. Also, parallax helps to illustrate movement.
Add animation to some elements, for example, a pop-up effect during scrolling. Animated pictures and other special effects bring the online resource to life. With all this, you get more chances to be remembered by the reader. Dynamic tables, pictures, videos, and icons look bright and vibrant.
If you sell electronic equipment, your project should be high-tech. Sticky headers and menus are fixed on your page and do not change their placement when scrolling. Navigation should be intuitive. Especially if you have many goods. In addition, statistics show that young and old individuals respond positively to attached navigation. It's a psychological trick that gives buyers a sense of control. Your site is easy for customers to navigate, which improves their experience and keeps them coming back. Confusion worries the person. This is not what you require.
Built With Bootstrap
The tool used to assemble the Electro Shopify theme is Bootstrap. Everything is here: fonts, buttons, icons, web forms, blocks, layouts, tables, etc. This framework was chosen due to a large number of advantages.
You save time. This tool makes it easy for web developers.
Nowadays, there is nowhere without adaptive design. With us, your site is like a transformer, adapting to each screen extension, regardless of the device used by the client (tablet, phone, computer, laptop, etc.).
The code is simple and clear. If you have some programming skills, you can change them. Or if you have a team, another developer will understand this quality code.
All the components are assembled in the same style and therefore harmonize beautifully with each other.
Just drag and drop the blocks and design a gorgeous platform for your electronics shop.
If you are a beginner, Bootstrap is a great choice. There are a lot of video tutorials, forms, and instructions about this framework on the net. It was produced back in 2011. Lots of updates have happened. The Bootstrap team is constantly working to improve its platform. For example, in 2013 they mastered the mobile-first system. Electro Shopify theme also has this option. This means that your platform is optimized for mobile devices first. We would like to remind you that more and more purchases are completed via smartphones.
Who Can Use Electro Shopify Theme?
The uniqueness of this sample is that it may be customized for any business. But it is best suited for selling electronic devices:
audio equipment and TVs;
smartphones;
kitchen appliances (refrigerators, ovens, coffee makers, dishwashers, etc.);
accessories and gadgets (smartwatches, headphones, fitness bracelets, VR glasses, etc.);
camcorders, lenses, action cameras;
laptops, tablets, PCs, and other electronic devices.
It is not necessary to be a programmer. Editing does not take much time. Without much effort, you may customize any material to your taste. The model is easy to use both for you as an administrator and for the client. It is hard to imagine a store without an online shopping cart. This is a mandatory element. Ajax Wishlist allows you to store the desired product in a special department. Therefore, it is easier to remember to buy something in your shop. Customers zoom in on their desired goods and enjoy grids and review lists.
Premium Or Free Item?
On the Template Monster website, you can see different types of samples. Download presentations, graphics, plugins, audio, and video content. Free and paid items are available. The best thing about free items is the price. These web products are also good, they were worked on by professionals. There is almost everything that is included in the premium.
The code is self-explanatory. If you or your employees have the necessary skills, it is possible to change or fix it.
CSS and HTML are high quality.
The pages are secure.
The documentation is clear and understandable.
The possibility of transferring the site to another hosting.
The standard options and sections are present.
In addition, they are usually SEO-optimized, responsive, support additional plugins, open on different browsers, and may be customized if the owner wishes.
Of course, there are disadvantages here as in anything in this world.
Such a consequence is usually not unique, so you need to put a lot of effort into its appearance.
Technical support is either not provided or is only partial.
Limited opportunities.
No guarantees. If questions arise, you have to figure it out yourself.
Click here to view a free template for the same area. Choose a home page layout and edit it. Insert contact form, wish list, quick view, blog, different icons, attractive buttons, and other things. Look at the reviews, they are pleasantly surprising. Paid items are always more functional. It is also possible to edit without extra effort. Support service employees are happy to answer all questions. The team is constantly working on updates.
How To Sell on The Internet with Electro Shopify Theme?
There is high competition in this field. This is not surprising, this business is promising, so it requires appropriate preparation.
Prepare a clear business plan. Make your business unique, give it certain features so that your competitors fade into the background.
Analyze the market and the merchandise. Learn more about your potential buyer, and become a true friend to him. Read reviews and comments. A constant audience is what you need.
Construct the prices pleasant. Pricing policy is a crucial stage that should not be missed. Categories such as price and quality must match. Also, evaluate the situation of competitors. when customers see that the prices are too high, they go to other companies.
The developers have prepared ready-made samples of various pages for you. The "About Us" layout should be completed on any online resource. Tell the story of the creation of the company, your goal, principles of work, etc. Show your team, your employees, and yourself. It is better to add a photo. Let buyers see that real people are operating on this project.
Update your merchandise regularly. With the Electro theme settings, your product looks amazing. Customization takes minutes with Shopify Visual Builder. The buyer sees the photo of the item, description, and characteristics in the best possible way.
Here Are Some Tips To Help You Get Your Electro Theme Ready For Great Discounts
Sales with reduced prices always attract customers. Everyone wants to save money on purchases. That's why events like Black Friday or others are a good way to increase sales and increase your audience. However, if you want everything to go perfectly, you ought to prepare well. The Template Monster company forms cool content on its YouTube channel. Follow the link and get 5 cool tips for improving your website.
Project Info
Date:

01.12.2023

Client:

ISHITHEMES

Categories:

Shopify

Tags:

Computers, Electronics