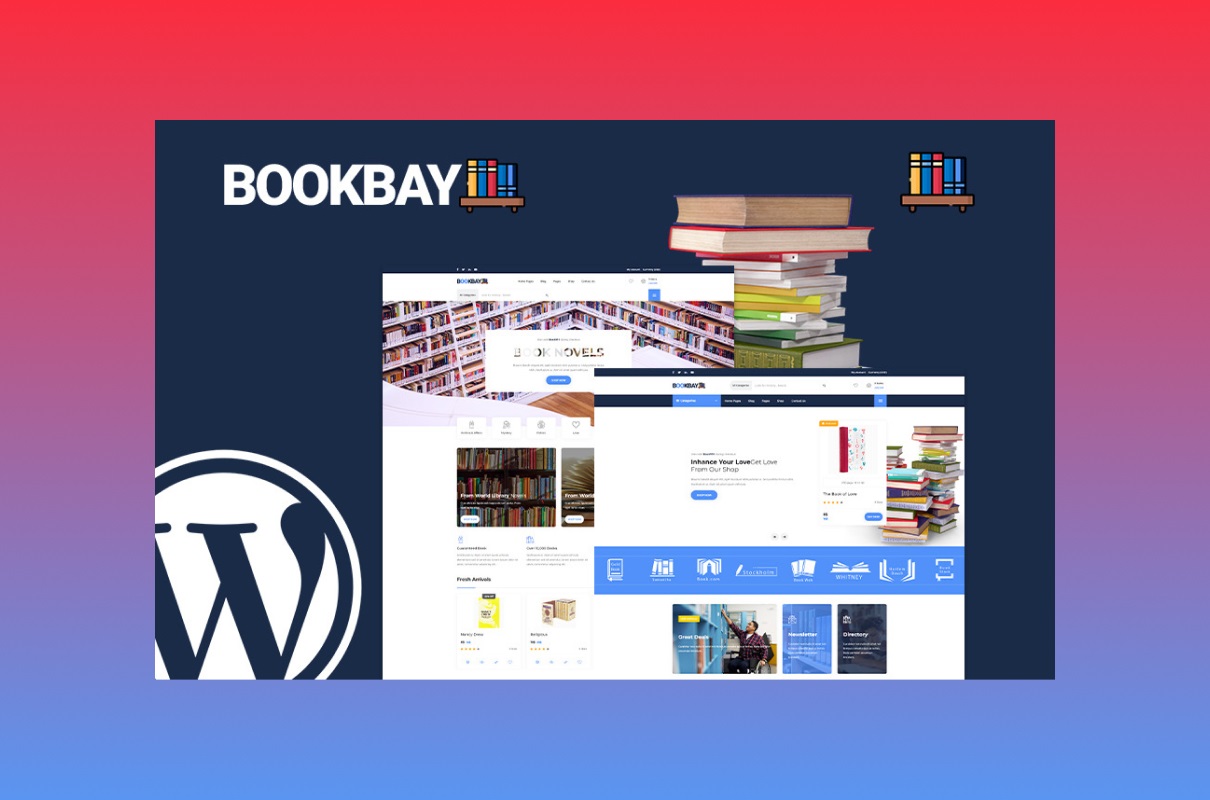 In the modern world, we utilize the Internet every day. It has become an integral part of our life. Internet resources develop at an incredible speed. This process is not going to stop for a very long time. Every self-respecting entrepreneur wants to present their business on the Internet. We need websites for this. We want to introduce you to our unique Bookbay. A template with many incredible features, responsive and stylish design, and modern plugins. It is a unique solution for you if you are connected with books. It is not fashionable to watch TV now.
Reading is something that never dies. First is the development of personality, vocabulary replenishment, learning new information, etc. People began to take textbooks from libraries or buy them from bookstores less. However, the number of online participants has increased in this direction. Now, without leaving your home, you can buy any book or pay for access to it for a certain period. To be involved in this is a real honor. It is a very noble business. Please take advantage of our proposal and see for yourself.
Key Benefits of Bookbay WordPress Theme
Build intuitively with Elementor
Either way, you require a page builder. We offer you the best. Bookbay is equipped with Elementor. With it, you create your web resource quickly and effortlessly without coding. With this designer, the visual appearance of your site impresses and captivates at first glance. You'll love the fonts, colors, layouts, and more available. The number of widgets dazzles you. You have the opportunity to view how your site will look in real-time. After that, you easily change what you do not like. Manage responsive design by customizing the layout of your Bookbay for a computer, smartphone, tablet, smart TV, or other devices. With the help of pixel design, you may go beyond any limits by choosing absolute or fixed positions. The flexibility in this designer amazes you.
Drag and drop any components, and it saves you time. All typography and color schemes are coordinated. That causes your site to be a single unit with a common style. You set all the indents and fields yourself. If you want to add a complex layout with sections, that's your right. You have complete and unquestionable creative freedom. An endless number of designs and widgets allow you to build something powerful and cool. Loading speed is also important for any page on the Internet. The modern user does not wait and switches to another service. It could be your competitors. Don't let this happen. Elementor has taken care of this, so you have a productive page.
Easy Demo Import
Sometimes it isn't easy to choose the sample you need. You are looking for a suitable option on different platforms, for example, Template Monster. It's a marketplace with various patterns that your head spins. To make your choice, we recommend you view live previews. Our development team has been hard at work and constructed a demo version of our creation to see if it's right for you. Try the previous trial version for free. With the help of a demonstration, you feel like the owner of a ready-made website. These feelings are wonderful. You have a chance to evaluate the design, fonts, icons, colors, etc., in this demonstration.
Contact Form 7
It is a WordPress plugin that controls contact forms. You must share your email, phone number, address, fax number, etc. Add all your details so that clients find you easily. Check out their official page's documentation and FAQs about Contact Form 7. Privacy is important to both you and your clients. With this plugin, you don't have to worry about violating your customers' privacy because it:
does not record confidential user data;
does not send data to external servers;
follows the buyers without their knowledge.
In addition, all shapes have built-in support (CAPTCHA, Akismet spam filter, Ajax sending, and more).
Mailchimp Newsletter Ready
Oooooh! You need this plugin. Unfortunately, no matter what you do, there is always a similar store, printer, library, etc. That's why you must be unforgettable. Mailchimp helps clients subscribe to your newsletter. In this way, you have a chance to remind yourself constantly. After filling out an excellent registration form, buyers receive newsletters by email. Registration can be done on any gadget. It is possible to integrate the registration shape with an existing one, for example, for comments or contacts.
Mailchimp works with:
Contact Form 7.
WooCommerce.
BuddyPress.
MemberPress.
Events Manager.
Easy Digital Downloads.
Give.
UltimateMember.
And others.
Integration with WooCommerce
Selling something on your website would be better to make your business profitable. That requires integration with WooCommerce. It is one of the most popular platforms created specifically for online stores. With WooCommerce, you have full control over your project because of the open-source code. Complete your showcase unique; add prices, categories, quantity, color, size, and other parameters. The setup assumes a few minutes if you utilize modular units. Sell products of various types, and add photos, videos, and descriptions. Your followers are well informed about the product, and you reduce the number of returns. Your buyers might operate the shopping cart and drop what they want to buy into it.
WooCommerce cooperates with many popular services. In this case, buyers trust you more and treat you as a professional. You have access to WooCommerce Payments, with which you receive transfers from online wallets, bank cards, etc. You have the option to customize the delivery. A mobile app allows you to modify your web resource anywhere. Add products, confirm orders, adjust product criteria, etc., even while sitting in the car. Besides, a large community is always ready to help you. People all over the world employ this platform and are satisfied.
Instagram Compatibility
We utilize social networks every day. Instagram, owned by the Meta company, occupies a leading place in every Internet user's life. People post, share and comment on photos through this social network. You may also correspond, share information, etc., within the service. By synchronizing yourself with Instagram, you automatically import all content. You do it with one click of the mouse. Spread your Instagram gallery on any online service. UGC widgets, posts with hashtags, and the "Follow" button are available to you. All this helps to increase the traffic of clients to your website. Complete entire albums on Instagram or Facebook and show them on the website. You construct wonderful carousels that reflect all the beauty of your brand. Insert animated slideshows, grids, and more. On Instagram pages, it is possible to add an adaptive online store; customers may immediately purchase by clicking a button.
You have the opportunity to operate various advanced options to customize a beautiful layout. Customize everything to your taste; choose colors, fonts, and logos. Choose what to show buyers and what to hide. Delete the unnecessary. Do not forget to leave links to your other social networks; you have social network logos. It is always good for the company as people might follow your activities through various networks. The site must necessarily be dynamic. To do this, publish photos, videos, and animations. These resources make your page come alive. Collages, carousels, and slideshows help you with this. Only take care of the quality of the media materials. It should be excellent. Poor quality files make a website look cheap and sloppy. And that's not acceptable.
How Can Use The Bookbay
The template is so cool, and you have a chance to use it in many areas. For example, a library is an educational institution where many printed and sometimes handwritten materials are collected. Here you spend a wonderful time with beautiful work, bring it home, and then return it after reading. The online store will be the most profitable for you. Sell both printed manuscripts and e-books. Bookbay WordPress theme is equipped with everything necessary for this. An enterprise that produces printed products such as newspapers, magazines, books, posters, etc., is called a printing house.
You also have the opportunity to assemble a bookcrossing site. After reading, a person leaves a book in a public place and instead takes another one. It is a wonderful initiative. A book club is where people from different walks of life and professions communicate with each other on a chosen topic. Here people find like-minded people and get inspiration. This project allows you to develop and inspire. Our offer allows those interested in registering to view photos from previous meetings, comments, etc.
2022 Typography Trends You Couldn't Miss Video
When you have a business related to print publications, your website must have the appropriate appearance. Typography is important. Make sure all fonts are selected perfectly. Be on trend with TemplateMonster. There are many more beautiful and impressive fonts on their site. Click here and rate. Subscribe to their YouTube channel to see cool videos like this one.
Project Info
Date:

09.22.2022

Client:

THEMEGANJ

Categories:

WordPress

Tags:

Books