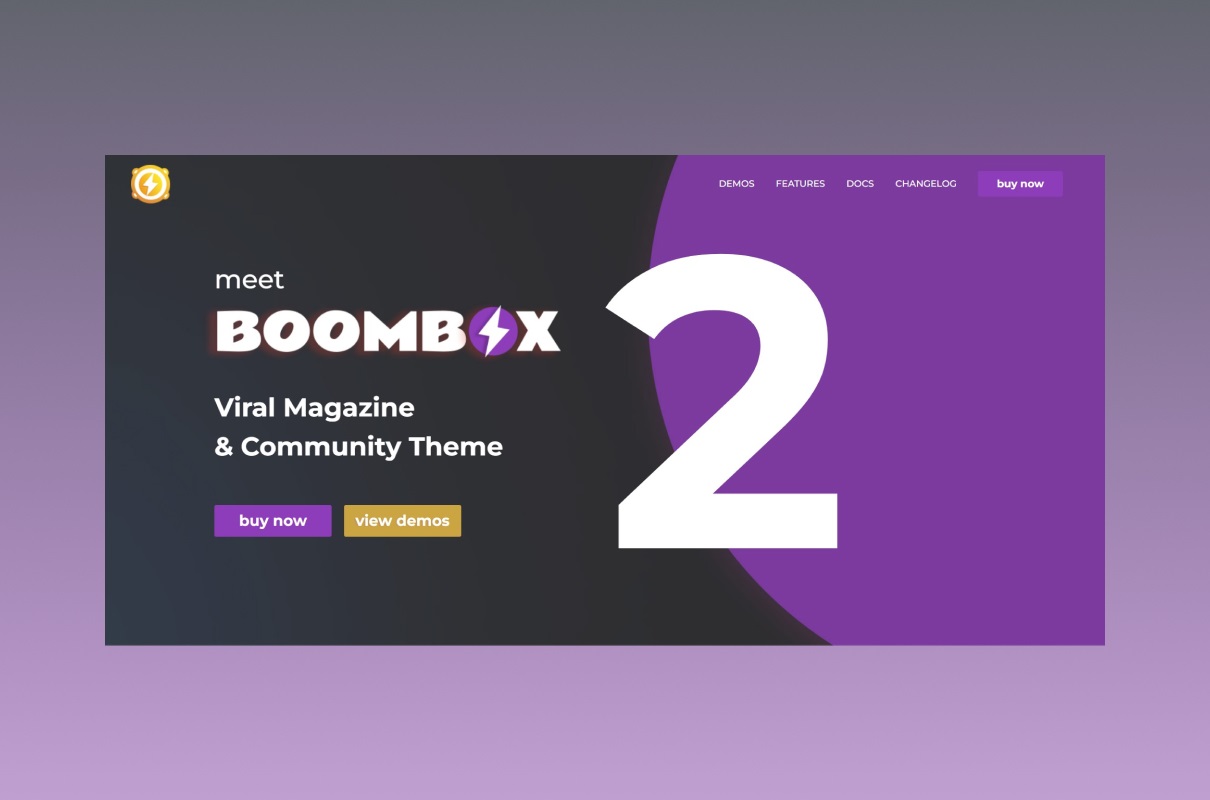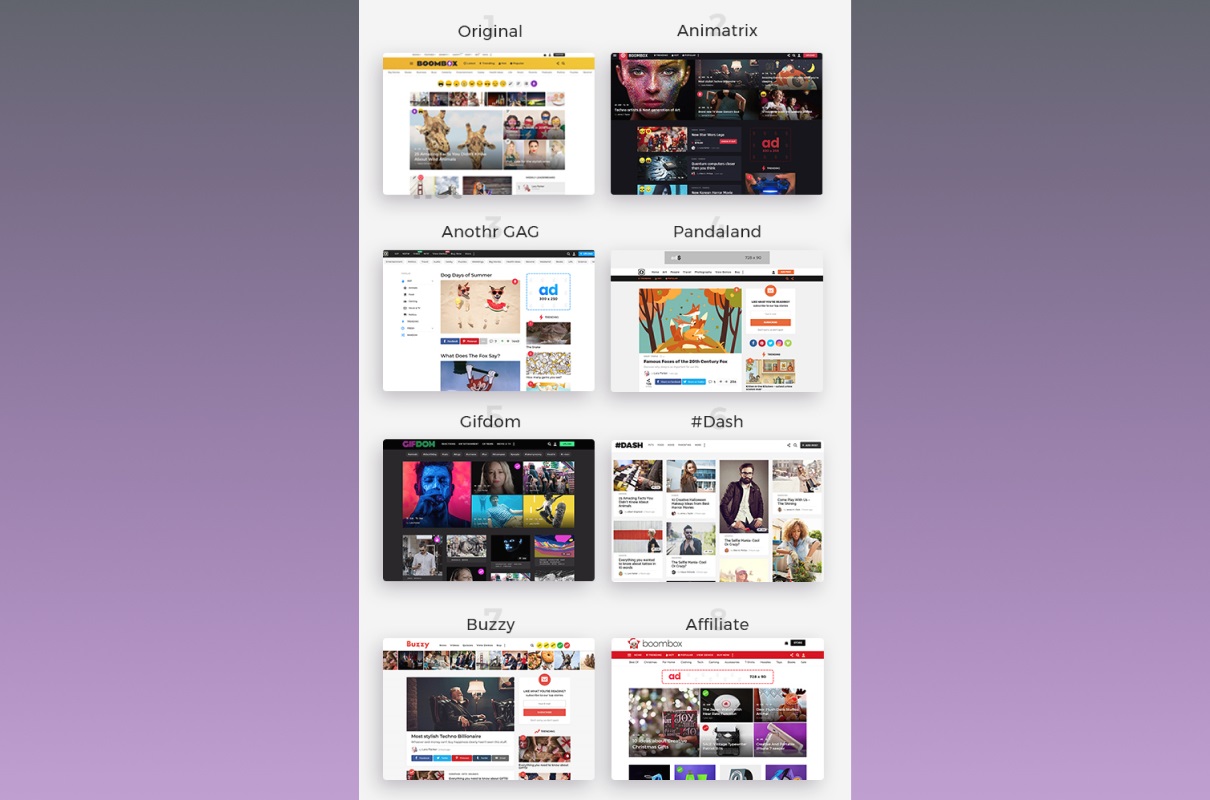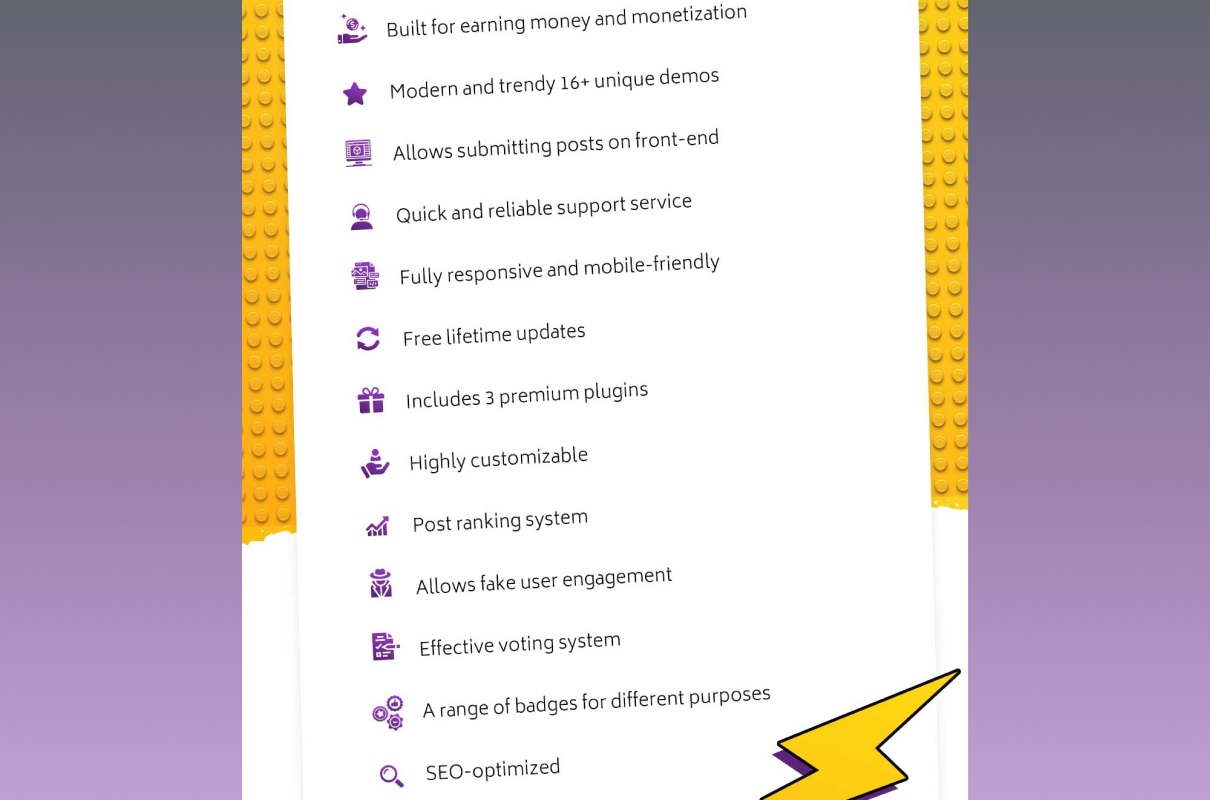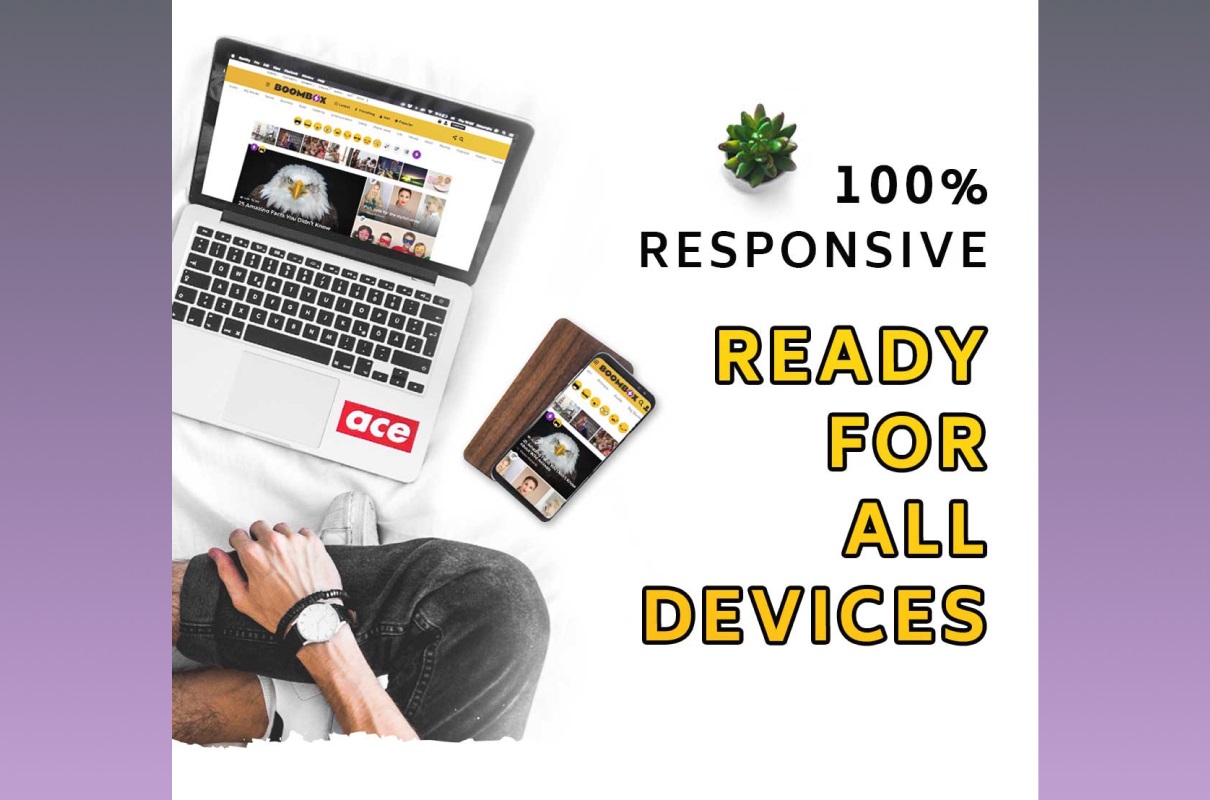 BoomBox was designed especially for a viral magazine. It's packed with the most advanced features, tools, and plug-ins to get all tasks done. It has all you need to build and administer your website, plus even more. This is a perfect option for users looking for fast solutions to creating their own web portal with a more affordable starting price.
These days, all you can imagine is online. News portals play an important role in getting up-to-date information, and you don't even need to buy newspapers—everything is available on your phone. Thanks to it, people become aware of the current world or their city events. And, of course, everyone wants news and stories from their favorite artists, brands, Influencers, models, or whoever it is. For this reason, having an online news portal or magazine with viral content is crucial.
BoomBox WordPress theme allows you to post news, polls, quizzes, listicles, and beyond. Aside from that, share them through social media, trending, or ads—whatever you choose. All this enables earning money via advertising and monetization immediately.
Beautiful, Customizable Templates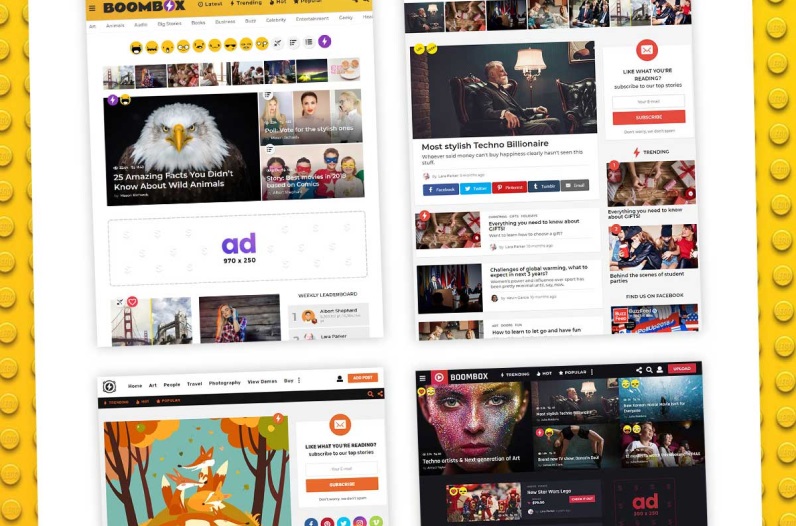 The PX-lab introduces the most impressive package with plenty of incredible demos, inner pages, listing types, header and footer styles, and a remarkable innovative page builder. And a key part of all these additions is helping push the limits of creativity—everything you ever dream of and far more. Let's cut to the chase and find out what the author offers.
BoomBox comes with eye-catching demos of up to 16+ styles, allowing you to go beyond competitors and build something unique and attractive. Plus, it has 11 types of posts and listings, multiple footers, and headers. However, what's even more impressive is now you can make a wide range of header styles—all enabled by the incredible built-in header constructor that offers unlimited set-up options. But if you want to bring something special to the look of your site, the author presents six brand-new post templates for a wide array of content, or you may utilize Font Awesome and Handcrafted icons.
All templates are easily customizable, which means you may take them to a whole new level by making them unique, impressive, and inspiring to you first.
Top Main Benefits of BoomBox WordPress Theme
BoomBox presents a beautiful theme. It is easily customizable, allowing it to be used by all levels of users, from beginners to professionals. It has everything you need to make full use of it, including plugins, features, tools, and other extensions that let you get the most out of it.
Now it's more possible to create something unique without wasting time and money on developers and designers.
Regular updates
Keep in mind that the web design industry is a fast-paced one, and trends change all the time. Thanks to the regular updates that come with the BoomBox, you may always keep your website up to date.
Quick Demo import
It's super easy and convenient to build a beautiful web resource with just a few clicks. You may seamlessly import demo content, turn site creation into an exciting process, and create wherever inspiration strikes.
User Friendly
It's very easy to set up. It lets you artfully create unique, mind-blowing templates or edit existing ones—in a minute. With a user-friendly interface, you can conveniently design layouts in a variety of ways and bring your ideas to life, even if they are crazy. Moreover, the BoomBox WordPress theme is powered by WPBakery, and it's an entirely new way to experience customizing templates, giving even more options to redesign your templates.
Mobile Friendly Design
With a fully responsive web design, you don't even need to create separate layouts for tablet or smartphone screens. Thanks to this incredible technology, all elements of the created content will be perfectly resized to any screen size just as needed, whether it is a smartphone, tablet, laptop, or big 8k desktop monitor.
Ease of Use
This theme is very easy to use. You do not need to be a professional to take advantage of all the features that are presented here.
All your actions will be done in the constructor, which is also provided by the author and is already included in the item cost.
The developers have tried to design a straightforward and easy-to-use toolbar. There's everything you need to change a block or create a completely new one. To do this, you'll use the "drag-and-drop" function, which once again confirms how easy this theme is to use.
And another important point: you don't need to have coding knowledge. No-code movement is taking over. People are now more and more building websites without having to learn code. And this theme is no exception.
Unrivaled Performance
As you know, it's critical that your site performs well because it directly affects traffic and conversion rates. Due to the author, visitors will be shocked at the excellent performance, mind-blowing smooth animation, and page speed loading. All this will allow them to quickly and conveniently navigate through the pages without any sec of delay.
Retina Ready
Modern devices are constantly increasing their screen resolution thanks to rapid technological advances. Because Retina devices have more pixels per inch, they need high-resolution images to fill those extra pixels. That's why having a website supporting this technology is very important. BoomBox makes your content, like text and images, look sharp and detailed on a Retina display.
Expand Capabilities With Plug-ins
If you wish to improve your WordPress website, additional plug-ins are the most powerful method. They're used on blogs, landing pages, or e-commerce. They bring capabilities in fun new ways, whether it boosts traffic, pro-level graphics, and so much more.
Contact Form 7
As a website owner, there is one more thing to think about. If your visitors want to contact you: Where will they contact you? A contact form is one of the most necessary additions to the website. It helps to solve many of the tasks. One of the best things is a great way to communicate with potential visitors. Through communication and connection, you can understand the actual pain points of your audience and their expectations of your content.
It also tracks customer data, and you can add as many fields as you need. It's easy to customize.
WooCommerce
WooCommerce it's a convenient new way to manage commerce, control order processes, and track all site stats. It gives you many tools, all in a user-friendly toolbar, and empowers you to manage your online magazine like a pro manager. Additionally, it can optimize the customer experience to increase trust and conversions, which is necessary to grow your readers or community online. Moreover, it might be a good sales companion if you decide to add a product list.
Expand Capabilities With Page Builders
The Page Builder is an easy-to-use software. It gives you the ability to easily and quickly design a professional-looking website in a few minutes. It includes a wide range of templates and tools that enable editing themes or creating a completely new website – from a simple blog to a multi-page store.
With the extensive and intuitive toolbar—beginners can build any type of layout, blocks, and graphic elements—all tools right at your fingertips. The best feature of page builders that all our users adore is the "drag-and-drop" technology. This technology makes it effortless to add or drag and drop content elements without touching a line of code.
The author gives you two of the best-known site creators for free. So now it's time to find out what they can do with remarkable extensions that give you a whole new way to look at building a website and an extensive array of creations.
WPBakery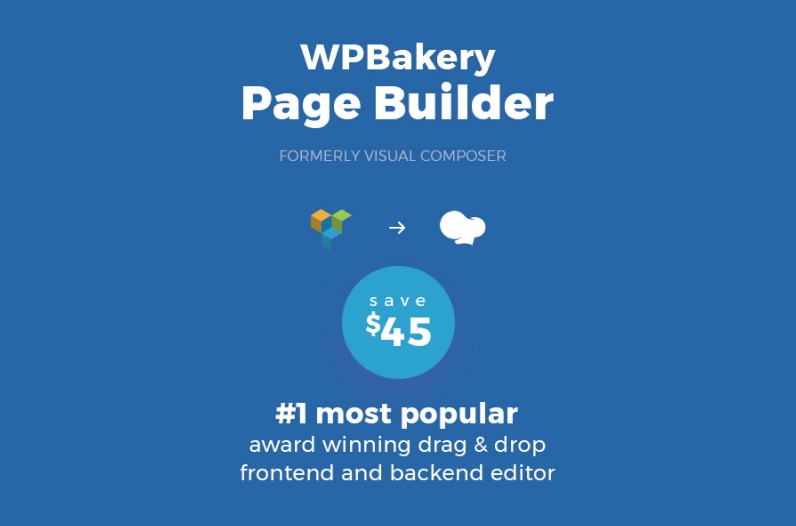 WPBakery is an entirely new way to design or redesign layouts. It packs outstanding usability, extensive add-ons, and new capabilities in the creation process, putting everything you need into easy-to-use dashboards and transforming any white area into a stunning website. It's a tool built to push the boundaries and ready to take on whatever you make.
What's more, it delivers a wide area of different templates you can choose from and then edit to your fancy—in a couple of clicks—even if you're new at this journey. Additionally, it offers one of the amazing abilities—to see all changes without leaving your edit. Now it's possible to engage visitors with the stunning appearances of the site.
Gutenberg Editor
Gutenberg powers WordPress and includes an intuitive, comprehensive set of tools to create a variety of page styles from scratch. Now that's more than just a classic editor. So users can make large and complex projects in a magical new way.
All content is created as units of blocks, letting you build up complex layouts and all sorts of things in the simple way possible. Every element of content you may seamlessly move around to any available layout area. All of this puts you in complete control to create incredibly unique pages—with no coding required. Moreover, they all automatically become responsive.
Documentation
To assist you in learning how to use the BoomBox WordPress theme and make the most of it, the author provides extensive documentation. Once your order arrives, you'll get an email with step-by-step instructions in a short amount of time.
Support
If you need help installing, setting up, or if you have any problems, the author will be happy to help. Plus, you'll get up to six months of guaranteed support. Getting in touch with the author is easy—just follow this link to the profile page and use the form to send a message.
Watch This to Be More Insight Into Building Sites
By clicking the link, you'll see a short tutorial on how to build a website quickly and easily using the page builder. This builder will be included in the price of the theme.
Project Info
Date:

07.17.2023

Client:

PX-lab

Categories:

WordPress

Tags:

Business