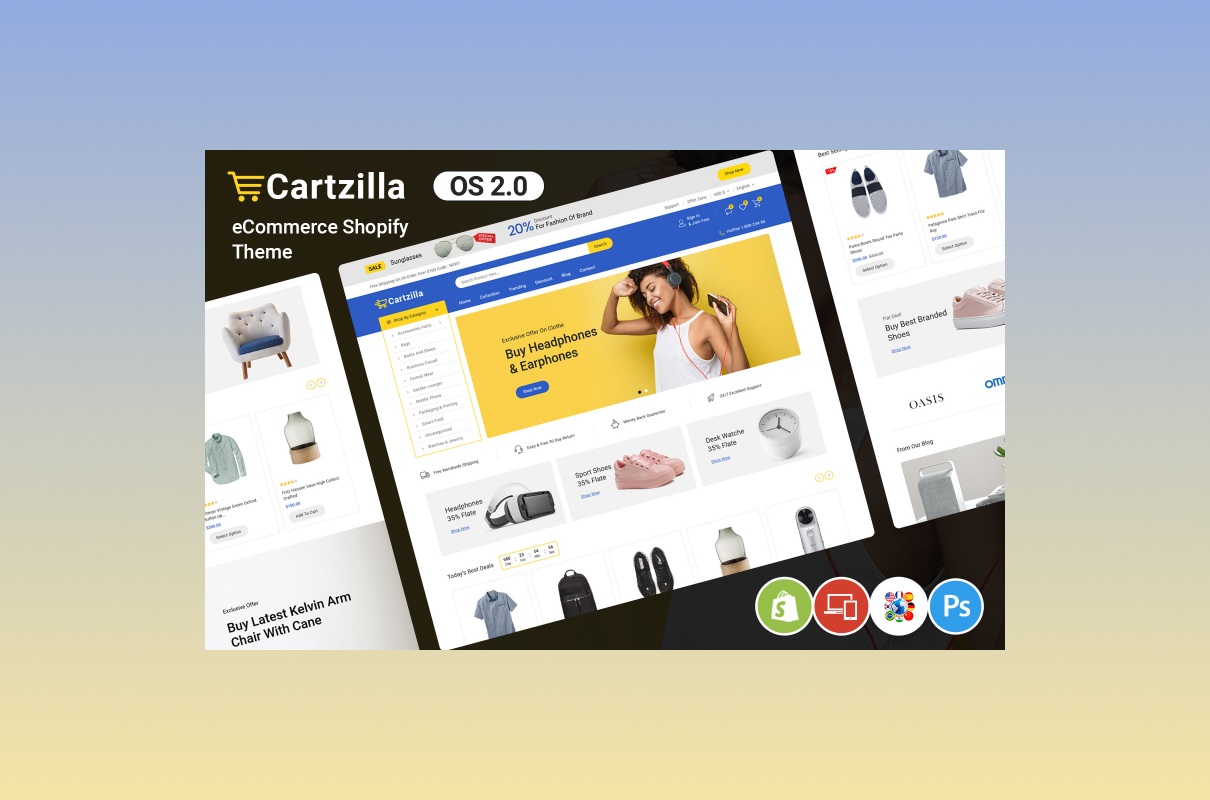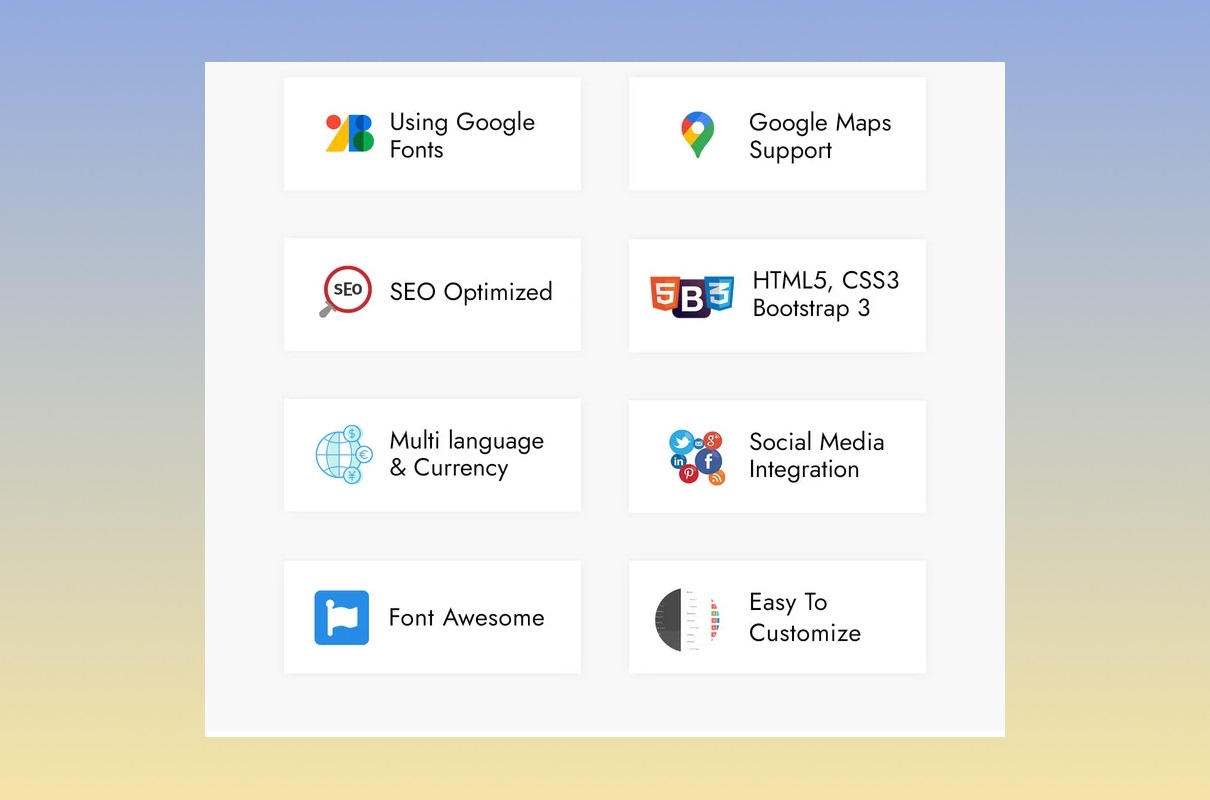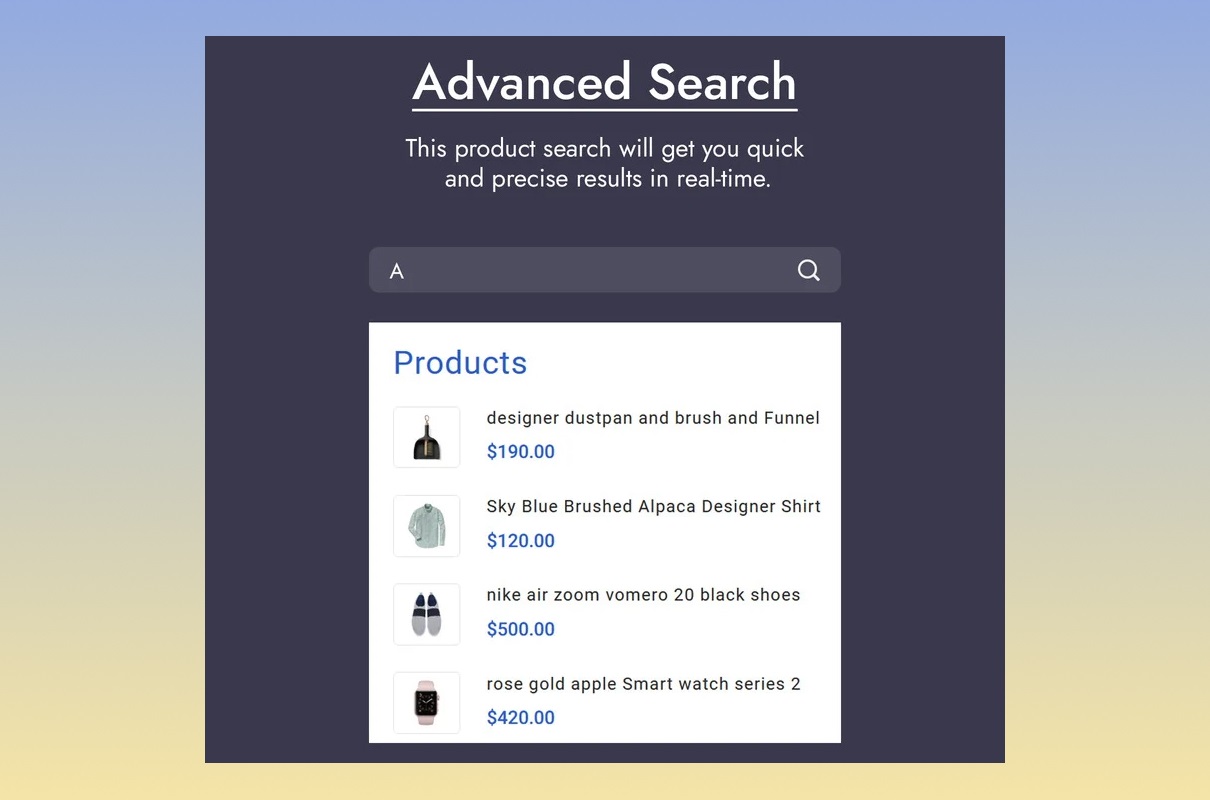 Whether you're starting a new venture or looking to take your business to the next level — the Cartzilla is an absolutely incredible decision! With its seamless user-friendly interface, it's easy to bring your ideas to life and build your very own e-commerce site — even if you're entirely new to the whole thing.
In today's world, online stores have become an essential part of our lives, offering the convenience of shopping from home and access to a diverse array of products and services from across the globe, making our life more enjoyable. Now you don't need to waste so much time going through each brick and mortar and looking for exactly what you need — all available on your smartphone.
For this reason, you can't go wrong with Cartzilla. With this theme, it's possible to sell any type of product, whether it is Organic Shops, Fresh Food, Grocery Markets, Beauty, Body Care and Nutritional Supplements, Natural Medical Items, Flowers, and much more beyond this. Anything you could imagine selling is possible with Cartizilla. There's no better time to do it than now to start making money!
Cartzilla Review
TemplateMela has developed a clean, and airy theme that allows you to build a good-looking e-commerce store in a short amount of time. Also, it delivers so many powerful features that make shopping even better: product pages, convenient searching, pop-up windows, and a whole much more. All of this provides a smooth and seamless shopping experience for customers.
This template gives you access to the powerful editor, where you may unleash your creativity and customize so many things, like changing colors, fonts, and layout of your store. And more than that, you may see all the changes in real-time. Now it makes it possible to see the changes you do to your page immediately — without switching between an editor and a preview mode.
This template combines a wide range of customization options, allowing you to tailor your website to your specific needs and make it personal. However, if you don't want to build from scratch, use already pre-designed sections by the author, and add your content. If you're struggling with copywriting, please take a look at what big brands are doing to understand what works and sells.
Let's take a close look at some of the key benefits:
Retina Ready
Thanks to retina-ready technology, your website's visitors can enjoy visually stunning graphics that are optimized for high-resolution screens. This results in crystal-clear images and text that are incredibly sharp and detailed, allowing them to explore your items pixel by pixel.
Dropdown Menu
Mega Menu is a powerful feature that meets on almost every site. And the reason it's so popular is its amazing versatility. Moreover, it makes your page not cluttered, making them look clean and professional.
With Mega Menu, you can organize all sections into multi-level drop-down menus in your website's navigation, helping new visitors spend less time searching.
Responsive Design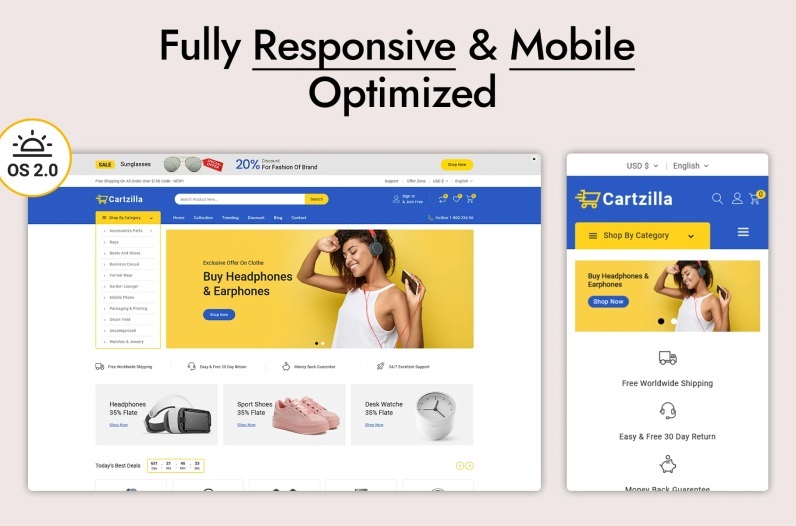 The author offers responsive design options that will optimize your website for all devices and screen resolutions. With this incredible feature, the content will be able effortlessly adapted to any screen size, delivering an incredible viewing experience for your visitors. Regardless of their device site will be displayed perfectly on any type of device they are being viewed from.
Search Engine Optimization
The template has been meticulously designed to be fully optimized for SEO. During the development, the author tries to optimize Cartizilla for all major search engines, including Google, Bing, Yahoo, and more.
Once you start running your e-commerce website, it will blow you away with how user-friendly it is and how all pages are SEO-friendly. All this helps search engines better index them and increase their ranking on search results.
Completely Customizable
The Cartzilla Shopify theme is flexible and fully customizable. It gives you lots of room for creativity. So you can customize every aspect of your website, including the layout, colors, fonts, and functionality. Besides that, you may add remarkable animation effects. All of this allows you to create a unique online presence that reflects your brand identity in the better way possible.
User Friendly
This item is designed to be user-friendly and easy to use — even for those without any coding or web development experience. And one of the essential features of this template is the ability to change the layout and design of your website without having to write any code. All actions are usually done via a drag-and-drop page builder, which allows you to create custom and complex page layouts by simply dragging and dropping elements onto the page.
High Performance
Most shoppers don't have time to wait for the site to load, especially on mobile devices where Wi-Fi and cell service may have a poor connection. Cartzilla is created to provide an incredibly user-friendly browsing experience. Loading the online store is now faster than ever.
Features That Enhance Customers' Experience
Ajax Cart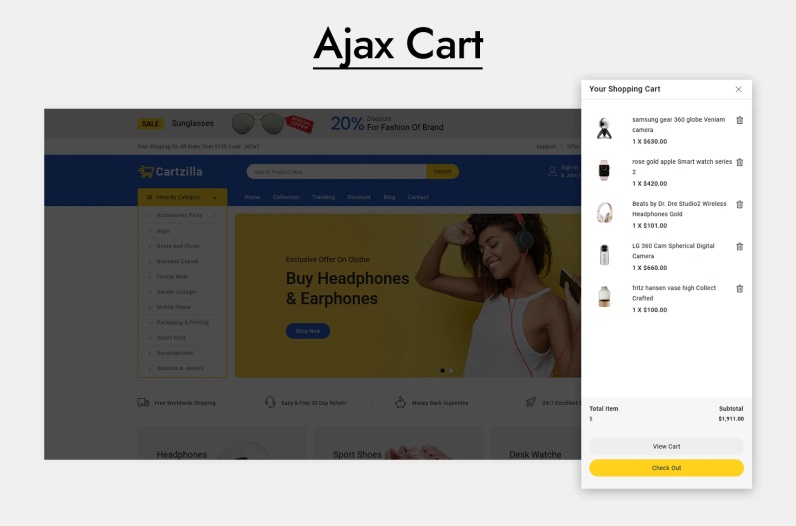 This is a powerful feature that is able to help any e-commerce store. It enhances the overall user experience by offering a quick and seamless way to add, remove, and update products in the cart without interrupting the customer's browsing experience.
Quick View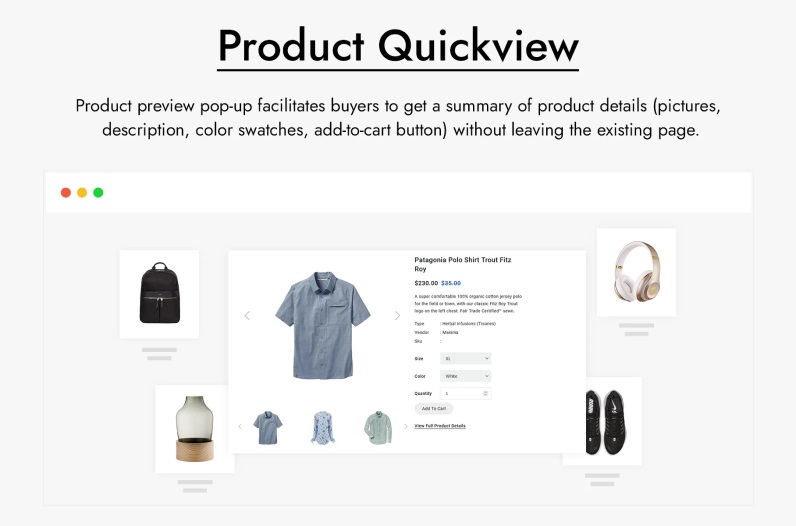 With quick view, customers can click a button to view item details in a pop-up window without navigating away from the current page. When the customers hover over the item image, a button will appear that lets the dynamically access all details. This makes browsing products faster, which helps increase conversion rates.
Wishlist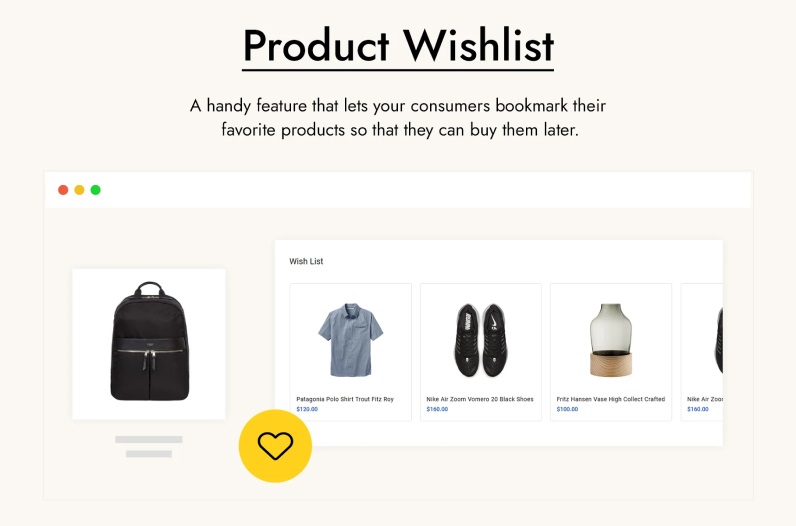 Very few shoppers purchase on their first visit to your store. You can enhance their shopping experience by allowing them to save their favorite products using a Wishlist. Due to this feature, so you may seamlessly collect what your customers are into. It is a great way to get to know them better, which is a critical point to make sure that you are offering exactly what they need.
Product Slider
With the slider, you are free to add unlimited categories to your site. This feature saves space and prevents clutter on the page while allowing you to showcase more products. The slider feature also supports adding videos, images, and other necessary information such as pricing, discounts, short descriptions, and more.
Multi-languages and Currency
With this feature, you can add multi-currency prices to product pages. This allows potential customers to seamlessly compare the prices of your items in their local currency. Moreover, with multi-language, you may attract audiences worldwide to your business, which increases revenue.
Edit Once. Sell Every day.
If you've ever dreamed of selling items or services and having your own online store, or if you're looking for a way to make money online — then Shopify is the right one.
One of the key advantages of this platform is its ease of use. It offers a range of templates, apps, and lots of customization options that allow you to create a unique and professional-looking e-commerce store in an incredibly new and fun way — and you don't need any coding expertise. You can pick from a wide array of templates or build your very own design by using drag-and-drop technology, which gives lots of room for creativity. All this gives you the power and flexibility to accomplish any task — whether you're a small business or enterprise.
To sell online means to sell all over the world. With that in mind, Shopify offers a variety of Payment Gateways like credit cards, PayPal, Amazon Pay, Apple Pay, Stripe, and other popular payment gateways. All of this enables you to be focused on building the best online experiences on the web. It is truly remarkable. Moreover, it offers breakthrough performance for fast, fluid work, simplifying the creation process.
Some Tips to To Get Conversions
First of all, one of the most important parts is to understand who's the audience because once you know your audience, you will be able to know where to find them — and how and when to engage with them.
Secondly, you need to focus on the problem that your audience is experiencing. It's all about understanding their challenges. Ask yourself all the time: What are their pain points? What is bothering them? And once you've got those two together, you basically may choose the content strategy.
Finally, build a solid personal connection with your potential customers. It's incredibly essential since — people buy from people. You want them to get to know the person behind that brand. You are that brand — you are telling that story. And what's even more important is that it's not about what you say — it's how you share the story.
In a nutshell, building a relationship based on trust, respect, and understanding can go a long way in ensuring their loyalty toward your brand, which allows them to return and spend money over and over again.
Cartzilla Documentation
The author aims to help you scale your business quickly and achieve a perfect user experience with the template. To facilitate this, it comes with detailed documentation, which will be provided to you for free. Following the simple steps outlined in the documentation, you may easily set up the template and gain more insight into its use. With this knowledge, you will be able to build professional-looking websites effortlessly.
Excellent Support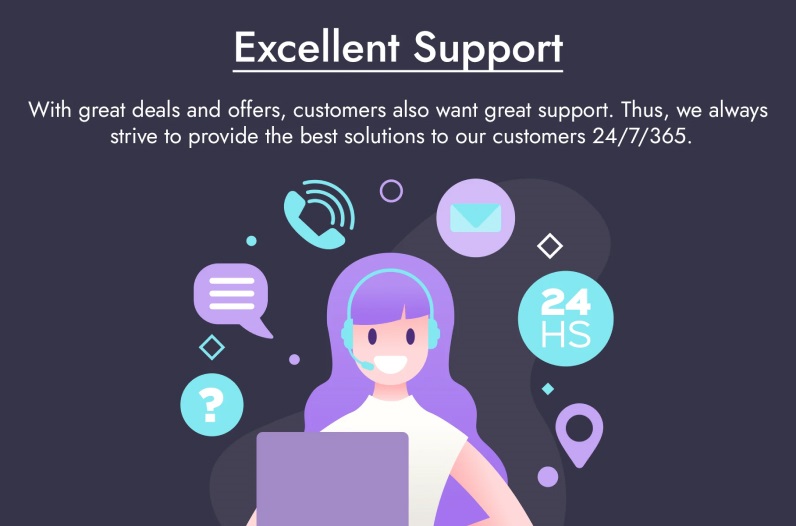 The author presents services that cover various aspects of setting up, installing, and using a template. These services can be beneficial for users as they will be able to receive support for any issues they may encounter. Additionally, when purchasing the Cartizilla, users typically receive up to six months of support for free.
Check This Out to Be More Familiar With Shopify
This platform allows you to build professional pages seamlessly through a simple drag-and-drop interface. This user-friendly tool makes it effortless to create high-quality websites without requiring extensive technical knowledge. In this tutorial, we will guide you through the process of creating a professional e-commerce online store quickly and efficiently using this platform.
Project Info
Date:

08.4.2023

Client:

TEMPLATEMELA

Categories:

Shopify

Tags:

Electronics, Fashion, Interior Design