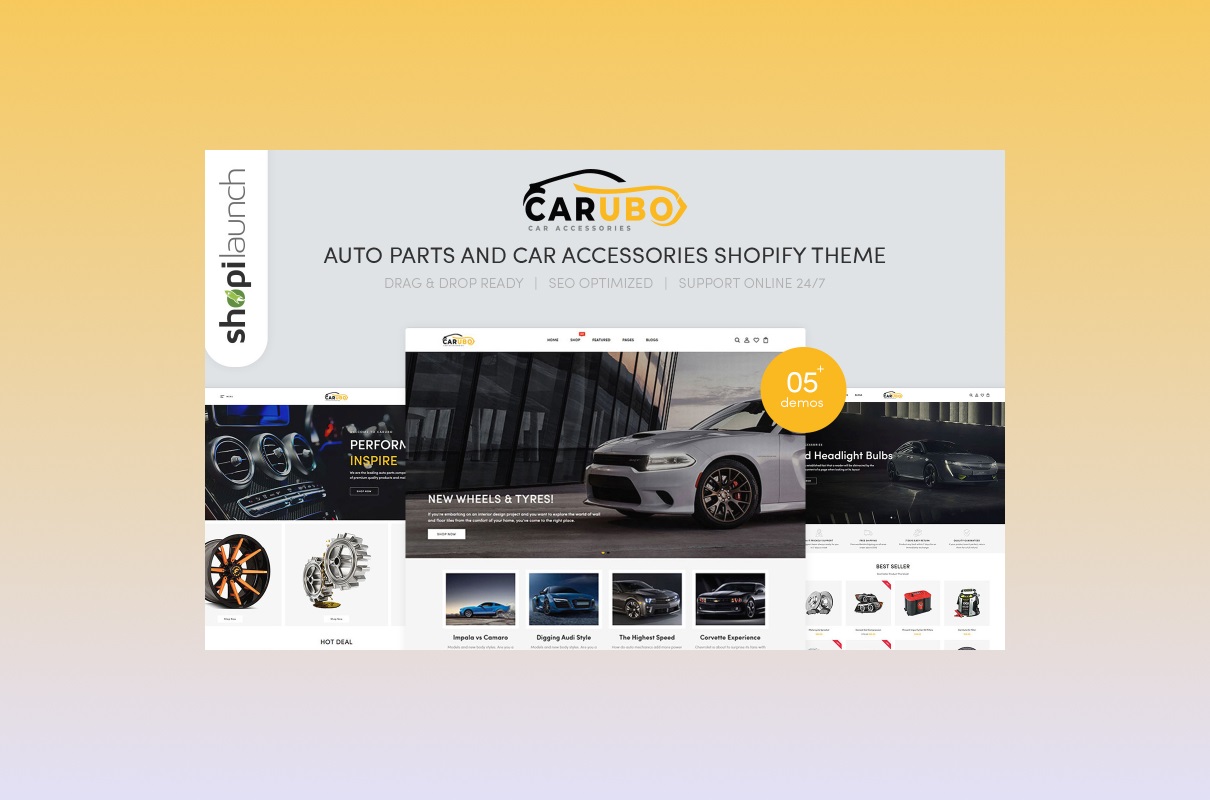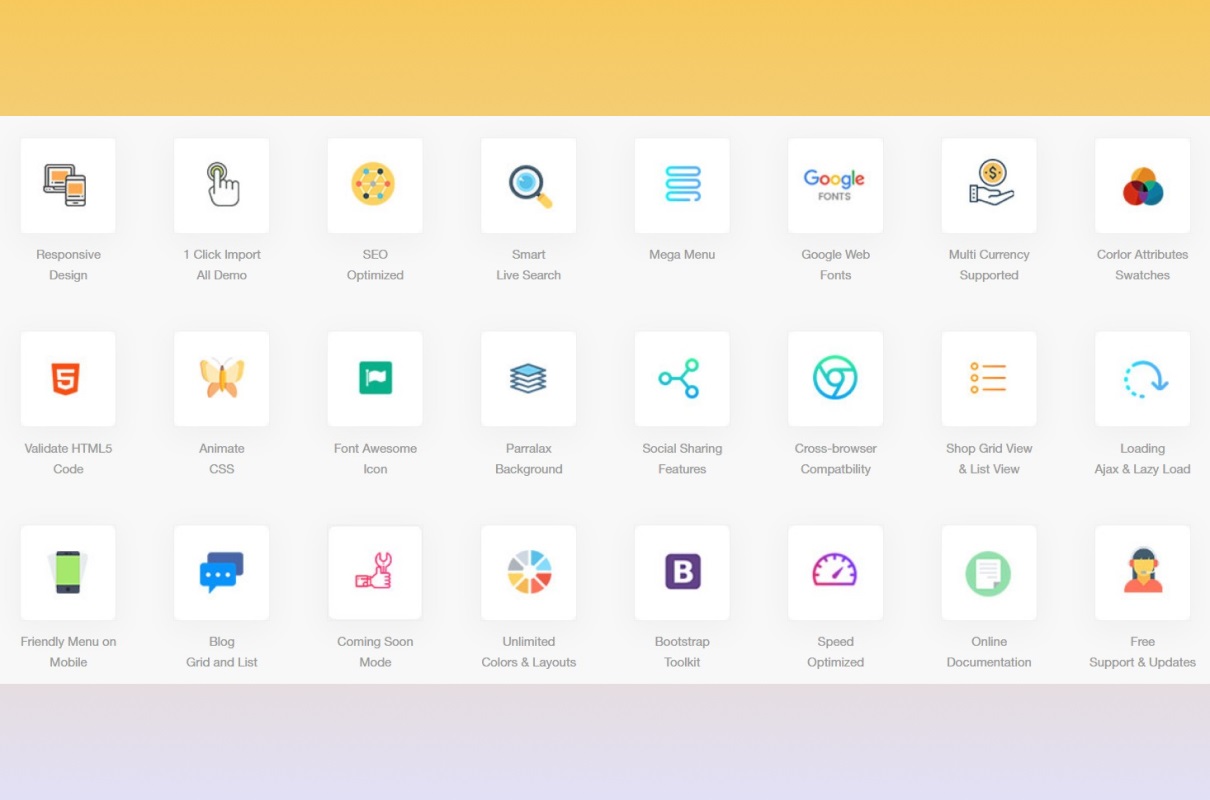 The automobile business is one of the most profitable in the world. Nowadays, cars move not only on highways but also on deserts and off-road. It is undeniably fast and comfortable. However, if you have your vehicle, be ready to pay for repairs. This happens quite often. Not taking into account the incidents that also happen on the roads, some parts need to be replaced from time to time. That is why the field of auto parts sales never loses its relevance. If you want to accomplish it online, you need a website. If you want to have a cool website, you need Сarubo Shopify theme. This is a newly updated template with a cool design and lots of cool features.
Full Oberlo Reconcilability For Сarubo
Oberlo is the best dropshipping app from Shopify. This system is convenient for both buyers and sellers. Let's say your customer ordered a rake Master Cylinder. You mustn`t have this product in stock at all. You appear as an intermediary between the buyer and the supplier. You share responsibilities: your task is to complete a certain margin for yourself and promote your site, your task is to send the rake Master Cylinder to the buyer, etc.
What is the good of such an activity?
Without large capital investments. Do not rent a warehouse or office, and do not purchase goods. And these are all high-cost positions. It will not be possible not to invest at all. Since the creation of the site also requires money and effort. In your case, you pay once. Buy Сarubo! No need to waste your time creating a web resource from scratch.
Nuclear risk. If you see that the activity is going badly, stop everything. Take a break and try to conquer a new niche. Moreover, our template can be changed for any activity.
Sea of possibilities. Create a store with a vast range without buying anything. Sell different categories of goods by involving many manufacturers. Thanks to a wide assortment, you have the opportunity to earn money from small sales.
Focus on the main thing. No need to think about how to deliver tires or headlights. Concentrate on advertising and attracting clients.
Сarubo Colors That Lead To Success
This is an important choice for every online shop owner. Scientists say that colors affect our awareness. Why don't you use this psychological trick? Make the appearance of your site memorable to the visitor. A cluttered page may leave a negative impression. So be careful not to overdo it.  If I say "Coca-cola" to you, what chroma comes to your mind? Definitely red. Your brain has formed an association that is hard to get rid of. This is exactly what we need. Add more than just a hue to the site, assemble it into your brand.
Choose any shade scheme with Сarubo. Catch four golden rules:
The primary tint must be dominant.
Pick up 2-3 additional shades. Not more.
Emphasize important details with the help of color.
Choose a background shade. Then the design looks finished.
Each shade has its specifics and purpose.
Orange, black, bright blue, and red have one interesting advantage: they encourage quick shopping.
Turquoise and dark blue often affect people with limited income.
Some shades affect all categories of buyers. These are lime green, crimson, hot pink, and azure.
Design A Beautiful Product Card With The Carubo Shopify Theme
When designing a product card for an online platform, several key elements must be taken into consideration to make sure that the item is presented in the best possible light. In the case of an auto details store, these elements may include features such as images, merchandise descriptions, specifications, reviews, and pricing.
First and foremost, the image is critical for grabbing the attention of potential customers. A high-quality image, preferably showing the item from different angles, should be used to give shoppers an accurate representation of what they are purchasing. In addition, a merchandise description should accompany the image, giving potential buyers more details about the goods and their features. The report should be concise and to the point, highlighting the key benefits and specifications of the auto part.
Another essential element of this card is the specifications. This information includes things like the size, weight, material, and compatibility with specific marks and models of vehicles. Providing detailed specifications assists buyers to make informed decisions about whether or not the part will work for their vehicle.
Finally, pricing is an essential component of any product card. The price should be prominently displayed and competitive with other auto parts stores. Additionally, any special offers or promotions should be clearly stated, as they may be a powerful incentive for customers to make a purchase.
In conclusion, designing a commodity card for an online auto details store requires careful consideration of various elements such as images, descriptions, specifications, client reviews, and pricing. By taking the time to design a compelling product card, an online platform can effectively showcase its goods and ultimately drive more sales.
How To Sell On The Сarubo Shopify Theme?
We would like to draw your attention to structuring and systematization. This is extremely important, especially when it comes to a large platform on the Internet. A mega menu is a type of dropdown menu that displays a large amount of content and sub-menu items in a single panel. This type of menu is highly beneficial for an online mart that sells auto elements.
Additionally, a mega menu support showcases special promotions, featured commodities, and new arrivals, making it easy for customers to discover new goods and take advantage of deals. The template was created to sell auto parts and accessories. Using the handy built-in mega menu, your client is welcome to find the desired item in a matter of minutes. For this, you need to try a little. Offer the person to choose:
body type;
graduation year;
brand;
model;
fuel type;
engine power.
Advanced search helps you quickly find what you came here for. Identify the categories. For example, present separately:
automotive accessories such as seat covers, dash kits, custom gauges, organizers, shift knobs, and others;
automotive lights (tail, LED, signal, off-road, or fog lights);
repair parts like engine, brake, exhaust or steering parts, A/C and heating, etc;
wheels, tires. caliper covers, TPMS sensors. center caps, lug nuts, and locks;
body parts like mirrors, bumpers, doors, fenders, hoods, trunks, and tailgates.
Accomplish it with a mega menu that looks great. Сarubo provides your shoppers with prompt and fast service. The drop-down menu has not been a trend for a long time. Now it serves as a mandatory element of every marketplace. Navigation greatly affects the customer's impression of your site. His experience is getting better and that means he will love to come back here again. You have a great pattern that works like this: when a buyer hovers over an item, he sees an overlay where he can choose the category he needs.
Top 2023 Trends for Your Online Presence Video
Your creation should look trendy. A modern-looking web resource is more likely to capture the attention of visitors and keep them engaged. With so many websites available online, users have become accustomed to high-quality designs and user experiences. If your project looks outdated or unprofessional, visitors may be more likely to leave and seek out a competitor's page. Template Monster posted the coolest video recently. Check it out and be at the Top.
Project Info
Date:

05.4.2023

Client:

SHOPILAUNCH

Categories:

Shopify

Tags:

Cars