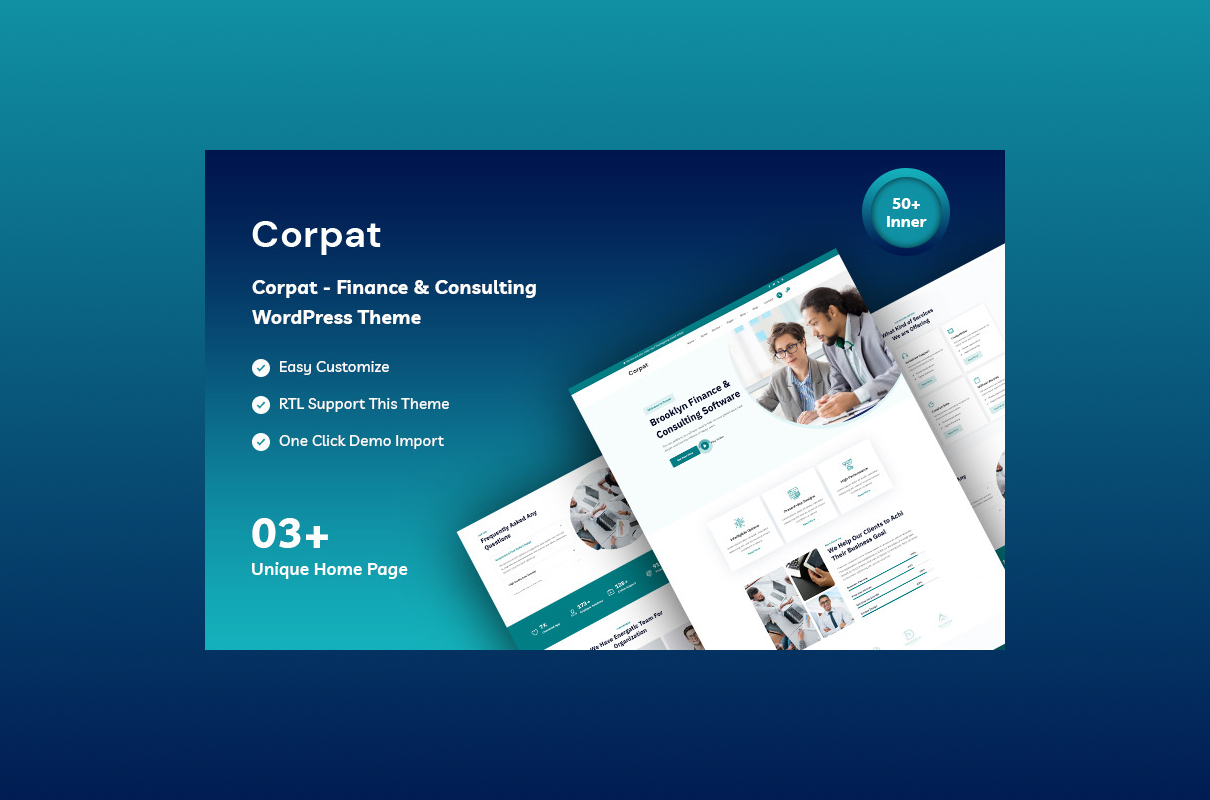 Corpat WordPress Theme the Best Choice For Finance & Consulting Companies
TemplateMonster presents the Corpat WordPress theme, a powerful and ready solution to make your dreams come true! It will allow you to create a highly-looking professional website effortlessly. By buying this theme, you get lots of functional, powerful, and customization tools, allowing you to create everything you need for your site and what impresses your clients in the first place. Moreover, the author has tried to make a design that will meet all modern requirements, allowing you to save a lot of effort and energy and deepen in creating unique content. Now, the building process has become more comfortable and enjoyable, and everything you ever dreamed of is now available to you with two clicks of the mouse!
What Corpat WordPress Theme Has to Offer
CODEXPERT's Corpat WordPress theme is a great choice for those who run a consulting or financial business. Using our theme, you get a fantastic advantage: a functional, clean, flexible, and easy-to-use interface that makes it comfortable for people to navigate through your web page, saving them time and speeding up the exploration of your services. Moreover, the theme includes a huge Google font library with more than 500+ styles, allowing you to make your website more individualized.
One of the numerous necessary things you will get after purchasing a theme is the awesome and multi-functional page builder, Elementor. Regardless of your coding knowledge level, you can easily customize and change blocks as fast as possible. And the most interesting and important function of this constructor is a drag-and-drop feature, letting you move pieces as you like with a single click.
Furthermore, it comes with many other useful options that make creating a stunning, beautiful, and unique design easier and more joyful than ever.
Impressive Footer and Header Styles
Users who see the eye-catching design want to explore your site more. For this reason, you need many ready-made options to find the right template for you and your audience. Corpat WordPress theme includes more than 22+ header styles and 10+ footer styles, helping you change the appearance of your site and make it more unique.
Responsive Layouts For All Devices
Most people today access the internet using their mobile devices daily. For that reason, the responsiveness of a website theme is one of its main benefits. It doesn't matter if you use a mobile phone, tablet, or desktop computer. Our theme looks great on all devices!
Search Engine Optimization
If your pages are well-optimized for search engines, you will always appear at the top of Google search results. That is why the theme's author created stunning and well-optimized pages, which put your site at the top, allowing many people to visit your website more often than others.
Multilingual Support
Furthermore, you will have access to a plugin that allows you to add as many languages as you want to the website so that as many people as possible can use your services. And it is specifically designed for online companies.
Get impressed With Smooth Page Scrolling
If your site is comfortable and easy to use, your visitors will be delighted. It must be perfectly optimized and work smoothly to achieve this. The theme already has this plugin with a smooth scrolling function.
Google Map
The feature lets customers locate your company on a map as quickly as possible.
AJAX cart
The best benefit of using this plugin, you do not have to go to the detail information page of each item to add it to your cart. Additionally, the pop-up shopping cart allows clients to select product options without reloading the entire page each time.
Contact Form 7
If you want to allow users to get in touch with you quickly and easily, you should add a contact form to your site. You can install this plugin regardless of whether your theme already includes a contact form. With Contact Form 7, you will get much better functionality, an easy-to-use interface, and no costs.
Browsers Compatibility
You can use your website on major browsers, such as Opera, Chrome, Firefox, Safari, and many more, because the theme is fully compatible with them.
Competent Technical Support Service
Suppose you have questions about the template or have run into issues while configuring or installing it. It is always possible to get in touch with the author whenever this happens and get professional and useful assistance as quickly as possible.
Detailed Theme Documentation
Upon purchase, you will receive helpful and easy-to-use documentation for the Corpat WordPress theme. This manual can find all the information you need to install and configure pages. In addition, you are welcome to contact the author for more details if you need them.
Watch This Video Tutorial Before You Start Working With the Template.
The video below will help you become a pro at using and setting up Elementor. Additionally, you will learn how to change your site's skin, edit blocks, and add different elements. More than that, it is very enjoyable and easy to do!
Project Info
Date:

09.23.2022

Client:

CODEXPERT

Categories:

WordPress

Tags:

Consulting, Financial