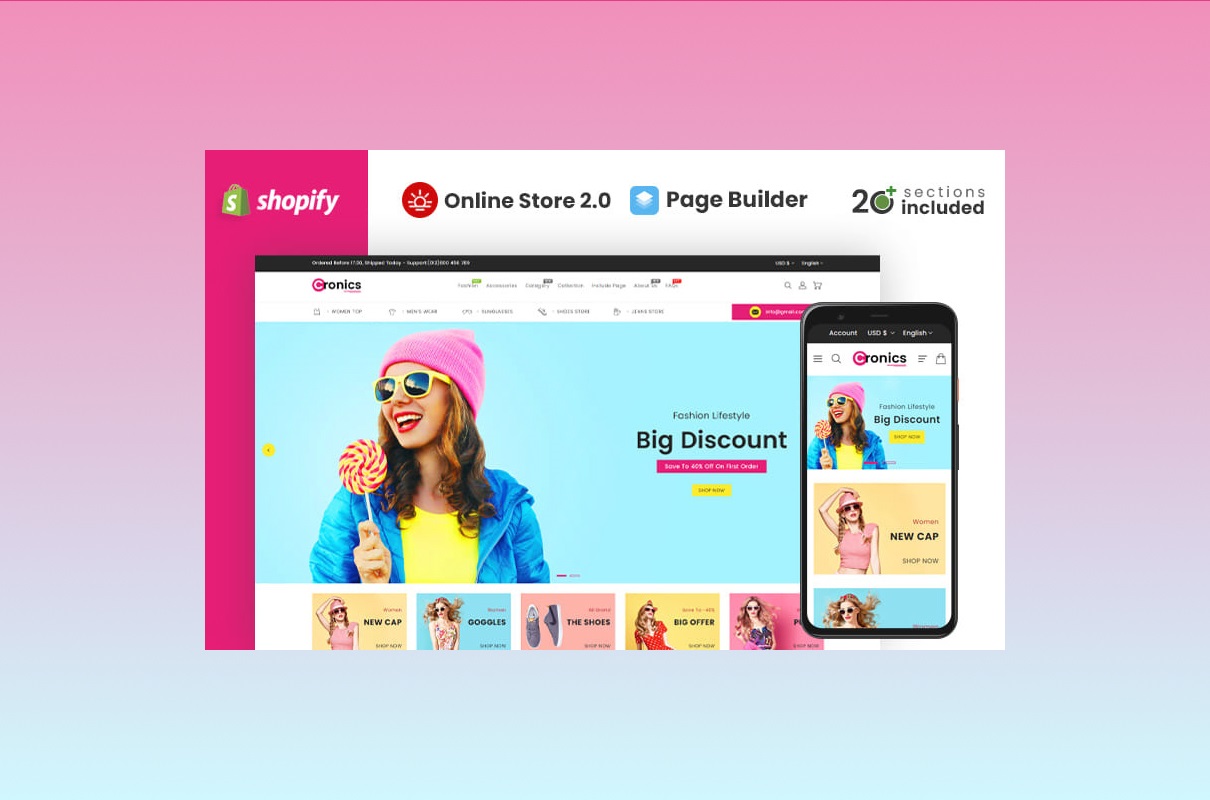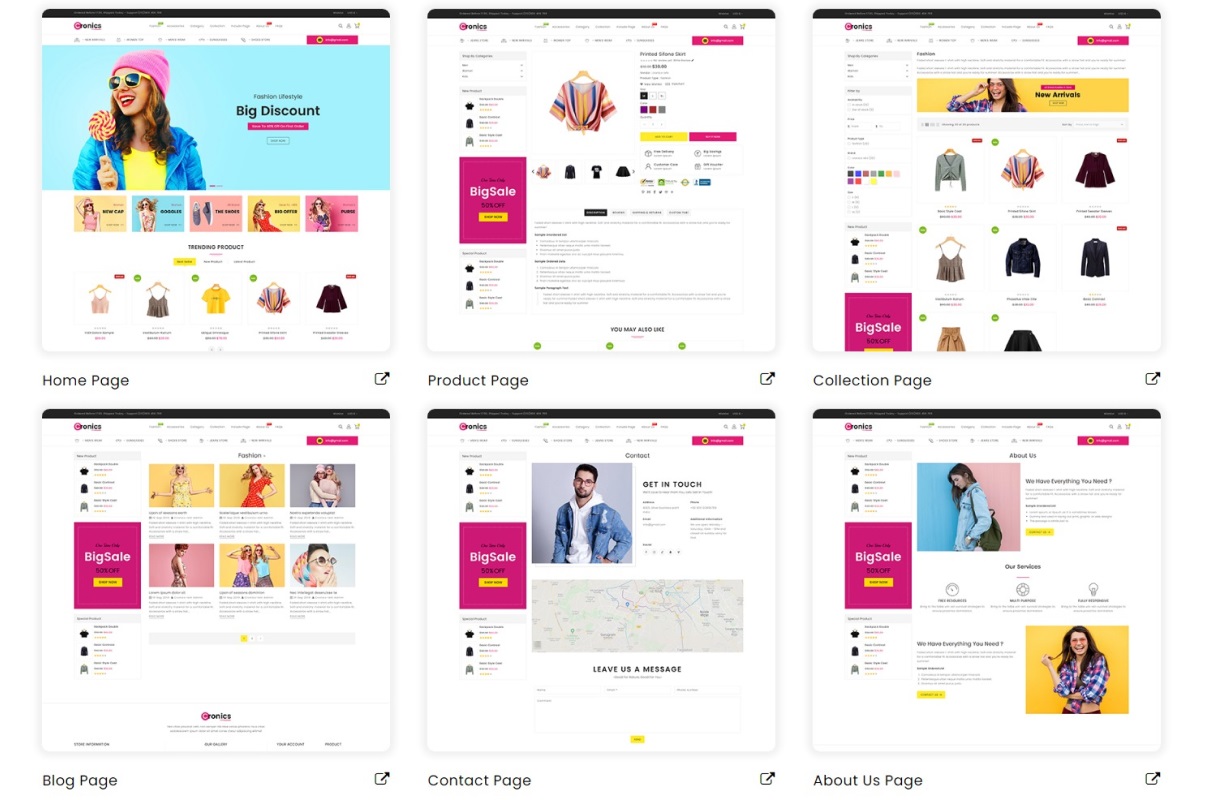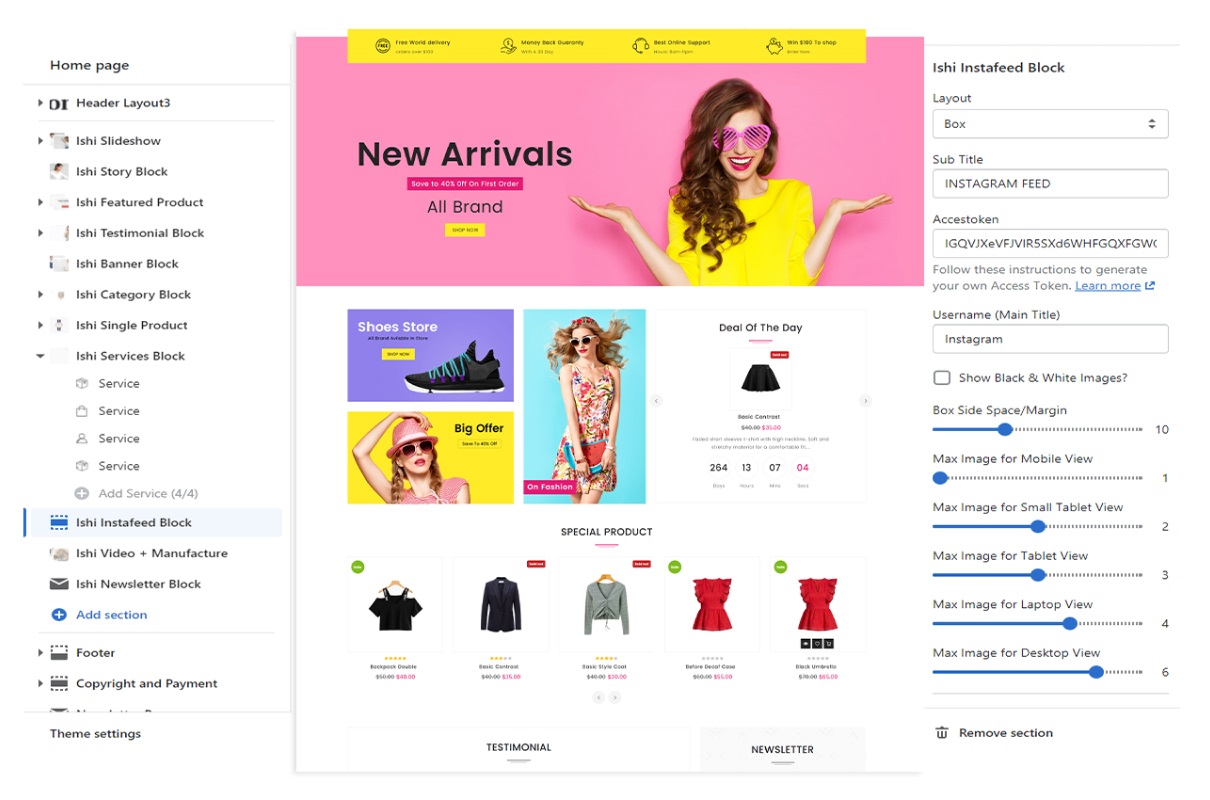 These days, the e-commerce industry is growing every single day. So if you want to start selling online, whether it is Shoes, Clothing, Bags, Beauty, Jewelry, or whatever you guys wish — Cronics is definitely one of the best out there.
We all know that what we wear is super important, right? It is a big part of our daily lives. We wear clothes not just to cover ourselves up but also to show off our personalities and style. For most of us, buying new clothing is something relaxing that brings us pleasure and joy, not just to replace old items.
Usually, we love to shop online instead of in-store. So, starting your own online store can be a really good move! And pre-designed templates are the most incredible and easiest way out there to create a stunning and professional-looking e-commerce website on your own.
Theme Sections
The IshiThemes presents one of the most amazing products. This template is designed with many sections that make your website looks like a beautiful storefront on an avenue, which is incredibly important for the first customer's impression. These sections are here to help you by showing you how to design should be. It is pretty cool, especially if you are not good at it, or do not want to create the whole page from scratch.
Here are a few theme sections:
Quick View Popup
This feature is incredibly convenient. It allows visitors to access all the information about the item, which will be displayed in a pop-up window. This includes description, price, size, color, model, product name, and more. So now you don't need to go to every item page separately to decide whether to buy it — all are available at just a glance.
Add To Cart Ajax
This is one of the most essential features in online stores. You will be pleasantly surprised by having it! Add To Cart Ajax makes adding items to the shopping cart so simple. With just a click of the "Add to cart" button, customers can easily add items to their cart. This option helps a lot with the user experience, making the shopping process fast and more enjoyable.
Latest Blogs
Cronics provides a "Latest Blogs" section which helps you to inform your customers about the latest news concerning your brand or products. Customers may look forward to helpful and exciting updates about a range of things, like great deals, upcoming events, new product launches, and much more.
Wishlist
Very few shoppers purchase on their first visit to your site. You can enhance their shopping experience by allowing them to save their favorite products using a Wishlist. Do you know what is really cool? Having this feature, you may seamlessly collect what your customers are into. It is a great way to get to know them better, which is a critical point to make sure that you are offering exactly what they need.
Core Cronics Features
Search Engine Optimization
The item has been meticulously designed to be fully optimized for SEO. During the development, the author tries to optimize pages for all major search engines, including Google, Bing, Yahoo, and more.
Once you start running your e-commerce website, it will blow you away with how user-friendly it is and how all pages are SEO-friendly. All this helps search engines better index them and increase their ranking on search results.
Fully Responsive
It is extremely important to stay visible to as many customers as possible. The first thing you should do is ensure your online shop is working on all devices. You are in luck! Due to this feature, all your content will be able to automatically rescale itself as needed to feel perfect across all devices — whether it is a smartphone, tablet, laptop, or desktop.
Easy Configuration
With Shopify, you may effortlessly customize your online store's design and functionality without any technical or coding expertise. Cronics is easy to configure, giving you so much room for creativity. You can seamlessly edit any part of your layouts, like the color, font, images, navigation, and more. Easy Configuration plays a critical role, letting you redesign the site's visual parts, making it unique and matching your shop's aesthetic.
Comprehensive Documentation
The comprehensive documentation is designed to make it easy for you quickly understand how to work with this template. It gives you insights into your theme features and the necessary information you need on how to set up and install it. However, one thing to keep in mind is that the author is always ready to help set things up and solve any issue you might have while utilizing it.
Shopify
Let's talk about the most popular online store CMS. There has never been a more powerful and ultimate platform for building and managing an online store. This platform is absolutely off the charts.
It delivers incredible tools, applications, and remarkable ease of use. Users have full control over the platform, allowing them to edit the colors, fonts, theme settings, add payments, and more. Thanks to all of these advantages, it gives you unlimited flexibility to create exactly what you want in a minute.
E-commerce
It allows you to sell pretty much everything, such as digital goods, physical goods, dropshipping, tickets, subscriptions, gift carts, and much more. Moreover, it offers its point-of-sale system to make it conveniently sell in physical stores. To succeed in this industry, you must accept credit cards, Accurate Taxes collection, print shipping labels, and all kinds of stuff. And that is where Shopify comes in. Additionally, you have access to a variety of shipping provides to choose from, including:
UPS;
DPD;
DHL Express;
USPS;
Evri;
Mondial Relay;
and more.
Vast App Store
There are a lot of apps for everything you can think of. Every app brings incredible functionality to an e-commerce site, and you will enjoy using every single one of them. Here is some example of what they are used for:
Chat Automation;
Tracking;
Product Reviews;
Selling on Facebook and Instagram;
Create Product Videos;
Consumer Trends;
and more.
Templates
This e-commerce platform delivers nine unique and remarkably looking themes. However, there are 70+ paid items. One of the most impressive features is its marketplace, which offers a variety of unique and visually appealing third-party themes that are updated regularly. So it lets you play around with a bunch of different styles, making your store completely unique and stand out from others.
Our users have been absolutely blown away by the ease of use and exceptional functionality. They agree that Shopify continues to lead the e-commerce website creation industry.
The Author is There for You
The customer service is excellent and extremely responsive to all requests. When purchasing this product, you will receive up to six months of warranty that covers customization requirements or any technical difficulties you may face. More importantly, the author replies quickly — all your problems will be resolved within one business day.
Get to Know Shopify With This Video
So, after looking into a bunch of different platforms, you have decided that Shopify is right for your business. Now let's set it up and start using it.
Project Info
Date:

08.10.2023

Client:

ISHITHEMES

Categories:

Shopify

Tags:

Fashion, Jewelry