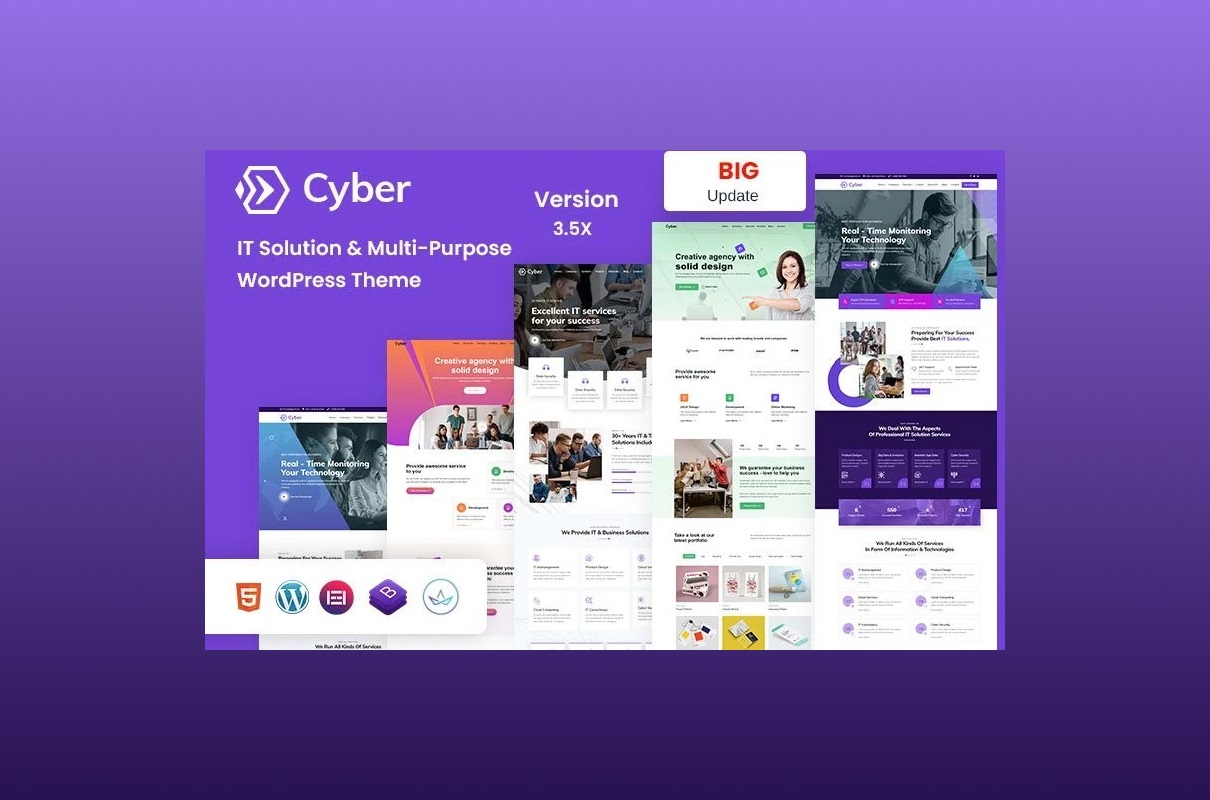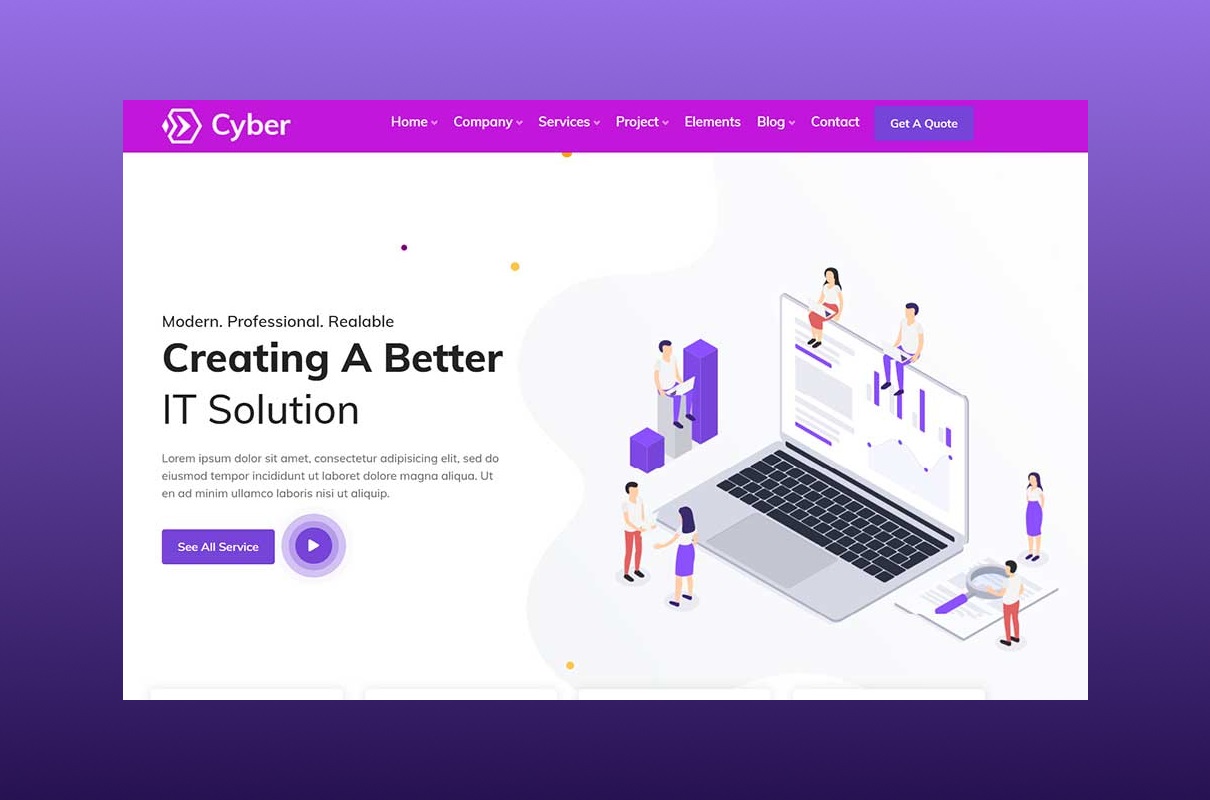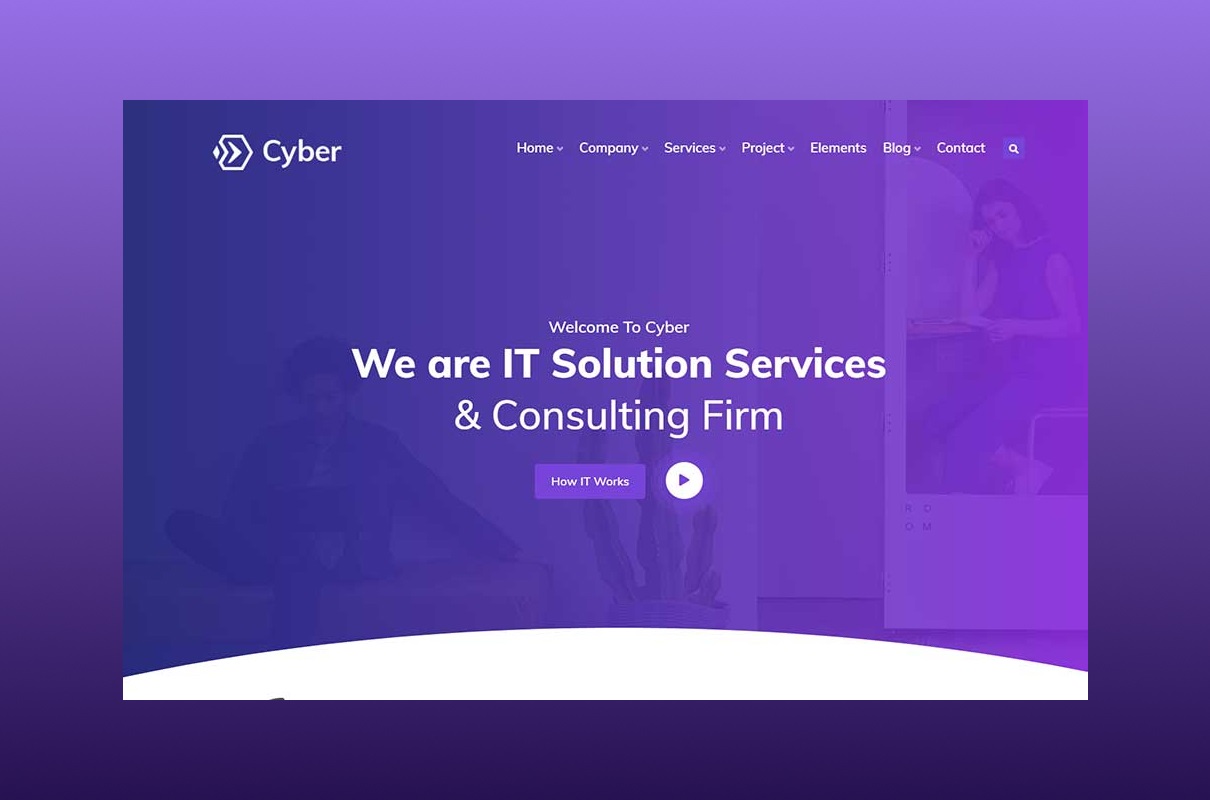 Our parents wanted to be astronauts when we were children; we wanted to become teachers, doctors, economists, or lawyers. Everything has changed now. Everyone wants to be a programmer because there is money in circulation. The field of information technology is becoming more popular every year. There are a few reasons for this. First of all, high wages. There are a lot of investments but few professionals. Secondly, companies laboring with technologies have great prospects. There are many investments in such a business, meaning there is an opportunity for career growth. A Cyber theme knows about it.
Companies in IT are modern, and they value freedom. In this area, people usually operate online and do not use such archaism as the office. That saves money for the owner of such an enterprise because there is no need to pay for light, heating, and accommodation rent. If you already have a business in this area or are planning to open one, you require a website. That theme will undoubtedly help you with this. It is a unique template that assists realize the coolest ideas.
Perfect Design for Cyber Theme
Design is your face. You perform in IT, so your project should be impressive and unusual. It is simple: a successful site is a successful firm. With the Cyber theme, insert different logos, and choose any color scheme, collages, frames, and others. You have many fonts to make your lettering, texts, and slogans examine attractively. Be careful with this; everything should be readable. Select 2 or 3 standard fonts, and your web resource looks clean and neat.
Choose colors with care. Try to pick colors similar in shade. A bright page peeks good, but a mix of red, blue, green, and purple is overkill. It is better to select a light background. Then complete all other elements bright. In addition, the text is visible in the light. The visitor directly understands who he is dealing with when the shades and overall appearance correspond to the brand. Your style should match your activities. White in combination with purple, green, or blue is good for the IT area.
We are not talking only about beauty here. The speed of the web resource is one of the most important characteristics. It is easy to lose your mind with our offer because you have all the cool widgets, animations, and more. All this affects fast page loading times, as your project is overloaded with photos, videos, and other dynamic elements. It so happens that modern Internet users are quickly running out of patience. As a result, a person leaves your site without waiting for it to be fully loaded. In our case, there is no need to choose between speed and visualization. Find the middle ground.
The Convenience of Using the Cyber Theme
What is the point of having an extremely attractive website if it is not convenient for customers? Our offer has everything that is required for usability. There is a three-click rule. It is old and unofficial, but it functions. That means a buyer should be able to find the required information with no more than three mouse clicks. Otherwise, the searcher gets upset and goes to another link. Maybe to your competitor. This has a bad effect on the activity. If you don't want this, configure your work as follows:
After clicking on your link, a client should first see a brief description of your activities and services.
Everything should be clear and accessible on the menu (laid out on the shelves): a list of services, terms of the order, contact data, data about the organization, etc. Categories and subcategories are welcome. That is how your web resource peeks are structured.
Search. Such a window is mandatory. The buyer enters the material right away.
Usability gives you an edge over your competitors. Regularly improve, look for mistakes and correct them. A competent organization helps you to be in fairly high positions in search results. The longer people stay on your page, the higher your performance. In this way, you avoid additional costs for advertising, for example. A satisfied customer always comes back again. Also, he usually promotes your services to his colleagues and relatives.
Who Can Use The Cyber Theme?
There are quite a lot of directions in the IT field. Both large corporations and individuals enjoy using our product. Below are details about which professions and in which areas our sample is used.
Testers. These are specialists who look for errors in programs, observe how the program performs, what are the disadvantages and advantages, and whether it is necessary and interesting.
Project Managers. Respectable profession. They must follow the entire project from start to finish. Clients usually communicate with this person. Be sure to add a photo and a short description of this employee.
Business analytics. If you have a company in this area with a Cyber ​​theme, display all the analytical work and statistics in charts and tables. That allows the purchaser to be convinced of your professionalism.
 Designers and developers. Specialists who develop mobile applications, websites, and software or perform other related tasks. Be sure to add a link to the finished orders.
Architects usually have been in this industry for a long time and know how to assemble rational decisions. They know how to save the customer's money but accomplish everything exactly as indicated.
Programmers make up the foundation. They assemble the final product and write the source code.
The main task of researchers is to analyze the market, follow trends and trends, and then display all this in a report and pass it on to the next category.
Corporation development executive. They find clients who are interested in your favors.
No matter what your activity is, remember the favor must be at the highest level. Half the battle is a well-designed Internet resource. Our developers have accomplished a great job on the Cyber theme. Only do your job perfectly.
How To Maintain an IT Company Website With Cyber Theme?
You need your site as a platform where people may utilize your favors. For example, to buy a product, order a service, etc. The special place where you tell more about your business and share the results of your labor, such as a portfolio, show reviews, etc. Your main goal is to give customers all the information they require.
Lucky for you, this layout comes with SEO. However, we recommend that you take advantage of the opportunities advertising provides. A promoted site will attract a larger audience. Talk about your firm on social networks such as Instagram, Twitter, Facebook, LinkedIn, and others. Write articles on a variety of topics to attract an even larger audience. You also attract cool employees through a powerful website. Professionals in their field go only to a modern and well-developed company. Introduce your team. Buyers want to know that they are laboring with real people who create an incredibly cool product. If you have certain achievements, such as a place in the ranking or awards, indicate them.
Everyone ought to understand that you exist. The site is constantly updated when you publish something new and show finished creations. Information about your experience increases your chances of winning. The choice is obvious if a buyer sees that you have already worked on a similar project. Real photos, a creation story, assist in affecting a person emotionally. It increases your confidence. It is possible with Cyber Theme to present your services in the best possible way. Construct an attractive sign or list. It is mandatory to specify contacts. Phone numbers, social networks, additional links, email, physical address, and other data.
Best After Effects Intro Templates Video
A great way to stand out from the crowd is a chic intro. That may be a key highlight for your creation. Produce a presentation video of your corporation. It is visual content that the viewer easily perceives. Choose a decent music track that will emphasize the mood you require. Do not make the intro too long. Remember the call to action. Stick to your style and add your logo. Template Monsters made a selection of the best after effects intro layouts.
Project Info
Date:

12.6.2022

Client:

DREAMIT

Categories:

WordPress

Tags:

Business, Consulting, Software