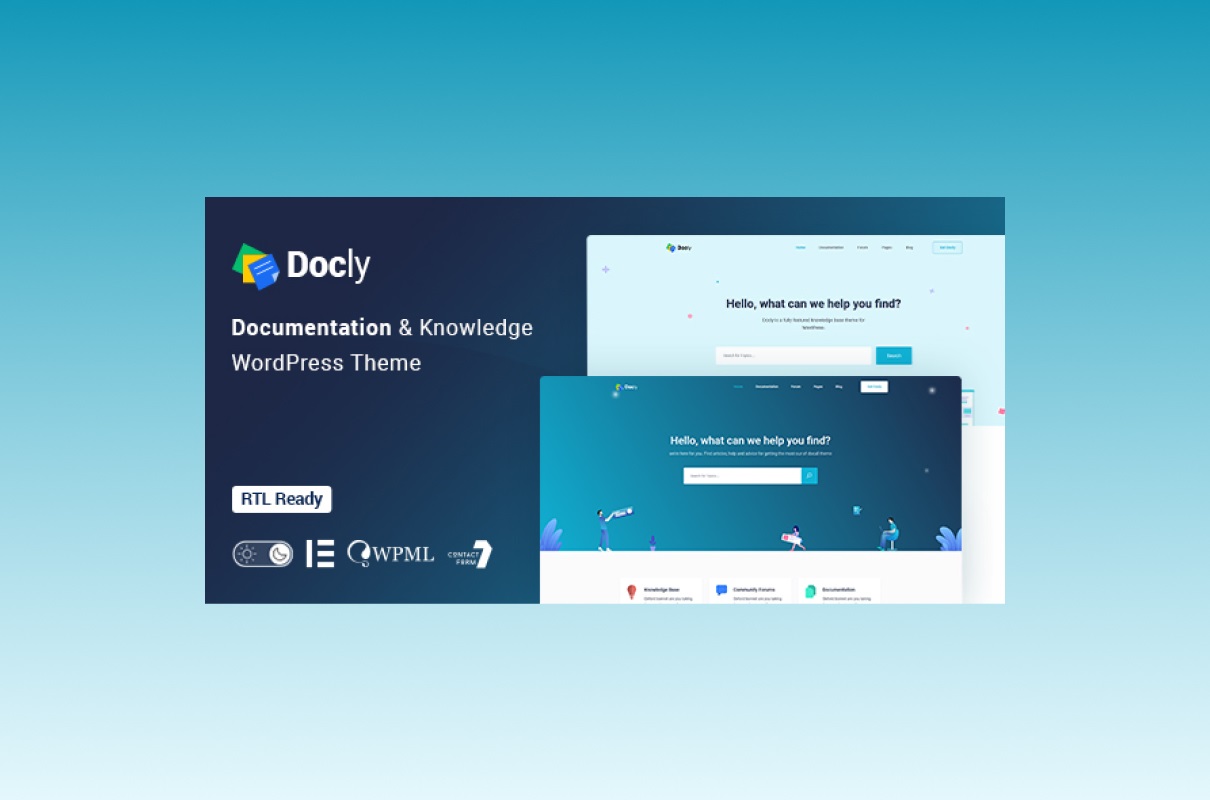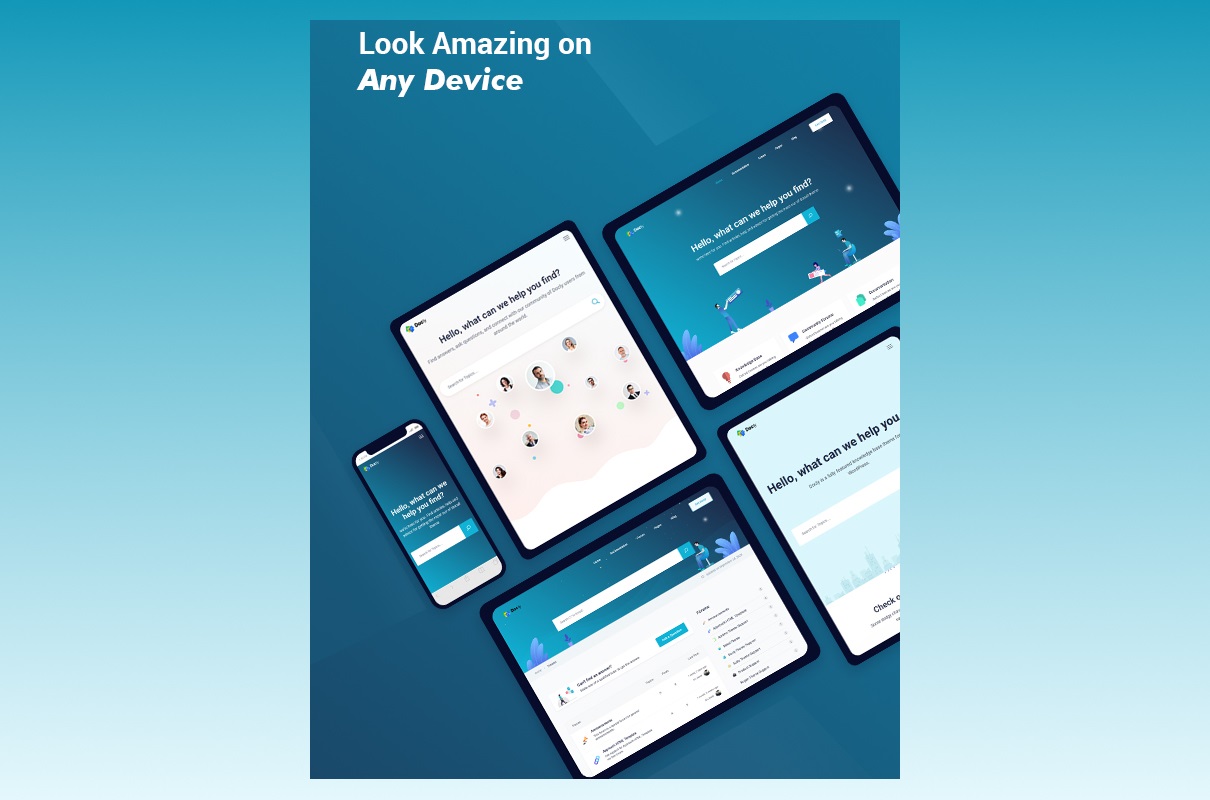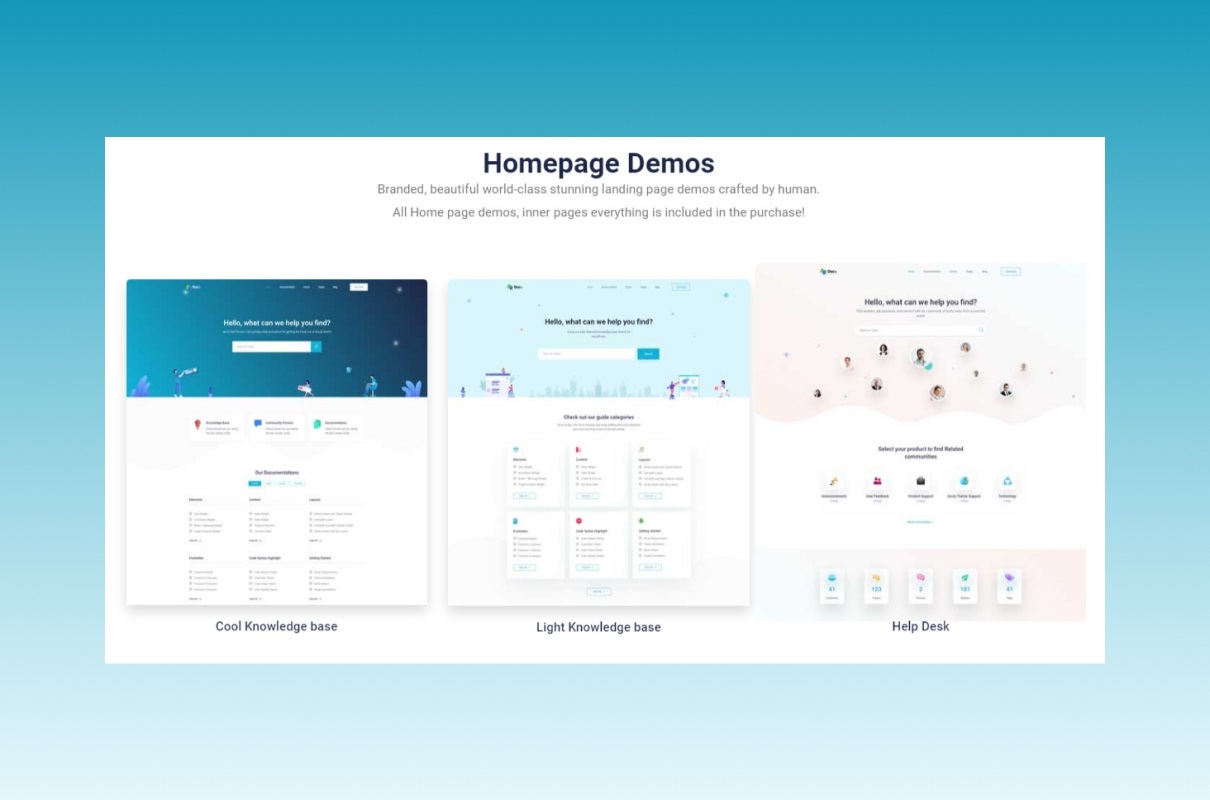 Many website owners are still considering building a website from scratch. Docly WordPress theme is one of the best solutions to handle online documentation successfully.
There's a lot of stuff we use online these days, whether it is apps, software, or even themes, and many have supporting documentation. That is why it is necessary to have a place where your clients will be able to store essential and supporting documents.
You will love Docly's spectacular layouts to help you develop a website in a short amount of time that will satisfy your audience's needs, solve their problems, and make your customer's jobs a lot easier. Docly takes the hard work out of creating documentation, capable of doing it in a more accessible and simple way for APIs, templates, plugins, software, and any other kind of product that needs added guidance or documentation.
With this theme in hand, you will be able to design your own professional website, letting customers develop documentation for their products quickly and easily. What's even more impressive: no technical knowledge is required. Thanks to the flexible features and tools, it is easy to change any aspect of the theme with just a few clicks of the mouse!
Spark Your Creativity With Powerful Features of Docly WordPress Theme
Docly is a perfectly responsive WordPress theme created by CreativeGigs with a stylish, unique, and airy design. It provides the ability to freely make all kinds of modifications to the template, such as fonts, colors, blocks, etc.
Docly offers over 40 ready-made beautiful and modern pages that have different designs and bright color backgrounds. They are suitable for companies that want to create help desks and support centers. In addition, the site has a "Forum" section where users can quickly ask questions and choose the best answer from all the proposed options. Moreover, the filtering system makes it easy for users to find the topics they are looking for.
The author included the world's leading page builder, Elementor. With this software, you may create more impressive layouts. What is more amazing is that you do not need programming or design knowledge to develop and edit attractive websites.
Docly WordPress theme is fully SEO-optimized because it is an integral attribute of promotion on the Internet. Therefore, these layouts will let you be in the top search and attract as many customers as possible. In addition, many other features can simplify and make it easier for you to create stunning, beautiful layouts. Let's take a closer look at some of the features in this block.
Dark and Light Mode
Users may activate the dark mode using the "Moon" button on the right sidebar of the document.
Perfect Performance Optimization
The highly optimized Docly WordPress theme package includes several effects: smooth site scrolling, fast button responses, sleek slide animations, and page loading. As a result of all these advantages, your site will become much easier to navigate.
Support RTL Languages
You can translate your website into any language by using Docly, which supports any language installed on your site.
Life-Time Updates
During the entire period that you own a theme, you keep getting free updates for as long as you own it.
Bootstrap Framework
Styles for the main HTML components are provided by this HTML and CSS framework. This is the most popular web framework, it is used by millions of developers.
A responsive focus on mobile devices can be achieved with Bootstrap for developing web-based projects.
Look Amazing on Any Device
Nowadays, your site should look great and function on mobile, desktop, and tablet devices. Installing an adaptive theme makes the resource more convenient to use from a mobile device. Therefore, by choosing a responsive template for WordPress, you get traffic from desktop platforms and an increase in users from mobile devices. It is worth noting that the process of adapting pages is automatic.
Mega Menu
One of the essential aspects of the site is an extensive and flexible menu that helps customers find all the product sections they need. Due to its functionality, a large mega-menu allows you to place images or video sections in it, allowing you options.
Fast and Easy One-Click Installation
This feature allows you to make your layout look exactly like the demo content and then modify it freely.
Cross-browser Compatibility
Each user prefers to use different browsers. Therefore, it is necessary that the site works correctly and error-free in each of them.
SEO-friendly Pages
As expected, an SEO-friendly site will get more traffic from search engines because it is likely to be higher in the search results. If most people who search for something in search choose the first five sites, then all ranking factors are crucial. With the support of a theme author, you will get ready-made SEO-oriented web pages.
However, you can also use free RankMath or Yoast SEO plugins. With their help, you may achieve high internal site optimization. Thanks to these features, even beginners who have just dived into the website development processes can use the WordPress engine.
Key Docly WordPress Theme Extensions
It might surprise you, but with plugins, it is possible to create almost any type of website, from e-commerce stores to portfolios. WordPress plugins are the most effective way to increase a site's performance. Whit their help, you may enhance functionality or add new features to your site if you need more than what the installed theme offers. In addition, WordPress presents a massive library of over 50,000 plugins, helping you make your website more functional and easy to use.
Below you will get acquainted with several plugins that are part of the Docly WordPress theme and help to speed up the creation of beautiful and outstanding pages.
Elementor Page Builder
Creating a new website on one's own can be exciting, daunting, and even openly stressful. However, there is one platform that will help you with this.
The Elementor introduces ready-made sections, pages, and even entire sites that you can import to your hosting and rework their content for your business. Building a website using this plugin is easier and faster than making it manually.
Thanks to this software for WordPress, you may design and adjust beautiful pages without knowing any coding. Moreover, the free version includes many professional tools and flexible widgets, allowing you to modify every aspect of your site in seconds.
Contact Form 7
A feedback form is a must for every website that wants to stay in touch with its customers and users. If you still need to implement a communication block, it's time to do it. Contact Form 7 is the most common, simple, and powerful plugin for creating a contact form, and the number of its installations has exceeded 5 million.
Get Your Website More Attractive
A modern, eye-catching website, as convenient and understandable as possible, is likely to attract customers and encourage them to investigate your product further. To do this, you can change your site's appearance with the help of shop layouts and product sliders. These will allow your users to see as many products and information as possible on the screen. It also has numerous helpful and powerful features included in this theme that can help users achieve their goals.
Additional Documentation of Docly
Upon purchasing the template, you will get clear and detailed theme documentation delivered straight to your inbox, making it easier for you to understand the theme. Using the template will become more comfortable with this manual, which includes all the information you need to install, customize, and use. In addition, you will learn how to work with pages, widgets, and many other things you can adeptly grasp, regardless of your level of knowledge.
Supporting You Every Step of the Way
If you have questions about this theme or have difficulties using it, setting it up, or installing it, do not hesitate to report it. You can be sure that if you need assistance in such a matter, the author is always ready to help. You will receive qualified and necessary assistance as soon as possible.
This Video Helps You to Elevate Your Skills in Using Elementor
The tutorial aims to show how to set up and use Elementor. In addition, the guide explains how to change the site's appearance, edit blocks, and add various elements to the site. The best part is that it is a very easy-to-use program suitable for any user level.
Project Info
Date:

03.22.2023

Client:

CreativeGigs

Categories:

WordPress

Tags:

Business