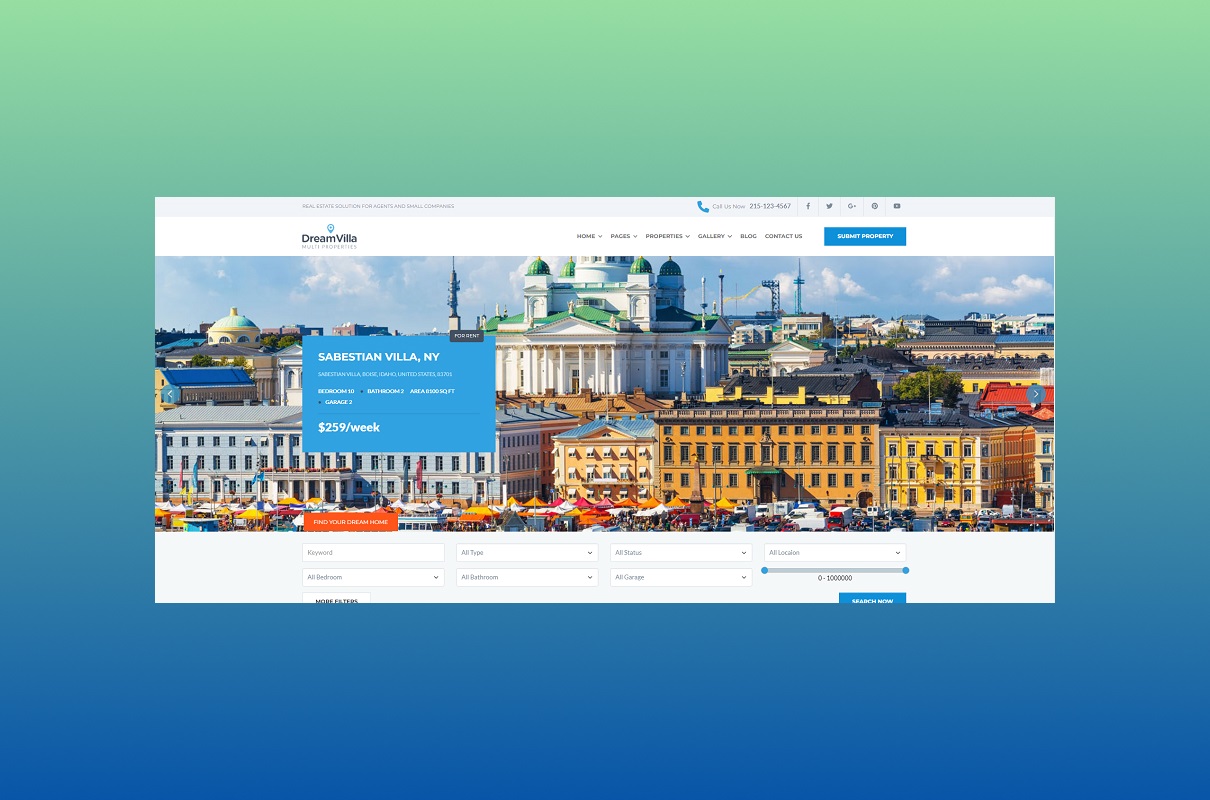 Real estate is extremely profitable. Everyone knows that if you want to invest money successfully, invest in real estate. DreamVilla theme is the design of your dreams. Different variations of the appearance of your website, a homepage with Google maps, and many other possibilities are available. It doesn't matter what size your company is: you're just starting or already have a successful business. Our layout is perfect for you. Take advantage of this chance.
Key Benefits of DreamVilla WordPress Layout
Google Map
Your users must know the location of your business. In this way, their trust in you will increase. Google Maps is a free mapping service where we can see any place in the world. For example, you have the possibility to place a map in the footer, and this will help your customers understand where you are. Regarding real estate, you will need a map to indicate where the objects are located, what you sell or rent, etc. That's how you attract more visitors. In fact, with Google Maps, you benefit regardless of the field in which you work.
Elementor
If you want a beautifully modern website, you need a cool design. Good thing the DreamVilla model is equipped with Elementor. If you have little experience in programming, or you don't want to sweat about it, choose our offer. A long time ago, when the Internet was just starting to function, it was necessary to attract a lot of workers and invest a lot of money to establish a website. Thanks to the latest technologies, you have the possibility to create a truly excellent site yourself, adding content, changing layouts, colors, fonts, etc. Elementor is equipped with more than five million functions, which puts it at the top among competitors. And even if you are a beginner, you can handle it.
ACF (Advanced Custom Field)
With this feature, WordPress sites turn into a content management system. You have enough tools for this. Using this plugin, you have full control over editing. Click a few buttons and add any fields to your page. This plugin has powerful features, detailed documentation, many users, and an intuitive design. In the case of a service where you sell goods or services, you have the possibility to add other fields to the product. For example, you are a realtor, and with the help of our WordPress pattern, you generated an agency where you rent out houses, apartments, offices, and other premises. In the "Private houses" category, the categories "number of floors", "area," or others appear.
Modern Design
Design is of prime importance when we talk about creating a website. Suppose you have a creative idea and incredible functionality, but you didn't put effort into establishing a beautiful interface. In that case, the chances that the user will stop at your site are very small. The appearance forces the buyer to stay on the page to view the content. Take care of it. For real estate, it is better to use minimalism, light colors, and multimedia content. Buyers love with their eyes. If it is a sale or rent of an apartment, then add a large number of photos. Do not forget about the detailed characteristics of your object: area, number of rooms, floors, location, layout, price, building class, construction technology, condition of the apartment, walls, infrastructure nearby, etc.
Paid Memberships Pro
It is an incredible opportunity to generate your community. With this tool, you may create and then manage or delete groups. Buyers have the chance to become a club member, choose the membership level, receive individual access to some information, etc. If you want to publish a certain material only for a certain circle of people, you have the chance to make it thanks to this plugin easily. Produce both paid and free groups. Visitors have the chance to pay via PayPal, Stripe, or other popular gateways.
Mobile friendly
When choosing a theme for an online resource, every self-respecting entrepreneur should ensure that the template is mobile-friendly. Do you know someone who does not have a modern cell phone with Internet access? Unlikely. It would help if you had a sample that will take into account the features of any gadget and will adapt to any screen parameters. We are not talking about this option as a nice bonus. No, it's a necessity! It is also important for SEO. Do you want your website to be one of the first in search engines? A platform like Google first of all checks whether the resource has an adaptive site version. You have two ways: or you add a special plugin. For example, the WordPress Touch Mobile Plugin, or you buy a layout with an already responsive design. In the case of our proposal, you don't have to install anything extra. You have everything at once.
Who Needs The DreamVilla WordPress Layout?
If you work in real estate, we suit you. If you sell, buy, rent, lease, or broker real estate, buy this DreamVilla WordPress model. In addition, with our Paid Memberships Pro plugin, you have the opportunity to organize online courses, online seminars, workshops, clubs, and associations. With us, you have the chance to open or develop a real estate agency, recreation center, hostel, hotel business, etc. Through your website, you or your clients have the opportunity to conduct any real estate transaction: from renting out a garage to buying a penthouse by the sea.
5 SUPER Easy Elementor Tips and Tricks in 100 Seconds Video
With our template, you have the opportunity to use Elementor. We suggest you watch the video, where you will learn many tips and tricks. With this knowledge, you will make your site even cooler!
Project Info
Date:

08.29.2022

Client:

fortunecreations

Categories:

WordPress

Tags:

Real Estate