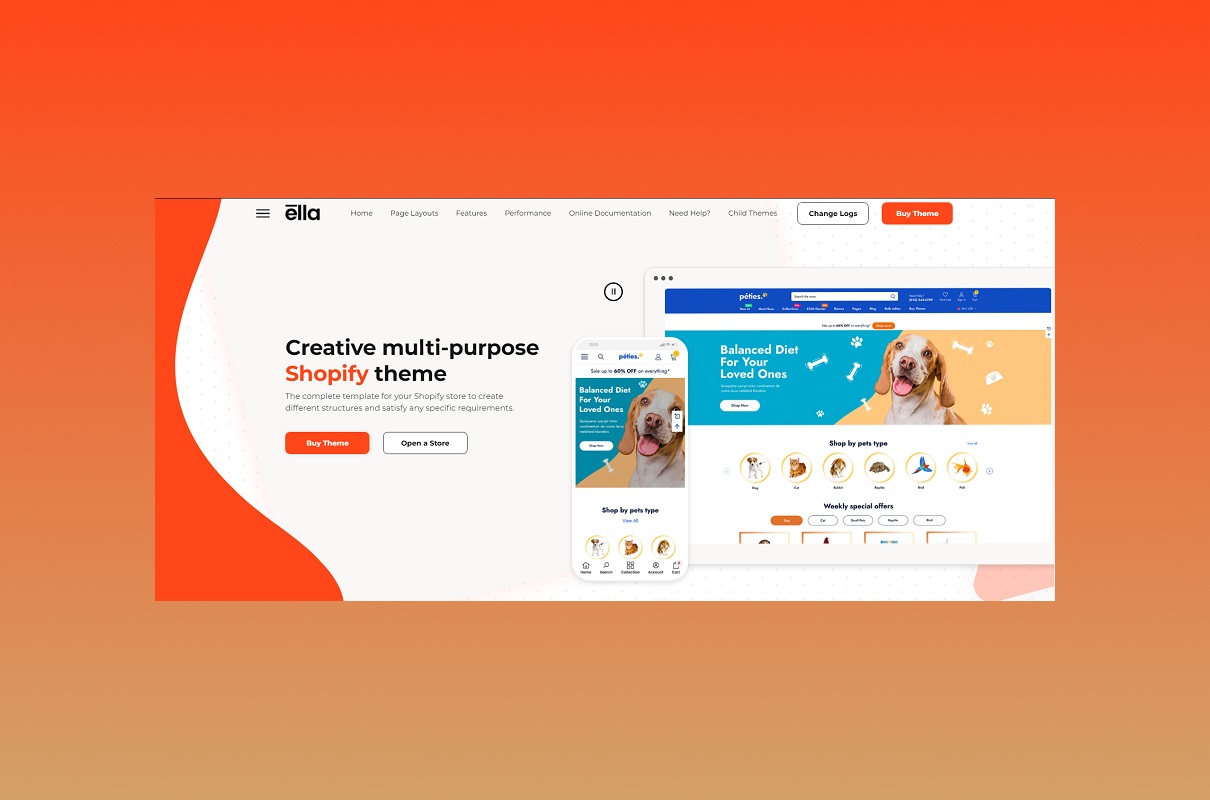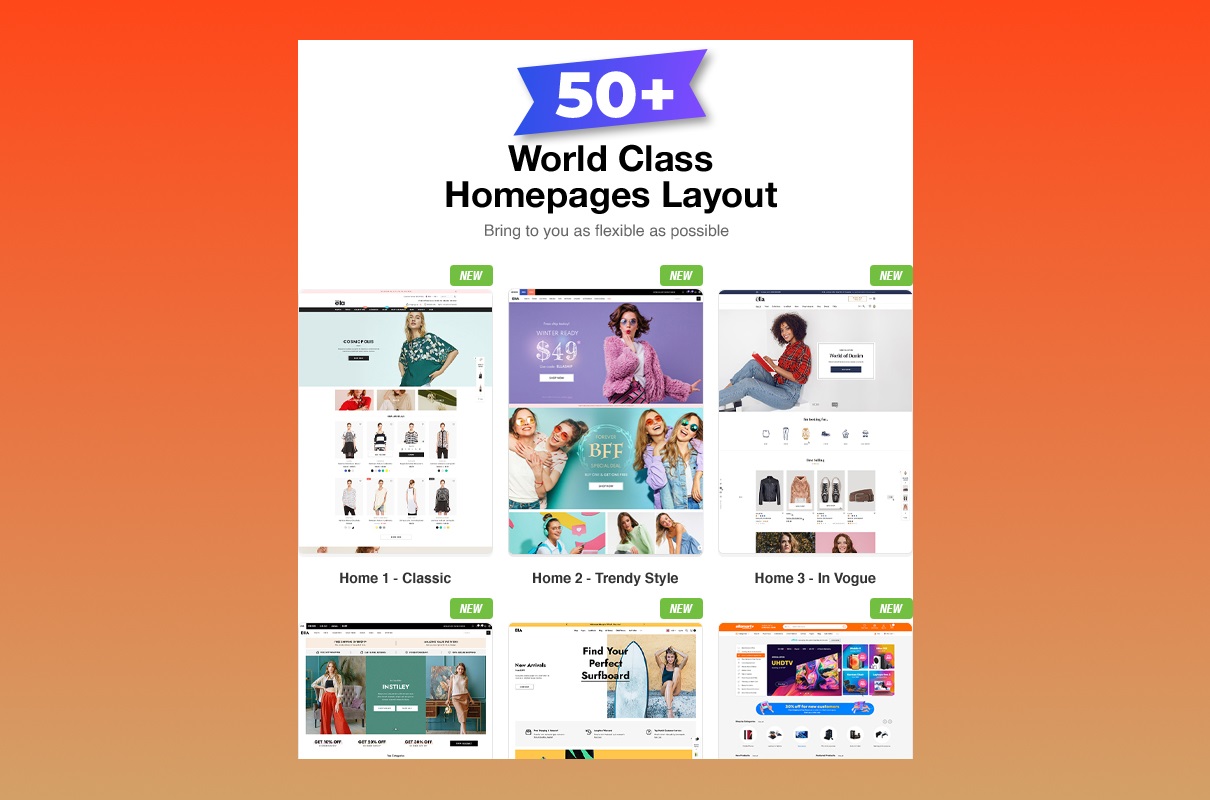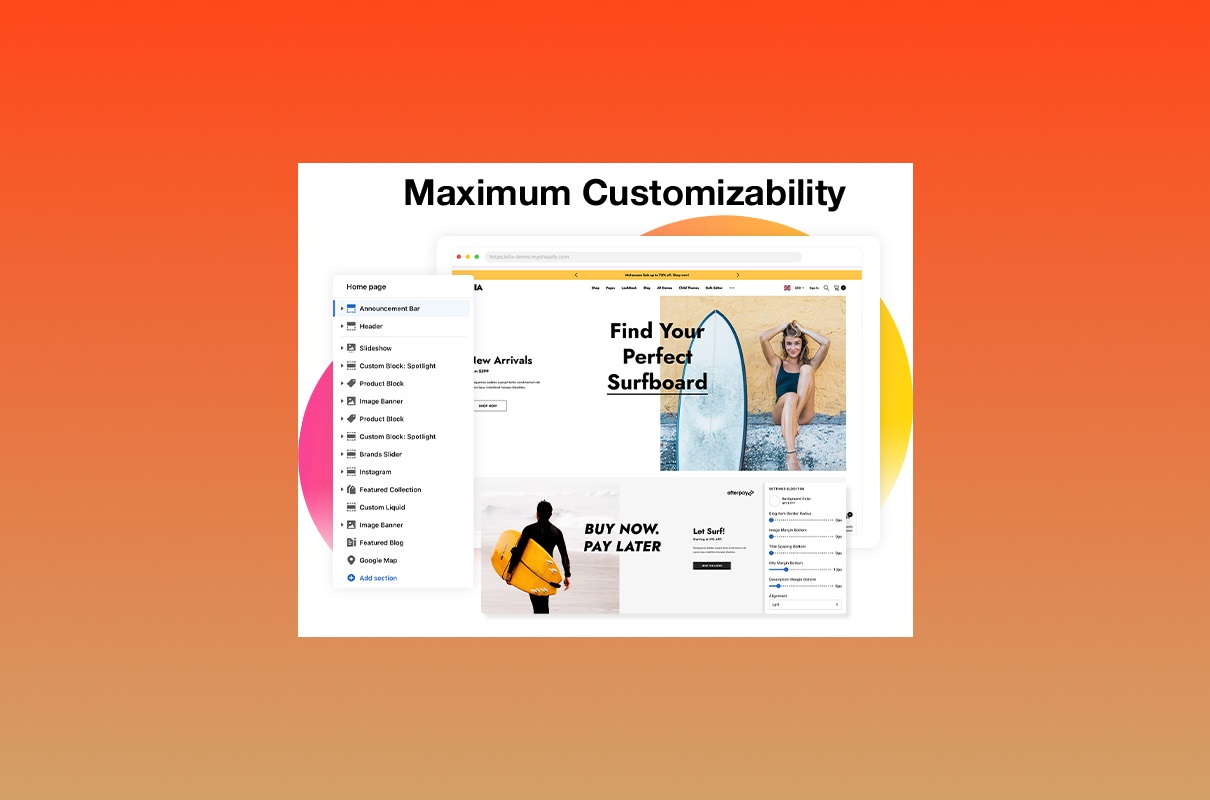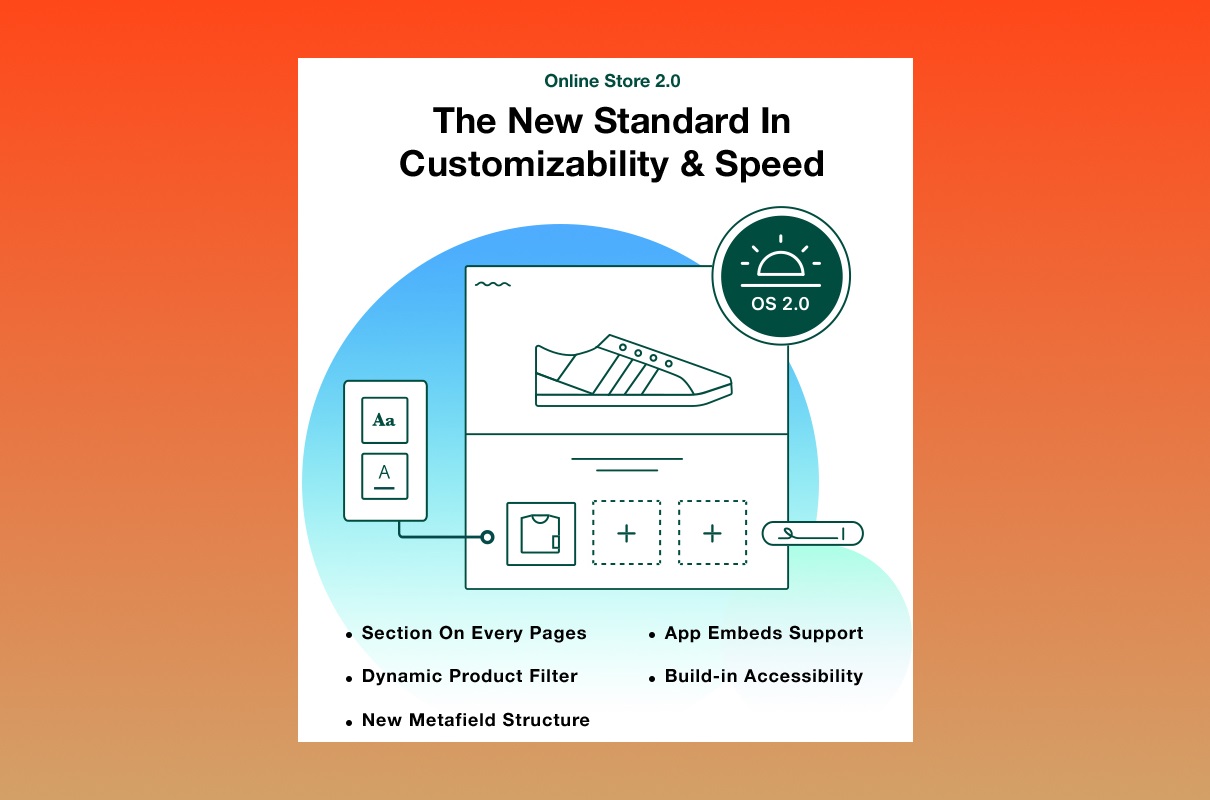 Sales volumes on the Internet are increasing by about 20% annually. You are not competitive in this area if you have a store but do not have an electronic version. Shopify is a powerful tool that helps you sell on the Internet. Create something beautiful with no experience and start earning money. The platform gives you anything you require, so you don't need to be a web design professional. Ella Shopify theme is the reason to start your business now. We support any ideas of our connoisseurs.
The template is endowed with an optimized code, a cool interface, various styles, a Bulk editor, incredible speed, and not only that. In addition, you may open your creation on any device. Operate paid functions already built into our Ella Shopify theme. This way, you save money, which you may invest in yourself. Build various elements. We have developed about one hundred blocks for your material. Pick the best for yourself. Dealing with us, you catch a lucky break.
Key Features of Ella Shopify Theme
You are very lucky, and you have the chance to buy a template, which is endowed with an incredible number of options. Don't buy anything extra. We have everything to start a cool project.
Search engine optimization
These are certain actions you must perform to raise the position of your online resource in the output of search engine results. People usually click on the first 2-5 tabs. They find what they were looking for at the top of the page, so they don't go any further. You have to be one of the first if you want your website project to bring you profit. It is how you increase your audience. More potential clients come to your link. Lucky for you, our Ella Shopify theme is SEO friendly. The results of this are astonishing.
If you are in the top search queries, your traffic increases. You must customize your website in such a way that it is convenient and beautiful and that the customer finds what they wish quickly. Increase the variety of the assortment, set good prices, and then the traffic will turn into sales. If you do all your actions the best way, your visitors return to you again.
It is much better than advertising. You have to pay for advertising. Here you organically increase traffic on your website. You choose options for requests you want to promote in the search engine. You form this list yourself. Search engines have certain standards. These criteria include high technical demands. For example, no errors, high speed, responsive web design, etc.
Stunning appearance
Appearance is of primary importance for your project. No matter how technically cool, nobody stays there if the look is bad. Our offer has a trendy, clean, and comfortable format. Leave a good impression on your buyers. You must stand out among your competitors. The customers should remember your look. As Andrew Grant said: "You never get a second chance to make a first impression." You can't turn back time and change it later. So pay attention to this. Our team has developed more than fifty great homepages. Stay tuned for more updates coming soon. If the online resource is your book, the main page is its cover. Do not forget about headlines; many of them are at your disposal. Customers evaluate the site precisely on this basis. If they don't like it, they leave your resource. You don't require it.
Our UI and UX designs are fresh and convenient. Include all your creativity to complete your project special. Even if you are not a professional with our Ella Shopify theme, you customize it perfectly. Make sure the menu is perfect and easy to navigate. Pick one of the eight ready-made mega menus if you like. If you have a store, check whether such buttons as "order" and "add to cart" work well. Are all features accessible to mobile users? Also, don't forget to match all the graphic elements and choose a style.
Premium plugins included
By buying the Ella Shopify theme, you save a lot of money. If you do the math, it's more than $1,000. You get everything at once for a small amount of money. Feel like a fat cat in this world. We talk about all the advantages in order below.
Advanced Mega Menu. With it, clients easily find the result they require. Share the tabs you have chosen on the panel. Divide the area between the columns. Interactivity is present on your online resource due to this plugin. Categories change when customers hover.
Products Compare. This tool allows you to compare merchandise. If you offer a large assortment, this option is useful. People have the opportunity to analyze your developments and compare the different characteristics. The number of returns is significantly reduced with this plugin.
Countdown Timer. By constructing your site dynamic, you attract more attention. The Countdown Timer helps you do this. You don't need to be able to code to operate it. Give a countdown to events, discounts, coupon expirations, and more. On mobile devices, it is also visible.
Product Filtering. It is a very important option. If you plan to sell many different commodities, you must take care of filters. That improves and speeds up the search by buyers. We believe that every online store should be equipped with this plugin. Let users select the color, size, type, price, etc. By the way, this plugin is expensive if you buy it separately.
Look Book. Build as many look books as you like. It is your powerful advantage over competitors. No coding, drag and drop, to create a real miracle on your site. You have the opportunity to set up markers that display goods and information about them when the mouse hovers over.
A complete list of paid viewing features is available on our site. Press here.
Customize the best store ever
You have a unique opportunity to build your online store using Shopify. It is a leading online selling platform. In addition, sell on social networks, mobile devices, etc. Any future updates are already included in the price. Technical service is also available for you. Add sections, wares, and slideshows. Banners with pictures and videos are also available. Make sure to add the option to construct a wish list. That helps to convince the buyer to have a purchase. If you sell clothes or shoes, a size chart is essential. Ella theme comes with a special extension to assist you with this. Buyers desire freebies. Please give it to them in the form of free shipping. Include its cost in the good's price, enter an amount after which delivery is free, or join the loyalty program. There is also an option to assemble it as a temporary bonus. That encourages people to take quick action.
Quick Shop App helps you to quickly find and order anything you require by name or stock keeping unit. It is not necessary to go to all categories. It is especially effective for wholesalers. The shopping cart is updated instantly. Your customers are always notified out of stock. Add multi-media files and ask an expert section. Clients leave their data and information about the problem in a special form. They determine how to respond (email, phone, or both). Behaved concerning with buyers. Solve problems quickly and qualitatively. It is not a problem to inform everyone about discounts and assemble bundles. You have unlimited possibilities. Catch luck by the tail.
Responsive web design
A static design of an online resource is not a requirement these days. Why have a website that people might only view on a desktop computer? As more and more people shop via mobile devices, you need to be ready for it. Forewarned is forearmed! Take into account tablets, smart TVs, smart watches, laptops, and other gadgets. More than half of all traffic comes from mobile devices. This figure is growing every year. If your client opens your site on his smartphone and the page is developed for a desktop computer, trust me, he will leave it immediately. Nobody likes to put in the effort. Nobody wants to zoom in on content to view it. Content should be readable.
Smartphone advertising is growing even after the pandemic. Whether or not you advertise on social media, gadget users make up most of your traffic. Potential buyers won't come to you if you haven't developed an adaptive web design, reducing your creation's profitability. Flexible media, layouts, and queries are the main features of this approach.
Layouts. Layouts are built with the assistance of a flexible CSS grid. These are columns that are automatically modified to fit the display.
Requests help check the conditions to adjust the gadget's properties in the future.
Media. We utilize special windows to view videos or images. These windows resize according to the device, so all media types should adapt automatically (the max-width property with a value of 100%).
Free Child templates
Our demonstrations evoke only positive emotions. If you desire to save money and time, download the required demo. A team of the best web developers created patterns for any business. Hiring people to develop an Internet resource can cost a fortune. Here are some demo versions for you:
Tea Tea.
Belle Dolls.
Jewel.
GYMUSO.
Cospora.
CAROS.
WatchTICA.
LUXW.
Petica.
The Bagratica.
Try each of them to understand what you desire. Colors, style, headings, and fonts are all perfectly selected. We did troublesome work; you were impressed with this result. You get access to the previous version free of charge. You finally receive an idea of our project and prepare for its use. Of course, this is not the entire item but only a part of it, so not all plugins work in the proper form. It won't take long to download the demo to your computer. If you do not know how to do it, analyze additional literature.
How to Employ The Shopify Bulk Editor to Operate Multiple Goods?
It is not at all surprising that Shopify occupies a significant market share. Bulk Editor is available to you (find it in the admin section). Update multiple goods simultaneously, change category, price, size, etc. That significantly saves your precious time.
To begin, select the commodities that you want to modify. You have access to a complete list of merchandise in your store. It is there that you choose. If you wish to edit everything at once, check the special checkbox. That causes your job a lot easier.
After that, we notice the number of selected merchandise (right next to the flag). Next, click on "Edit Products". This action takes you to the Bulk Editor.
Modify your selection by prices, sizes, weights, colors, quantities, etc. You should see text boxes for each of the commodities. Tap on them to make changes.
Don't worry if you don't see the appropriate field. It's not a problem. Click "Add fields" in the upper part of the editor. Click on the property if you want to include it in the table. Repeat this procedure as many times as you wish. You may also delete properties by clicking on the "x" (next to the name).
How To Install Shopify Theme Video
It is a cool solution if you are dealing with electronic commerce. There are a huge number of beautiful and multifunctional samples on the market. Focus on choosing the right topic for you. This video teaches you how to set up such a template.
Project Info
Date:

09.13.2022

Client:

halothemes

Categories:

Shopify

Tags:

Animals, Business, Fashion