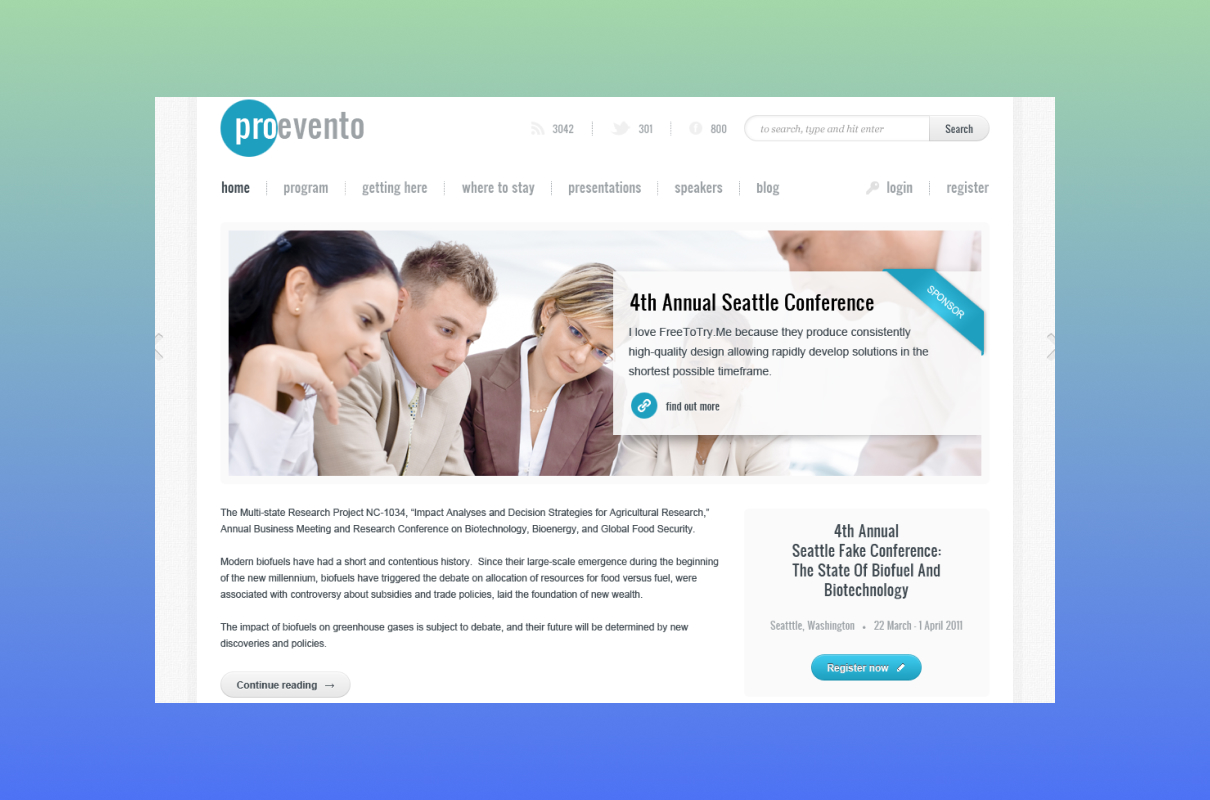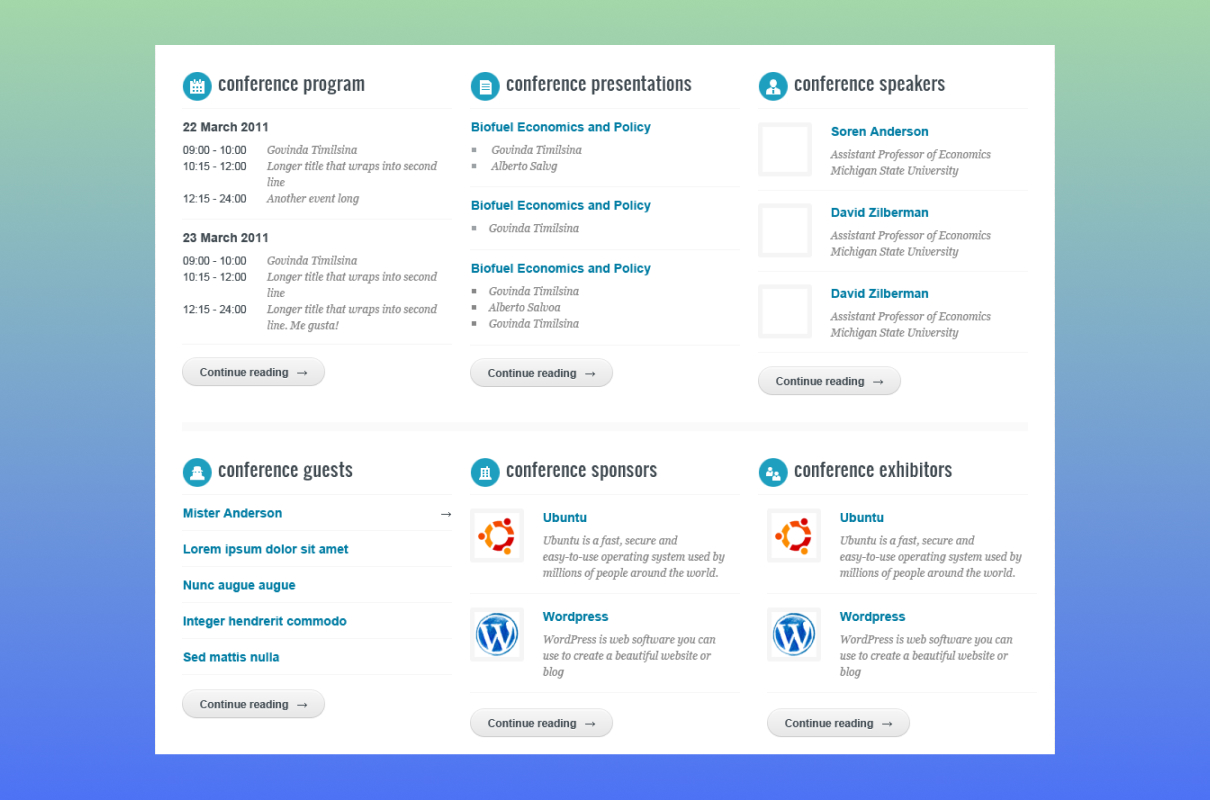 Corporate events are part of any successful business. It is a good tool for establishing good relations between employees, the company, and partners. To plan a successful and cool event, you must create a resource. Describe the planned event there. You should use a template if you are not a professional web designer. That allows you to construct your unique creation without coding. Select the right template for your website. We offer to your attention the Evento theme. When you buy our template, you get a reusable site where you can update or change events. When you create a separate website for your meeting, it increases people's interest. Guests are looking forward to it. Our template is attractive and easy to manage.
Main Features Of Evento Theme
Search engine optimization template
Your project is successful if it is SEO-friendly. You must follow search engine optimization actions for your site to be in the first position. Let's explain in detail. When a person types their query in the search bar and presses Enter, a list of results appears on the page. The results of contextual advertising (paid) come first, followed by organic. Statistics indicate that Internet users are more likely to visit the first links. They usually find what they are looking for on the Internet. Your task is to be among the first. If you are twenty, the chances are very small. There are many factors affecting this.
We made sure that your audience found you. You don't need to spend money on additional advertising because your work is already optimized. Thus, more people come to you, the brand becomes more famous, and the quality of the site and the number of visitors increases. Moreover, it sets you apart from your competitors. If a potential client does not find you, he goes to your competitors.
Coolest interface for your event
Evento theme is the best theme for your event. Plan unlimited parties, conferences, seminars, etc. Archive old events and organize new ones. Our design allows you to put together programs for several days, show presentations, and many other options. With the help of shortcodes and widgets, attach videos and speakers' texts. At your disposal is a convenient menu that allows you to edit and add articles (interviews, news, reviews, discussions, theses, reviews, etc.). You also can link to other materials. Creating pages has never been easier (shortcodes help). Any event requires a program. Make it easy; specify hours and actions that correspond to time. You may attach .doc or .pdf files to your articles and presentations. With our proposal, you have ten different side panels. Add options: registration, speakers, program, participants, prizes and gifts (if available), archive, sponsors, organizers, etc.
Connection with world-famous brands
Google is one of the most powerful companies in the entire world. People trust it. Our Evento theme allows you to add one of the most famous geographical maps of the world to your online resource. This platform provides an opportunity to plan a route to any corner of the world (on foot, by car, or public transport), to view streets and objects, and many more. You can share your map in minutes. Create markers. This option allows you to increase the trust of customers.
It is important to link your website with social networks because they occupy a big place in our lives. We utilize them every day. Evento theme assists you in enabling or disabling the content distribution function. By clicking on the appropriate button, visitors to your site may share information on their accounts on Instagram, Facebook, or other social networks. In this way, you are doing free advertising for your company. People are spreading your content themselves.
Who Can Use The Evento Theme?
The business of organizing meetings is very popular these days. In addition, this activity is profitable. Everyone loves parties. Our premium Evento theme template helps you to create:
exhibitions;
conferences;
business meetings;
seminars;
workshops, etc.
It is necessary to understand that every company, regardless of activity, needs such measures. It is the best way to unite the team and improve the quality of work. It is also possible to organize a corporate party. It is a great opportunity to relax, rest, relieve tension, and get positive energy from each other. Build a single template with basic settings, then change only the basic information. That makes the organizer's job much easier. For example, leave the following sections: title, description, program, speakers, time, date, and location. These are standard settings for any meeting. It is perfect for agency events.
Also, utilize the sample as an online invite. It is this moment that means the holiday has begun. A person feels a serious preparation for a meeting. In addition, if these invitations are personalized, it is difficult for people to refuse such an offer. Add graphic elements, images, and animations. Then your resource becomes dynamic, which interests visitors.
Creating A Web Resource With Website Template: Before and After Video
There are two ways of developing Internet resources. You either do everything yourself from scratch or buy a ready-made template. In the first case, you need a lot of time and knowledge. If you don't want to steam, choose an option with a pattern. You will learn more about this process after watching the video. Inspiration is waiting for you.
Project Info
Date:

09.12.2022

Client:

cosmothemes

Categories:

WordPress

Tags:

Business