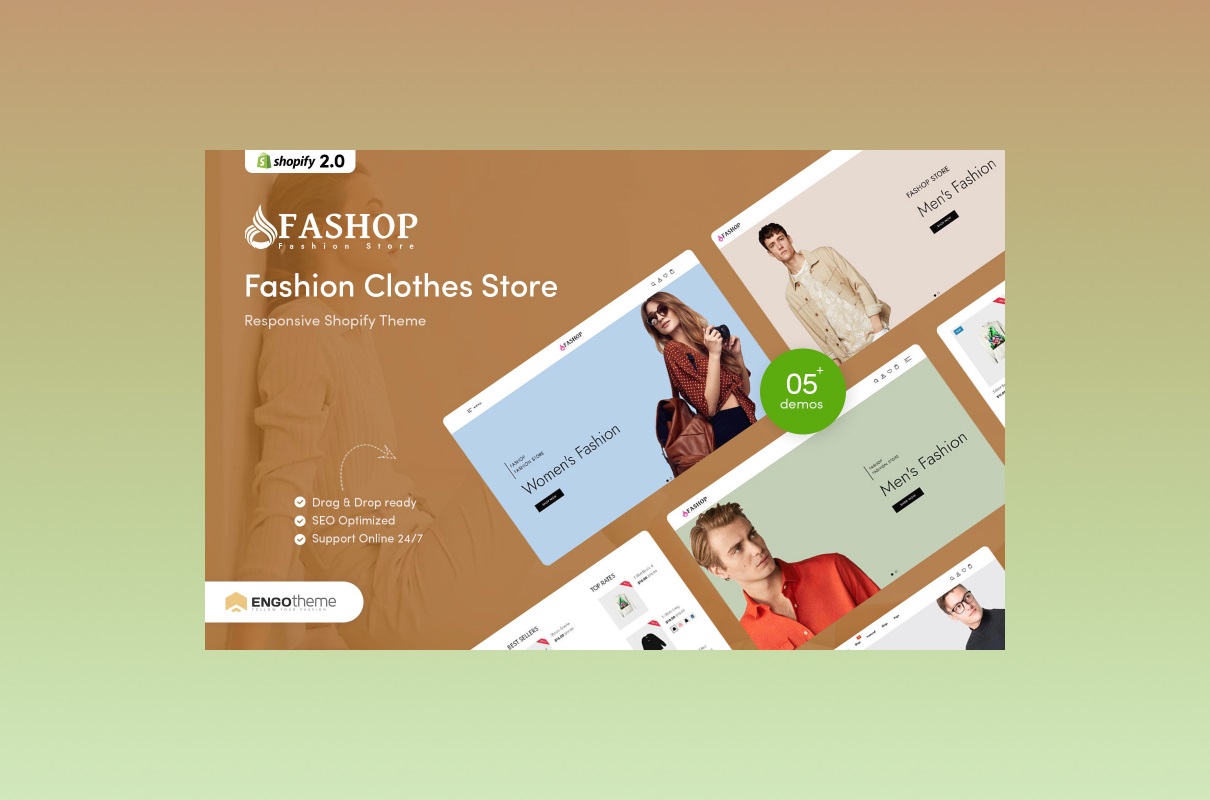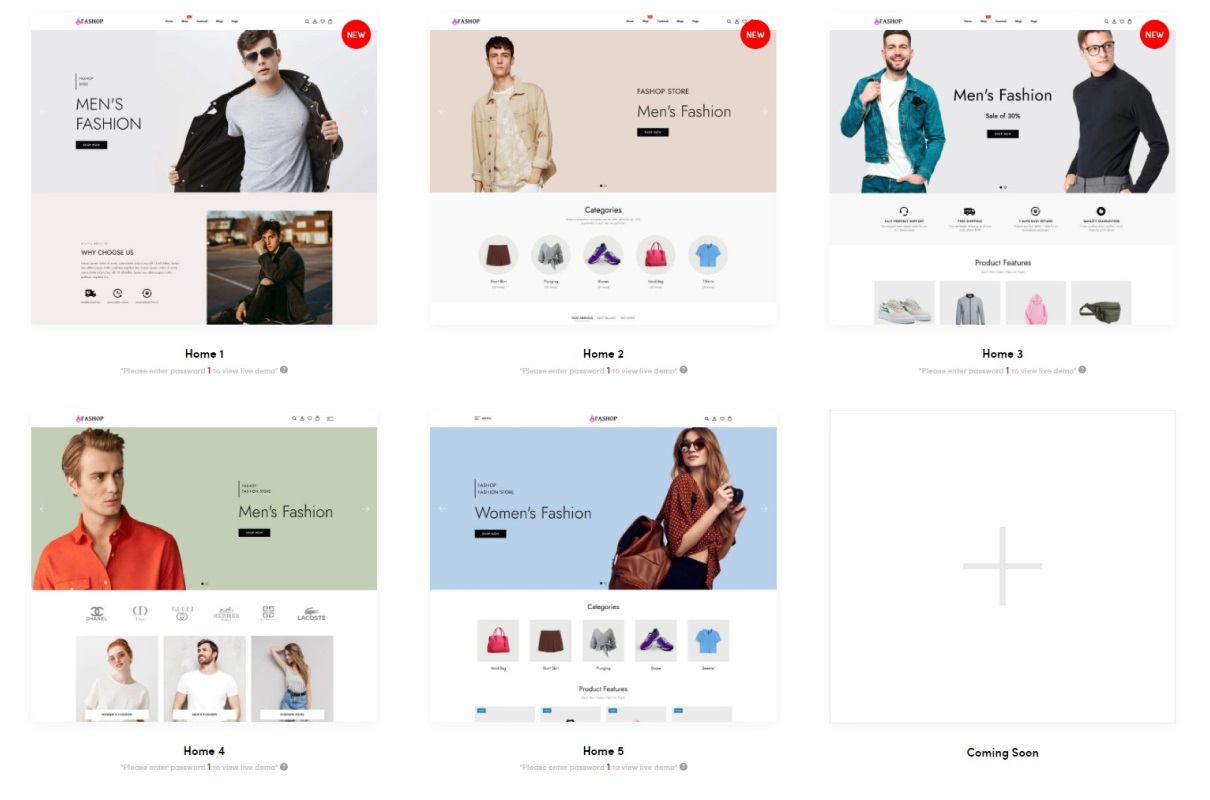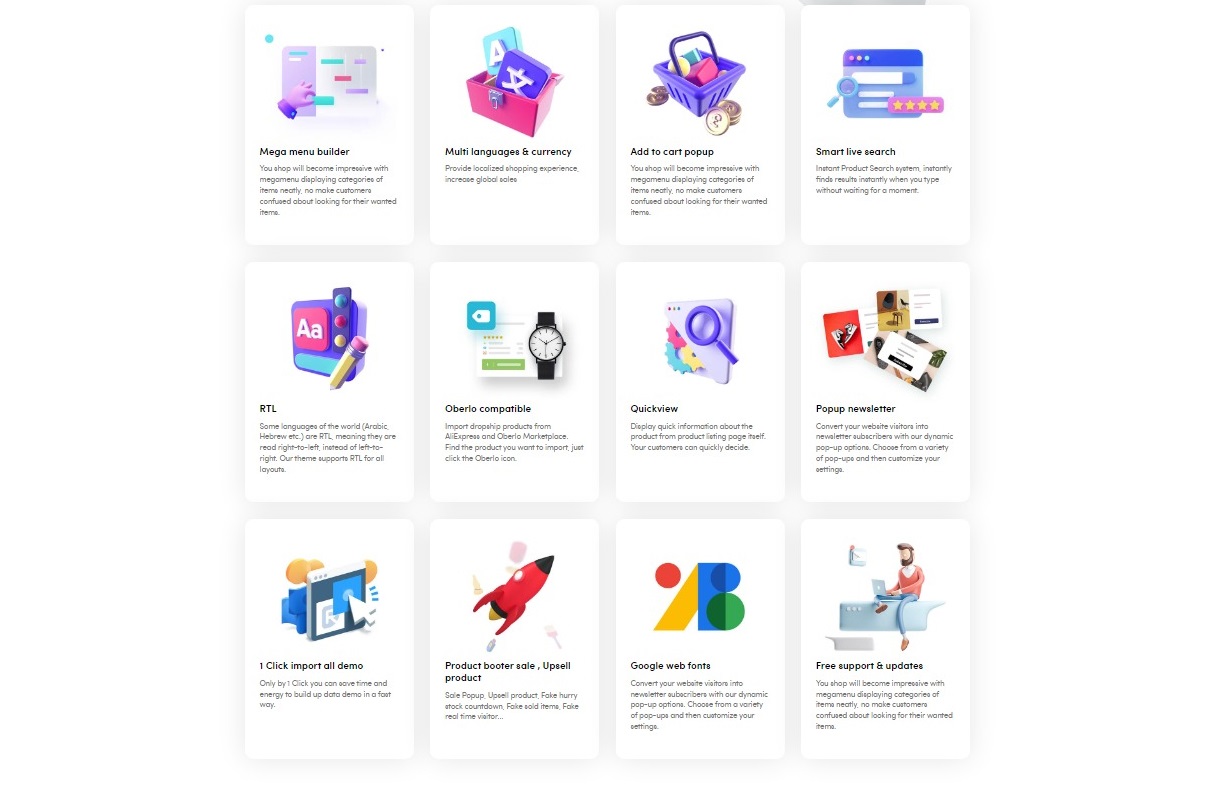 The e-commerce industry is growing every single day, yet offering incredible opportunities for success for companies of all types. If you are on a tight budget, pre-designed templates can be the perfect solution for creating a professional-looking and eye-catching online store. Luckily, when it comes to building an online store — Fashop is the right one.
Shopping has drastically changed over the past several years. Who knew 10 or 20 years ago that all our shopping could be done on smartphones? The growth rates of e-commerce are significantly faster than physical stores. And the most important thing is it's just easy and convenient. Making purchases online is the easiest way to get everything you need in a short amount of time. Now, you don't need to waste a lot of time in a lineup — all at your fingertips.
This template is a great option to drive visitors toward making purchases. This template lets you sell wherever you want to, whether it is Clothes, Shoes, Glasses, Bags, Sportswear, Beauty products, and anything related to the fashion industry. Whether you're an established brand or completely new to this — pre-designed templates are an incredible way to build a beautiful and functional website.
Make it Unique. Design it in Different Ways
The EngoTheme presents one of the most striking themes. It offers a clean, elegant, and minimal-looking design that will help your e-commerce business to connect with people all over the world. And one of the standout features of this theme is its incredible flexibility and fully customizable design. Moreover, intuitive drag-and-drop technology allows you to take your visual appearance to the next level, giving you lots of room of creativity. Any crazy ideas — in just a few minutes.
The author designed more than just a template – it's a tool that empowers business owners to showcase their products in the best possible light. For this reason, it offers 5+ home pages, 10+ shop pages, 12+ product pages, and 6+ header and footer styles. In addition, it has a tonne of options for your shop's layout. All this gives you a magical new way to build a brand that truly reflects who you are — and to inspire potential customers with your unique vision.
Fashop Shopify Theme Features
SEO Optimized
The Fashop gives you the capability to effortlessly attract and charm the target audience and rank high on search engine results pages, allowing you to increase your online visibility, generate more leads, and ultimately boost your revenue.
Responsive and Retina Ready
The Fashop is carefully crafted to provide a seamless browsing experience to users on all devices — whether they're using a desktop computer, tablet, or mobile device.
In addition, Retina-ready technology delivers high-quality and visually appealing online graphics that are optimized for high-resolution screens, providing crystal-clear images and text with an astonishing level of sharpness and detail.
Cross Browser Support
Explore the website and make a shop in your favorite browser. This template supports all browsers available, like Chrome, Opera, Mozilla Firefox, Microsoft Edge, or Safari. It means that regardless of the type of browser people are being viewed — everything will work smoothly. To experience the best performance, ensure you have the latest browser version available.
Product 360 Degree
You don't have to be a web developer to create engaging 360 product views for your website. Having this feature on the board helps you create immersive and engaging experiences. Now, customers can interact with the product on a new level by spinning it with a 360-degree to see it from many different angles possible.
Mega Menu
A mega menu builder is a user-friendly tool that enables you to create a tiered menu for your website. In addition to providing familiar features like adding images, icons, or text in unlimited amounts. It delivers drag-and-drop technology, which makes it easy to design a menu until it fits your needs.
Multi-languages and Currency
With this feature, you can add multi-currency prices to product pages. This allows potential customers to seamlessly compare the prices of your items in their local currency. Moreover, with multi-language, you may attract audiences worldwide to your business, which increases revenue.
We've got You Covered 24/7
When you purchase the Fashop, you get up to six months of warranty, which covers all technical issues and customization needs. Our team is always ready to assist you with any questions or issues, and we're dedicated to helping you resolve any problems with your online store.
Comprehensive Documentation
Thanks to this detailed guide that explains the features and functionality of the theme. It includes instructions on installing and setting up the theme, customization options, and troubleshooting tips. It helps you make the most of your template and can be a valuable resource for anyone wanting to build a professional-looking website without coding experience.
Watch This to Get Familiar with Shopify
This video provides step-by-step guidance on how to set up and run an online store using the Shopify platform.
Project Info
Date:

08.9.2023

Client:

ENGOTHEME

Categories:

Shopify

Tags:

Beauty, Fashion