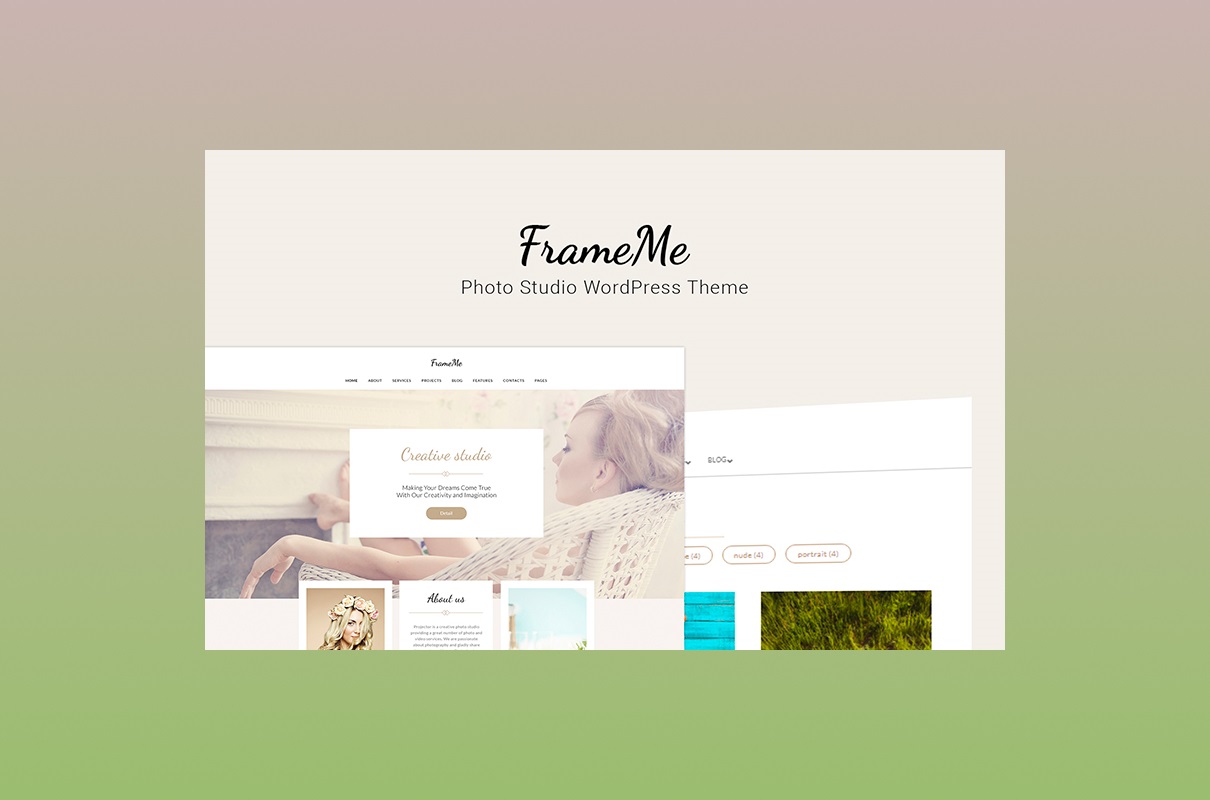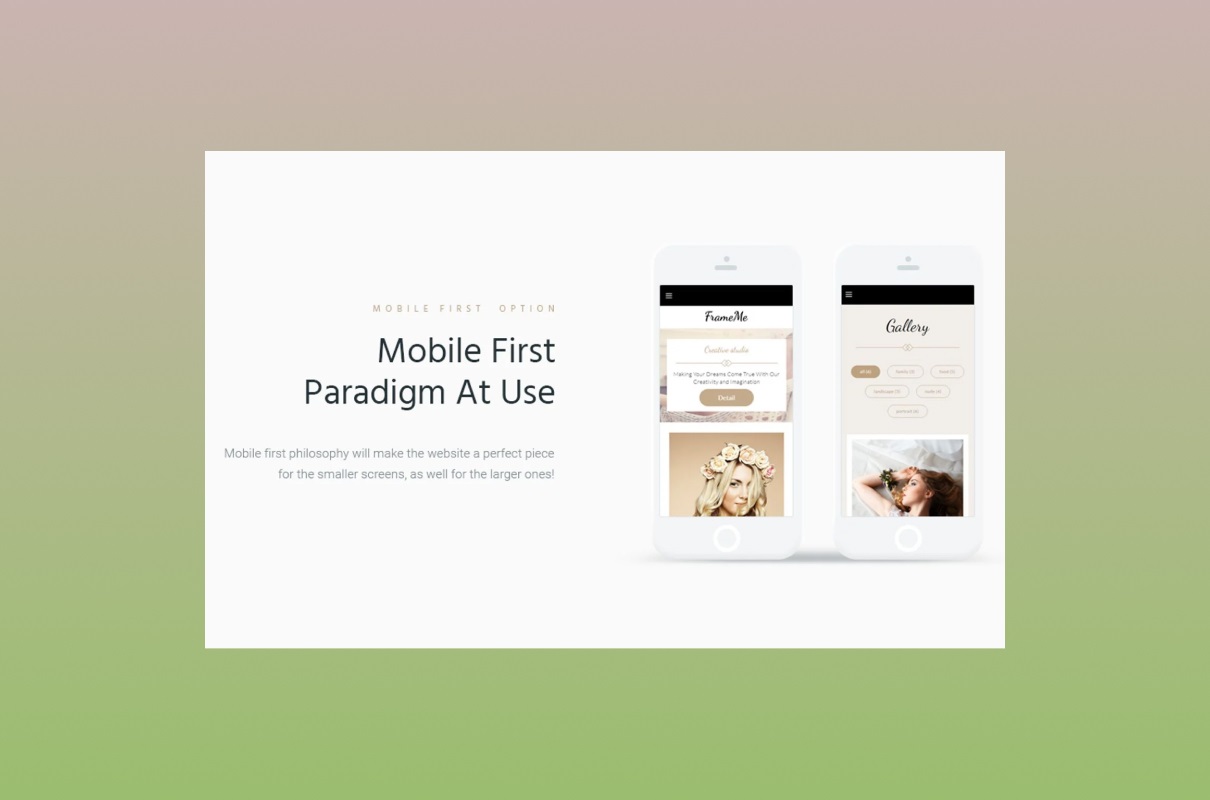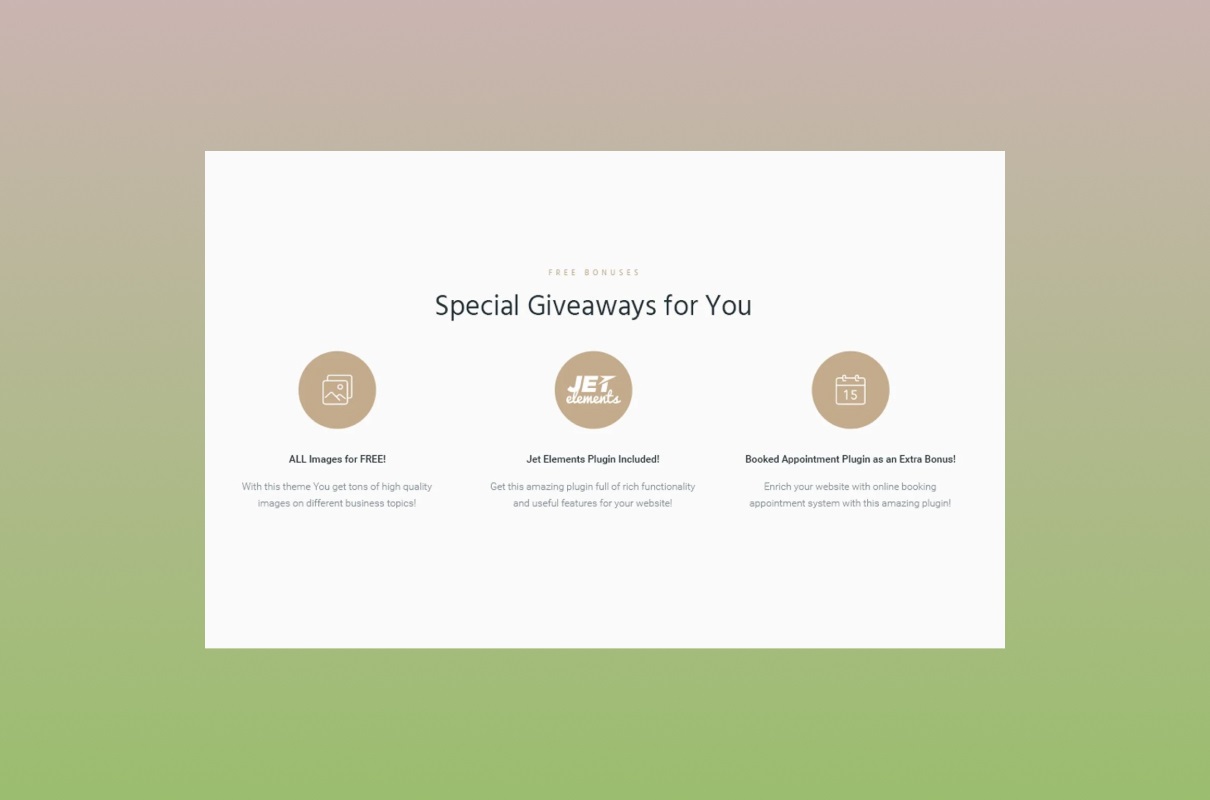 People are capable of creativity. It is what sets us apart from all other living beings. It is our chance to improve this world and bring something beautiful, unique, and magical. Creative individuals such as painters, photographers, artists, sculptors, designers, and other innovative people need a place to store their results. This canvas could be a website. We suggest you take advantage of the benefits that FrameMe offers you.
It is a modern and attractive sample that helps construct online resources without extra effort. No need to know how to code. With the Elementor page builder, you insert your content. HTML code is valid and clean. Editing is not difficult; it is interesting, like playing a computer game. You have a large number of different options and possibilities at your disposal. Please take advantage of this by purchasing our pattern.
The Main Benefits That You Get with FrameMe WordPress Template
The developers put a lot of effort into this sample. You get a stunning design, many functions, and everything you require for guaranteed success.
There is a whole box with pictures as a gift for you. All of them are of high quality and suitable for any subject.
Jet Elements is included for you. With the components, your site looks unusual and dynamic.
Your time is appreciated. Thus, the sample is loaded with one click of the computer mouse. After which all the files are in your pocket.
Elementor lets you edit without any coding skills. Carousels, tables, lists, collages, and many other components make your site impressive.
Cherry PopUps adds dynamics. The website peeks modern with this.
Search engine optimization was taken into account when completing this proposal. Sometimes more than a presence on the global network is required. Search engines must see what you are doing and bring you forward in the search query results.
This theme gives you many flawless fonts, ten ready-made headings, and more.
Search is a necessary element for the normal functioning of any web resource. With Cherry, you configure all parameters, locations, and appearances of the search bar yourself.
Our offer provides Retina Ready and responsive design. And that's why your customers visit your site on any device regardless of the screen extension (smartphones, tablets, laptops, desktop computers, etc.).
Cooperation with Cherry Projects Plugin. In this business, having this widget is a big benefit over the competition. Managing your creation is a pleasure.
Extra Possibilities
Booked Appointment plugin came to you as a bonus. With this, your clients schedule meetings with you in just a few clicks. Customize anything in this widget Visitors leave their details, such as name, phone, and email. Create extra fields, for example, for a comment or a link to a social network. The widget peeks stylish and bright. It is convenient to utilize, and that is important. Different forms help if you must confirm before the meeting that the customer has taken certain actions, such as describing problems or sending a document. It is easy because codes, disk space, and additional widgets are not used. You're one of many leading the meetings. Others may also transfer, modify or delete.
All WordPress plugins are made at a high level. Only experts function there, assembling incredibly cool products. Cherry Team Members are one of them. It was formed so you could present your team. It is an important stage to show that you care about your team and that you are a family. That brings you closer to the client and increases trust in you. Add a photograph of the employee, his position, and his role in the company. Each job seat has its characteristics and responsibilities.
Designate Chief Executive Officer as the captain of the ship.
The chief financial officer controls all finances that pass through your firm.
The Chief Marketing Officer is responsible for all marketing activities.
If you have a photo studio, appoint a senior photographer and assistant.
Moreover, there may even be a few junior photographers.
How to Create an Awesome Portfolio With FrameMe?
No matter what field you function in, having a showcase where all your results are displayed is always the right move. Here are some tips on assembling a successful collection of completed works.
Artists often make the same mistake, throwing all their projects into this folder. Listen to us; collect only the best units you are proud of. The layouts included in the model make your material visible, bright, and juicy. Old projects are only sometimes successful, so they may present you in a bad light.
The main purpose for which you accomplish all this is to get as many orders as possible. To do this, consider the connection between your company and a potential customer. FrameMe WordPress template allows you to insert different forms of feedback. Communication should be polite and efficient. Give answers to all questions quickly and accurately.
Prepare a few unrealistic orders. Everyone understands that if one of your orders was for a store with fishing goods, it could be more interesting to contemplate. Show what you are capable of; this is your main task.
Always keep track of the relevance of your projects. If a certain sample, picture, photo, etc., is outdated and no longer in trend, throw it away. If you want to be the best in any field, improve yourself. For example, attending courses, participating in seminars and conferences, and communicating with professionals.
Even though the entire space is occupied by media content, text is needed. First of all, for a short story about you and your profession. Secondly, for the descriptions of the works performed. Keep it short and to the point. Tell what the task was and what result the client received. Don't be afraid to joke around, operate emoticons, etc.
Blogging with FrameMe
Such activity increases traffic to your online resource. Furthermore, it is a constant update of content. Let's say you have a great photo studio. In this case, in addition to your works, a list of services, contact information, and history of your company publish articles on other topics as well. For instance:
How to pose in a photo?
What background should I choose for children?
What lens to choose for the camera?
Is an assistant required?
How to use the projector?
With the help of blogging, you are in constant dialogue with your consumer. You feel each other and become closer. Comments are a good tool for this. During the conversation, you understand which topic should be covered next time. SEO rejoices, and the audience and the number of conversions to your link increases. And that's why you are happy too. A topical blog attracts the right people to you. Answer frequently asked questions with the help of posts. A person looking for a solution comes to your site immediately with a corresponding service for the customer. The number of purchases increases, and income grows.
Here are some exciting topics for you to sample:
How to improve a picture with photoshop?
Six main principles for black and white photography.
How to take a picture of food?
How to set up your camera?
What is exposure, and what is eaten with it?
A linear light.
Win-win outfits for the lookbook.
Eight upcycling ideas.
Indoor and outdoor photoshoots.
Top tips to become a successful photographer.
A blog builds trust. Here you present yourself as a professional in one field or another. It is gold dust for any site. In front of the reader, you look like an experienced specialist. In addition, it is convenient since the target buyer can utilize your services without going to other web resources.
Web Design Inspiration For Your FrameMe
To produce something impressive, you need inspiration. There are many channels on YouTube that offer a large number of videos from which people draw encouragement. Template Monster is a powerful platform. They introduce you to such portfolios as:
Daphne Launay
David William Baum
Bruno Ortolland
Playful and colored brush cursor – Dominic Berzins
Zef's
Zhenya Rynzhuk art director folio
KATSUHIKO KUWAMOTO
Chrissie Abbott Brutalist Gallery
Shantell Martin
Go ahead, and watch this video.
Project Info
Date:

12.7.2022

Client:

ROCKTHEMES

Categories:

WordPress

Tags:

Photo Gallery, Photography