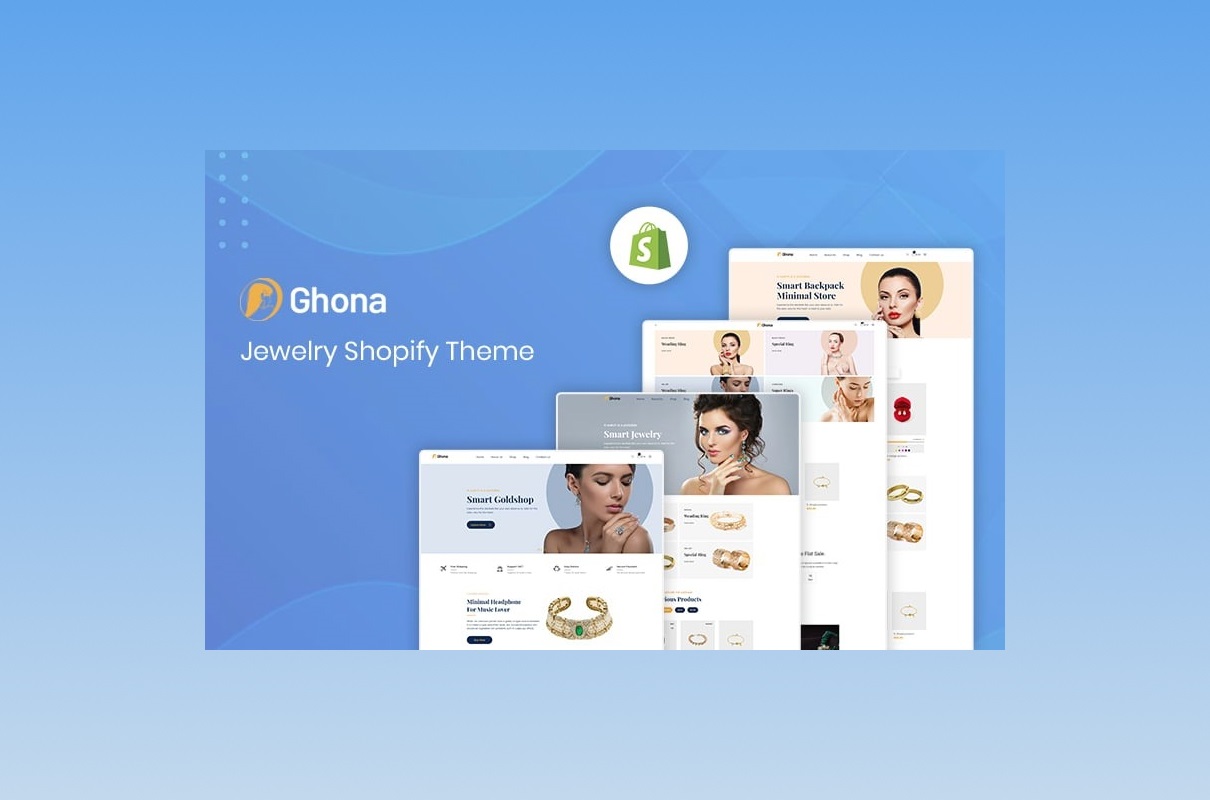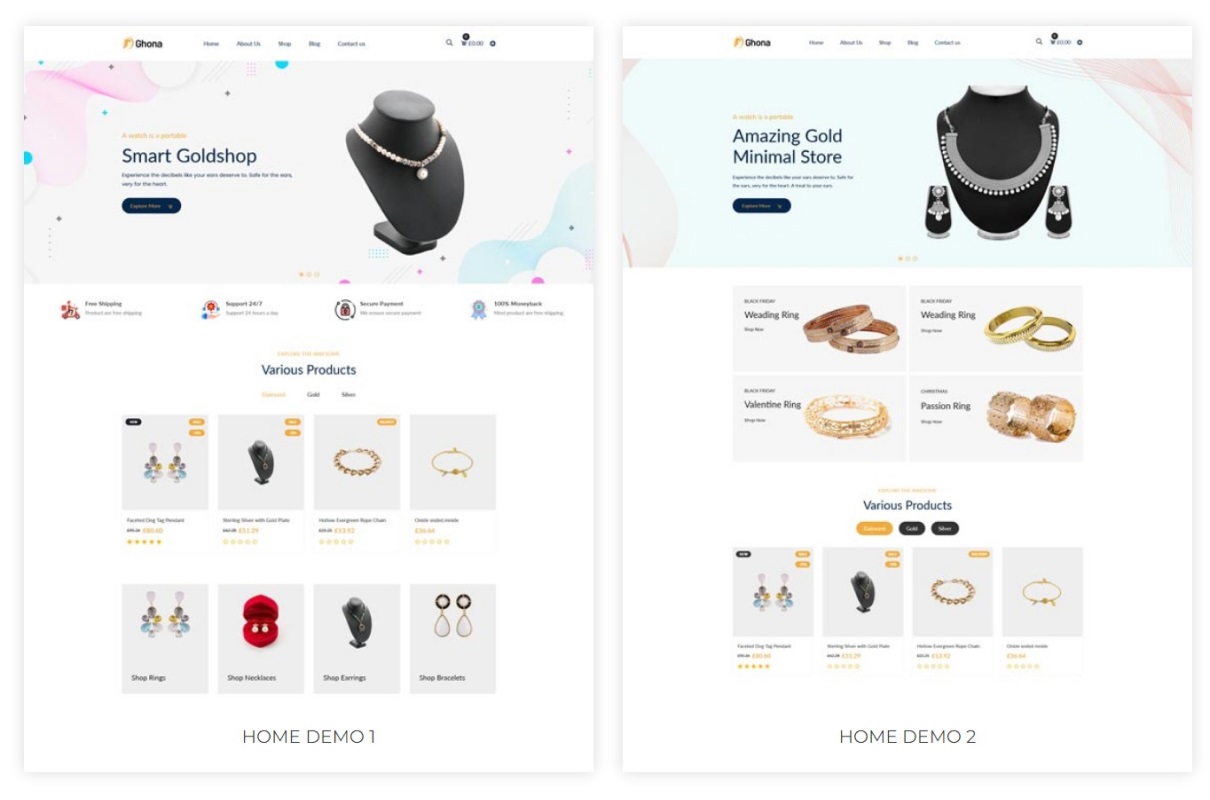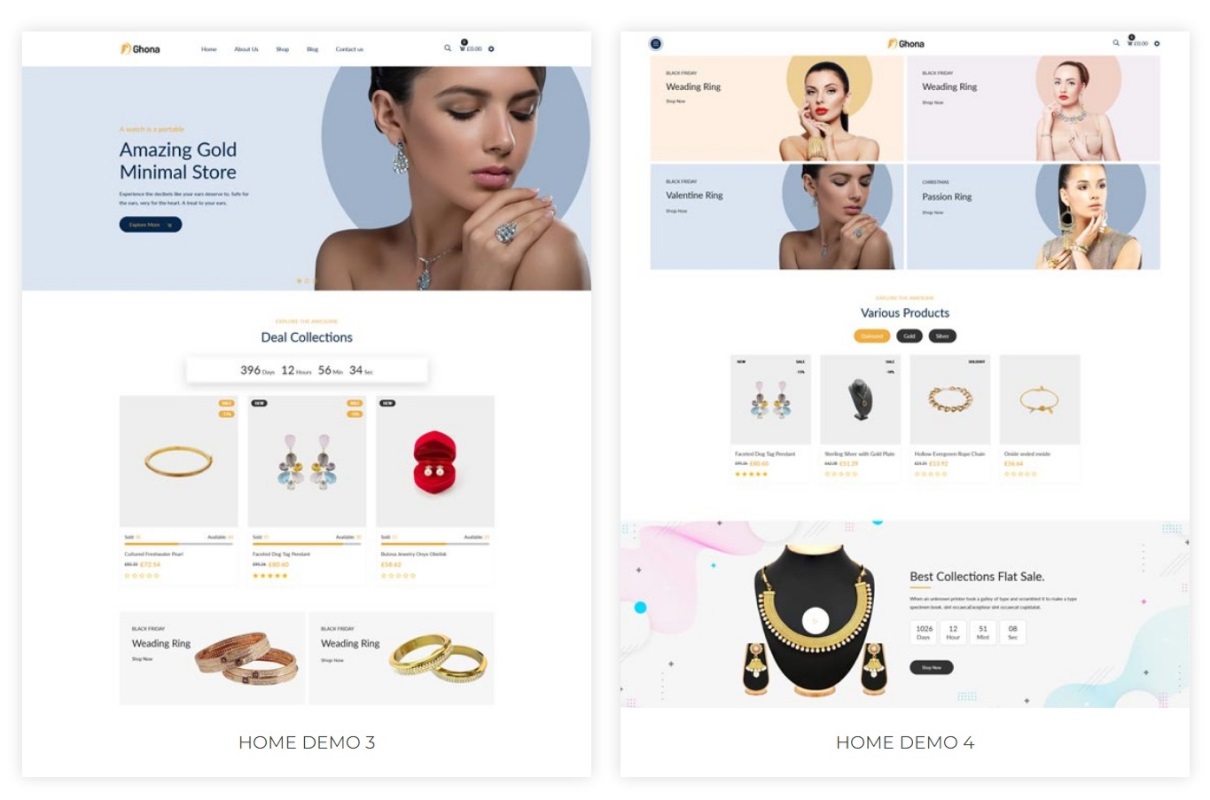 Hey, have you noticed how e-commerce is blowing up these days? It's crazy! There are so many opportunities for businesses to succeed and grow, no matter their size or industry. And speaking of industries, the jewelry market is really taking off too. If you're thinking about starting your own online jewelry shop, you should definitely check out the Ghona Shopify theme.
Jewelry is a timeless adornment that brings joy to many people. It adds a touch of elegance and sophistication to any outfit and can be passed down through generations as heirlooms. Jewelry may also hold sentimental value, reminding us of special moments and cherished memories.
With Ghona, you can sell any jewelry piece, whether earrings, necklaces, bracelets, rings, brooches, anklets, charms, watches, body jewelry (such as belly button rings), and much more. So if you want to sell worldwide — pre-designed templates can be a lifesaver. They allow you to create a professional and eye-catching online shop without the hassle of starting from scratch or hiring a designer. Now, you can get your products in front of customers easier and faster than ever before!
Discover the Power of the Ghona Shopify Theme
SEO Optimized
Search engine optimization (SEO) is important for online marketing because it helps your website appear higher in search engine results. It means more people can find your website and visit it. The Ghona Shopify theme is optimized for SEO, including things like titles, descriptions, and tags — all set up to make it easy for search engines to understand what your store is all about.
Fully Responsive
Basically, a fully responsive theme means that the website is designed to adjust and adapt to different screen sizes and devices. It allows your customers to view the website on a desktop computer, laptop, tablet, or smartphone, and it will still look great and be easy to navigate.
So, when you pick a Shopify theme with the Quick Install feature, all you have to do is follow their step-by-step instructions and boom! You'll have your online store up and running in no time. This feature is super helpful, especially if you're not a web development or coding pro — it can save you a ton of time and hassle.
Extremely Customizable
With Ghona's extremely flexible customization, you have a lot of control over how your online store looks and functions. You can easily make changes to the layout, color scheme, typography, and other design elements to fit your brand identity and appeal to your target audience.
This feature allows you to make your online store unique and stand out. Plus, you will be able to customize the functionality of your shop by adding or removing features and apps, depending on your business needs.
Easy to Use
Ghona has a ton of features, options, and tools, and it's very easy to use. You can quickly edit any layout element, directly play with the design, and interact with it in real-time without writing any line of code. You may seamlessly add images, text, spaces, buttons, and beyond. The theme is very interactive, which is great because you can bring to life any crazy ideas and create a captivating design in minutes.
Shortcodes
Shortcodes in Shopify themes are pre-written code snippets that allow you to add various elements to your website, such as buttons, columns, forms, and a whole lot more beyond this — with just a few clicks. Think of them as building blocks that help you create a website without needing to write all the code from scratch. Shortcodes make it easy to add functionality and design elements to your website by simply copying and pasting the code into your website's text editor. In other words, it's tools that you can use to customize your website to your liking.
Features That Increase Your Online Store
When you choose to work with the Ghona Shopify theme, you get a whole bunch of incredible features to make your e-commerce online store stand out from the crowd. There's a drag-and-drop builder to make designing a breeze, and you can choose from a variety of template color options to match your brand. You'll also get access to a contact form, multiple currency support, and plenty of pre-loaders to make your shop lightning-fast.
Plus, you can choose from 5+ unique sliders and 4+ home page designs to really make your online store pop. What's even more impressive, Ghona delivers handy features like AJAX cart, built-in wishlist, QuickView, product badge/sticker options, and a whole lot more beyond this. And if you have a lot of products to sort through, the collection filter is a lifesaver.
We've got You Covered 24/7
When you buy the Ghona, you'll also receive a six-month warranty that covers any technical glitches or customization requirements you may have. Our team is always available to answer your questions and help you with any issues you may encounter, so don't hesitate to reach out if you need assistance with your online store.
Complete Documentation
This awesome guide is your go-to resource for mastering all the features and functionalities of your e-commerce site. It provides step-by-step instructions on installing and setting up your template and troubleshooting any issues that may arise along the way.
Watch This to Get Familiar with Shopify
This video gives you a step-by-step walkthrough on how to create and operate your e-commerce website using the Shopify platform.
Project Info
Date:

07.18.2023

Client:

ThemesHub

Categories:

Shopify

Tags:

Gifts, Jewelry