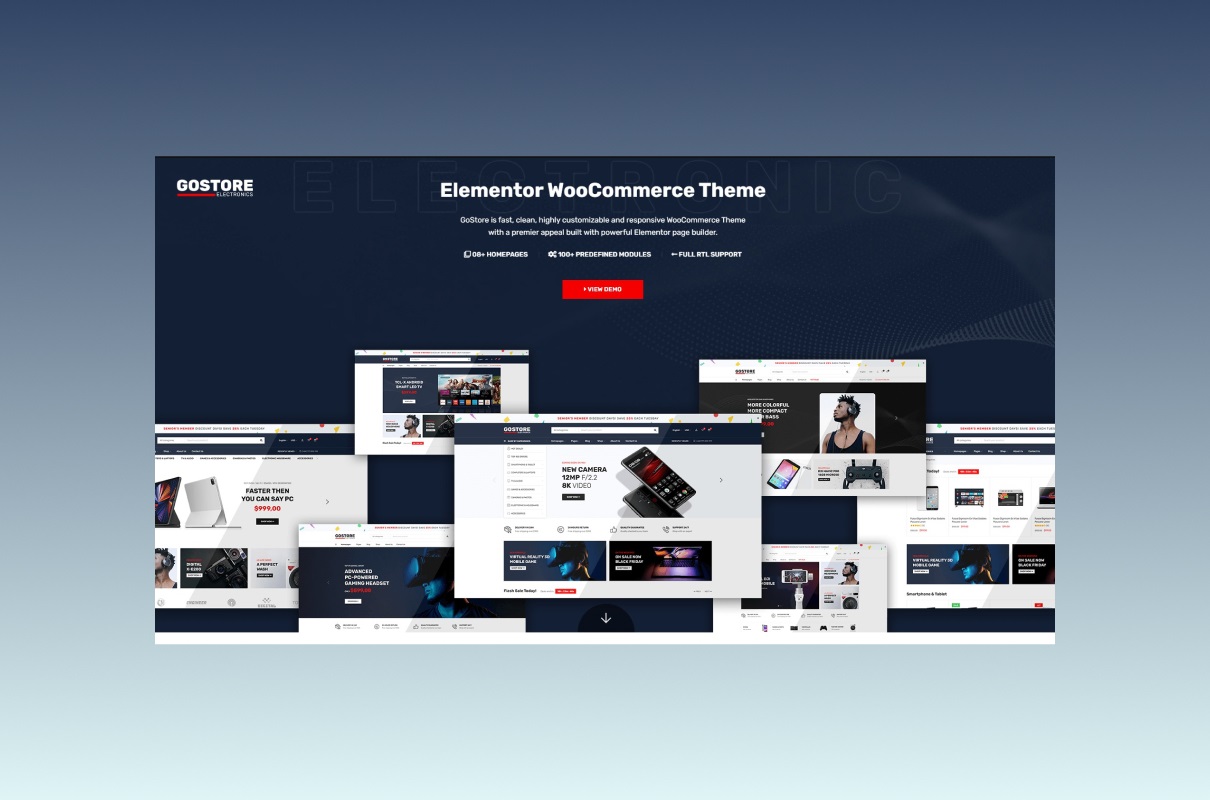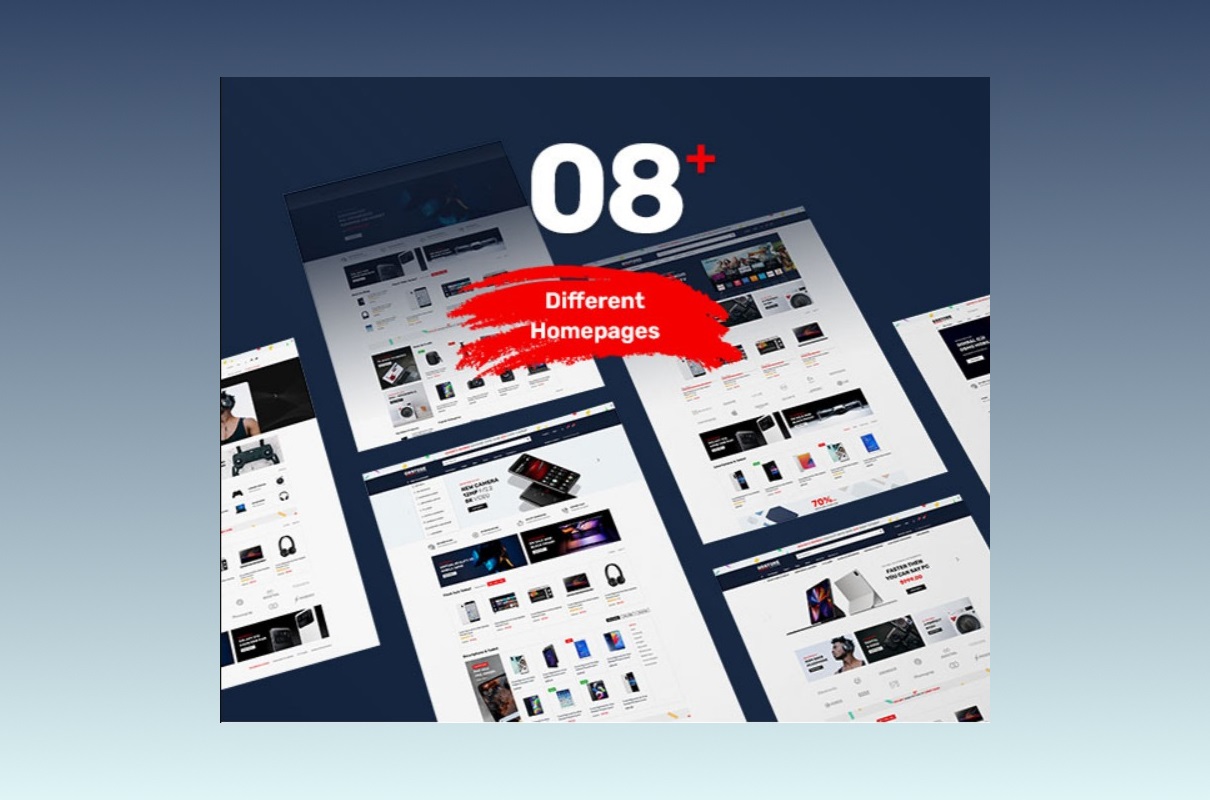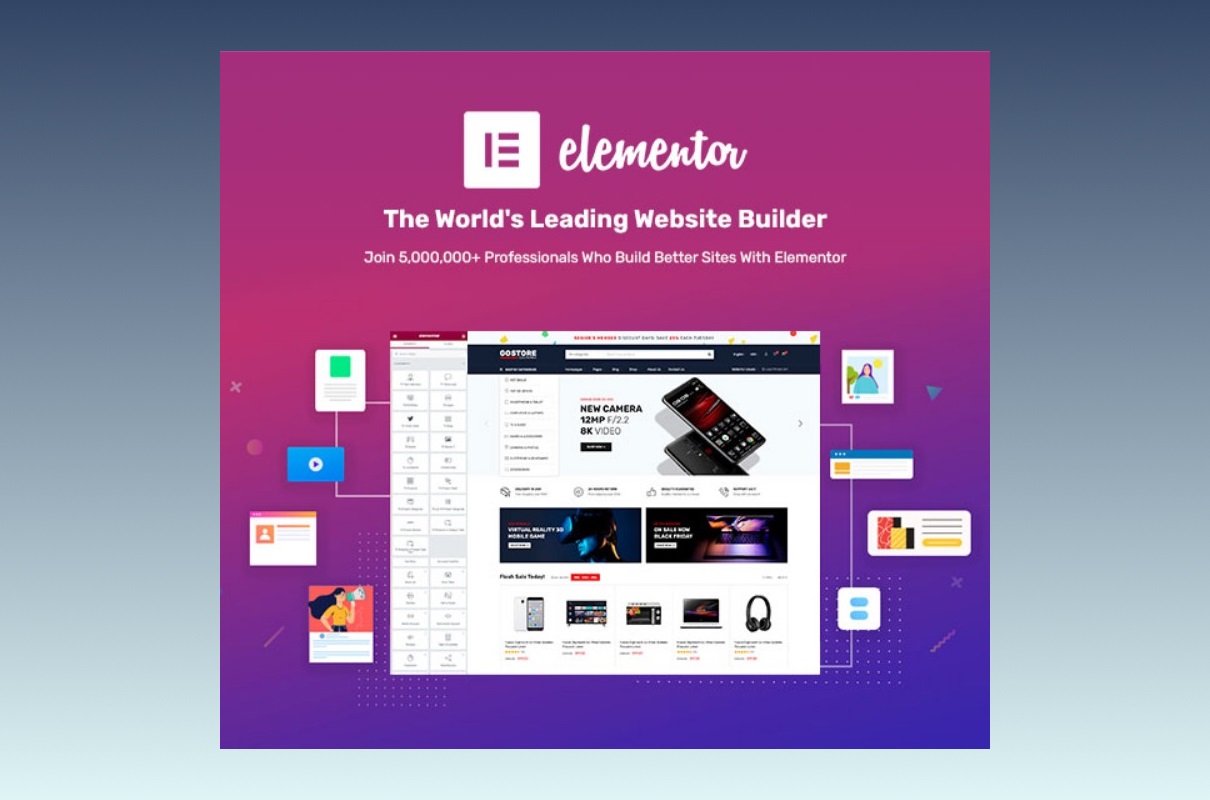 Anyone who wants to run an online store from scratch can make it easier than ever before with the GoStore WordPress theme. Fashion, electronics, shoes, cars, supermarkets, furniture, or whatever you want, all in one.
A lot of people rely on the Internet every day. It's fast and convenient to buy anything you want just sitting at home. So having an e-commerce website is guaranteed to attract a lot of attention from people all over the world, allowing you to get money right away from the start.
The author squeezes every possible ounce of searching and navigation, which is really important to customers to find exactly what they want quickly. GoStore delivers clean design, easy-to-use filters, and pop-up windows with all information about the product.
In addition, it contains a newsletter subscription to receive early discount offers, updates, and new product info. So now, your customers can quickly be notified when the product they need is in stock. What's more, GoStore allows your customers to create an account, allowing you to save the products they like or, for example, track the history of what they once bought.
Why GoStore WordPress Theme Is Good
Skygroup has created a modern and adaptive theme that comes with cool benefits.
GoStore has the best Elementor builder, allowing you to create professional, beautiful, and usability-oriented sites. The drag-and-drop feature makes it much easier to change the page. Now you don't need to change the page code at all.
GoStore has eight ready-made home pages with all the information and product cards your customers need. There is also an advanced search with the necessary filters for a quick and accurate search. For example:
Categories
Color
Price
Rating
Brand
So your search will automatically get the accuracy users want.
Page loading speed is the most crucial factor for both user experience and SEO. That's why all WordPress themes have excellent performance, allowing pages to load instantly — it's just one example of how GoStore is designed to keep you at the top of the search engines.
Most importantly, it delivers right out of the box dozens of key features that boost your site's performance:
Build With SEO in Mind
SEO is the practice and art of optimizing web pages for high search engine rankings. Search plays a huge role in how often people around the world find your online store.
This feature helps impact your search result ranking and get a top position on Google, which allows visitors to easily find your site and subsequently purchase anything, whether it's products or services.
Additionally, free RankMath or Yoast SEO plug-ins can achieve high levels of internal site optimization.
Looks Amazing and Works Amazing on Any Device
The amount of smartphone and tablet purchases is increasing every single year. In sum, it's very important to make sure that your online store is easy to use and good-looking on any device to reach as many potential customers as possible. That's why you need a responsive and well-organized layout for your website.
GoStore WordPress theme is 100% responsive! Whether you're using your phone, tablet, laptop, or desktop computer, it works correctly with all of them.
Mega Menu in a Small Header
It's really hard to imagine a large online store without a drop-down menu. It makes your design look airy and your site easy to use, making it easy for customers to navigate through the pages.
This feature has a wide range of settings that allow you to create a vertical menu that perfectly suits your needs. It can be in two forms Dropdown and Popup. With it, visitors will be able to hover over a tab and view all categories of products and services.
Quick View Product With a Single Touch
This feature gives your customers a short product overview in a pop-up window without navigating to the product's detailed information page. Moreover, the interface is fully responsive to mobile devices.
Powerful Plug-ins For Astonishing Site Performance
A plugin is a piece of software that can be installed on your site to add or extend its functionality. They can be installed quickly to provide functionality that would take developers time to create. There are now more than 50,000 thousand of them, letting you achieve any task assigned.
Now let's see what the GoStore includes:
Elementor Page Builder
Make your dream come true by building, managing, and hosting stunning websites with Elementor!
Thanks to this software, you can effortlessly design any page because it delivers many multifunctional tools and flexible widgets that allow you to change the appearance, making it visually appealing in fun new ways.
So if you've never built a website before, that's literally no problem because Elementor is intuitive enough, especially for first-timers. What's even more impressive is that it gives you a lot of flexibility to edit your layouts without having to touch any code.
So if you want to build a unique and breathtaking website, you can't go wrong with Elementor!
Revolution Slider 6
This plug-in allows you to create really amazing sliders for your website. It has over 200+ ready-made templates with different visual effects. Thanks to a variety of features, you may create professional and beautiful slideshows, letting you take your animation effects to the next level.
Now you can seamlessly edit sliders with this pro visual effects plug-in!
WooCommerce
WooCommerce is a free WordPress plugin that adds e-commerce functionality to your site, making it a fully-functional online store. However, If you want to use all the features and put tons of flexibility in your store, you need a Paid Plan.
Contact Form 7
A feedback form should be available in every online store that wants to stay in touch with its customers.
This plug-in is added even if there are already integrated contact forms in WordPress themes because it is effortless to configure and use.
With this form on the site, visitors can communicate with the site owner at any time. It has fields such as name, address, email, and phone number. Moreover, it includes a captcha feature too.
AJAX Live Search
Thanks to this plug-in increase the attractiveness and extend the functionality of your online store. Having it on your site makes it easier for customers to find and quickly buy the products they want.
AJAX Add to Cart
This feature allows users to add their favorite products to the cart in a second without moving to the product page, making shopping more comfortable.
What Is WordPress in a Few Sentences?
Creating a website or blog using WordPress is one of the easiest and most popular ways to do so.
It's easy to use and has many powerful and useful built-in tools. Using a content management system, you will be able to manage critical aspects of your website content, for instance, without being an expert in programming.
WordPress is an open-source management system licensed under the GPLv2 license, allowing anyone to use, modify, and adapt it for free. Furthermore, the intuitive interface makes it easy for first-time users to get familiar with the platform and start working immediately.
Comprehensive Documentation
To help you better understand GoStore, the author provides detailed documentation that will be sent directly to your email address after purchase.
This handy quick-start guide describes how to install and use the template properly, how to add plug-ins and much other helpful information.
The Author Is Here When You Need It
In addition to a good deal, clients also want excellent service. From basics to professional advice, the author always tries to help you discover all your theme can do and offer the most effective solutions whenever you need them.
Watch this to become more skillful at Elementor
For beginners, here is a quick and easy guide to getting the hang of this software. Here you'll see how to edit blocks, add new elements, and you can immediately take your first steps in creating your own dream.
Project Info
Date:

04.6.2023

Client:

skygroup

Categories:

WordPress

Tags:

Electronics, eStore, Fashion