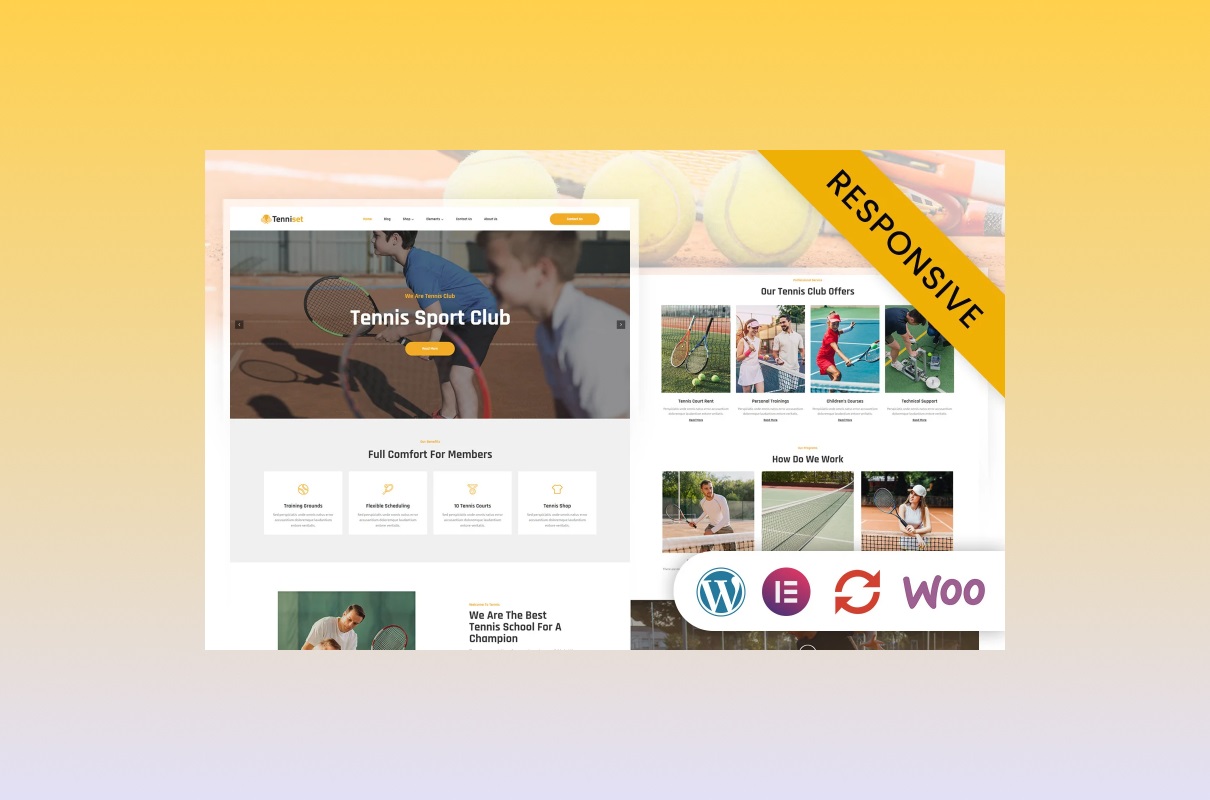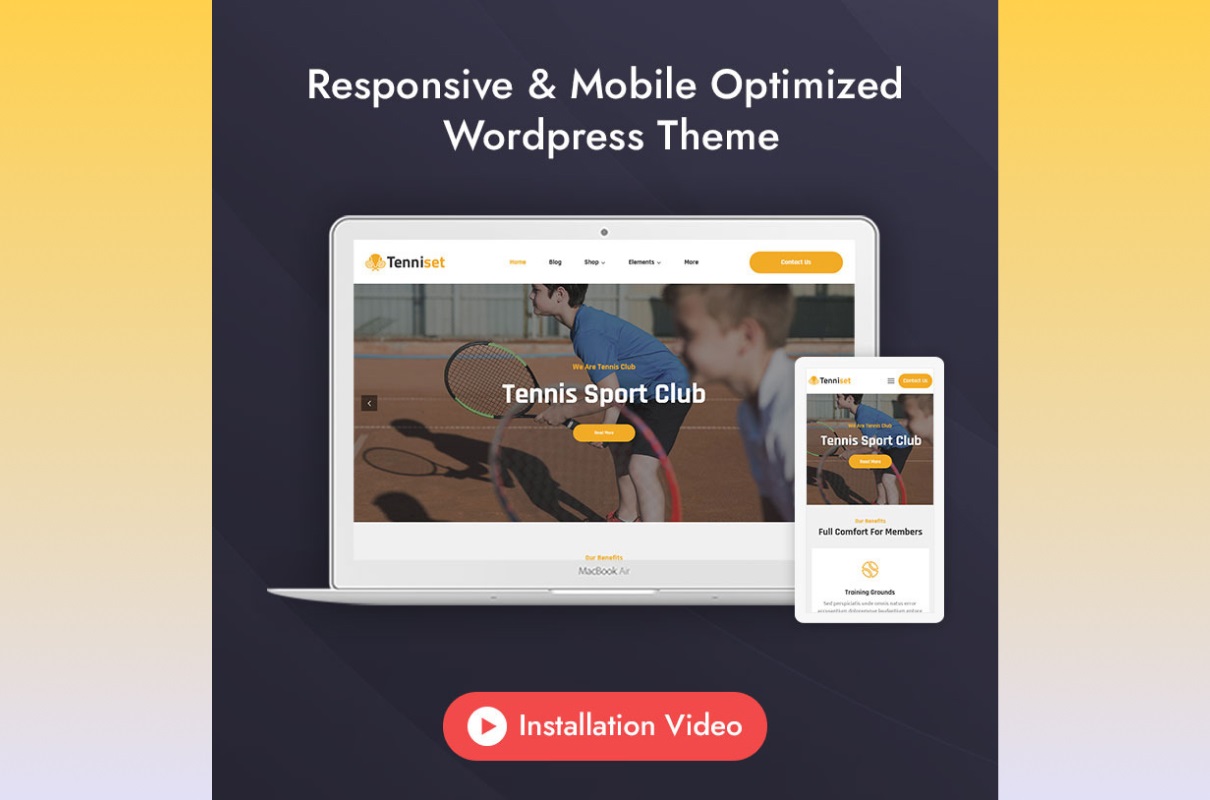 Having a website gives your business an online presence, which is becoming increasingly important in today's digital world. It allows potential customers to find you quickly and learn more about your enterprise. The Tenniset serves as a powerful marketing tool for your tennis industry. Showcase your services, facilities, and any special promotions or events you may be running. A well-designed template enhances the credibility of your firm. Supply potential customers with a professional and trustworthy image, which helps to attract and retain customers. Don't delay, buy now at an affordable price!
Design. Create. Publish. With Elementor.
With the help of the drag-and-drop page builder plugin Elementor, WordPress users easily build web resources with a polished appearance without having any prior coding experience. Here are a few of Elementor's standout characteristics:
Visual editing: Visitors make sections using Elementor's drag-and-drop interface by simply dragging and dropping elements onto the site. Change options like font size, color, and spacing to personalize the appearance of each element.
Premade templates: Elementor provides a selection of premade layouts that people modify to suit their needs. These layouts help you complete a web resource quickly and professionally.
The patterns and configuration components in Elementor are all mobile responsive, which means they are all optimized for viewing on mobile devices.
Integration with WooCommerce: Elementor has a WooCommerce integration that enables users to develop unique product pages and checkout pages for their online store.
Content that is automatically generated based on rules and conditions is created dynamically using Elementor's Pro version. A person could, for instance, construct a dynamic pricing table that updates prices following the product options they have chosen.
Overall, Elementor is a strong tool that enables visitors to easily assemble web resources with a professional appearance without any coding experience. People save time and make a visually appealing project using its user-friendly interface and pre-designed templates.
Who Can Use Tenniset WordPress Theme?
Anyone who wants to construct a site for a tennis club, tennis academy, or any other tennis-related business may operate the Tenniset WordPress theme. This sample is designed specifically for the WordPress platform. It offers pre-designed layouts and simple customization possibilities, making it appropriate for people or organizations without much coding experience. However, someones with coding skills easily alter the theme to suit their requirements.
Any company working in the tennis industry is considered to be a tennis-related firm. This might comprise:
Clubs: these are facilities that offer tennis courts for members to utilize, and might also offer lessons, clinics, tournaments, and other events.
Academies: these are schools that specialize in tennis training, coaching, and development for players of all levels.
Equipment manufacturers and retailers: produce and sell tennis equipment such as racquets, balls, shoes, and apparel.
Event organizers: these companies are involved in organizing tournaments, exhibitions, and other events.
Media and content providers: produce and distribute tennis-related content such as news, analysis, and instructional videos.
Also, the model can be customized for any other activity.
Put Your Tenniset WordPress Theme Together, Piece by Piece
The sections you need on your website depend on the purpose of your site and the needs of your audience. However, some common sections that you may want to contain on your web resource are:
Home page: this is the first thing that visitors see when they arrive at your project. It should provide an overview of your enterprise, your services, and your brand.
About Us: supply information about your company, your history, your mission, and your values.
Services/Products: describe the favors or goods that you offer, including their features, benefits, and pricing.
Testimonials: showcase customer feedback and reviews to build credibility and trust.
Blog: a blog is a great way to share news, industry insights, and helpful tips with your audience.
Contact Us: equip contact details for your company, such as a phone number, email address, and physical address. A contact form that visitors might utilize to get in touch with you also is something you wish to have.
FAQ: this section with answers to frequently asked questions about your corporation, services, or goods.
Gallery: images or videos related to your corporation, such as photos of your facilities, goods, or events.
Social media links: retain links to your social media profiles so visitors have the opportunity to follow you and stay updated on your latest news and updates.
Just a few samples of the sections you might want to have on your website are provided here. Depending on the requirements of your company and the preferences of your audience, add or remove components.
Create a Business Card For Your Tenniset WordPress Theme
Looking for ideas and advice on how to design a classy and polished business card? Look no further than this detailed tutorial on using Figma to make beautiful cards! This video is brimming with useful tips and strategies to help you develop a unique visiting card that accurately represents you or your brand, whether you're a designer, firm owner, or simply looking to up your networking game. Follow along as our knowledgeable instructor takes you step-by-step through the entire design process—from selecting the ideal typography and color scheme to enhancing the layout and exporting your finished creation—in just a few short minutes. You'll be astounded at how simple and enjoyable it is to devise a visiting card that leaves a lasting impression when you operate Figma's robust features and our helpful advice. So why are you still waiting? Start assembling your ideal business card right away by clicking the play button.
Project Info
Date:

05.5.2023

Client:

CODEZEEL

Categories:

WordPress

Tags:

Sport