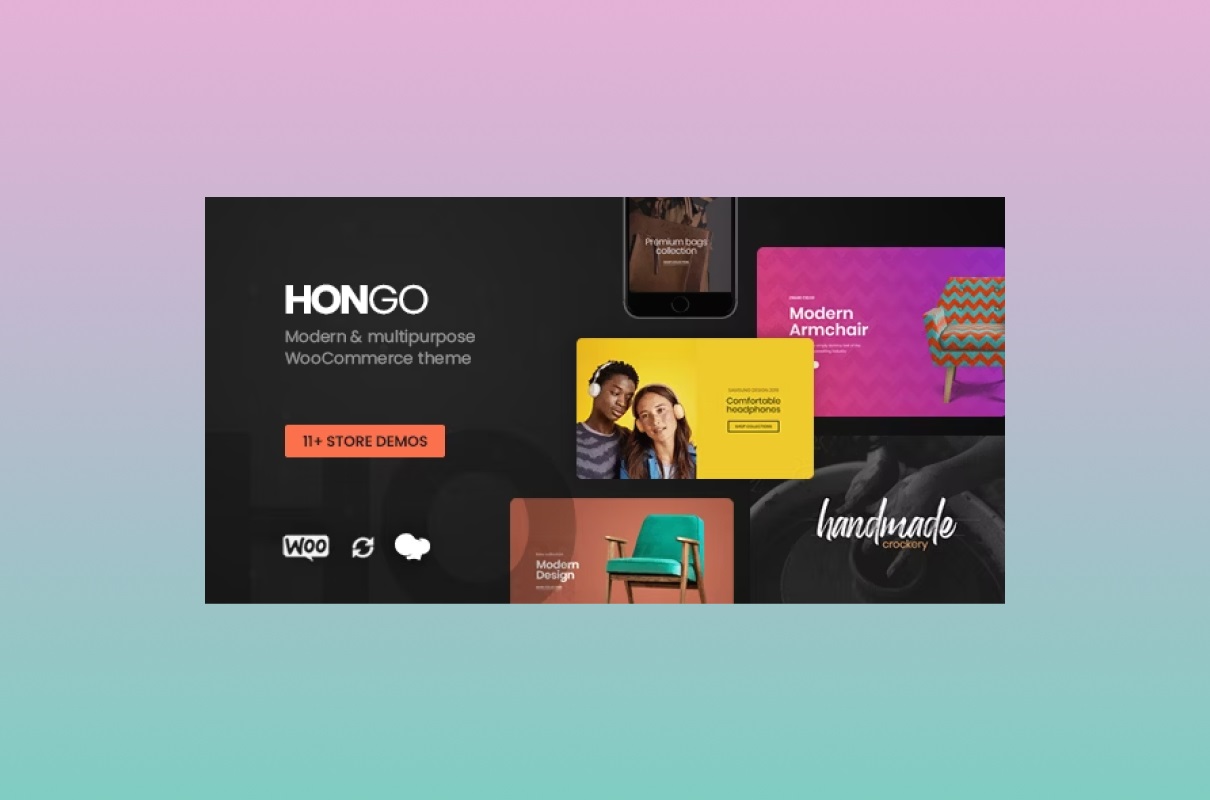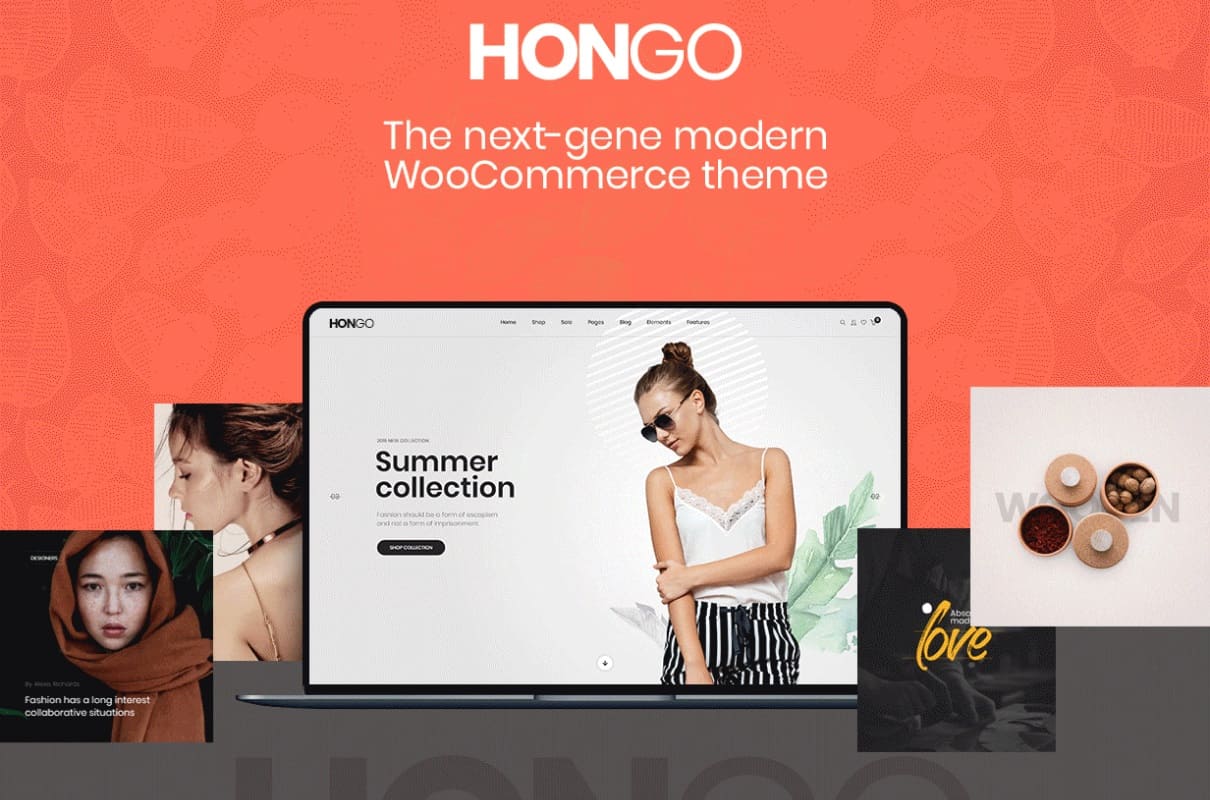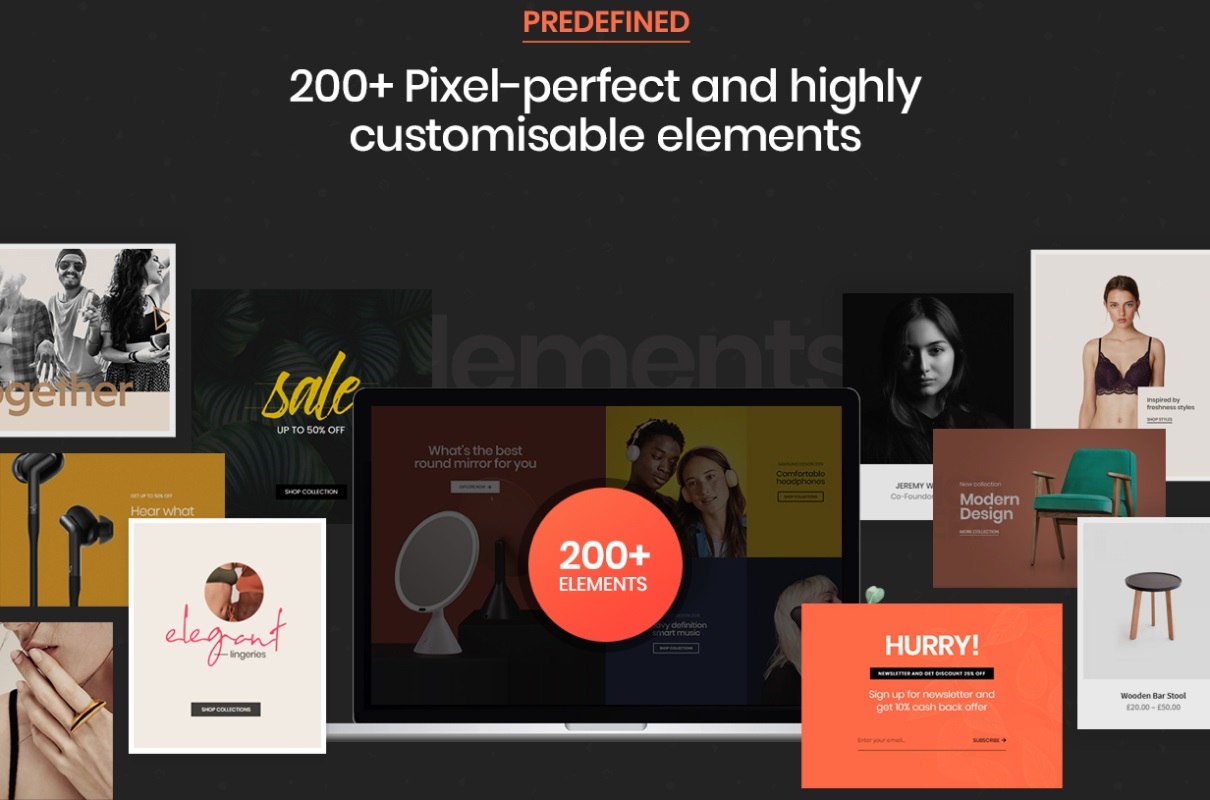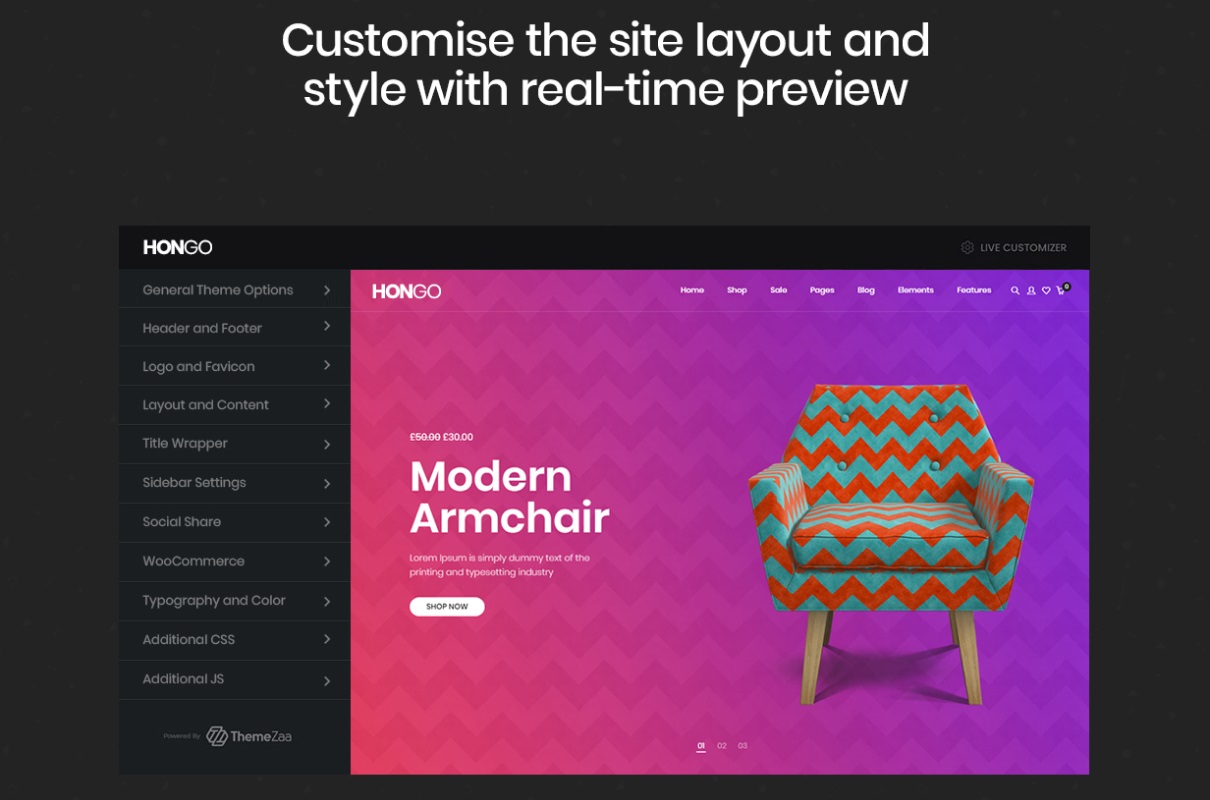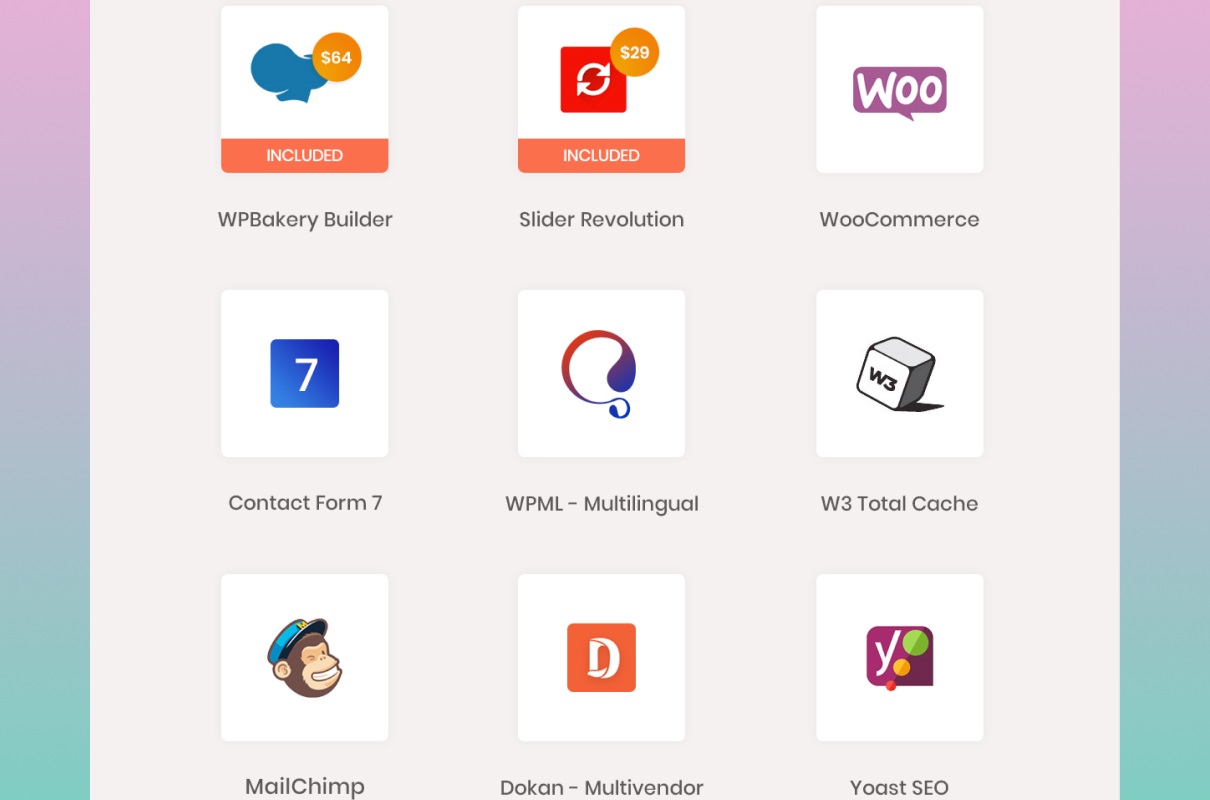 If you're running a boutique or some sort of store, but you've been thinking about possibly making it online. The Hongo gives you the freedom and capabilities to create an e-commerce store — in a few clicks.
Shopping is easier and more convenient than ever. People can now buy anything, anywhere, anytime, without having to get off the couch and wasting a lot of time in check-out lines. Today all are available with a couple of clicks.
Hongo is an all-in-one solution that allows you to create highly-looking professional stores easily. It makes it possible to sell whatever you want, whether electronics, clothes, shoes, furniture, accessories, glasses, beauty, jewelry, medicine, toys, and much more. With this template, you may sell any type of product online — seamlessly taking orders and delivering them to customers.
In addition, it delivers a quick product preview pop-up window, giving shoppers the go-to information they need, such as colors, sizes, materials, prices, models, and more.
Your Site. Your Design. Your Creativity.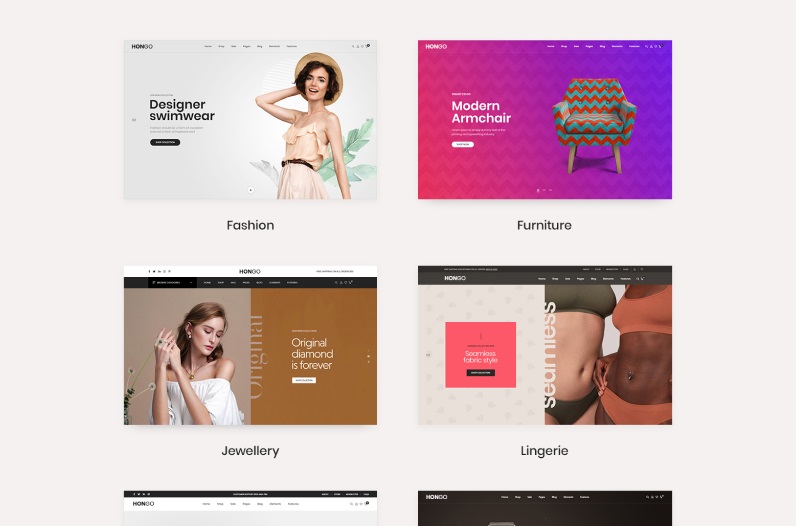 Hongo's templates embrace one of the most powerful creative mottos: it's all in detail. The author offers many stunning and impressive demos, inner pages, list collections, and beyond. The modern and elegant templates allow you to push the boundaries of what's possible in design. The breathtaking design makes customers fall in love with the site and interact with it as long as possible, which is necessary to raise sales.
It delivers 11+ unique demos designed in a remarkable and stylish way to inspire your visitors, and more than 10+ list collections as well. Now you can showcase products in so many different ways. It's customizable. An essential page that needs in every online store is a product page. Hongo WordPress theme packs 7+ incredible and elegant product page styles. And with Retina Ready technology, you can show images of your products with mind-blowing detail.
Moreover, it also has many additions, such as an attractive 14+ blog styles, an easy-to-use filter system, 200+ fully customizable elements, an extremely convenient mega menu, and many other necessary things that help business owners and brands level up their online marketing and elevate their customers' experiences. Make them yours in seconds — with a single-click demo import.
The Features You Need
ThemeZaa introduces a beautiful product for any kind of business owner. It's easily customizable and can be used by any user level — from beginners and pros and something in between. It combines plug-ins, features, tools, and so much more additions that allow you to create your dream site — without hiring designers and developers.
Search Engine Optimization
Search Engine Optimization (SEO) is a powerful and essential tool used to help grow digital marketing and drive potential shoppers. It allows you to improve your site's ranking in search results so that it can be found on search engines such as Google, Yahoo, and Bing.
Beyond that, you can use some practical tips to be more visible in the online space compared to your competitors, which makes to bring more traffic and revenue in a short amount of time.
Some of the helpful tips:
Add well-crafted keywords and tags.
Based on customer intent, write relevant descriptions and headlines.
Responsive for all devices
Smartphones are becoming more and more a part of our daily lives. We rely on them for any task, listening musing, watching movies, Googleing, or buying some stuff. For this reason, the mobile-friendly version of your store allows you to involve as many people as possible. Thanks to this technology, the content will be able to transform automatically to any screen and device — from smartphones and tablets to large desktop screens.
Impressive, highly fluid animation
Customers will be amazed by its mind-blowing performance, fluid animations, and loading speeds they've never seen on a website. They'll be able to quickly navigate through pages without delay, delivering a fantastic user experience.
Mega menu
A multi-level menu is crucial in any website offering services or products. First of all, it saves screen space, making the design cleaner, modern, and elegant. Second of all, it allows displaying of unlimited items and categories.
To see what's inside, all the visitors must tap or hover over the selected category.
Professional, Multifunctional Plug-ins
WooCommerce
WooCommerce gives you dozens of commercial tools to promote and manage your store. With a user-friendly interface, you'll easily and quickly figure out how to create and manage online stores — even if you have just started your journey into online sales.
Moreover, it will help to optimize work with clients, track stats, control orders, and beyond — all in one plug-in. It includes everything you need to increase sales and take your income to the next level.
Additionally, you may keep track of your orders even when you're on the go by installing the app on the phone. The entire store is at your fingertips.
Revolution Slider
With great features and an intuitive design, users can now add highly fluid animations and dynamic effects to any site element that they didn't think they could create on their own in a matter of minutes.
It comes with more than 200 pre-designed templates so that anyone can create something unique and amazing that was once only available to professionals. You'll be amazed by its powerful tools and features, which allow you to build carousels, dynamic banners, and more effects to get next-level visuals — in a single click.
Contact Form 7
Would you like to stay connected with clients and get feedback on what you do? Thanks to this plug-in, it's easy for clients to contact you after entering just a few personal details, including name, email, and phone. They'll also be able to leave you a message.
Powerful Page Builder. Power Your Creativity.
Each site should be designed with its own unique and individual style. This will allow you to easily surprise your visitors with something new and unusual and make a good impression at a glance.
Page builder lets you customize your layouts in fun new ways, putting tons of flexibility in editing. Now you may seamlessly edit complex layouts — in a minute. Welcome to total creative control.
WPBakery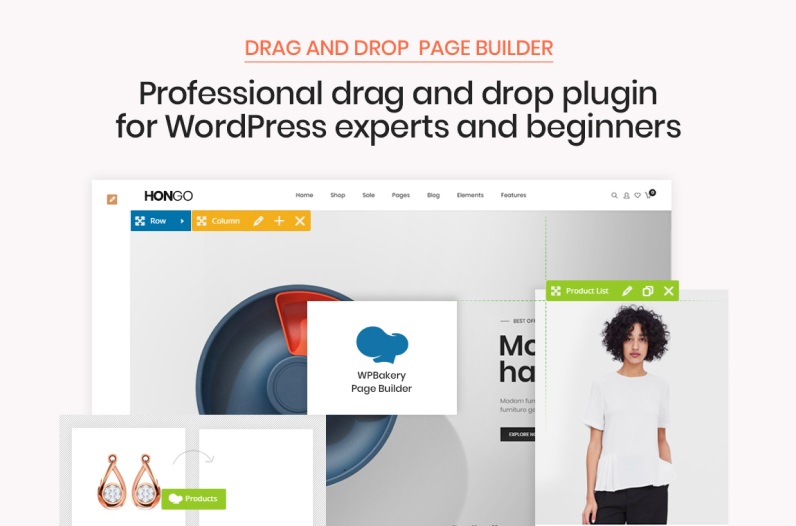 With this powerful page builder and the power of its tools and add-ons, WPBakery lets you edit and build more complex layouts. Working with multi-page websites is easier than ever by using drag-and-drop technology. Complex tasks, like moving, editing, and adjusting each element — all with no coding required.
The ability to live edit the appearance that lets you see your work immediately while you edit, allowing you to get your online store closer to perfection.
The process is exciting and enjoyable — with flexible features and an intuitive interface.
Support
Whether you just need to install your theme, set it up, or have any problems, the author is happy to work with you. Plus, you'll get up to six months of support. Getting in touch with the author is very easy — just follow this link to the profile page and use the message form.
Helpful Documentation
The more informed you're about the item, the more empowered you're to use it.
To gain more insight into the use of the item and to really take advantage of Hongo. The author provides extensive documentation. Once you have placed your order, check your email for the document. Then:
Tap on it;
Follow the instructions;
Use it easily.
Video Tutorial About Revolution Slider
This video might be the perfect guide for those of you who started to design your website and work with animations and effects. Everything it covers will help you master this visual editor in no time to enhance your visual part even more — like a pro.
Project Info
Date:

08.3.2023

Client:

themezaa

Categories:

WordPress

Tags:

Business, Electronics, Fashion, Jewelry, Sport