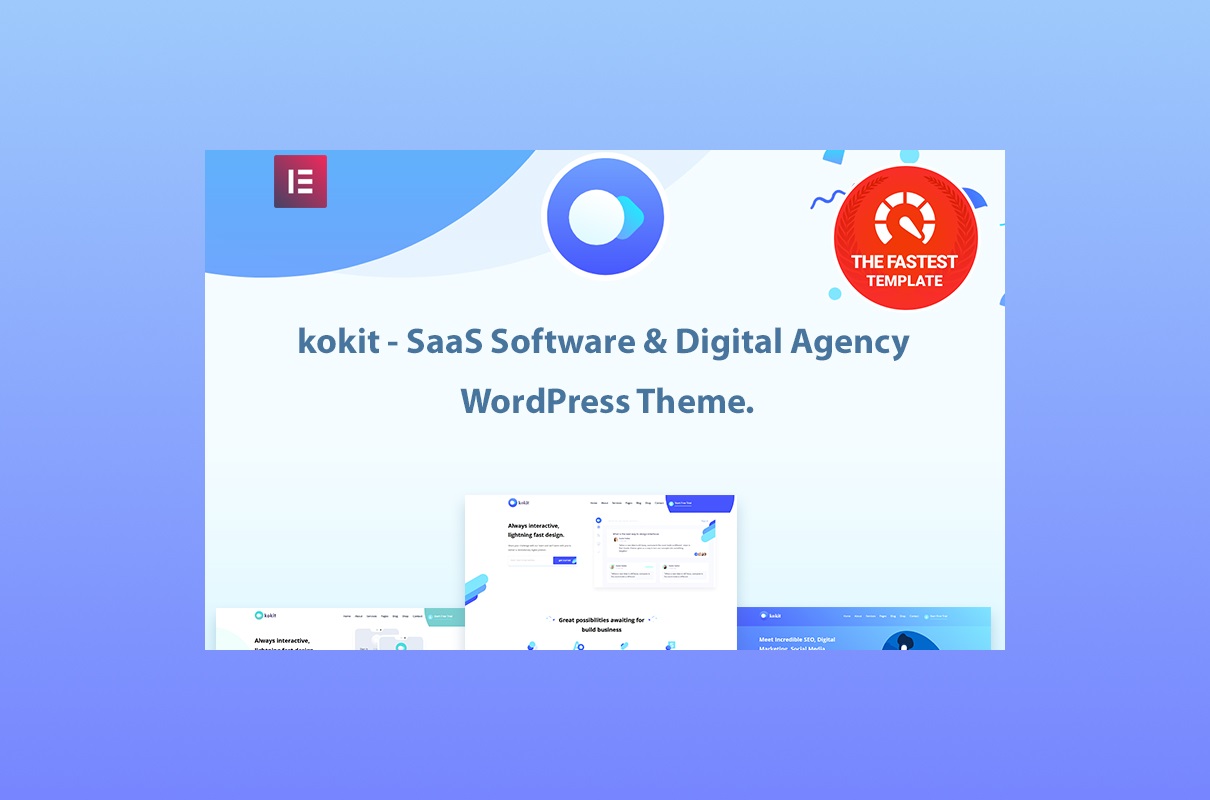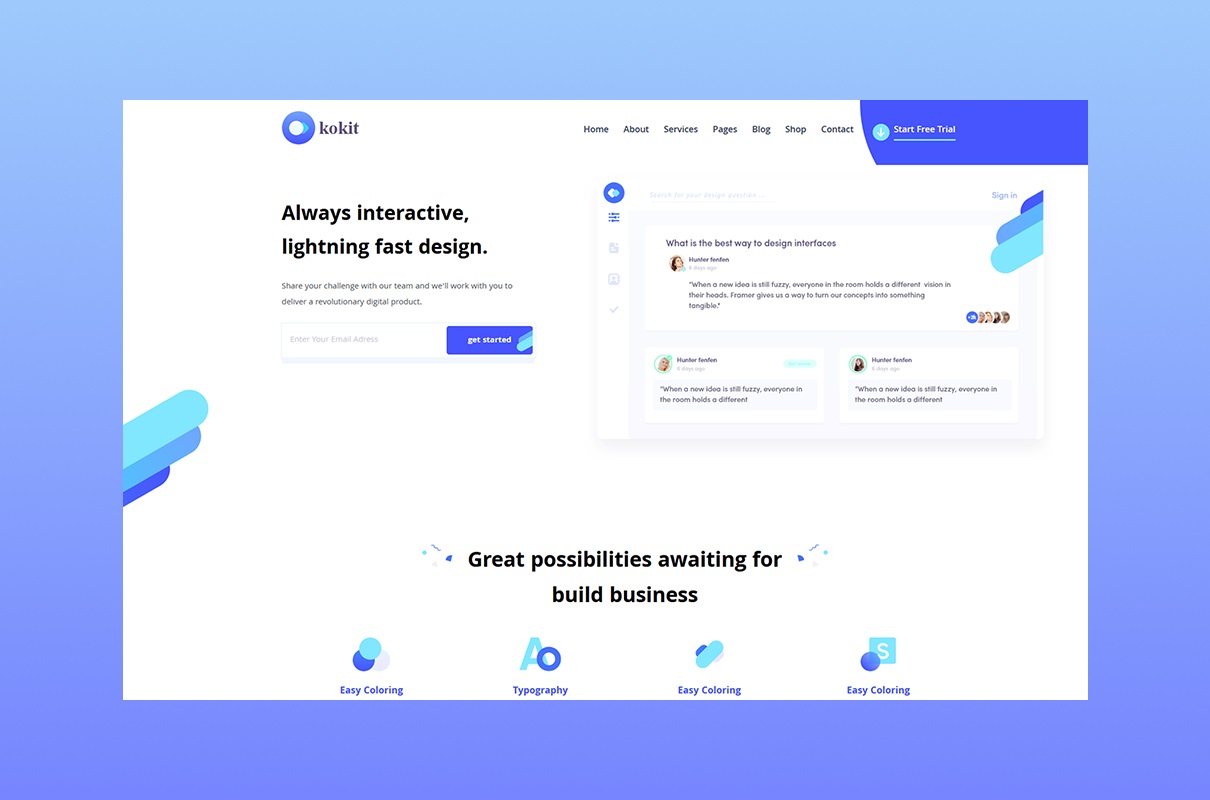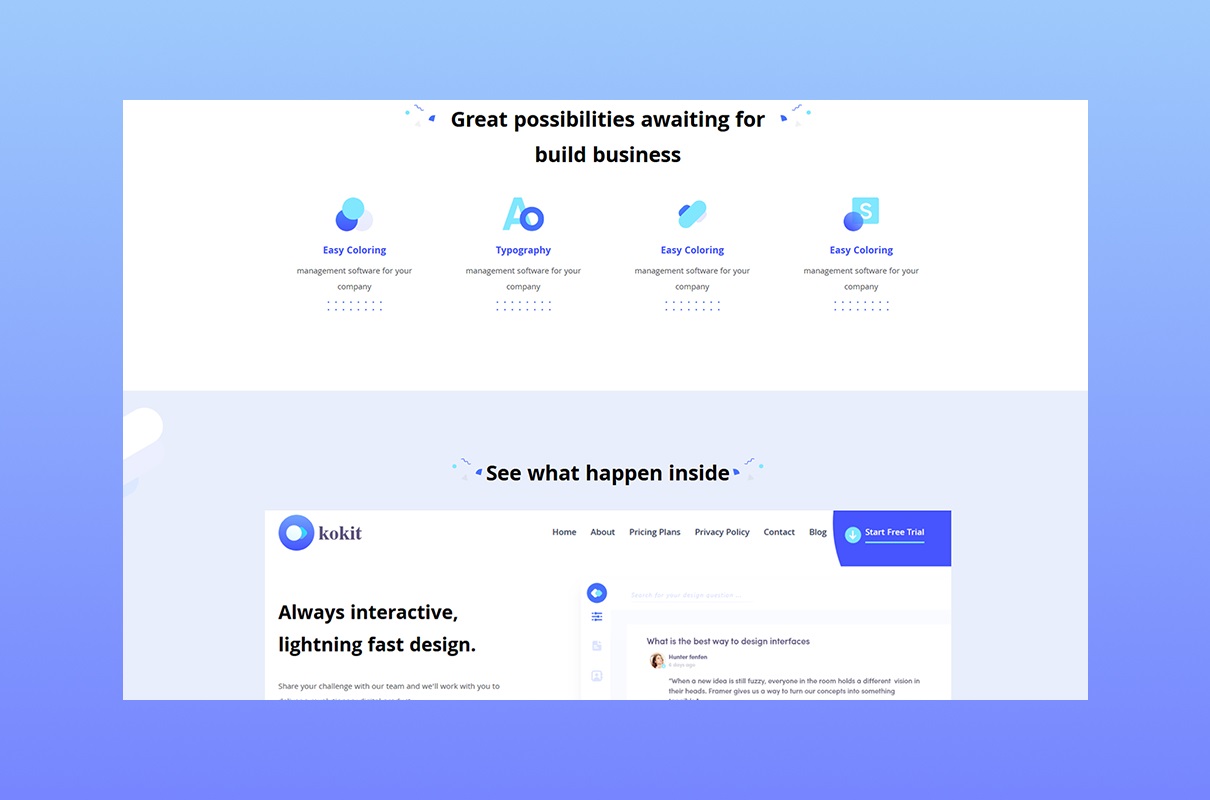 Regardless of the field of activity, a website always positively affects business. Being online, you attract a huge audience. Your industry is not tied to either the city or the country. It is even cooler to have a company that helps others to organize a strong online presence on the Internet, particularly a website. It is about the digital agency. This activity is usually successful because the product you create is in demand. Sooner or later, all entrepreneurs come to the fact that they need a web resource. Meet Kokit, one of the fastest templates on the market. Develop sites, engage in promotion, SMM, contextual advertising, etc. In areas related to information technologies, money is often involved. Therefore, do not miss your chance and start your business right now.
Key Benefits of Kokit WordPress theme
The functionality of this sample is rich. The development team has developed ready-made versions of home pages for you. The documentation here is informative, detailed, and clear. With the WooCommerce plugin, you can sell anything on your website. All products have a decent design, a place for the image, description, and characteristics. You may install the demo with just one click. A child template is included as well.
Responsive layout
It is normal for every website owner to want to have a mobile version. We have various gadgets, including smartphones, laptops, computers, e-books, tablets, etc. The resolution of each of these devices has its characteristics: screen size, colors, and functionality. Having a responsive design in Kokit means it looks great on every screen. Some devices also display information in both portrait and landscape orientations. Your sample has a single flexible format that freely adapts to any screen extension.
The most popular features of Elementor are on your site
This builder assists you in creating your project from scratch. With Elementor, it doesn't take long. What's more, it's fun and easy with the drag-and-drop feature. It is prepared to make your life easier. Such a high-class constructor has more than 5 million consumers. After changing an element, you see the result immediately in real-time. Inserting different types of content is easy: drag and drop the components you like. More than 100 ready-to-use layouts and more than 300 blocks make editing easier for you. There is a history of your changes. So you may undo your decisions and redo them. Decorate your work: insert collages, media files, fonts, and more. With Elementor in Kokit, you have unlimited possibilities. A gradient as a background is also possible. The transition from one color to another peeks magical. Animations, photos and videos, parallax, and more are only here.
Sass software
SaaS (software as a service) is a powerful solution that allows us to simplify the process of maintaining the software. So, down with disks, flash drives, and other data carriers. Now you obtain a subscription software license. Such a system has many advantages:
It is fast, as the project is launched in just a few days. If a real professional works, then even a few hours is enough.
It is not expensive. Hiring staff is costly and time-consuming. A lot of effort and money is spent on this.
It does not require additional favors.
Here, as in Turkey, "all-inclusive".
Customers pay for software for temporary use (as if for rent). Another plus is related to the update. It takes place automatically and centrally. And therefore, it is not necessary to update every machine.
Bootstrap
Bootstrap has a huge community and confidently competes with other popular frameworks. There are many advantages.
The Bootstrap grid lets you adapt your website to any device. The icon library is impressive, with around 1,500 glyphs.
Samples built based on Bootstrap are prominent in the market because they are equipped with new technological elements, detailed documentation, and the latest tools.
Utility API produces the best utility programs. With their aid, you get information, diagnose work, eliminate problems, and manage files on your computer. It is necessary to ensure the normal functioning of the system.
External and modal menus, hidden components, tooltips, pop-up elements, and much more are at your disposal.
Organize Your Kokit In The Best Possible Way
Site structuring is important. One of the advantages of Kokit, no programming skills are required. Our team has done everything for you with the assistance of powerful resources. All that remains for you is to structure and fill the empty place with the material. It is convenient for the visitor to navigate your project only if all its components are logically constructed.
If it is difficult for the buyer to find information or it is not convenient to switch between sections, he closes your tab. Promoting you in search engines is easy with the right organization. Do everything competently: think about the placement of each section and subdivision. There is no clear certainty here. Pay attention to the target audience, the typology, the semantic core, and other categories.
We may compare the structure of a web resource to a supermarket with many departments to better understand. If you come to the store for tomatoes, you are looking for the vegetables and fruits section. Tomatoes in the bread department would peek quite strange. Therefore, the consumer leaves the supermarket without receiving the product in the expected place. You have to take care of your client. Therefore, make it easier for him to cooperate with you.
Visually divide your project into levels. Let's give an example: your buyer is interested in web design for his clothing store.
At first, he sees the main page. There is information about your firm in detail.
Then there should be a section dedicated to the favors you provide. It is better to display it as a list or a table because it is visually appealing and convenient.
And only then, in the list, he finds the service he needs.
The potential buyer gets the final result in three clicks. It is perfect!
Who Can Use Kokit WordPress theme?
The digital sphere is popular. That is why you should be ready for a large number of competitors. Let's take a closer look at the companies that exist here.
The site development agency produces various web resources, such as corporate, landings, personal, catalogs, stores, etc. This service also provides additional favors such as adaptive page layout, improvement of user-friendliness indicators, web design, and content filling. Internet marketing corporations offer advertising kindnesses to their clients. It is also quite a profitable field of activity. There are many requests to promote a technological product, so you always have work to do. What do we have here?
SEO. Certain measures are necessary for your web resource to rank high in search engine results. That happens with the help of keywords and not only.
Media (banner) advertising. We've all seen this in the blank spaces on the page. It can also be in the form of a pop-up window. The customer pays for it according to the number of impressions. There is also a negative side, as there are programs that block such activity.
Contextual advertising. It is an interesting and cunning thing. Because it is only selected for you if you are interested in it, it does this with the benefit of an in-depth analysis of your activity on the Internet. We often see such ads in the search engine line or in front of an organic listing. Especially often used by online shops.
Teaser ad. Nicely attracts the attention of customers.
Ads in social networks. You should also not forget progressive and powerful product promotion platforms like Facebook, LinkedIn, Instagram, Twitter, etc.
Web studio employees focus on conceiving a website or other projects, such as developing an interface for a mobile application, a banking system, etc.
A Few Cool Nature Stock HD Video Footage
Video adds dynamics to your site. Everyone wants to see interesting media filling when looking at their screen. The text alone peeks sad and uninteresting. The question arises of where to bring cool material. Video stocks are platforms that have many files that will help you decorate your project. Template Monsters is one of the most successful companies out there selling models. We are glad to inform you that they have their own YouTube channel. This video contains a large amount of nature-related content.
Such material has a positive effect on the attitude toward the web resource.
Project Info
Date:

12.8.2022

Client:

ZCUBE

Categories:

WordPress

Tags:

Business, Software