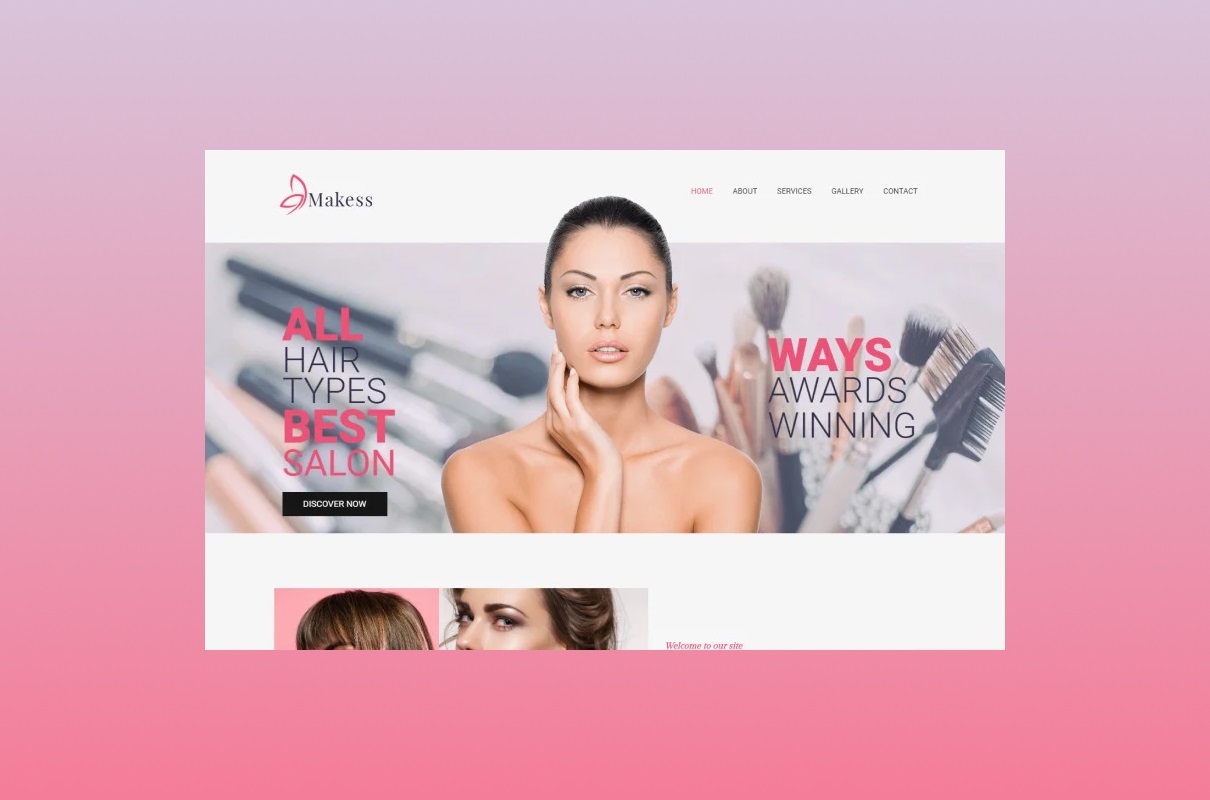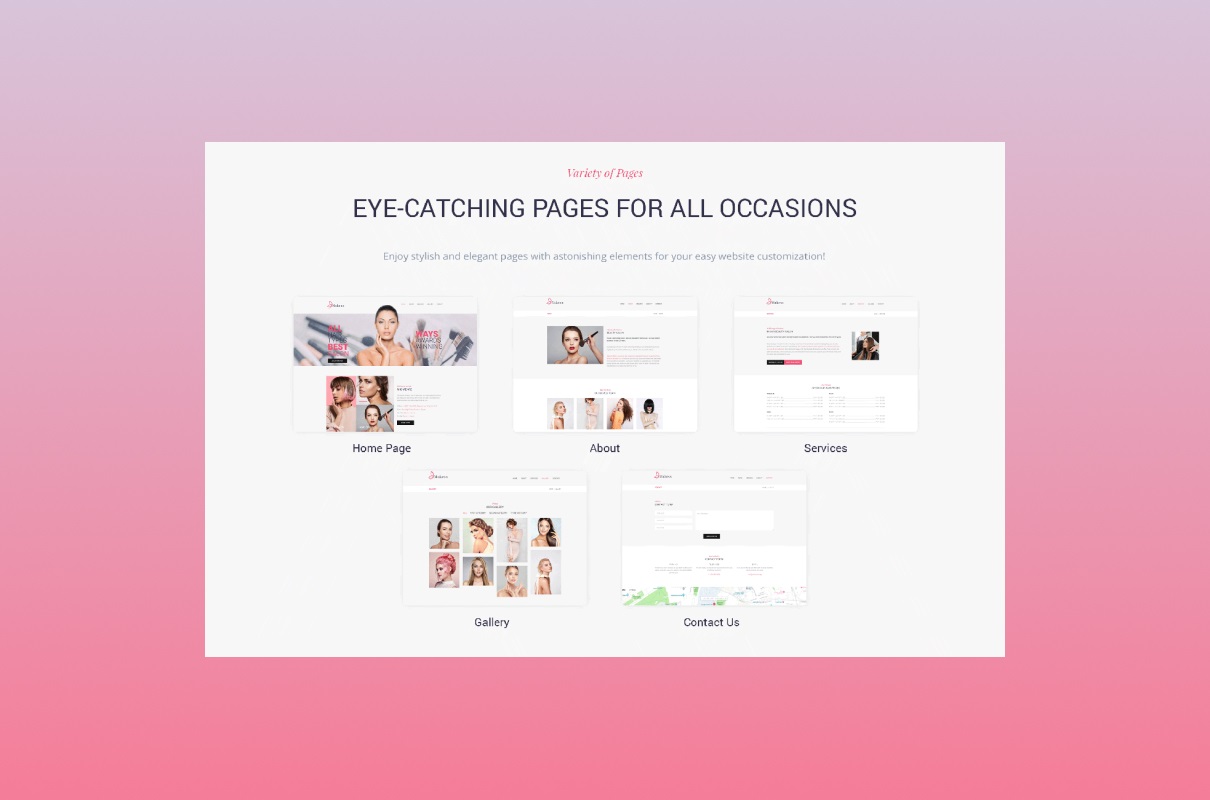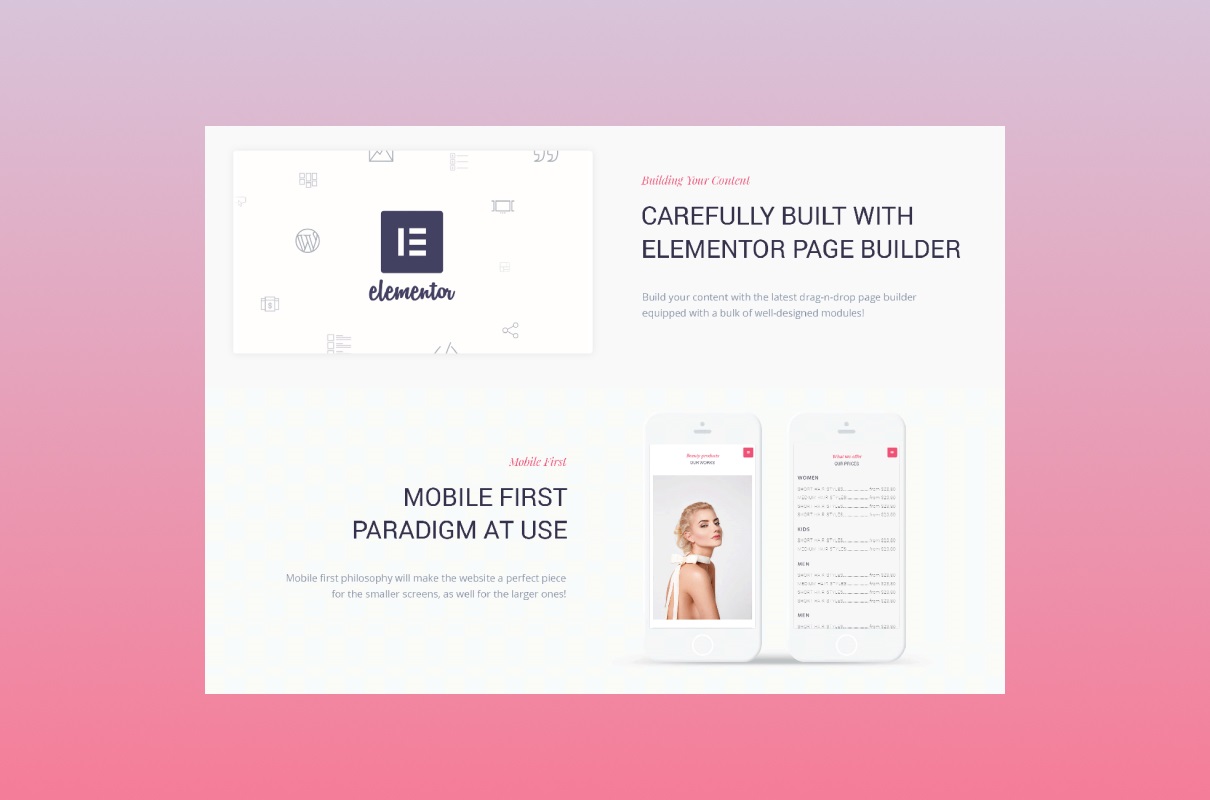 Meet the Makess WordPress theme! The most important thing to get more known about your beauty salon is to create your own website where your potential clients have to know deeper about you and your business. Nowadays, you do not need to go to a web agency and ask them to create a site. Thanks to this theme, you will get the full freedom of building just sitting at home, and what is more important is that you can save a lot of effort and time, and the process will be simple and satisfying.
With Makess, you can build a unique and universal website using many functional, powerful, and flexible tools. In addition, the author has designed a layout that will match all current requirements, so you can not worry that your site will not look presentable in customers' eyes. You can get everything you have ever wanted with just a single click. By the way, you may easily use this template regardless of your level of expertise. All of these make the building process more enjoyable and relaxing!
Get Impressed With the Advantages of the Makess WordPress Theme
Templatemonster presents us with the Makess WordPress theme, created by ROCKTHEMES, a great ready-made template for entrepreneurs in the beauty industry. This theme contains the whole specter of powerful tools and plugins to help design stunning websites. Now it is possible to be closer to your wishes than ever, with multiple ways of modifying the theme, such as colors, blocks, sliders, fonts, carousels, and much more. Due to this, you are given full freedom to express your creativity and come up with something truly unique and inspiring for your clients.
The author designed many amazing and stylish inner pages for your website, for example, the home page, about, services, gallery, and many others. All these pages are developed according to modern requirements, which makes them well SEO optimized, keeping your site always on top. Makess also included the team members section, allowing you to put your team and let clients know who will service them. Another big and foremost advantage is the most famous page builder, Elementor. Working with it is so enjoyable and comfortable! It has many useful and powerful tools, letting you build something special and feel like a pro with no coding or designing knowledge. In addition, Makess comes with several useful features that make creating good-looking and outstanding pages easier and faster.
Friendly Search Engine Optimization
Your website must stand out from the competition to attract a large audience to your product or service. You will be at the top of search engine results since all pages are well-optimized and well-received by your audience. Furthermore, if tags are constructed and used effectively, they can be a powerful promotion tool by allowing users to find your site more easily.
Dropdown Menu
If you have a drop-down menu or submenu on your site, your visitors can see more items in the menu when they hover over it or click it. Due to this amazing feature, you may add unlimited items to your site, and it will still look clean and organized, which is very important.
Portfolio
It is a nice feature of WordPress that allows you to display your personal or company portfolios. You can add elements quickly and easily by using the admin panel. Moreover, it is completely adjustable, giving you the ability to customize elements using Elementor's page builder, and it does not take a very long time to do so.
Social Media Icons
By integrating this feature, you are free to add social media icons to your site, and users may share items they enjoy with their friends or family. Additionally, it gives you the option to acquire more new and unique clients, as today, a huge number of people get to know about us or our product on social networks.
Scroll to Top
Thanks to this useful feature, visitors can instantly jump to the top of the page without having to scroll.
Entirely Responsive Layouts
All devices will display the site correctly with this fantastic option! Your clients will always feel more comfortable viewing your website on whatever device they use, whether it be a phone, tablet, laptop, or desktop.
No Limits to Creating a Multi-functional Site With Additional Plugins
Thanks to the plugins and their possibilities, they can bring small changes or have a huge impact on your website. Many plugins can improve the performance, create a slider, change the buttons, make an animation or even back up your site in the event of data loss. In the case of this theme, you need to have plugins that allow your users to book online meetings. On top of that, you will get free access to tons of awesome, powerful, and must-have plugins. Visit this link to browse the biggest plugin collection.
Google Map
Your visitors may view the locations of your offices, branches, and other facilities using this plugin.
Meet The Mighty and User-friendly Elementor Page Builder
Thanks to this awesome page builder, you do not need any HTML, CSS, or JavaScript knowledge to create beautiful pages. You can design, develop, or customize elements in just a few clicks! For example, you can change headers, footers, buttons, menus, and more. Thanks to the cool options built into this builder, you are free to create a unique website and save much time. One of these options is the drag-and-drop feature, allowing you to adjust every single element of your site in real-time. Its convenience lies in the fact that you can instantly get to see how your layout looks and works and directly apply any changes you require.
JetElements
The JetElements is a package of Jet plugins for Elementor that was developed to make it easy to add and customize any content on your website. This plugin has more than 40 widgets that can be used to create designs and elements of static and dynamic content.
The Cool Appearance of the Site Always Makes a Pleasant Impression on Visitors
It is worth pointing out that the visual part of your website is extremely important for involving and holding customers. The amazing thing is that your visitors will be more likely to explore your website more deeply and carefully if the appearance is fresh, stylish, and intuitive. Thanks to the author of this theme, you got a wide range of the most various features and plugins to help you improve the design and functionality of your website and make it even more bright and unique.
Understandable Documentation On the Theme
Useful and easy-to-use documentation is included with the Makess WordPress theme. The practical manual provides all the information you need to install and configure the template. You are welcome to contact the author for further details if you require them.
Competent Support From the Author
Assume you got questions or issues with the installation or setup of the template. It is possible in such a situation to contact a professional author who is available to assist you, and a prompt response is guaranteed.
Take a Look at the Video Guide Before You Start Using Elementor
This video will assist you in setting up and using Elementor. The course will also cover the basics of changing the skin of your site, editing blocks, and adding different elements to your site. Most enjoyably, it is easy to use and suitable for any level of your design, developing skills, or working with similar programs.
Project Info
Date:

12.19.2022

Client:

ROCKTHEMES

Categories:

WordPress

Tags:

Beauty