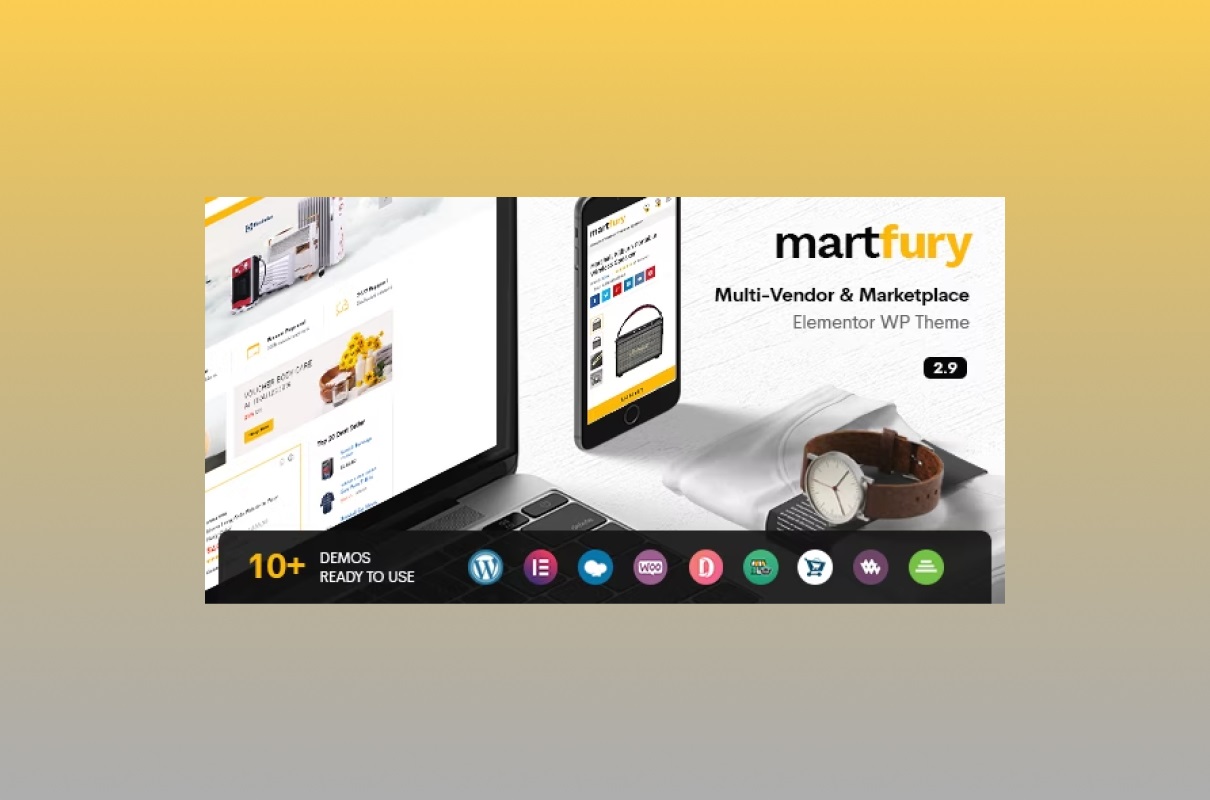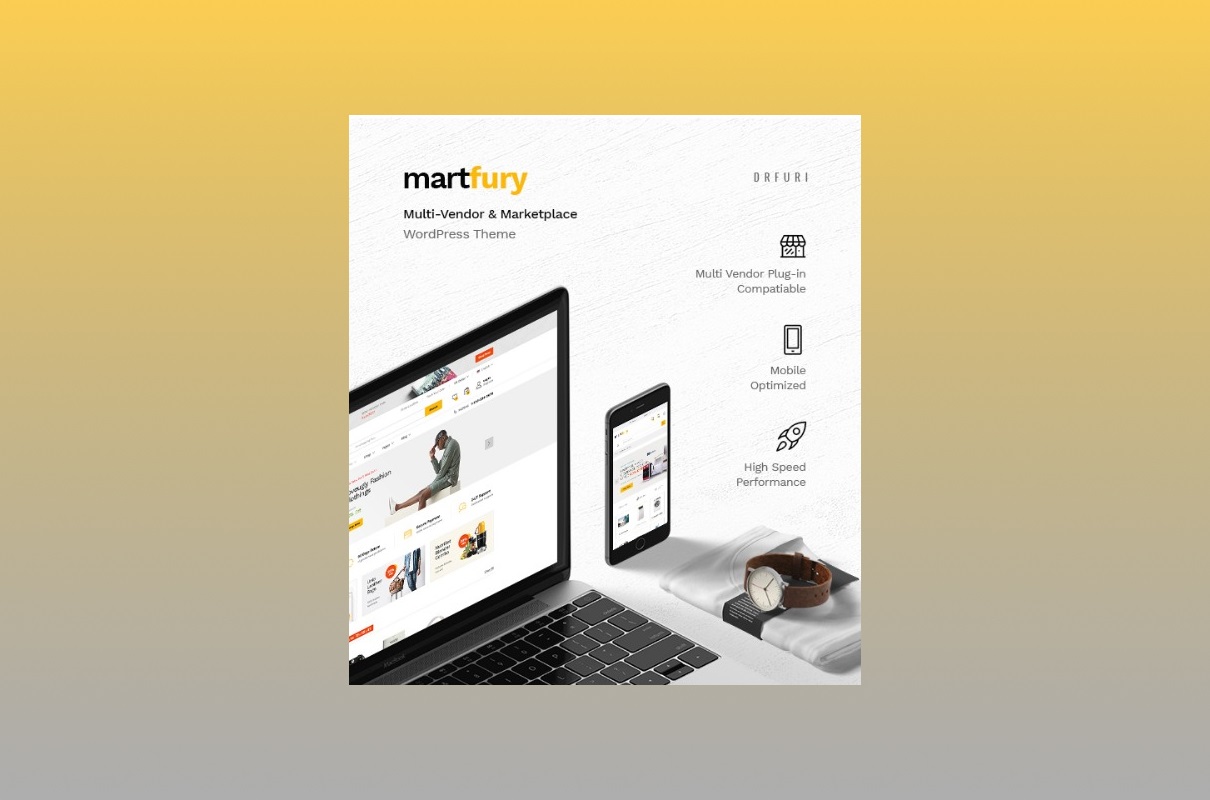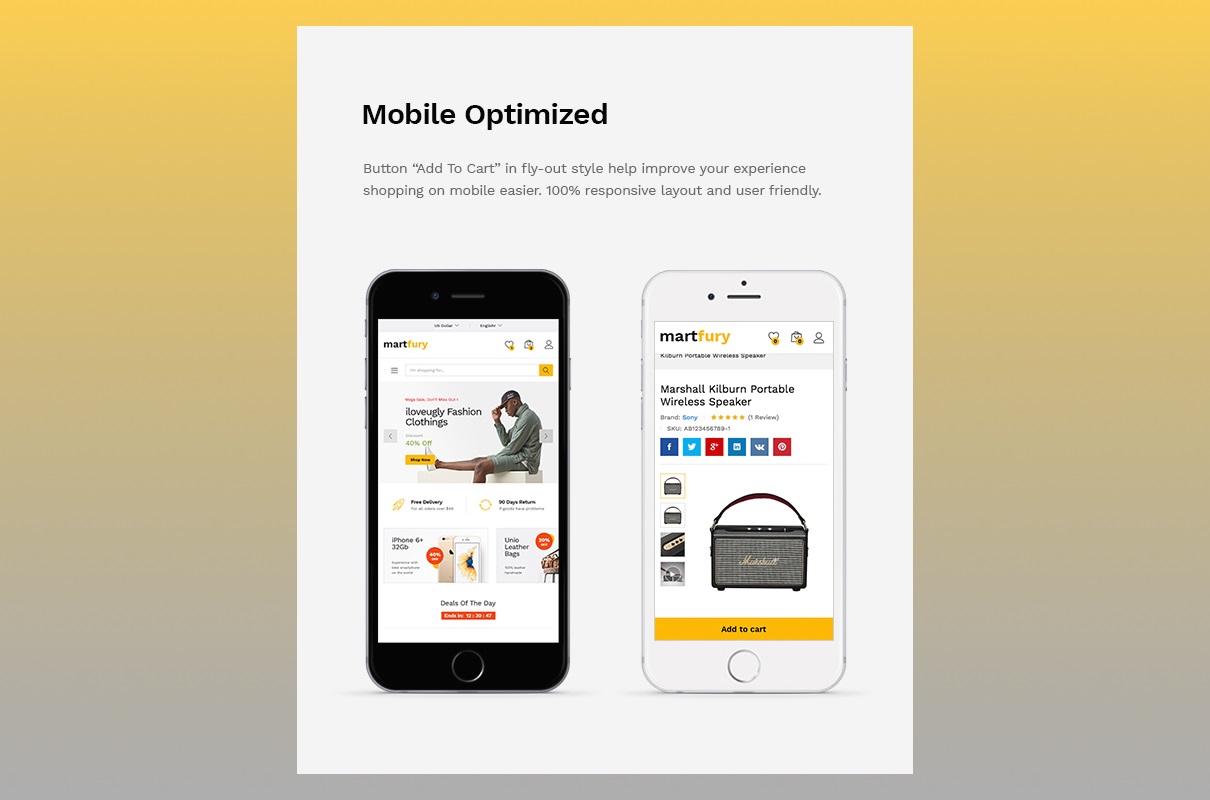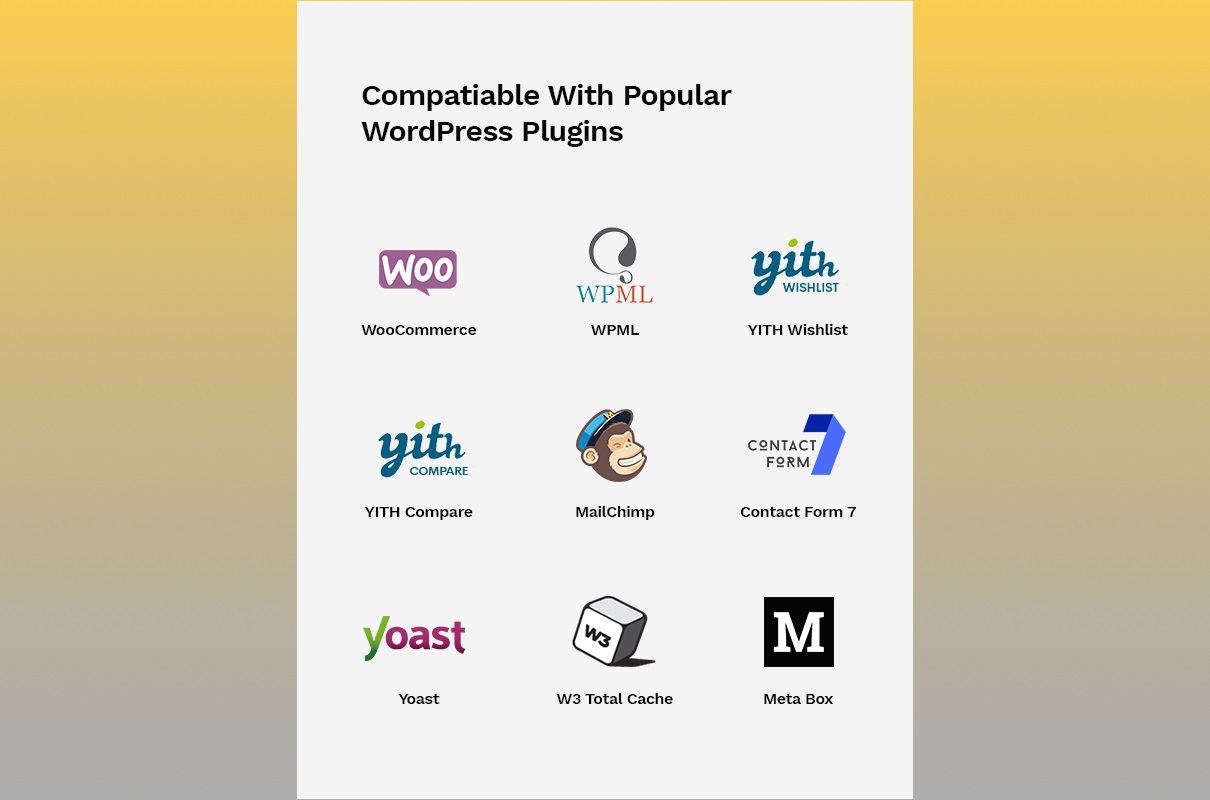 These days, online e-commerce stores are becoming more and more in demand. In such cases, ready-made templates are a great solution that not only saves costs but also allows you to create a stunning online store quickly without any technical skills. Thanks to Martfury, you will be able to easily present your brand to the world.
As you know, buying products online has become incredibly convenient in recent years. With just a few clicks, you can seamlessly shop a wide array of items — from groceries and clothing to electronics and household items. Moreover, you're in complete control of payment. Whether using a credit card, PayPal, or any other payment method, it's up to you. And most importantly, online shopping lets you buy anything you want without ever leaving your house.
With this template, you can sell any type of product to anyone, be it clothing, accessories, personal care products, electronics, toys, games, art and craft supplies, organic foods and drinks, and beyond. So, whatever you're looking to sell — Martfury makes it possible.
General Features of the Martfury
The drfuri presents one of the most striking WooCommerce themes for any goal. The author has tried his best with features that are like the building blocks of your website, making sure it's running smoothly and all.
Let's see what you get:
SEO-friendly
Your site can become extremely popular thanks to proper SEO optimization. For this reason, all themes in the ThemeForest marketplace are 100% optimized for search engines.
The authors designed each page with Search Engine Optimization in mind. For this purpose, they use methods such as optimized code, metadata, keywords in the content, and easy navigation. All of this helps search engines like Google, Yahoo, and Bing, index your site a whole lot faster to ensure more traffic — which will let you sell items to a significant number of people.
Translate Ready
This feature is necessary for any WooCommerce theme. It allows you effortlessly translate your entire online store into any language you desire, making your site available to visitors from all over the world. This feature is a must-have, especially if you're starting your online business. It takes your business to new heights!
Customizable and Flexible
Two critical features of this template are customizability and flexibility.
Customizability is a spectacular feature that empowers users to tailor their design to their heart's desire. Users have complete control over their e-commerce site's appearance with customization options like color schemes, fonts, and layouts. This enables you to create a one-of-a-kind look that embodies your brand or personal style, giving your site a distinctive flair.
Its flexibility and power allow you to turn your e-commerce dreams into reality. Thanks to its flexibility, you may easily integrate social media and email marketing campaigns, ensuring your customers stay engaged and up-to-date on your latest products and promotions.
Mobile-Friendly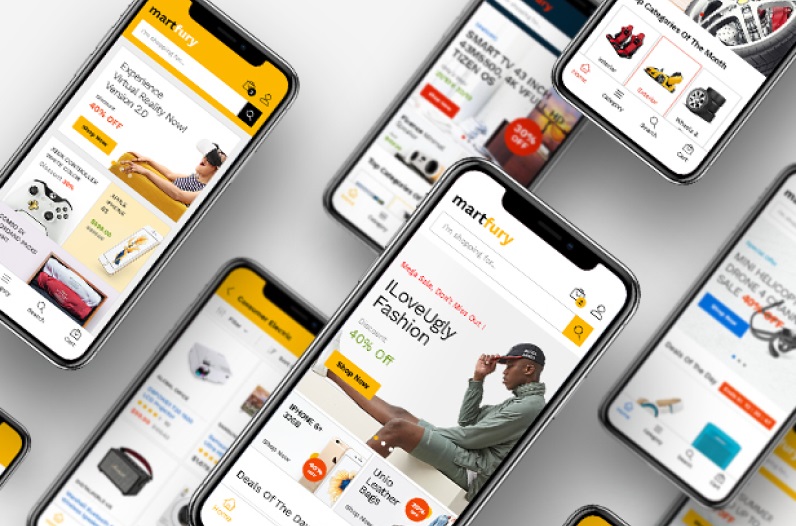 Shopify offers responsive design options that will optimize your website for all devices and screen resolutions. With this incredible feature, the content will be able effortlessly adapted to any screen size, delivering an incredible viewing experience for your visitors. Regardless of their device site will be displayed perfectly on any type of device they are being viewed from.
Product 360 Degree
Thanks to this feature, you may easily create immersive and engaging experiences for your visitors. Through the magic of this function — customers can interact with the product on a new level by spinning it with a 360-degree to see every single detail — and all directly from every possible angle.
Get it Done With Plug-ins
WooCommerce
If you're ever wondering what makes WooCommerce so popular, you've come to the right place. It's a very user-friendly and powerful e-commerce platform. The admin panel is intuitively designed, so all tools are available at just a glance, which makes it accessible to any type of user.
WooCommerce delivers a very diverse range of features. Using this platform gives you so much capability in managing an e-commerce store, such as seeing all past sales, customer information, price and tax management, tracking orders, shipping, and much more.
Even more remarkable about this e-commerce platform is that it comes together with incredible payment options that will let you sell worldwide. It supports credit cards, PayPal, Stripe, etc. Don't worry — all payment processes are secure and fast.
WPBakery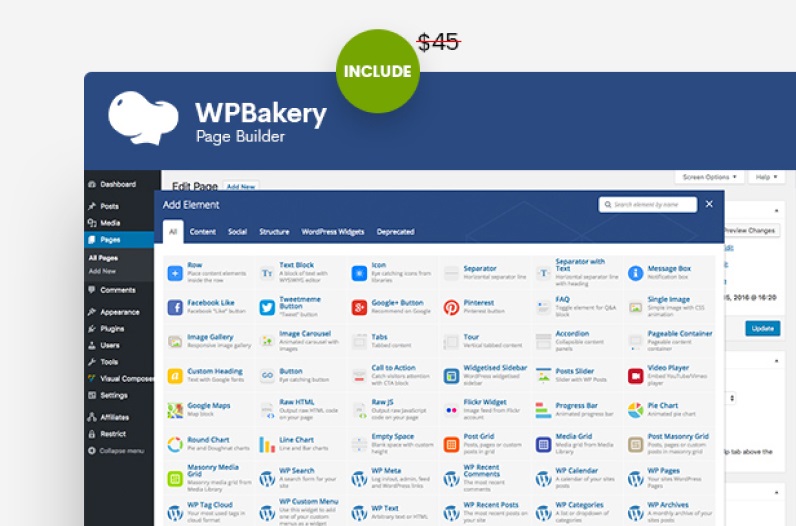 WPBakery is the perfect platform that integrates seamlessly with WordPress and enables you to build any type of website, even complex ones, without any coding requirements. It delivers a vast collection of pre-designed templates and elements, empowering users to break the boundaries of what's possible and create something truly remarkable and unique. Moreover, with the live editing feature, you may see the all changing immediately — without leaving the workspace.
On top of that, it's highly flexible and customizable, simplifying the creation process, especially for newcomers. Additionally, drag-and-drop allows users to reimagine the look and feel of the online store by seamlessly dragging elements to any area, which can also help beginners simplifies the interaction with this plug-in.
Elementor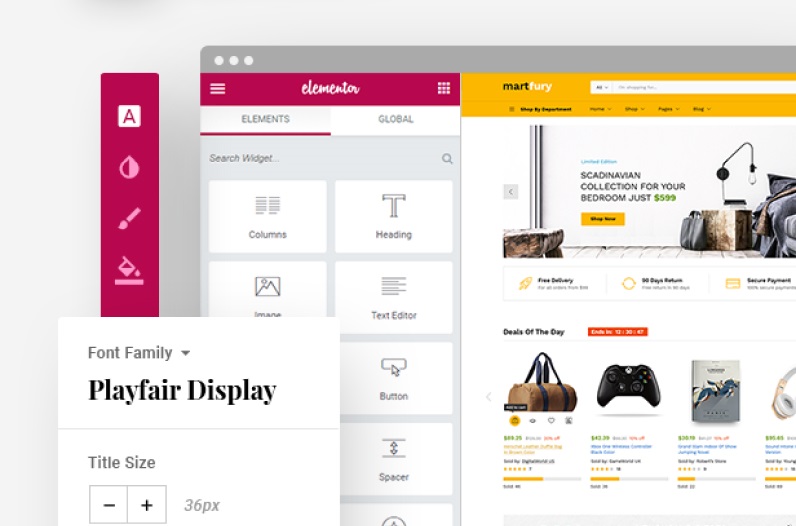 Elementor is an impressive page builder, together with our industry-leading technology, including Drag-and-drop and Live editing, helping you to build stunning web pages directly on a live site without coding. Whether it's a homepage, blog post, contact page, portfolio, or landing page — Elementor makes it possible to design stunning layouts like a pro!
It has a completely intuitive and user-friendly interface that lets you easily add and edit template elements. It introduces a vast collection of built-in widgets and blocks that is sure to become important things in the creation process, providing so much room for creativity. You're in luck! Thanks to the extensive collection of awe-inspiring templates available — building an online store have never been more effortless! So don't hold back — let your wildest ideas take flight!
Contact Form 7
This is an extremely useful and free plug-in that allows you to add a feedback form to your website easily. Its popularity is explained by its ease of use and the ability to add any number of fields to collect information from store visitors.
Besides, this plugin is popular with most users due to the built-in anti-spam captcha and the ability to add additional fields to the contact form using unique tags. It is beneficial for those looking for an easy and convenient way to contact customers and ensure that questions and suggestions from visitors are answered.
This plugin is a great way to increase satisfaction with your online store and make it even more convenient for customers.
Support
When you buy the Fashop, you receive the most recent updates and enjoy an incredible six-month warranty that takes care of all your technical glitches and customization desires. And if you ever have any questions or concerns, the author is always willing to assist you every step of the way. To stay in touch, simply follow this link that will lead you to the profile page, where you can utilize the message form.
Detailed Documentation
Thanks to this detailed guide, which explains in detail the unique features and functionality of the theme, you will be able to quickly and easily understand how to work with it. The guide provides detailed instructions on installing and configuring the template, customization options, and valuable tips on fixing any possible issues.
Watch the Video Guide to Get Familiar with Martfury
This video provides step-by-step guidance on installing, setting up, and everything you must know about this theme.
Project Info
Date:

08.14.2023

Client:

drfuri

Categories:

WordPress

Tags:

Christmas, Electronics, Fashion, Food, Gifts, Medical