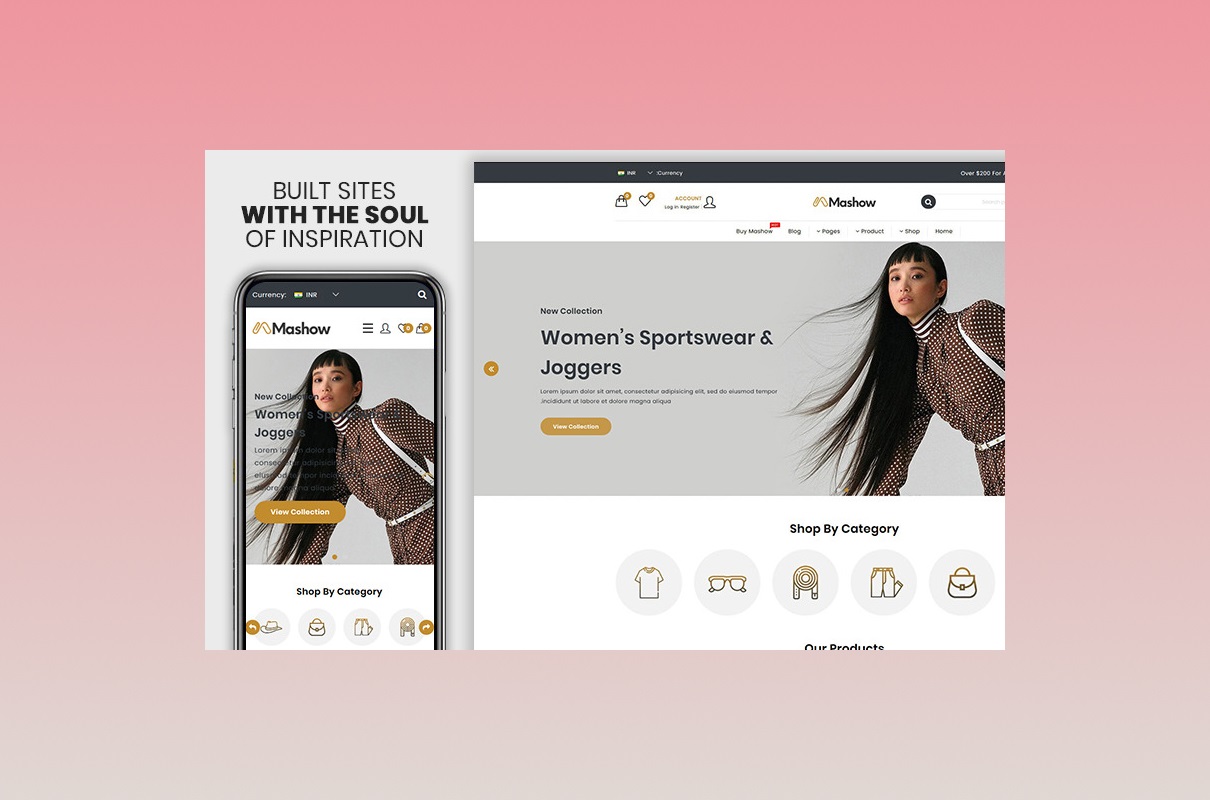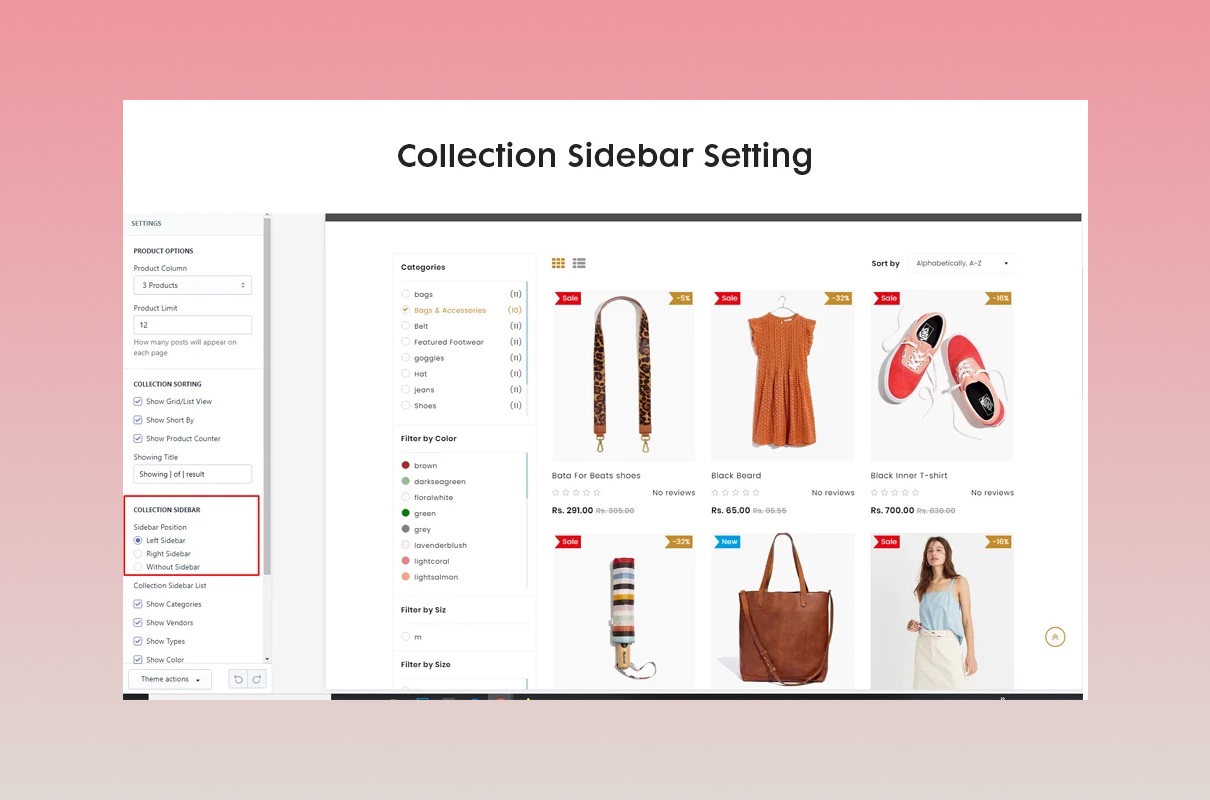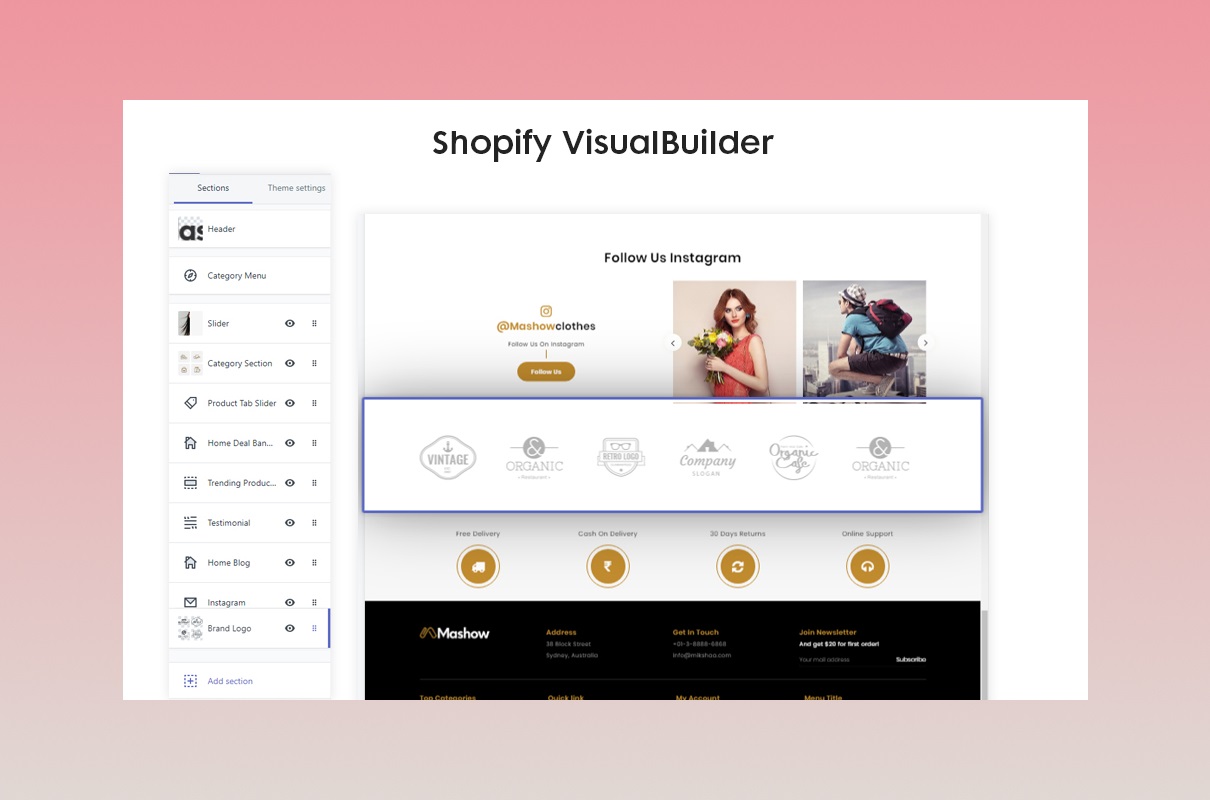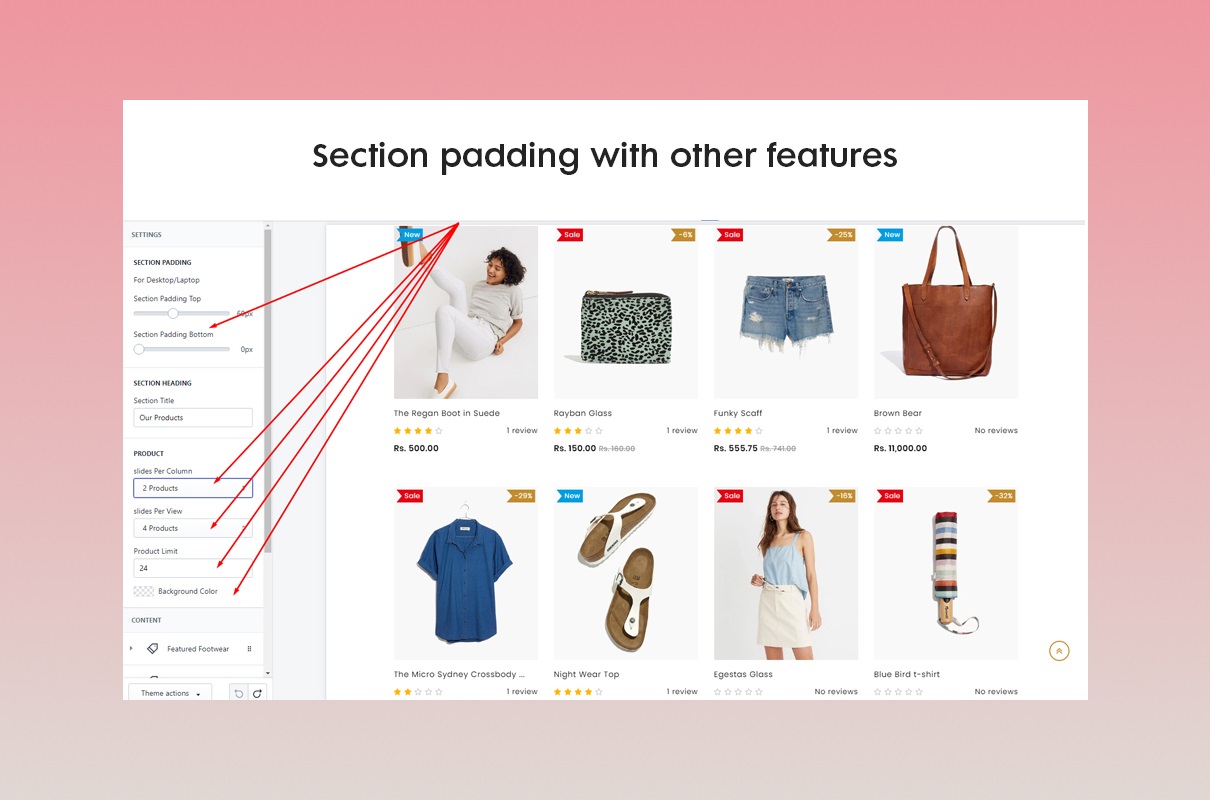 We are hastening to present the ideal solution for your site. It is one of the modern templates in a neat design called Mashow Theme. It matches the sale of clothing, shoes, bags, hats, and other accessories. But it is appropriate for another topic of the online store. You need to change the content.
The skin brings a super wide functionality. You find everything you need for an online store: catalog, checkout, cart, prices, discounts, and enjoyable product page. Also, the layout includes a wish list, reviews, convenient filters in the collection, a blog, a mega menu with a sticky option, etc.
Using this fantastic design, you cannot doubt that it is easy to use the website for visitors. As a result, you get lots of sales and happy clients.
Some Basics of the Theme
Shopify is the e-commerce platform for the Mashow layout. This system is one of the most popular because it is easy to configure, and ready websites are user-friendly.
The vendor of the skin is WebheayThemes. He is 5-star rated and affords numerous Shopify templates. You are completely certain of professional support from the author and regular updates on your layout. Our marketplace affords free technical assistance from the vendor within six months.
Responsive Layouts Advantage
It is critical to have a clean, beautiful, and correct website view on tables and mobiles as on the computer desktop. It is what Mashow provides. You get layouts for the responsive benefit for free. You don't need to hire someone to create it from scratch. All skins are fully customizable.
How Does the Website Work on Different Browsers?
If you are interested in the high speed of your platform functionality, we strongly recommend you ensure that you use the last browser version. Mashow Theme is compatible with all major browsers like Internet Explorer 11+, Chrome, Safari, Firefox, and Opera.
Use All Images for Free
The author of the Mashow skin affords all pictures for personal usage without any limitations for free. You make your website visual better with amazing high-quality images on banners, posts, etc. Also, our marketplace provides a perfect opportunity to get some pics from Depositphoto stock with our service.
Shopify Theme and SEO
Would you like to make your website rank higher and increase organic traffic? This template is ready for such optimization. We recommend using compatible applications from the Shopify App store. If you would like to save time, you hire our specialist. Here you can check SEO services.
What Hosting do You Use with Mashow Shopify Theme?
The skin works if you have a Shopify account. Here you can read more information about it. You manage your website and orders from the Shopify App store if you use this profile. Also, please note that the platform provides its own Shopify hosting plan. And only this provider is compatible with the theme and cover template's requirements.
Comfortable Demo Version of the Theme
We recommend you check the demo version of the layout. We prepare all to make it as comfortable as possible. There you see a demo for every page: homepage, RTL view, product grid and list, product page, blog, cart, and other pages.
If you need assistance, please join our online chat. Our agents will help you.
Take the Template in a Few Minutes
It is easy to get the template in our marketplace. You register a profile because you get the download link with the layout and documentation in your account. After the decision, you add the item to the cart and fill up your contact and billing info. Then we verify your payment, and you receive the order.
Main Benefits of Mashow Shopify Template for Users
The skin has a 5-star rating and good reviews. Our clients prefer to use this item because it has a modern design, is easy to edit, and the view is user-friendly for visitors. This option for your site is unique, so it is easy to get the customer's attention with a visual part.
What kind of websites can base on Mashow Theme
The theme is the best option for fashion stores. On the other hand, we advise you to pay attention to the functionality and structure of the skin. If the features of the skin cover your requirements, then you safely use it for such stores: tools, electronics, auto parts, beauty, art, furniture, sports, and travel.
If you are a web developer, you create a professional modern online shop for your client. It is possible to cover any request with flexible dashboard functionality without third-party development usage. Facing with Shopify area as a web developer, you widen your knowledge and can offer new favors in this field.
Let's imagine that you open the first online store in your life. You are in the right place if you choose our Mashow template. The management system is easy. The theme includes all you need to make perfect organic traffic: clean design, necessary features, comfortable structure for the content, SEO-ready opportunity, attractive high-quality images, etc. Also, it is important to note that the Shopify platform is one of the most stable and advanced. So if you face questions, you can contact our vendor or Shopify provider for technical assistance.
Save Money with MonsterONE
We are glad to present you with an excellent opportunity to download our products for free or at a discount. It is our MonsterONE membership with an All-in-One plan. If you are a subscriber, you are welcome to download this item at 35% OFF. Also, you get one year of technical support instead of usually six months. Feel free to contact our LiveChat, and the agent will help you to choose an appropriate plan.
Awesome Mashow Shopify Theme Functionality
The layout has extensive functionality. We prepared critical points about some features that this skin provides.
E-commerce System in the Template
Shopify platform provides the whole spectrum for a store: pricing customizer, cart & checkout, shipping and tracking orders, taxes, sale option, payment methods, currencies, etc. You can edit such points according to your requirements. Also, it provides a time counter for hot deals and attractive pop-ups.
Collections and Product Page
It is possible to choose the most appropriate design for catalog presentation: product grid or list. With the skin, it is easy to set up the location of the sidebar on the left or right side. The collection page provides the filtering for goods with categories, colors, sizes, by tags, and vendor.
On the product page, you see the quick view function on hover. Also, you get zooming, discounts, filtering, wishlist, reviews, availability, and description. And below the main product, your visitor checks related goods.
Integrated RTL and Multi-language Opportunity
On the demo version, you check the Home RTL layout. It means that Mashow Template includes the RTL feature. You can integrate a multi-language function. With our developer, you save time on it. Follow this link and try this service.
Social Sharing Features
Social networks are gaining popularity, so it is a solution for website promotion. The skin provides such an opportunity with an interactive widget.
Ready Retina Display
The layout includes Retina technology. That means you never face low-quality views and blurring on your website. Thereby you have more visitors who will constantly use the site.
Blog Page for Improving Your Info Field
It is better to have a blog if you would like to generate leads. Also, it contains interesting and important facts about your product. And you can link the posts with product pages.
Dropshipping Integration for Your Business
The platform is one of the best systems for dropshipping functionality. The template is compatible with Oberlo, Modalyst, or Spocket applications. If you have the experience, you integrate it and set it up. But please note that we are glad to save time via this service.
Video Guide for Shopify Mashow Shopify Theme
Our marketplace prepared video tutorials on how to set up Shopify skins. You can check in detail all features this platform includes and how easy to configure it.
Project Info
Date:

01.12.2023

Client:

WEBHEAYTHEMES

Categories:

Shopify

Tags:

Beauty, Fashion, Jewelry