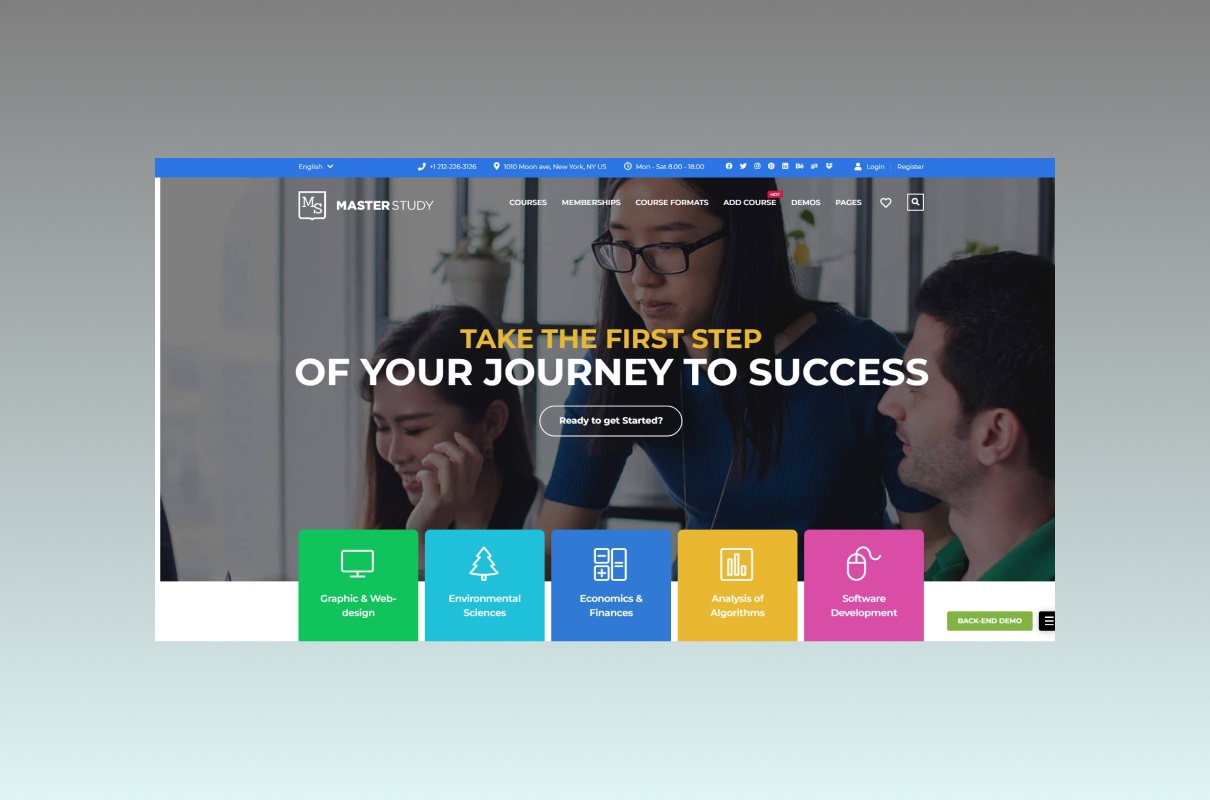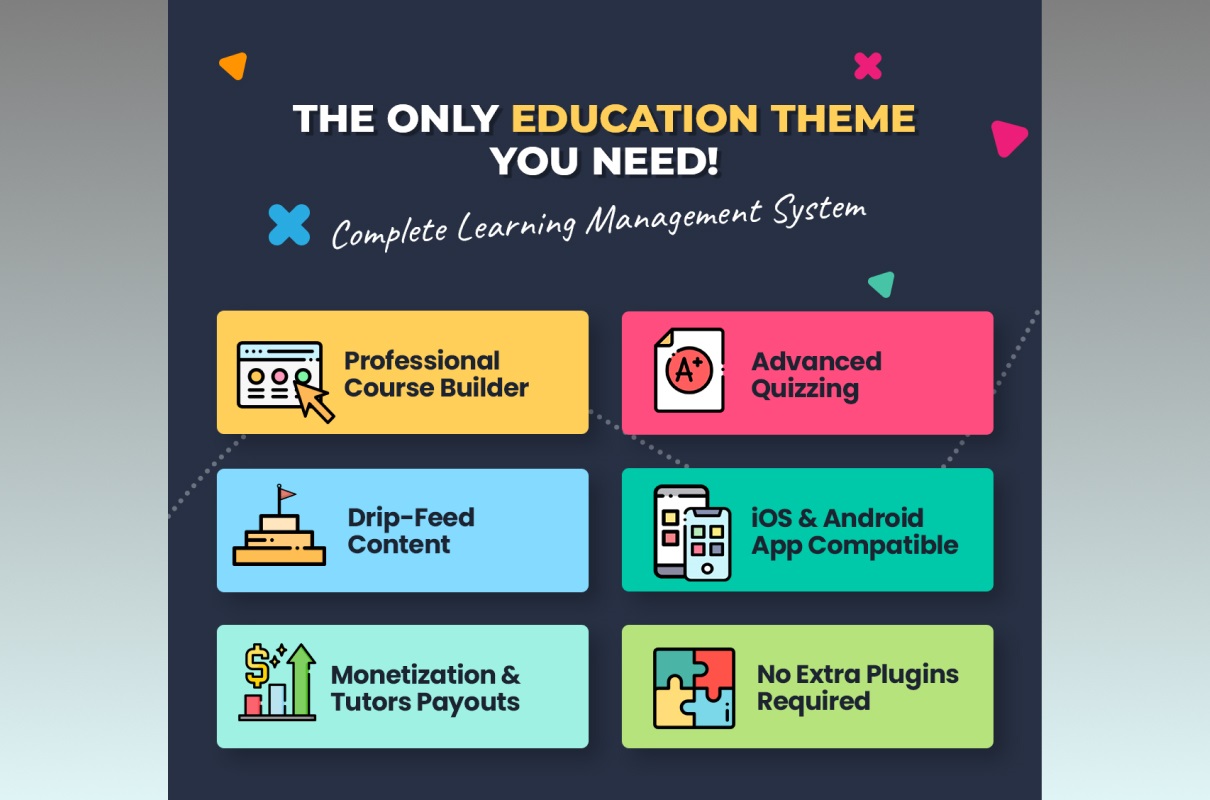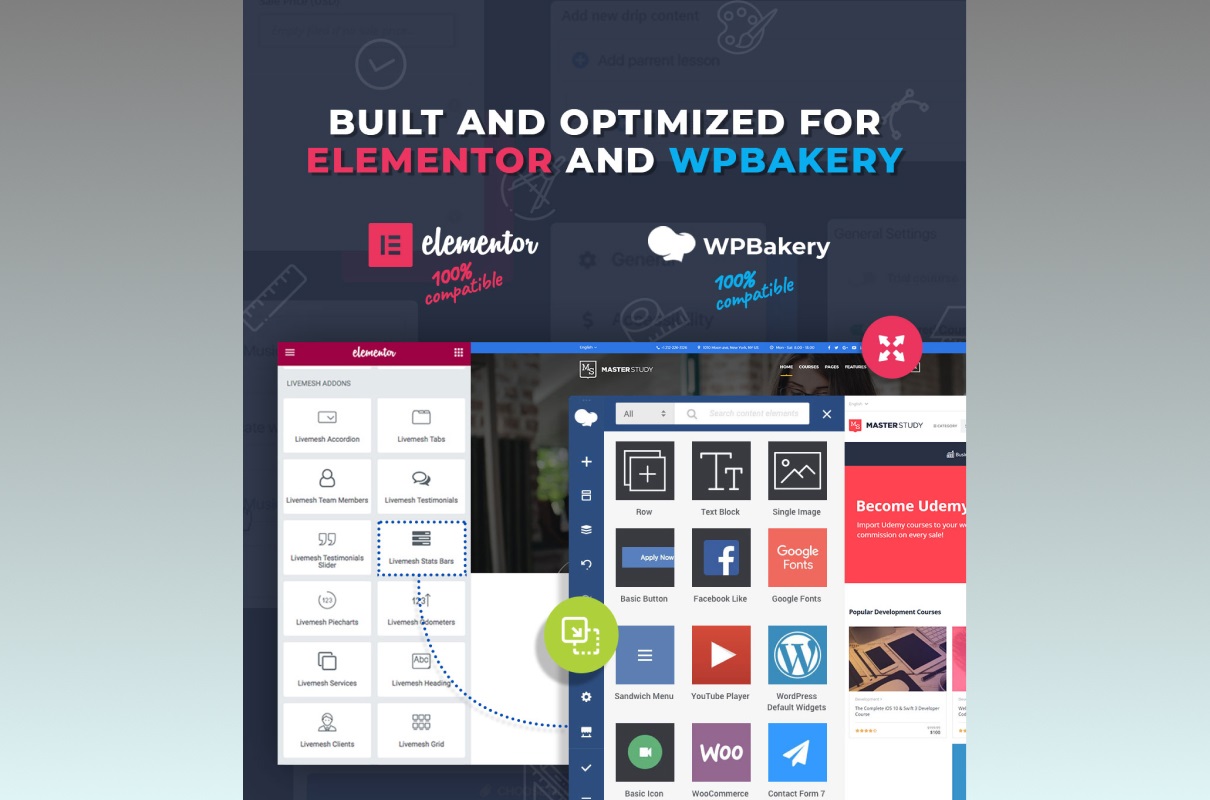 The real breakthrough in online education came in 2012. The reason for this was the emergence of sites such as edX, Coursera, and Udacity. And we invite you to create your e-learning platform with the Masterstudy education WordPress theme, which in terms of functionality and convenience, will not be inferior to even the most popular platforms.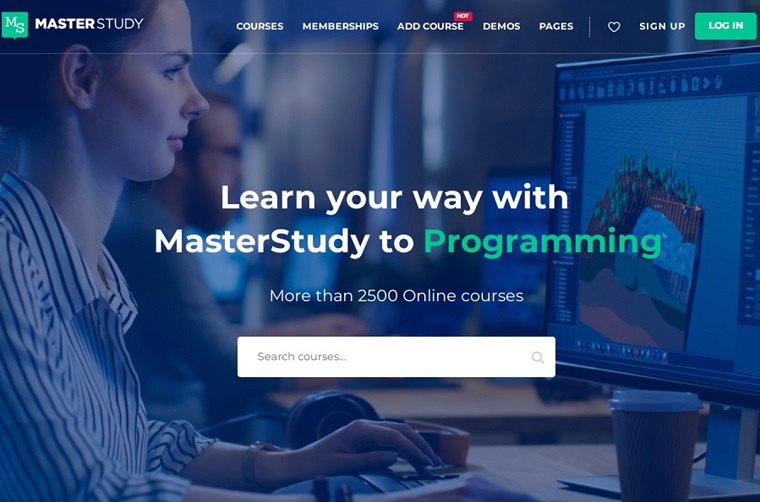 Online education continues to develop rapidly, and the number of such platforms is growing. Since the pandemic, people have increasingly begun to choose a remote way of working and studying, discovering many advantages of online education. That is why now the creation of your е-learning platform is more than ever a relevant and promising idea. So if you've ever wanted to create your educational website but kept putting it off because it seemed like too much of a challenge, we've got the perfect solution for you. Thanks to our multifunctional and stylish education WordPress theme, you can create your website quickly and efficiently.
This education template is ideal for creating a modern educational platform that will definitely appeal to users. But before we get into all the theme's benefits, let's take a closer look at all the advantages and disadvantages of online learning.
Pros and Cons of Online Learning
To better understand the reason behind the popularity of online learning and educational platforms, let's look at the pros and cons. Let's start with the positives.
Convenience
Why is online learning convenient? The answer is simple: thanks to online classes, people spend more time on the learning process itself, avoiding wasting time on a trip from one part of the city to another. In addition, there are no geographical restrictions; you can be anywhere in the world while studying online. Moreover, you can even choose the most convenient schedule and move at your own pace. And also, as a rule, by purchasing any course, all training materials remain with you so you can review them later. Besides, online courses are great for introverts, which is another advantage.
Saving Time and Budget
Online courses save you not only time but also money. Moreover, this method of study is beneficial not only for students but also for teachers. The training organizers do not have to pay for the premises and equipment; as a result, an online course is cheaper than an offline one. In addition, there are many free courses available. Also, you don't need to buy any additional study materials and manuals; they will be provided to you in digital form.
Wide Selection of Courses
The number of courses is also increasing with the growing popularity of online platforms. There are so many course topics that you will definitely find what you need, from knitting to programming. Thanks to such a variety, you can learn anything from the comfort of your home.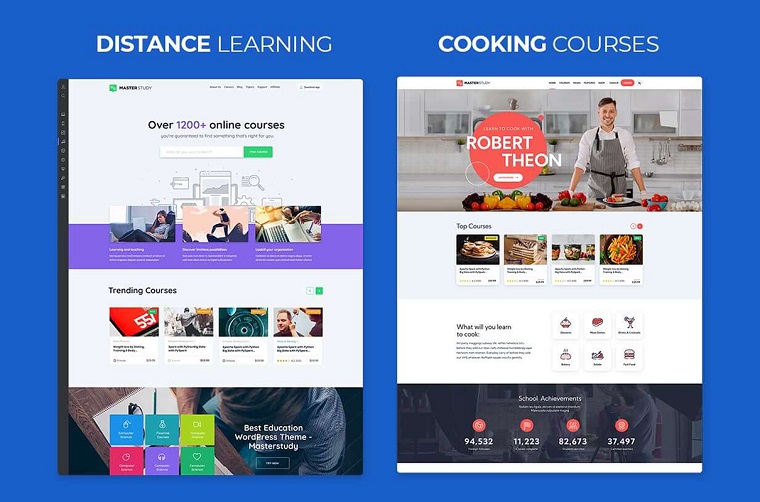 Of course, this method of learning has its drawbacks. Let's find out which ones.
Good Internet Connection Required
Without a good internet connection, online learning is impossible. If you encounter unforeseen problems with the Internet, you will not be able to continue the lesson.
External Distractions
These distractions make it difficult for students to focus on their studies. It can be both loud background noise, which we are not always able to eliminate, or various so-called temptations in the form of a new unwatched episode of the series, etc. The effectiveness of learning is based on the student's self-discipline. Otherwise, it can turn into scrolling through social media feeds.
Limited Social Interaction
However, this type of training is not for everyone since many people prefer live communication in a friendly environment and group projects. Teamwork, healthy competition, and lively discussions create a working atmosphere and motivate students. Everyone chooses the most suitable way of studying for themselves.
Now let's look at some tips on creating a perfect educational website.
What Makes a Good E-learning Platform
Some basic rules can help you create a good web resource. Let's take a closer look at them.
Easy Navigation
Easy navigation is especially important for an educational site since such content must be well structured. Do not overload the website with unnecessary elements and text canvases; instead, try to use more graphic elements. In addition, the website should have an organized menu and a user-friendly interface.
Stylish Design
Please don't underestimate the website design because it's what makes the first impression. Besides, a site with an attractive design is much more pleasant to use.
Security
Ensure that your website and its users' confidential data are securely protected.
Good Performance
The site's speed is an important aspect because no user wants to wait a long time for each page to load. Instead, they will prefer another resource with better performance.
And the Masterstudy theme will help you create the perfect educational platform by meeting all the main requirements for a high-quality website. Let's take a closer look at all the advantages of the template.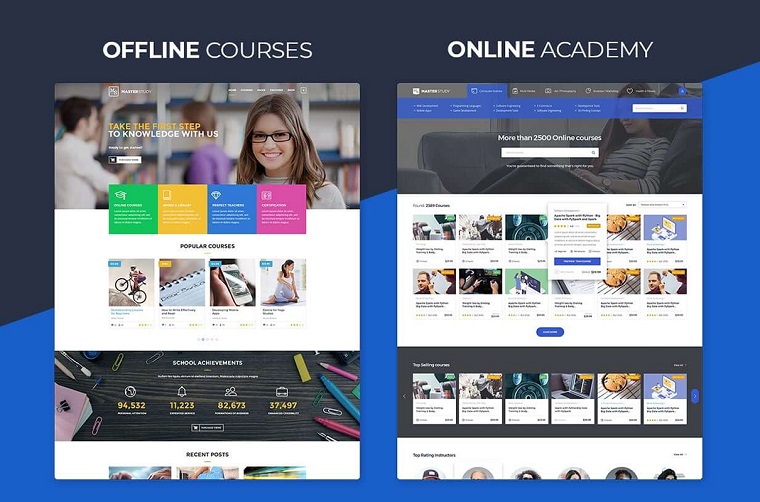 Masterstudy Theme Main Benefits
Before buying any product, we need to make sure that it is really of high quality, so the first thing we usually pay attention to is the user rating and reviews. More than 17,000 sales with an average rating of 4.8 indicate the truly high quality of the product and thousands of satisfied customers. As the most progressive educational theme, Masterstudy has all the features you need and is the best solution to create your ideal educational platform. Let's see why.
No Additional Plugins Needed
Being extremely feature-rich, the template includes all the necessary tools and functions to create the perfect educational platform, eliminating the need to purchase and install additional plugins.
Convenient Filter System
Thanks to a convenient filter system that sorts courses by such parameters as price, categories, subcategories, etc., it is easier for users to choose an option that is perfect for them.
Grading and Reward System
You can choose the desired student assessment system. For example, students can earn points for being active on the site and completing various quizzes. In addition, teachers can maintain a grade book containing an analysis of their students' activity and attendance.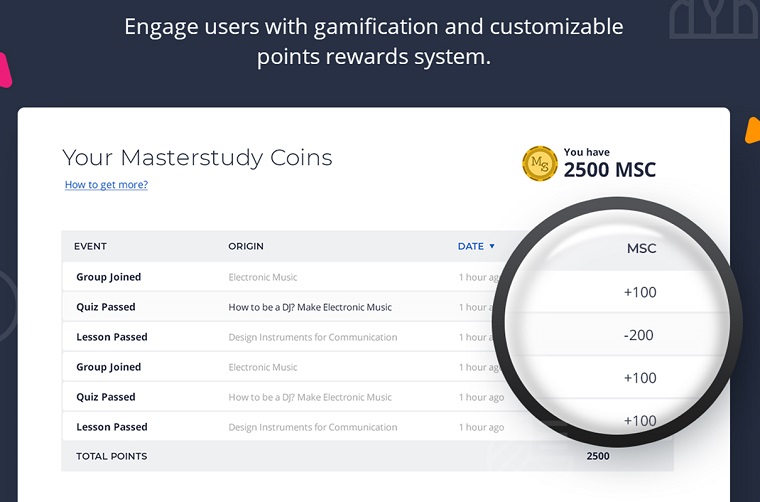 Different Types of Lessons and Quizzes
The template will appeal to both students and teachers. Thanks to such a variety of lesson formats, it is convenient and easy for the teacher to prepare materials and organize the learning process, and students will never get bored. Here you will find such lesson types as text and video lessons, zoom conferences, slideshows, live broadcasts, etc. In addition, there are various types of tasks and quizzes, such as filling in gaps, tests with a time limit set by the teacher, and much more. Moreover, with the H5P plugin included in the Masterstudy theme, you can conduct classes in a playful way by creating interactive activities. With so many useful tools, the template guarantees teachers an endless supply of ideas and a fun learning experience for students.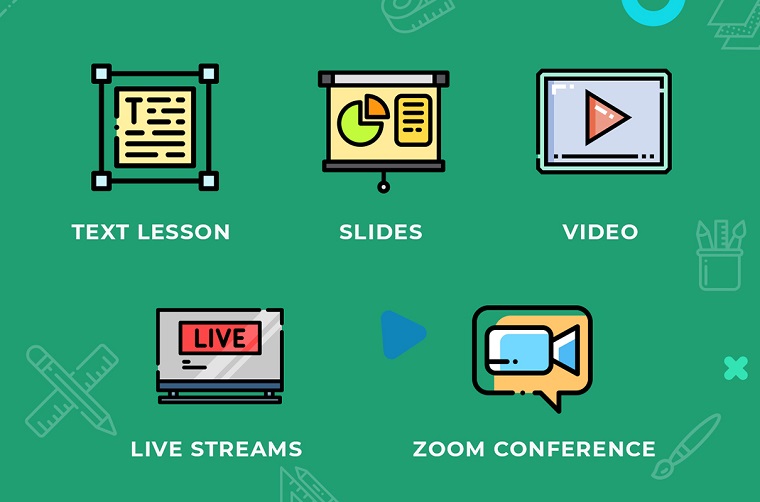 Student Forum & Social Network
Thanks to BuddyPress integration, you have the opportunity to create a unique student community where users can send each other private messages, edit profiles, participate in group discussions, and much more.
Various Payment Methods
You can choose the payment method convenient for you. In addition, users have the option to subscribe to a membership.
Certificate Builder
This advantage of the Masterstudy theme will especially please course authors. The template allows you to create a unique and stylish certificate of completion using a convenient and simple builder.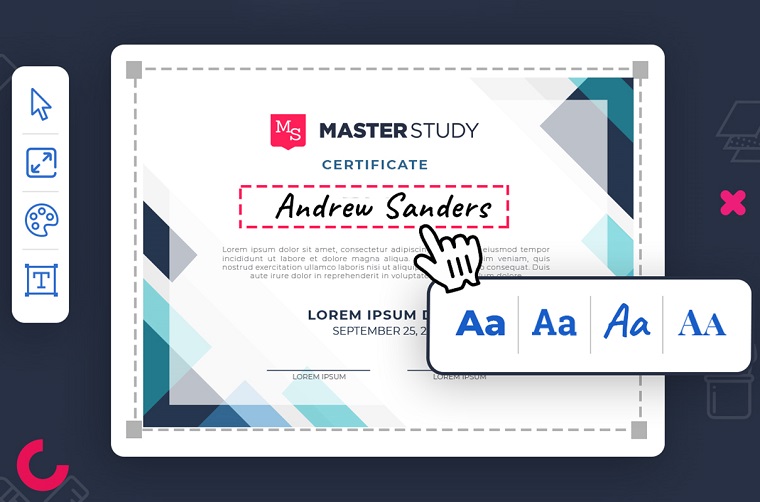 Fully Responsive Web Design
In addition, the theme is fully responsive, which means it will look flawless on the screens of any device, which is important since many students often use tablets in the learning process.
User-Friendly Interface
Thanks to a user-friendly interface and fast content import, site customization becomes an exciting experience. In addition, the template is Elementor and WPBakery compatible, which greatly simplifies the website-building process.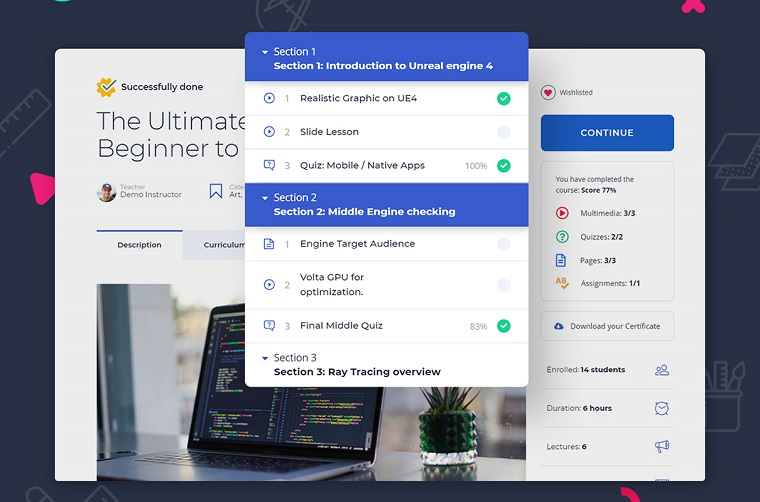 Wide Possibilities of Customization
Make your website stylish and unique with a wide range of customization options, including an extensive color palette, over 560 Google fonts, tons of cool ready-made demos for various purposes, custom sidebars and widgets, the ability to add eye-catching animations with the Revolution Slider plugin and much more.
Multilingual
The theme is multilingual and already available in nine languages. In addition, you can translate it into other languages, including RTL ones.
Happy Customers
Thousands of customers have been satisfied with the purchase, as evidenced by the many positive reviews.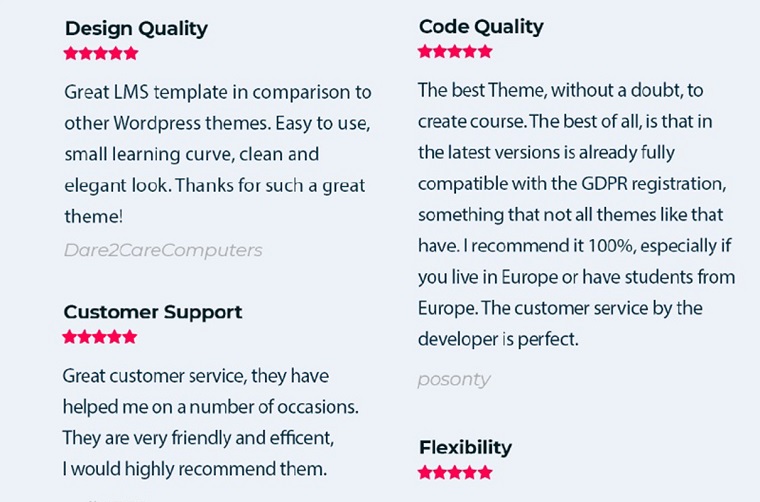 Detailed Instructions
Extensive documentation is available for you in the form of manuals and video tutorials containing answers to any possible questions.
24/7 Professional Support
In addition, a dedicated team of experts will be happy to answer any of your questions. Feel free to contact support at any time.
Mobile App Compatible
Moreover, you can also create a mobile app. MasterStudy LMS Mobile App supports both IOS and Android platforms.
Can I Install the Masterstudy Theme and Import Demo Content Myself?
Of course, the authors have prepared a short tutorial video on how to do it. In addition, in case of difficulties, you can contact support.
Project Info
Date:

04.14.2023

Client:

StylemixThemes

Categories:

WordPress

Tags:

Education