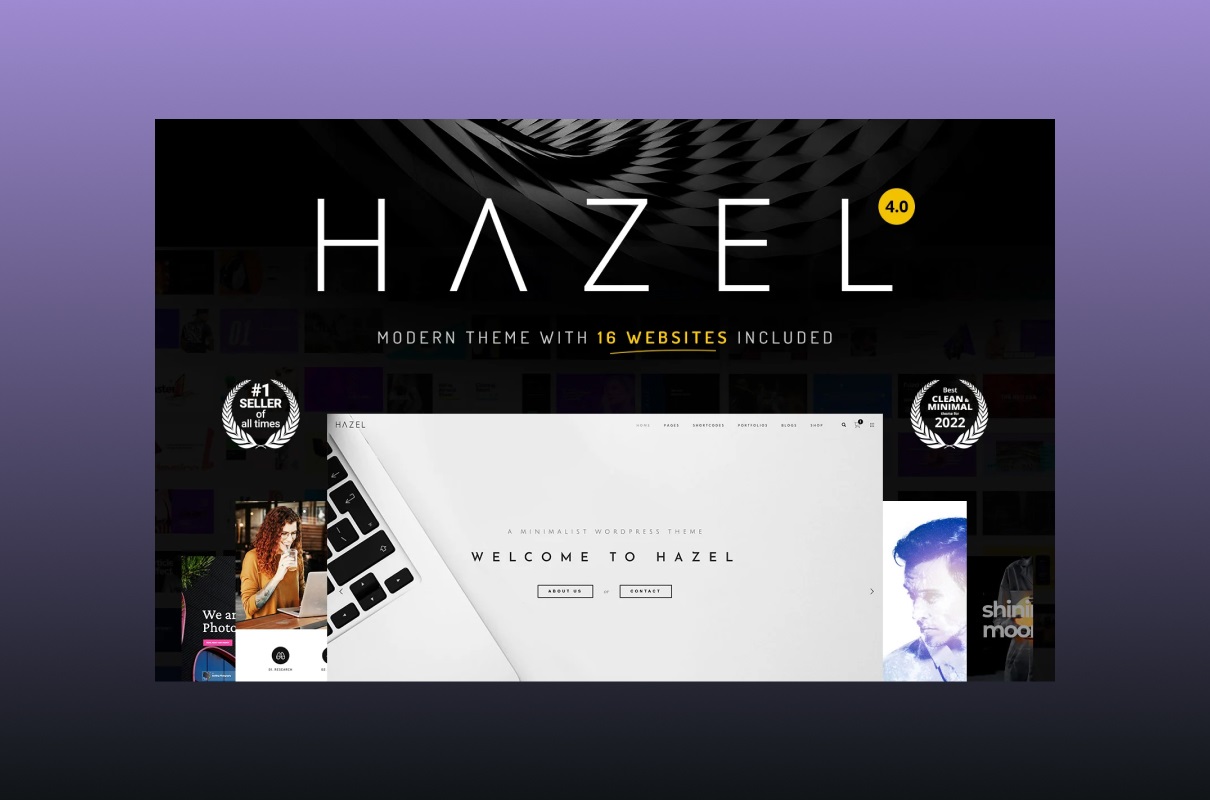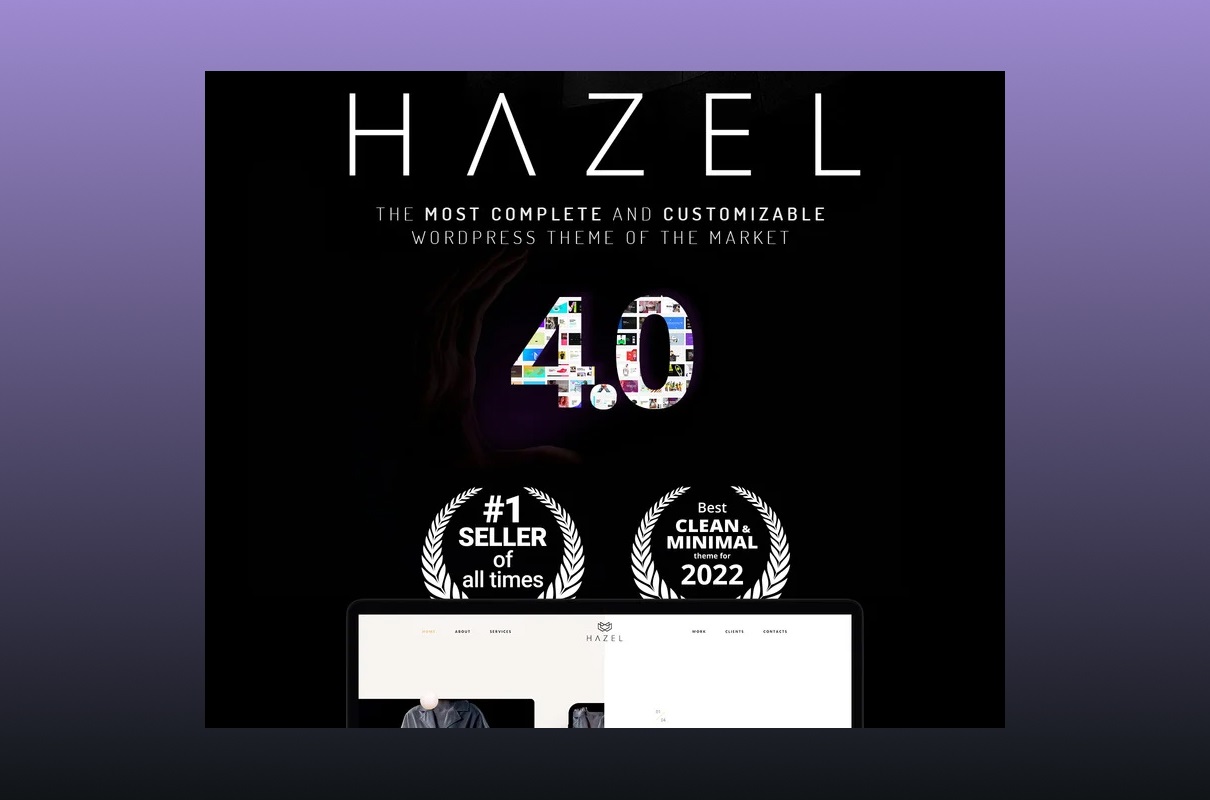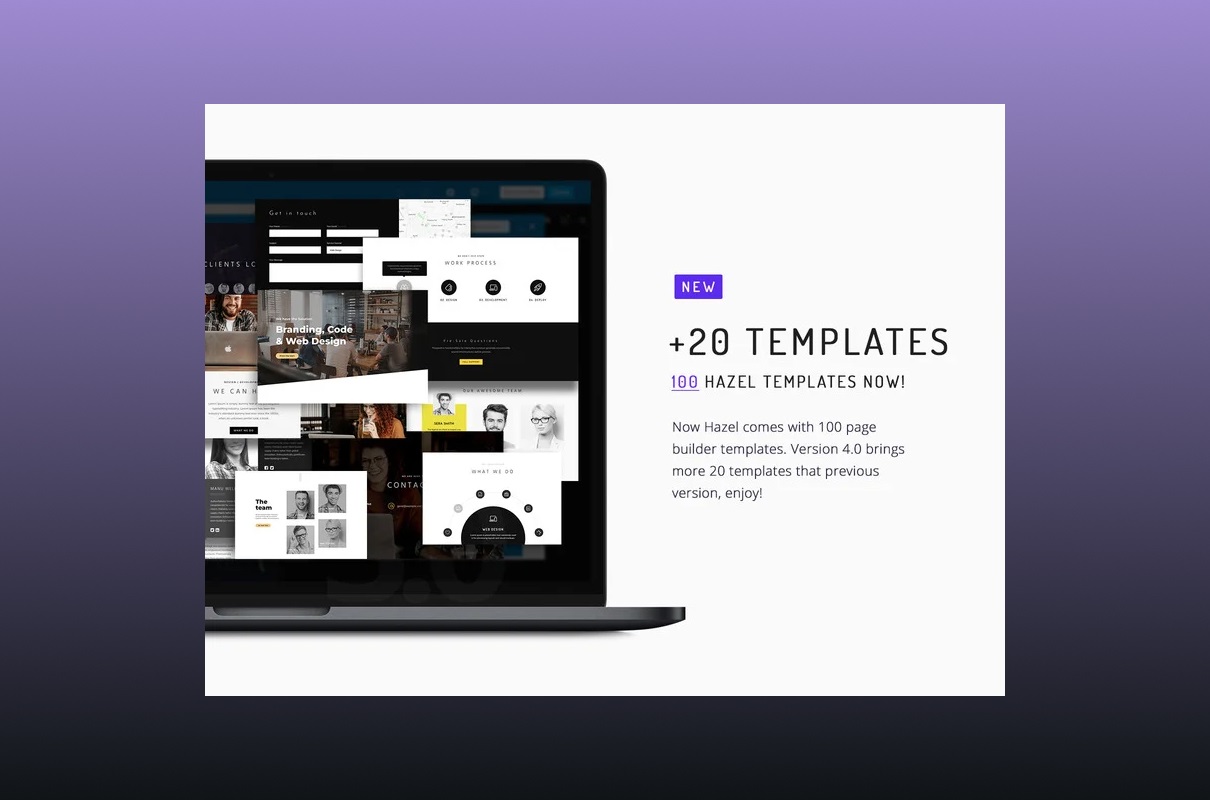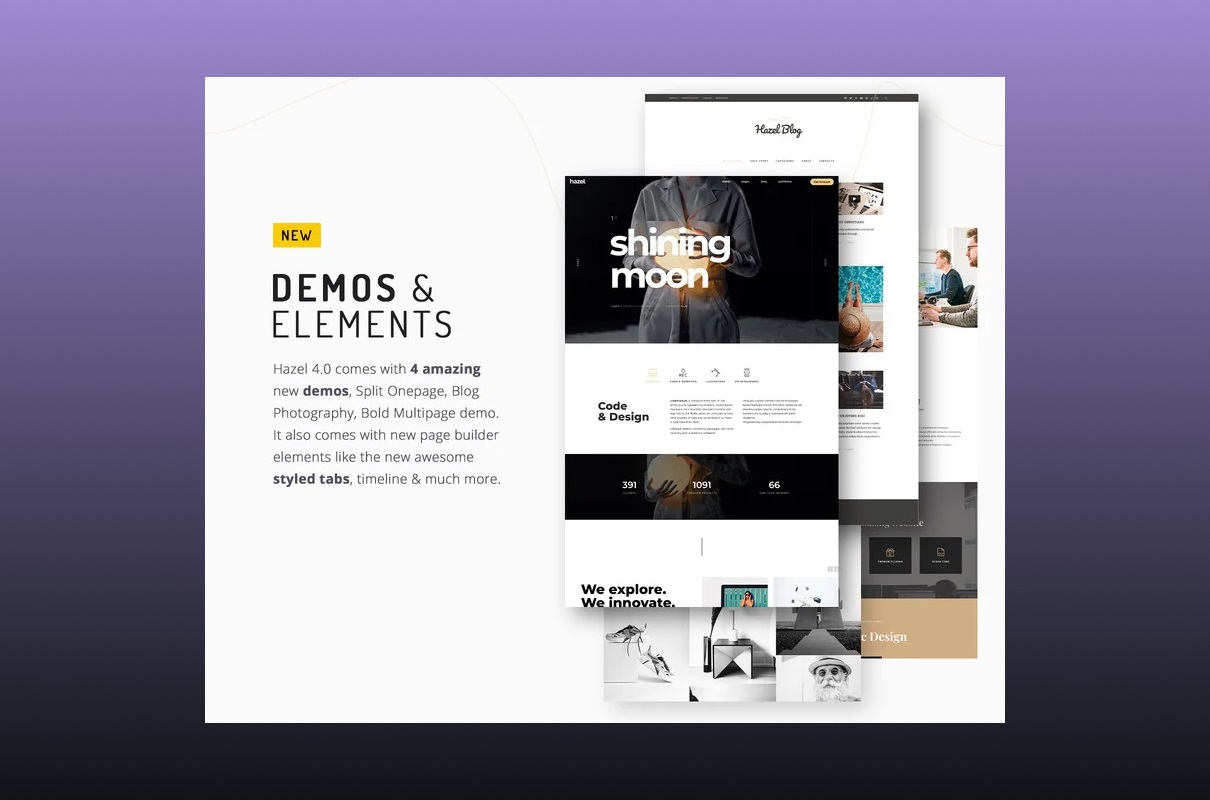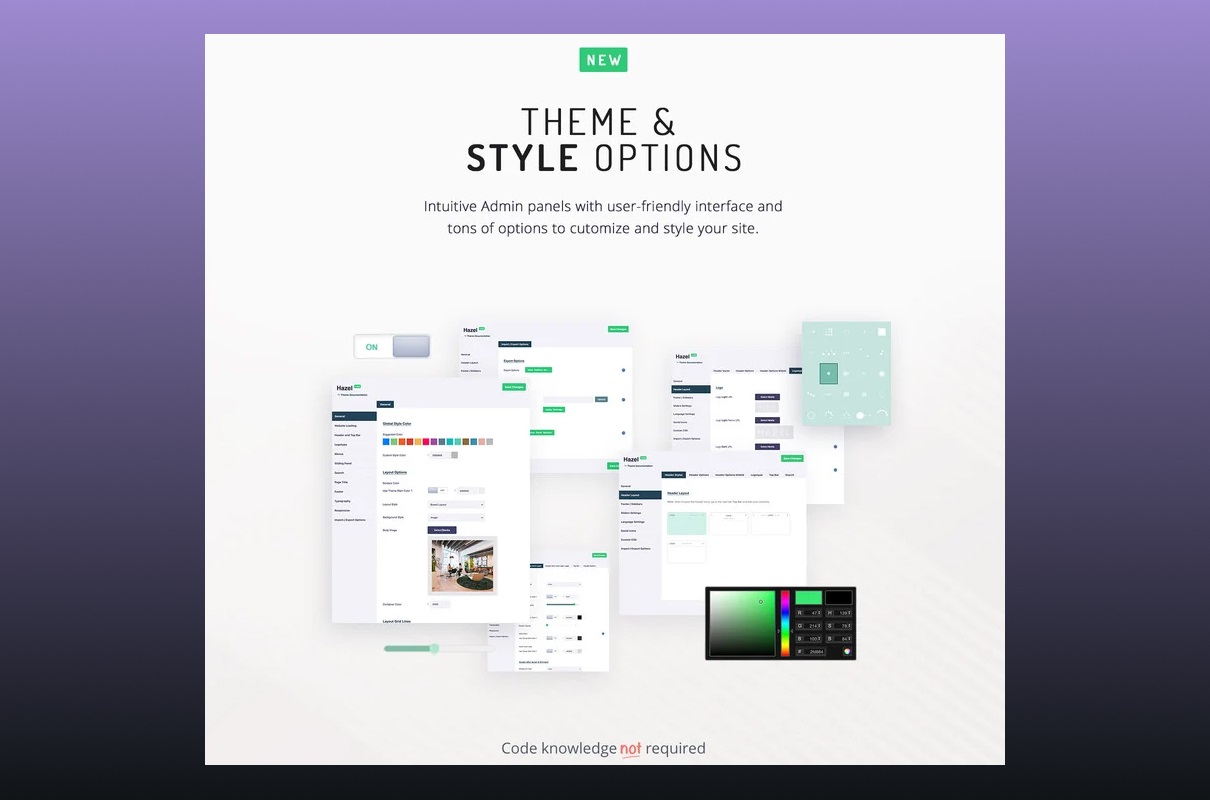 The Internet environment is excellent for business development. When you have this kind of business, you get many advantages. No need to rent a room and stylize it for your type of activity. Your website is open 24 hours daily, so more customers visit it. You reach a huge audience and increase the flow of potential buyers. Meet Hazel WordPress theme, a modern, freshly updated, user-friendly template that exceeds even the most unrealistic expectations.
The design is impressive; a person always wants to contemplate it. So clean and stylish at the same time. The model received awards for best-selling and Best Clean and Minimal for 2022. Our offer is universal; it is suitable for online stores where you have a chance to sell any product. Companies that want to sell their services, promote their brand, or maintain their reputation stylishly can use our Hazel WordPress Theme, as well as ordinary people who blog and share interesting information.
Key Features of Hazel WordPress Theme
The basis of any sample is its functionality. Lucky for you, the Hazel WordPress Theme is equipped with so many different options that it is hard to imagine. If you want to ensure that this is what you require, see the full list of qualities on the purchase page. Below we tell in more detail about the coolest of them.
Demos to make life easier for you
With us, you have a unique opportunity to operate demo versions. It is perfect for you if you are new to this field or save precious time. Our team of real professionals has already accomplished everything for you. You fall in love with the demonstrations as soon as you see them. They are designed in the style of minimalism. The combination of black and white enchants you. It allows you to add bright elements: photos, text, tables, diagrams, videos, etc. Demos seriously save your time. Because most of the work has already been accomplished, all you have to do is add your content. Of course, you may change everything you wish in the demo version. It is also worth noting that the installation of the demos is fast.
Impressive view
Design development is an important stage in the creation of a web resource. You require a look that encourages people to make a purchase. The design of pages and the placement of elements is important. Our offer is endowed with a unique design in the style of minimalism. In such conditions, it is easy and convenient for clients to buy goods, read the material or browse available services. Your website is unlike any other. You distinguish yourself from other competitors in the market.
Simplicity is the key to success. An uncluttered site without many bright colors and animations allows the buyer to focus on the assortment. With us, your project won't bore the visitors. Choose a variety of headings and fonts. You have access to more than 1000 Google fonts. We have developed a new blog grid. Adjust any parameters to improve your blog. Use our ready-to-use layouts, where you harmoniously combine text and visual elements. Take care that there is a connection between the words and the picture. Add interesting badges.
Select an icon in the administrator panel that will indicate download and others. Highlight important information in bold. People like tables, lists, and charts. So it's easier for them to perceive information. Approach the process creatively. Combine different fonts, for example. More than three fonts can clutter your site. Focus on well-known fonts such as Roboto, Georgia, Raleway, Tahoma, and others. During management, set the line size (no more than 60-70 characters). Our sample makes navigating your web resource easy for you and your clients. Intuitive navigation is amazing, and any section is available to you in one or two clicks. It's unbelievable!
Premium plugins included
You win by buying a paid sample because it is not required to purchase additional expensive extensions. Our offer includes many cool and new things. Let's take a closer look.
Revolution Slider. With it, you can stack elements on top of each other, like layers of a cake. In addition, you may attach timing and animations to each of these layers. It's easy to set up. Slider Revolution is very flexible, so it's easy to customize. Control how each slide looks on different devices: computers, phones, laptops, and other gadgets. In this way, the viewer receives a normal picture without distortion.
Ultimate VC Addons. It is what is always bought for Visual Composer. You get several paid elements for your WP Bakery Page Builder. To avoid a boring look on the website, add a parallax effect and a video in the background. Horizontal, 3D and vertical parallax work perfectly. The fon moves in the opposite direction of your text. A YouTube video in the background impresses your users. You might lock the groundwork, and the fon does not move when scrolling. That and the others are already waiting for you.
Cube Portfolio. Collages are the decoration of every web resource. You need this plugin if you want to have them. Combine your pictures in an animated mosaic grid in a built-in lightbox or slider system. Then edit the size, borders, and other parameters. The algorithm used by Cube Portfolio is bin-packing. With this, the material is organized intelligently and adaptively. Combine ready-made templates.
Fast search with AJAX Results
For your customers' experience to be high, you must have a search module on your website. Its main task is to provide relevant results for queries. It is especially important if you are the owner of an online store. It would be nice to configure this module, so that related products appear on the page when the desired item is unavailable.
With AJAX, information search on your website is flexible, optimized, and fast. This process takes about 15 seconds; isn't that cool? After entering the desired product's name, the person clicks the search button. After that, the results for the specified request appear on the screen. The module helps potential clients find products by color, price, size, or other attributes. The results are displayed on the same page, meaning reloading anything is unnecessary.
If you have a large website, it is much easier for your visitors to move around the site using the search box. If someone can't find the needed info, they leave the site. The most insulting thing is that they likely go to your competitors. Like this? We think no. It is also worth noting that you must configure the search for mobile devices. More and more people are using their smartphones to order services or purchase goods online. Place the search line so buyers have a chance immediately notice it (for example, on the top right). Add a title, so everyone understands what it is and why, and add a characteristic icon (usually a magnifying glass).
WPML Ready
If you desire to reach the largest possible audience, you ought to have a translation into different languages. The WordPress Multilingual Plugin helps you to make your web resource multilingual. This extension translates the taxonomy for all pages, messages, custom types, menu posts, and texts. If you have any questions, please get in touch with the excellent technical support. It fits in wonderfully with the Hazel WordPress theme. The team that works on this module constantly tests and updates it.
Don't worry about the reliability of this extension. WPML is already bought and used by a large number of people. That means that it works stably and safely. The developers are constantly ensuring that the module is compatible with the content management system. Therefore, if a new version of WordPress is released, the team is stressed, not you. WPML follows Search engine optimization, so it optimizes your content in multiple languages. Feel free to control the appearance of URLs and set meta information.
Hi! I'm MonsterONE Video
Meet MonsterONE by TemplateMonster. It is a unique opportunity to obtain a huge sample library at your disposal. No need to pay for each item separately; pay only once and get it all. WordPress, HTML, graphics, and other models are available to you. Also, try models for presentations or video, audio, and icon assets. The main advantages are:
you pay once and then download without restrictions;
quick and high-quality assistance in case of problems;
items are updated every week.
Project Info
Date:

09.22.2022

Client:

TREETHEMES

Categories:

WordPress

Tags:

Business, Computers, Internet