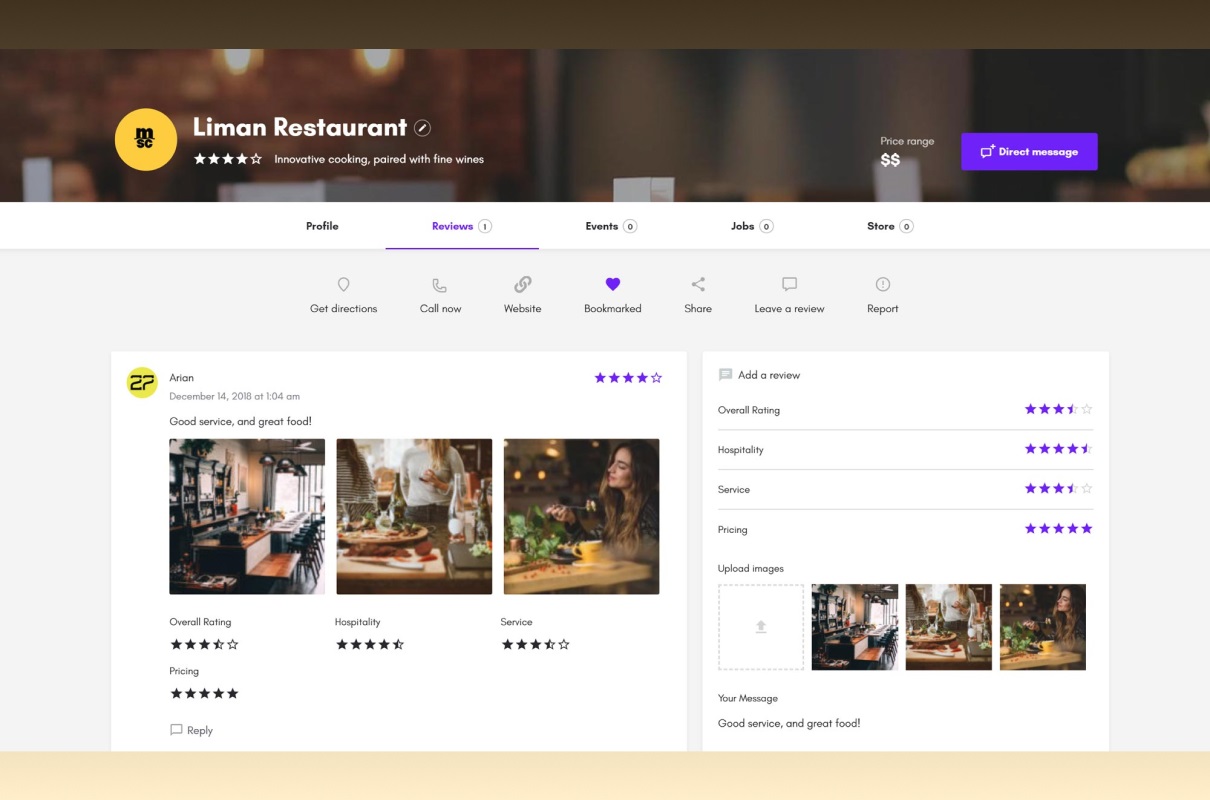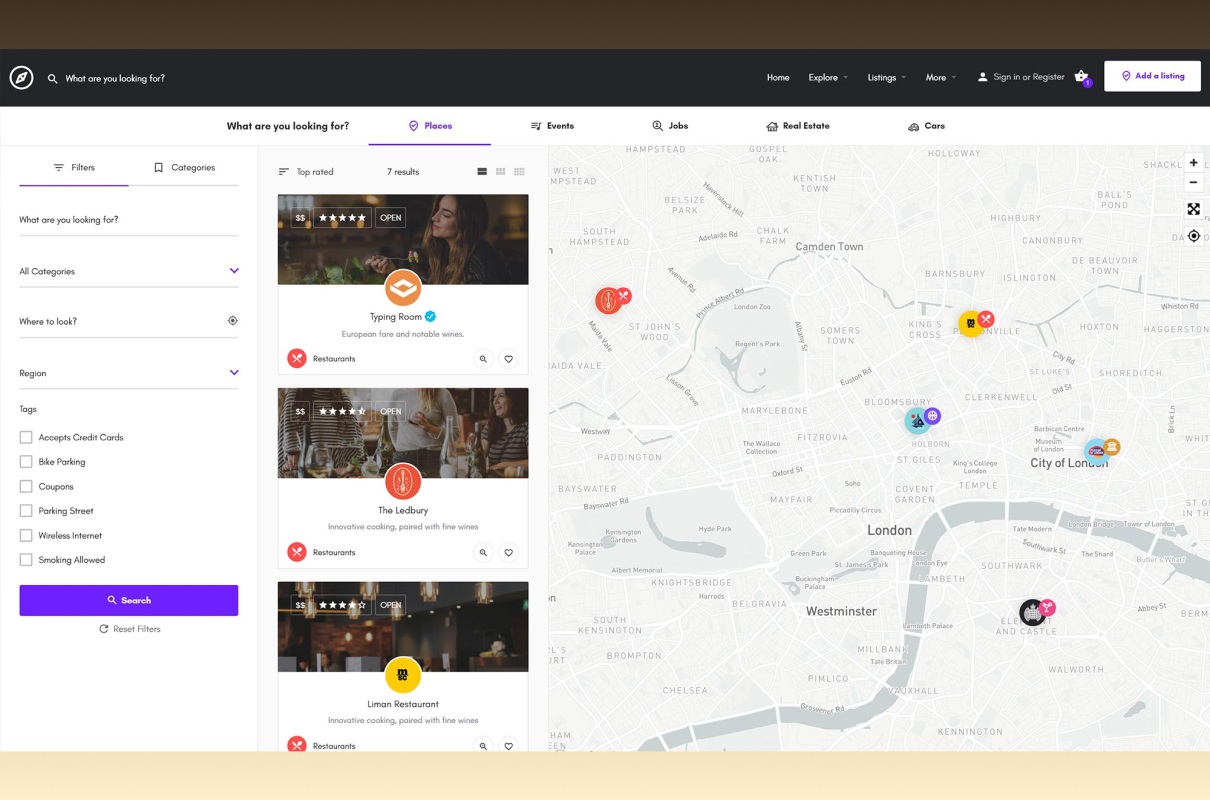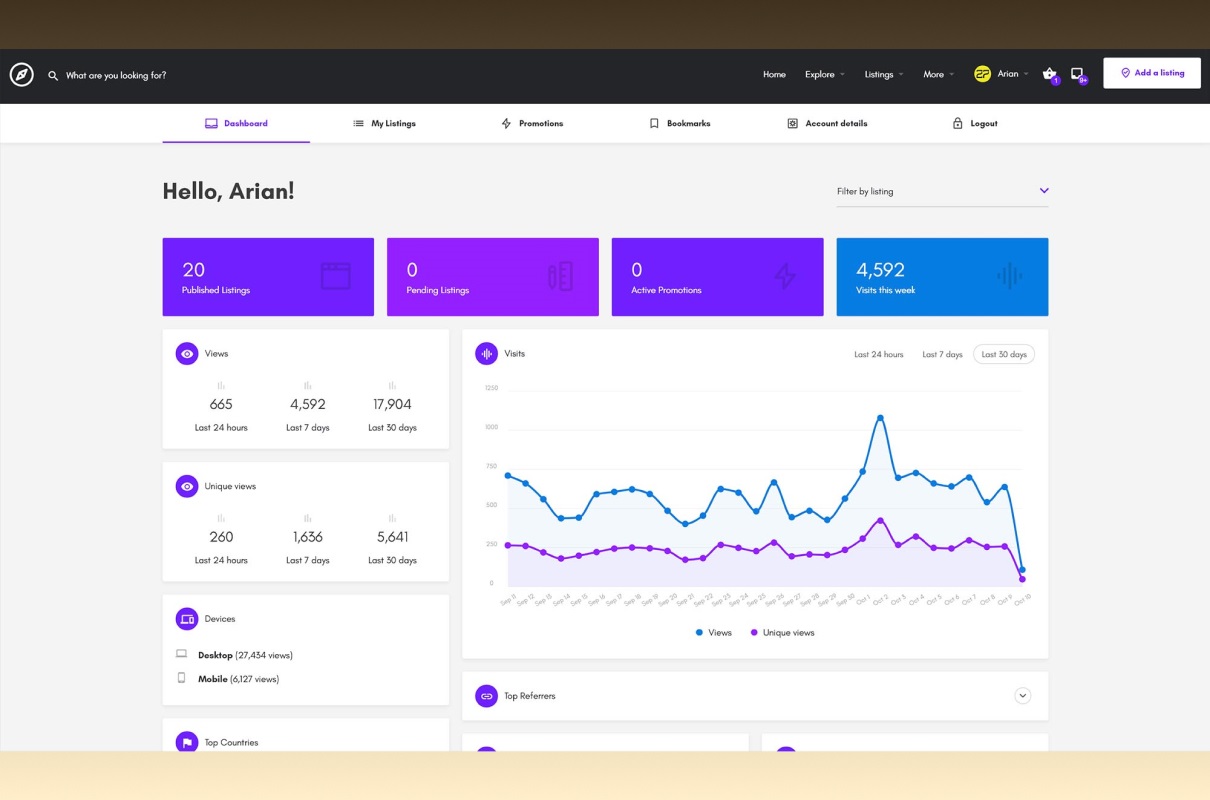 MyListing was developed exclusively for listings with the most advanced features, tools, and plug-ins. It has everything you need to build and administer your website, plus even more.
The listing site plays a vital role in our daily lives. It allows us to check out all sorts of them, such as places for sale or rent, job openings, car rentals, concert tickets, and more. And the best part is, you can do it all with your phone. Super easy and convenient!
This theme is an excellent solution for any listing, whether real estate, job, event, service, rental, travel, or activities. MyListing WordPress theme suits perfectly any of them and provides incredible demos and powerful tools to make a professional and eye-catching website.
What Makes WordPress Themes a Perfect Option?
Choosing a ready-to-use template has a lot of benefits. To begin with, one of the main advantages of using pre-made templates is that they save you time, money, and effort, which will be especially useful for those on a tight budget to hire a web designer or developer. All you have to do is find a template you like on the marketplace and order it.
Another reason why users love ready-made templates is they already have all the essential features, such as responsive design, SEO optimization, cross-browser compatibility, and much more. All this allows even more people to launch their websites. That is why they are so popular!
Top Main Benefits of MyListing
The 27collective presents the most impressive update yet. In a major leap, the MyListing WordPress theme has tons of incredible additions, namely Listing Package Limits, Fill Form to Claim Listings, Save Listing Submission for Later, compatibility with Elementor, Elementor Pro, and much more. Also, it brings us demos of some listing types, such as discovering great places in cities, real estate, and car rental, but optionally you may effortlessly edit them to meet your requirements.
Furthermore, the WordPress theme includes many features that enhance your site. Let's cut to the chase and find out what it offers:
Search Engine Optimization
The author of this theme knows their stuff when it comes to SEO. It is remarkable how well MyListing can rank on search engines like Google, Bing, and Yahoo. When your website ranks higher on search engines, more people will find and check it out. That means more traffic, potential clients, and revenue for you!
Mobile Friendly Design
Smartphones have become an essential tool throughout the day. They are helping us do everything from calling and texting to listening to music, watching movies, and searching for listings. For this reason, it is super important that your site looks perfect on mobile devices if you want visitors to stay as long as possible. And thanks to MyListing, there are no worries for you because the site will be able to transform itself to any screen size to any device fluidly.
Smooth Scrolling
The author knows visitors will spend a lot of time looking through listings, and it will be frustrating to feel jerking while scrolling down the page. So this feature enables the site to have light and smooth scrolling, making it convenient and visually appealing.
Dropdown Menu
Mega Menu is a powerful feature that meets on almost every site. And the reason it's so popular is its amazing versatility. Moreover, it makes your page not cluttered, making them look clean and professional.
With Mega Menu, you can organize all sections into multi-level drop-down menus in your website's navigation, helping new visitors spend less time searching.
Powerful Extensions of MyListing
WooCommerce
Picture yourself having a real estate website. WooCommerce is a fantastic tool in several ways.
Firstly, it allows you to sell real estate directly from your site. Users can rent a room, place, apartment, or house without leaving your website. It is convenient and fast.
Secondly, with WooCommerce, you may design a page like an online store, with real estate cards, where there will be all the information about the property, whether it is photos, description, price, rating, etc. This lets tenants get a complete overview of each property and make informed decisions quickly without missing any important details.
Third, WooCommerce is an e-commerce platform that offers many payment options, like credit cards, PayPal, Stripe, and beyond. Now it is possible to get money into your account quickly, tax-deductible.
Finally, This platform was designed to make the checkout process secure and fast.
Elementor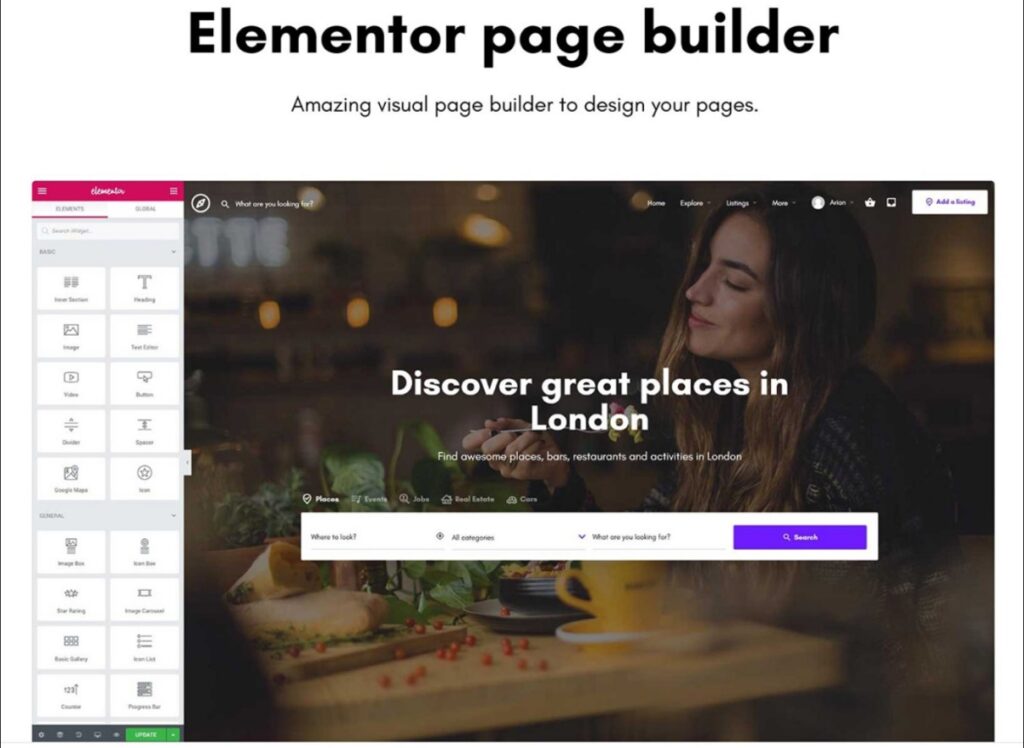 The Elementor has always been an easy-to-use yet incredibly capable and powerful tool that allows our users to build their websites in fun new ways. It delivers a lot of tools and pre-designed templates, providing an unrivaled user experience. And with plenty of add-ons, the building process is better than ever.
Elementor is a breakthrough in the page builder industry. It has transformed the way of creating, redefining what they can do with incredibly effortless use and multi-functionality. Having all these features, which for most page builders is simply impossible, gives you an entirely new way to design or redesign existing templates.
Elementor is packed with over 50+ widgets ready to use that every professional website needs. Most importantly, it pushes the boundaries of what is possible by empowering you with remarkable technology — Live Editing. Our users rely on this feature because it allows everyone to build any layout — from blogs to massive and complex e-commerce stores with zero coding required. And one more thing that people love about Elementor is that it is a drag-and-drop editor. Just like Live Editing, Drag-and-drop has become essential for our users. Thanks to this, you can easily drag and drop each content element to any part of the layout.
Elementor gives you complete control over the whole design process, letting you turn any crazy idea into a reality, such as crafting a unique mask, adding custom fonts, and making your page move with animation. In addition, you may effortlessly modify the size or color of your content and, most importantly, adjust pages to any screen.
Our teams have been working hard at making it so intuitively that you can take full advantage of these incredible capabilities even if you are not a pro.
Contact Form 7
A contact form is one of the most necessary additions to the site. It enables visitors to reach out to you and ask any questions they come up with. In addition, it is a great way to collect the client information you need.
Support
When your order's done, there is more to it than just an item; you also get excellent customer support. The author provides a warranty of up to six months, which you can use in case of problems with installation, setup, or use. In addition, the author replies quickly, so you might be sure all your requests will be answered within one business day.
MyListing WordPress Theme Documentation
You get helpful documentation with all the information you need for setup and installation. However, if you have any difficulties, the author always helps you solve them quickly. And, yes, contacting is easy: go to the home page and use the feedback form.
Short Video About Elementor
In this video tutorial, you will see how to edit blocks, add different elements, and change the website's appearance. If you are unfamiliar with Elementor, this is a valuable guide that helps you get the basics.
Project Info
Date:

07.18.2023

Client:

27collective

Categories:

WordPress

Tags:

Business, Real Estate