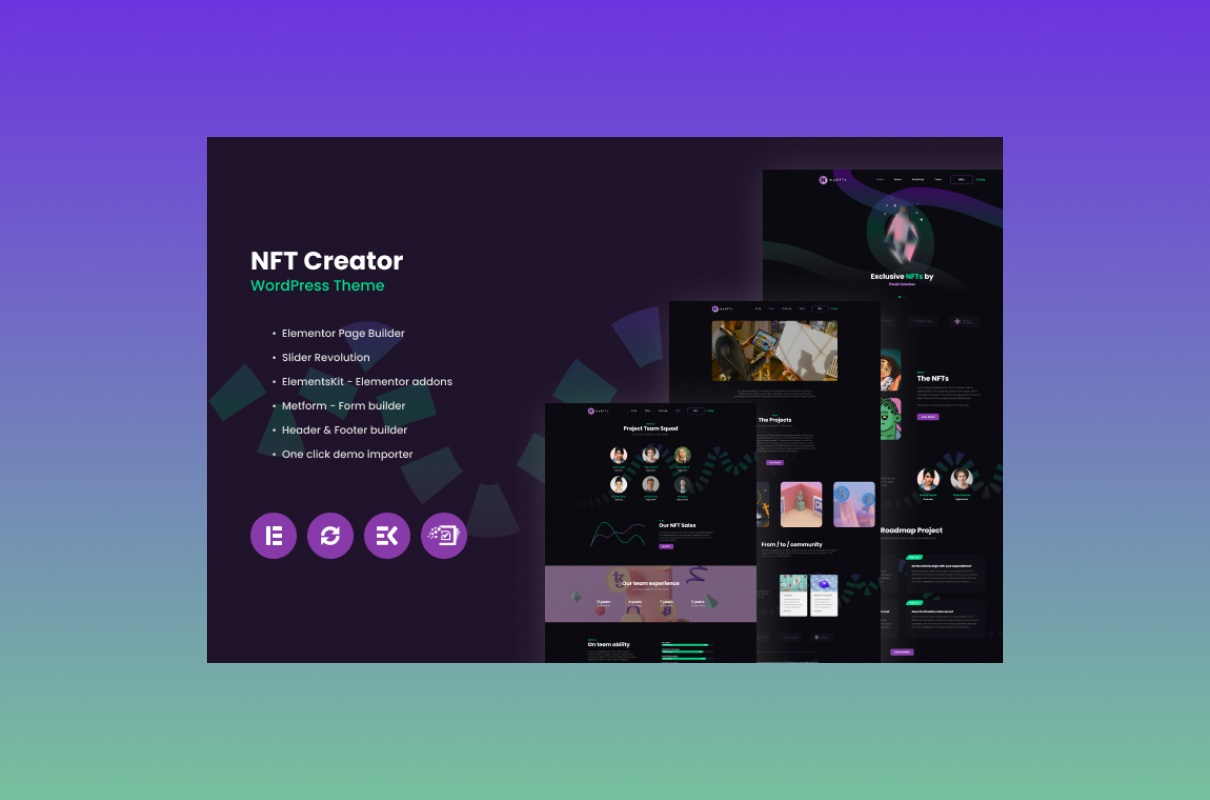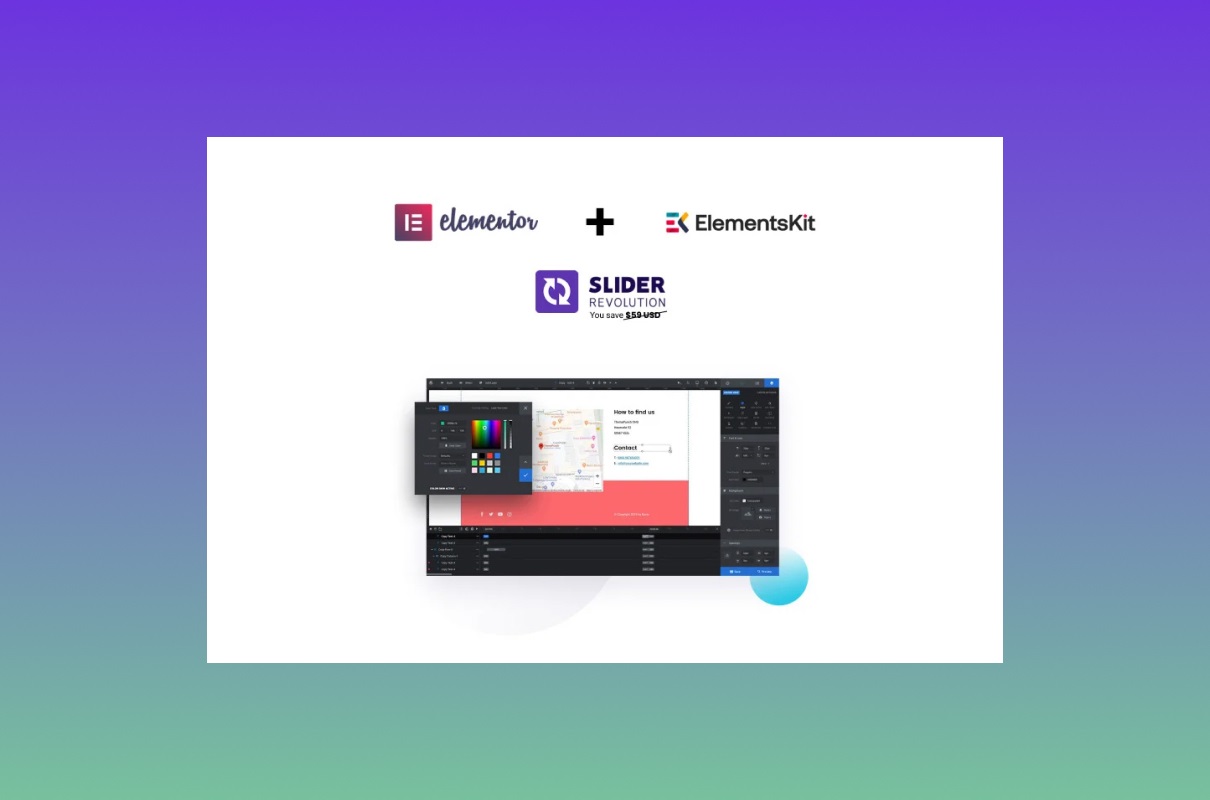 If you create NFTs, you should make everything to let people know about you and your digital product. Creating an attractive and professional website is the best way to reach it. The NFT WordPress theme is a ready-made template with everything you need to build a site in just a few minutes. The development team has taken care to make a clean, modern, and user-friendly interface. A wide range of features allows you to easily and quickly create a site the way want.
The Incredible Benefits of The NFT WordPress Theme
The NFT WordPress theme crated by ALTDESAIN is one of the most popular themes for NFT creators. The more exciting thing is that you will be designing on the Elementor page builder, which makes your work easier and more comfortable. Even more, with the Elementor, you may instantly edit layouts in real-time. The theme also has a different set of tools and widgets, which makes the whole process of creating a site fast and enjoyable. Due to a new drag-n-drop option, you are free to build and customize the header and footer with no coding or special tech knowledge needed, which is entirely changing the way of website building for any user's level. Another essential benefit is SEO-optimization, meaning your site will always be at the top of search engines, and this is necessary to promote your product. You get a lot of enjoyment using the theme and its functionality. And, you will continue to receive free theme and plugin updates on a regular basis.
Attract Your Customers Through Design
Your site should be multi-functional and informative, but the first thing users see when they visit your page is visual. Eye-catching website design inspires users' credibility and wishes to know more about your product. For that, you are free to experiment with customizing fonts, colors, and other visual elements to make your web page informative and lovely to the eye. Your clients will appreciate it!
Helpful Plugins For The NFT WordPress Theme
WordPress is highly flexible and powerful, but if you want specific functionality on the website, this is where plugins come to the rescue. For that reason, the professional designers and developers supply a wide range of WP plugins you put on your site, making it more functional and flexible to your need. And the best incredible thing is that there are over 50,000 plugins available for free. Here are several useful plugins for the NFT WordPress theme:
OpenSea – this plugin lets you quickly and easily embed any single NFT into your site.
The Ethereum Wallet WordPress – plugin auto-creates a user wallet upon registration.
These cool plugins will help you prepare everything ready to sell your artwork.
These Key Features Make Building a Website More Enjoyable
Firstly, creating websites becomes more accessible than it seems and intuitive when you use a ready-made template. Of course, you may do all this with the multi-functional admin panel, which allows you to change design elements and add any type of content, whether images, videos, or text, just in one click. All of these features will enable you to set up your layout the way you want. You also get a bunch of cool features, such as:
ElementsKit – is a library of add-ons for Elementor that take your site to the next professional level. This plugin provides you with more than 60 powerful widgets, 30 ready-to-made templates, and 400 ready-made sections to upgrade your site;
Revolution Slider 6 – has a wide selection of multiple visual effects and is easy to use. For example, it lets you create animated sliders and carousels that you can easily customize. And another great thing about that you can also save your custom presets to reuse in your design;
MetForm – is a plugin for contact forms. With the drog-n-drop option, you can easily and quickly create complex and straightforward contact forms in just minutes;
Search engine friendly – allows your site to achieve the top position in search engines;
Performance optimization – all pages and content are very lightweight, allowing them to load without delay;
Sample content – shows the most beautiful places for your pictures, etc;
Google Map – show the location on a map of your organization so that customers can get to you in the shortest possible way;
Parallax is a visual effect that creates the illusion of depth.
Drag-and-drop is a helpful tool that allows you to move site elements without using code;
These features make the NFT WordPress theme the most suitable solution for you!
Useful Theme Documentation
When you purchase a theme, you also get helpful documentation on installing and setting up your theme. Due to this, you will quickly and easily understand how to build a professional website, especially if you are a beginner at it.
24/7 Support at Your Service
You will receive complete documentation on setting up the theme and using the built-in tools. Finally, you can get the theme's author if you run into any issues with installing or using it. He is always ready to support you!
Everything You Need to Know About Elementor in Ten Minutes
This video will introduce you to the basic principles of working with this helpful tool. It is suitable for all users so that everyone will enjoy the process.
Project Info
Date:

08.19.2022

Client:

ALTDESAIN

Categories:

WordPress

Tags:

Electronics