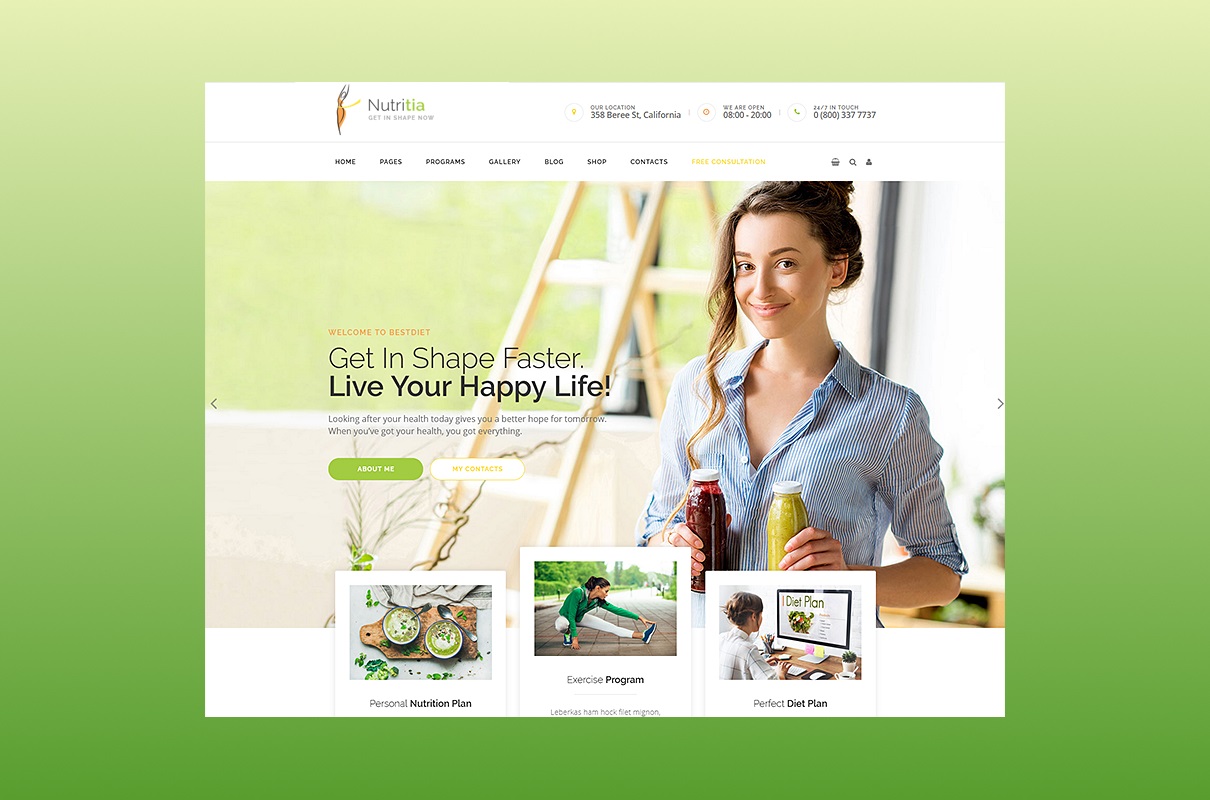 To lead a healthy lifestyle is an aspiration of many of us. We are constantly looking for articles on the Internet about how to lose weight quickly, how to eat right, what vegetarianism is, etc. Today, such a lifestyle has become a real mainstream. Physical exercises, regular sleep, and healthy products are all popular. If you create a site in this direction, you will succeed because it is something that always keeps people interested, regardless of age, gender, race, nationality, or other characteristics.
The number of topics you may write about is unlimited: diets, nutritional science, stress, immunity, vitamins, diseases, etc. The presence of a website is necessary if you want to have a blog on this topic, sell products, keep a portfolio, etc. Operate the template. Then there is no need to beat one's brains about web development. Look out for Nutritia. It is a unique and reliable sample with many benefits. It is not necessary to understand the intricacies of programming. Working with this offer is easy and worry-free.
Key Features of Nutritia Theme
A health-related business benefits not only you but society as well. Regardless of the direction you want to go (store, insurance, medical facility, private company), it would be best if you had an online resource with wide possibilities. Our offer gives you a template with a cool visual page builder, a demo prepared for you, a Unyson framework, lifetime updates, and other options. We are telling you about these and other functions below.
Powerful framework
Forget about writing a large number of lines of code. Everything is already accomplished with the help of Twitter Bootstrap. Different buttons, slideshows, or other elements are in the best form and ready to operate. It is one of the most popular html+css+javaScript frameworks these days. It's a gift for all newbie web developers; it simplifies many things. Twitter is a social network with a multimillion-strong audience. The company has succeeded in the Internet age. They have developed the best tools to make your project perfect. This framework contains basic HTML and CSS for forms, tables, grids, navigation, fonts, and other components.
In addition, you also have an adaptive design in your possession. That enables your website to adapt to any device. Your customers open your company's website on their computers, tablets, laptops, mobile phones, and others. A modern web resource layout must have such a characteristic. It isn't easy to imagine a site displayed only on desktop computers. In this case, the number of your customers is significantly reduced. Most of the activities people accomplish online are through their mobile gadgets. Move with the times, boy.
Useful features of the Gutenberg Editor
If you purchased a WordPress theme, you most likely have a built-in Gutenberg visual editor. Constructing pages from blocks, widgets for slide bars, or layouts for an article is possible. When using it, you may see the top panel and side panel. Most functions are concentrated in the sidebar:
add the block;
a preview;
the publication;
undo the last action;
repeat the previous step, and so on.
The sidebar offers us advanced possibilities. The appearance of blocks and posts with post settings is there. It is not worth worrying that you will lose what you have done. Gutenberg saves your changes every minute automatically. So when you go back to work, you pick up where you left off. While customizing your project, you ought to understand how the consumer sees it. You have a preview for that. Each publication has three levels of access to it:
everyone is browsing the resource;
administrator and editor only;
only those with a password (you come up with a password).
It is also possible to mark, assign a rubric, attach a title picture, and allow and prohibit comments for posts. This and more with Gutenberg Editor.
Who Can Use Nutritia Theme?
Nutritia is customizable for any business. However, it best suits medical corporations, public and private hospitals, trainers, nutritionists, doctors, nutritionists, and athletes. It's easy to blog on a site like this. It is a great opportunity to attract the attention of a large number of people. Share interesting material with other Internet users. With our Nutritia, you create bright and stylish headlines that are immediately impressive. For example:
Top AppStore apps for effective meditation at home.
Ten steps to detox your body.
Interval fasting: benefit or harm?
The most effective exercises for your back.
Top 7 extreme water sports you must try this summer.
How to catch the best waves?
The best YouTube channels about medicine and sports.
Fifteen minutes a day to make your body perfect.
Nutrition for beginners: how to bring your diet back to normal?
Please dilute this information with interesting photos and videos. In this way, you get a variety of content for your visitors. They spend more time there if they are interested in your web resource. And this is good for your SEO.
Attention, all food photographers! Our sample is waiting for you. It systematizes and organizes your business in one resource. After shooting the various dishes and putting together the mood boards, you require somewhere to put your material. With our proposal, it is possible to show your work to the world. With the assistance of the portfolio feature, you collect all your completed assignments in one place. With the gallery function, you systematize your data using different folders. For example, assemble a separate folder for photos in a restaurant, at a festival, in a studio, etc.
Polygraphy gives a magical look to your website. Fonts are always needed. Template Monster has prepared a video about the best of them:
CORPOR;
Wonome;
Angelis;
Mighty Kingdom;
Drexs;
FUIXG;
Halmera;
Pletty Book;
Qitt Chesta.
And many others. In addition, the video informs how to download these fonts for your project.
Project Info
Date:

11.15.2022

Client:

YETITEAM

Categories:

WordPress

Tags:

Food