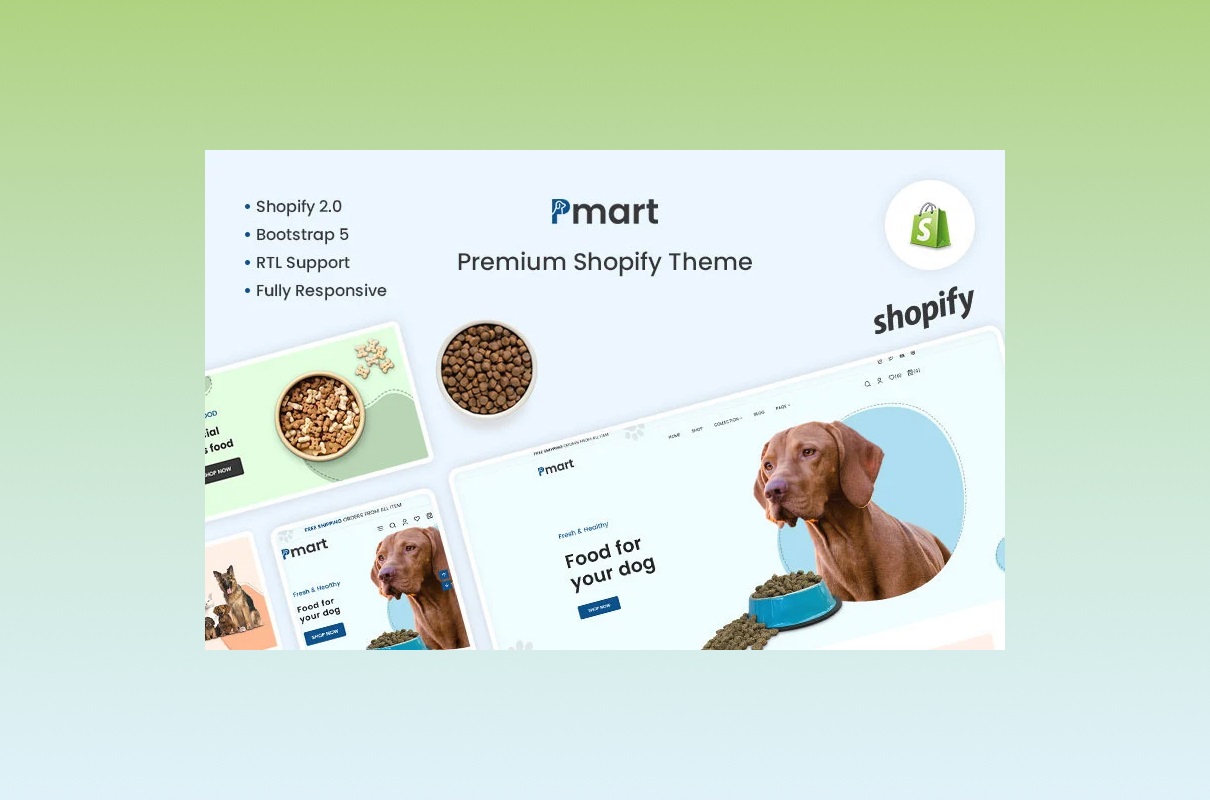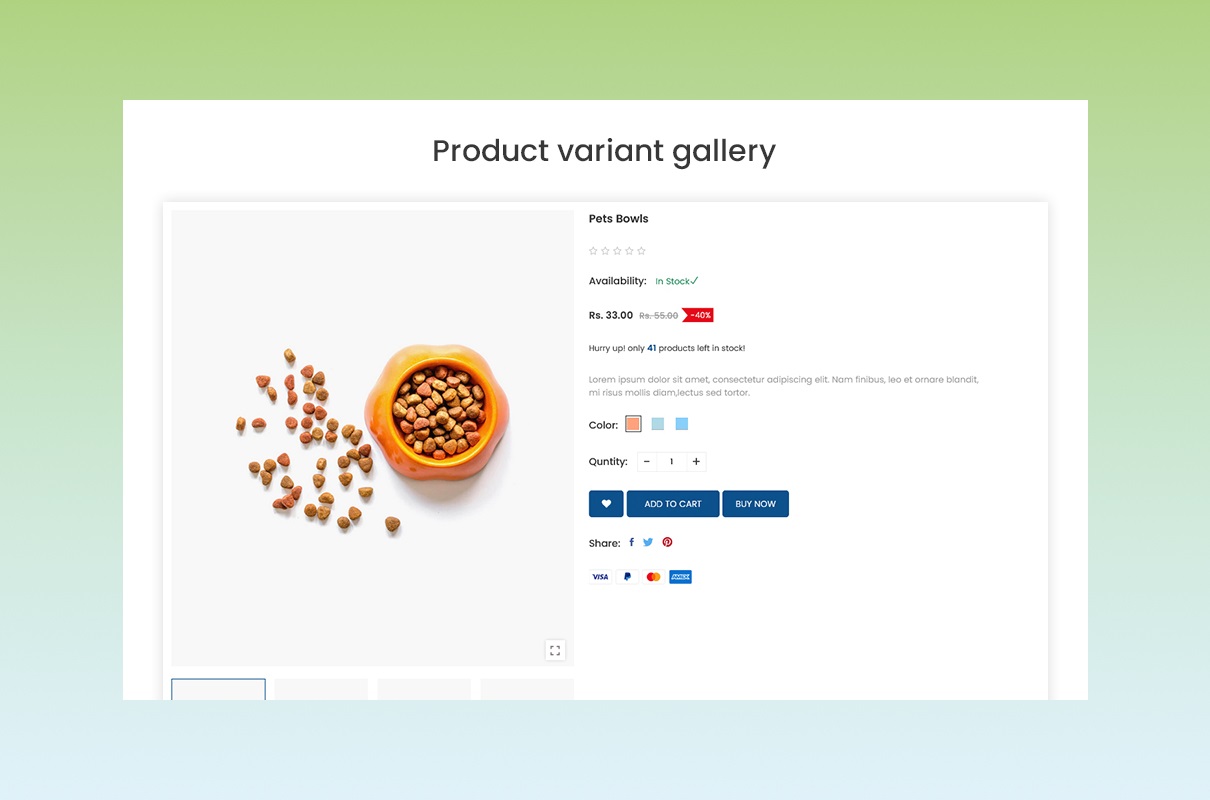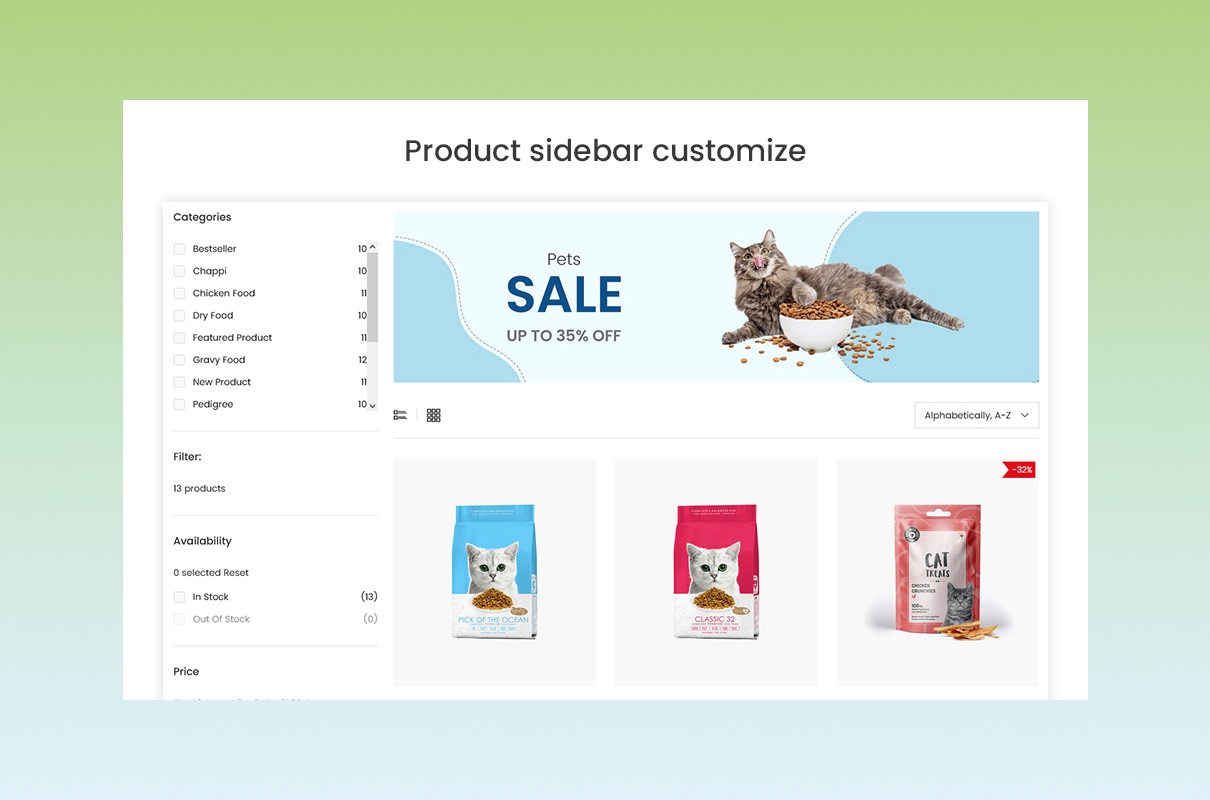 Starting your very own web store to offer pet goodies and supplies can turn out to be quite a profitable business move. The furry companion sector has seen remarkable growth and shows no signs of slowing down in the near future. People are treating their fluffy pals as part of the family and are ready to shell out cash for top-notch goods and services to ensure their buddies stay hale and hearty. And speaking of that, the Pmart proves to be an outstanding pick.
This template is designed specifically for pet shops, pet food providers, and other pet-related product sellers. Having an elegant, clean, and modern design, it could be the ideal choice for businesses of all sizes — whether you're a small business or an enterprise, you'll be able to build a strong online presence.
Moreover, this template is complete responsiveness, providing an incredible user experience on every device. So, if you're looking for a reliable and versatile choice for your webshop — you've come to the right place!
Shaping Your Design the Way You Want
WebTemplate offers the ready-to-go option that gives you so much room for creativity, allowing you to edit and customize any template section in many different ways. And the best part is it only takes a few clicks to make it happen!
All right, let's take a look inside and see what Pmart has to offer. It comes with 2+ beautifully designed homepage layouts that will catch your eye. And with stunning and impressive unique store demos that will make your website look amazing! Also, you get a mega menu, ajax cart, track order, blogs page, color change option, and a bunch more.
All this lets you create a design that your visitor will not bounce off the website but will be your customer.
Pmart Key Features
When it comes to choosing a theme, functionality is definitely key. That is why you are in luck because our offer is seriously impressive and packed with tons of great benefits.
The author provides a range of advantages, including:
Bootstrap 5.X
Bootstrap 5.X is a robust framework that empowers you to build web platforms that adapt to various screen sizes seamlessly. Thanks to this feature, your Shopify shop will look sleek and polished on any device your visitors choose, be it a desktop computer, tablet, or smartphone.
Furthermore, it arrives with an array of pre-built elements and functionalities that simplify the process of customizing your layouts to match your specific requirements. You'll have access to various choices like interaction buttons, form styles, navigation menus, and image sliders — enabling you to create the ultimate user journey for your customers.
One of the best aspects of Bootstrap 5.X is its widespread usage and strong support, which means a plethora of online materials are at your disposal to master its effective utilization. Whether you're an experienced developer or just starting out, you'll be able to harness all the advantages — and establish a stunning e-commerce store that stands apart from the crowd.
Customizable and Flexible
Pmart is truly impressive with its remarkable feature of providing powerful customization options. This stunning Shopify theme has been designed with complete flexibility in mind, allowing you to modify the template's design quickly and easily. What's more, it comes with a drag-and-drop builder that lets you customize your template without requiring any coding skill, making it a dream come true for shop owners who want to express their creativity and build their online store on the fly.
Cross Browser Compatibility
The template is developed to be fully optimized, allowing people to explore your website across all browsers, such as Chrome, Opera, Mozilla Firefox, Safari, etc. However, if you try to go into your site but experience poor accessibility — check your browser version. For excellent performance — you have to use an up-to-date web browser.
Newsletter Popup
This feature is a fantastic tool for expanding your subscriber network and keeping in touch with your followers. You'll adore the simplicity of personalizing the appearance and messages to match your unique style. You're bound to swiftly engage your site guests by offering a selection of discreet display choices.
Wish list
The Wish List feature is a super handy tool for customers because it lets them create a list of products they are interested in buying in the future or sharing with others. No more searching through pages and pages trying to find that one item you liked before — it is right there on your list. Easy, right?
Ajax Cart
If you are running an e-commerce store, you absolutely need this feature. It is a game-changer when it comes to user experience because it allows customers to add, remove, and update their cart without interrupting their shopping flow. It's quick and seamless, making a super smooth browsing experience.
Quick View Popup
It is a perfect way to do shopping easier for your buyers. When someone hovers over a product in your store, a window pops up showing more info about the item — like the price, size options, and images. This way, your customers can get a better look at the item without leaving the main page, which makes it more convenient for them to shop and buy.
Mobile-Friendly
These days, people rely on their phones every single day. And making a purchase online is one of those things. In this way, Shopify offers responsive design options that will optimize your website for all devices and screen resolutions. This means your content and images will adjust automatically to look intended across all devices.
Retina Ready
Thanks to retina-ready technology, your website's visitors can enjoy visually stunning graphics that are optimized for high-resolution screens. This results in crystal-clear images and text that are incredibly sharp and detailed, allowing them to explore your products pixel by pixel.
The New Standard in eCommerce. The New Shopify 2.0.
Have you heard about Shopify? Let me tell you, it is the ultimate platform for building and managing your own e-commerce shop. Whether you are just starting out or a pro, Shopify has got you covered. This platform is imposing, breaking down barriers, and offering advantages to everyone.
This industry-leading platform enables you to turn any idea into a reality. It has a dashboard on the left-hand side of your display, and everything is available at just a glance, which makes the creation process convenient and fast. On top of that, it offers intuitive drag-and-drop technology that gives you the power and flexibility to do whatever needs doing. With real-time — you can edit the layout, design, and content elements without coding or designing knowledge. The platform is a potent all-in-one solution that empowers you to craft a unique online store in a new fun way.
Support Online 24/7
If you get your hands on the Pmart Shopify Theme, you will have access to top-notch support for up to six months. Our dedicated team is always ready to help you out with any technical issues or customization needs you may have. We are fully committed to ensuring your happiness with your e-commerce store and are prepared to take any necessary action to make that a reality. So if you have any questions or challenges along the way, do not hesitate to contact us for assistance.
Well Documented
If you are looking to use Pmart, we've got you covered with this handy guide. It is got everything you need to know about how to get it set up and customized just the way you want it.
Watch the Video to Set up Your Shopify Store More Efficiently
You must check out this video that shows how to create your own e-commerce website in under an hour!
Project Info
Date:

08.10.2023

Client:

WEBTEMPLATE

Categories:

Shopify

Tags:

Animals