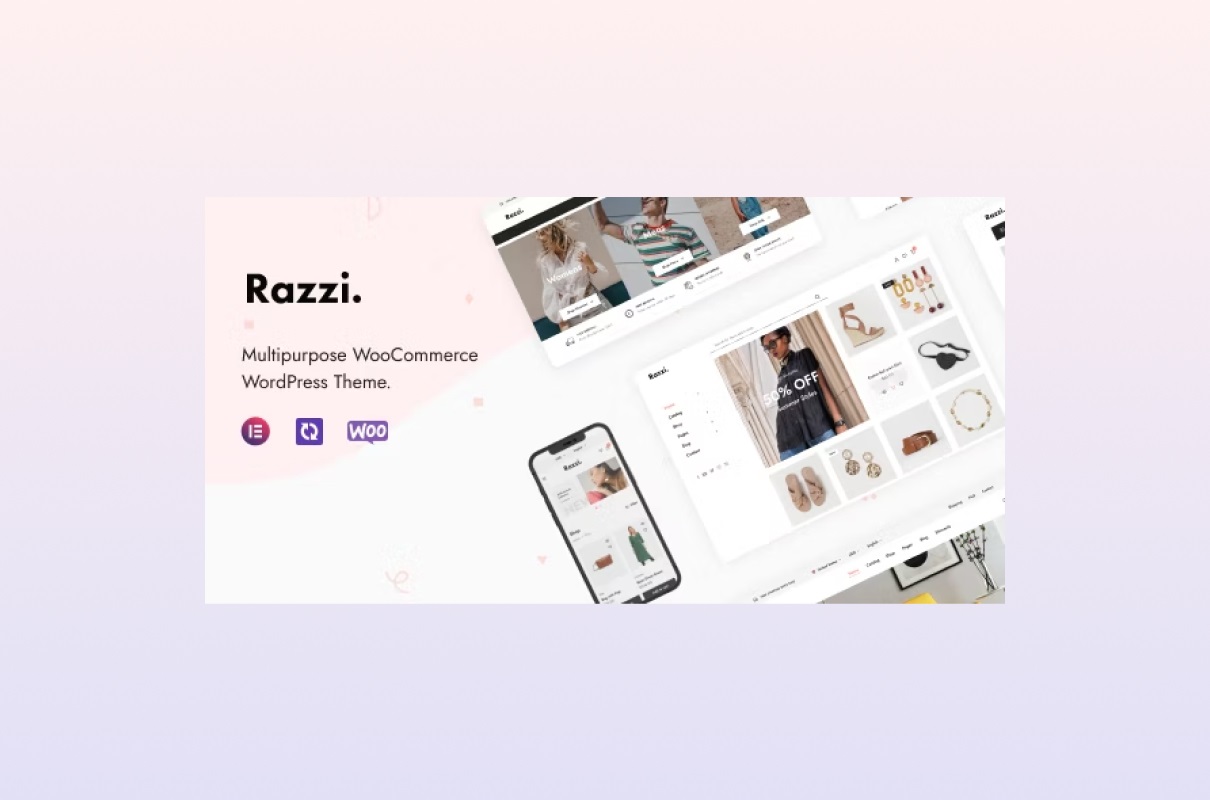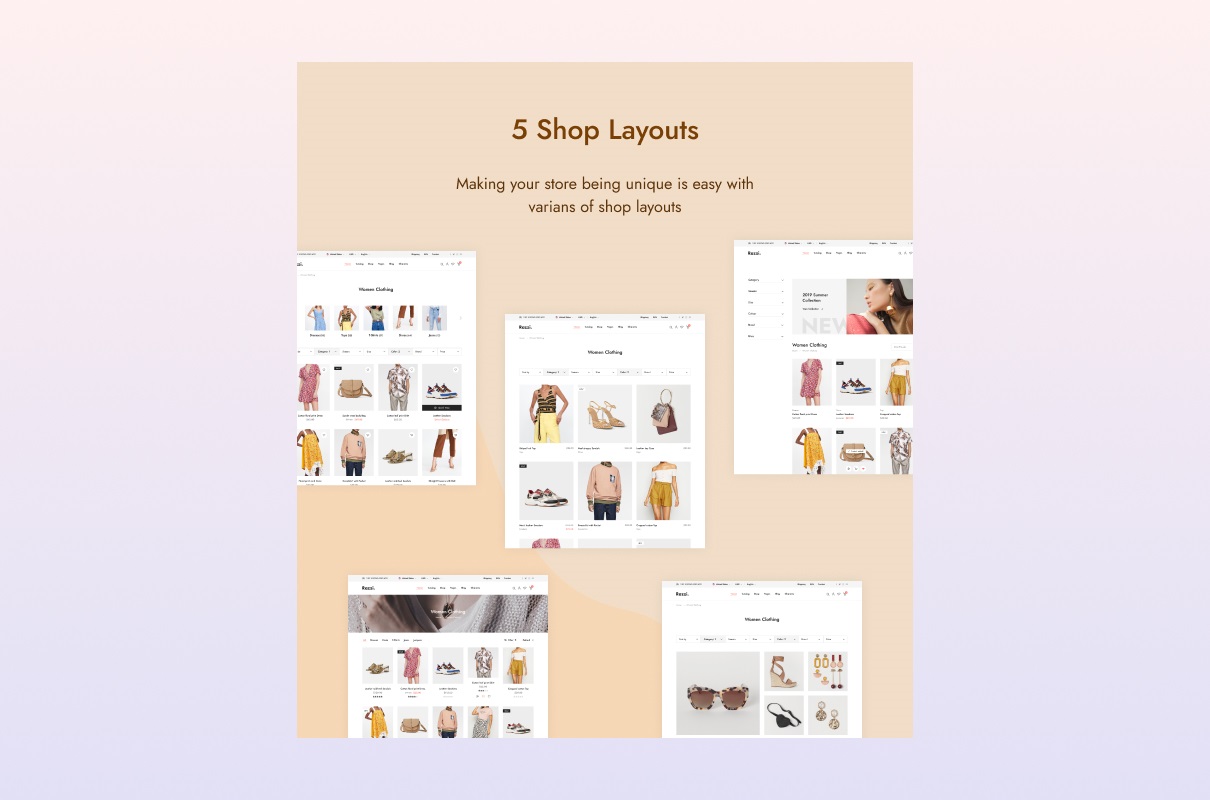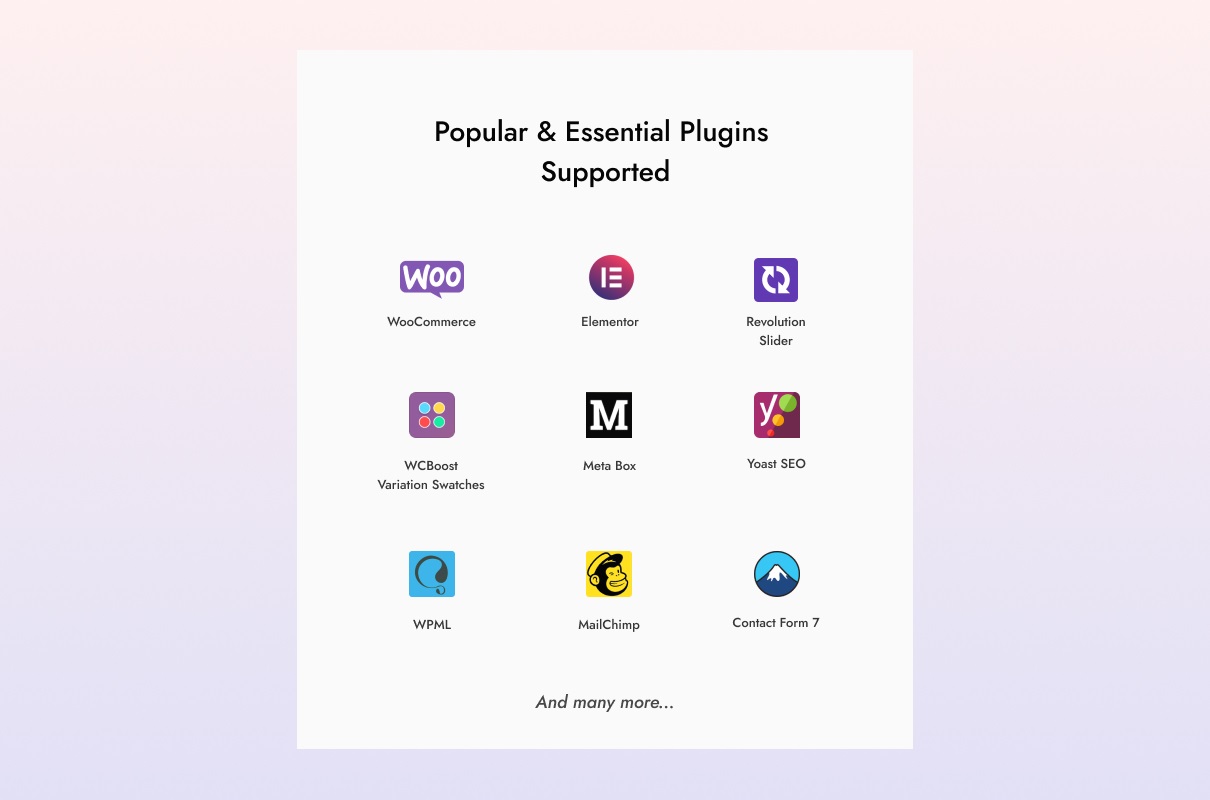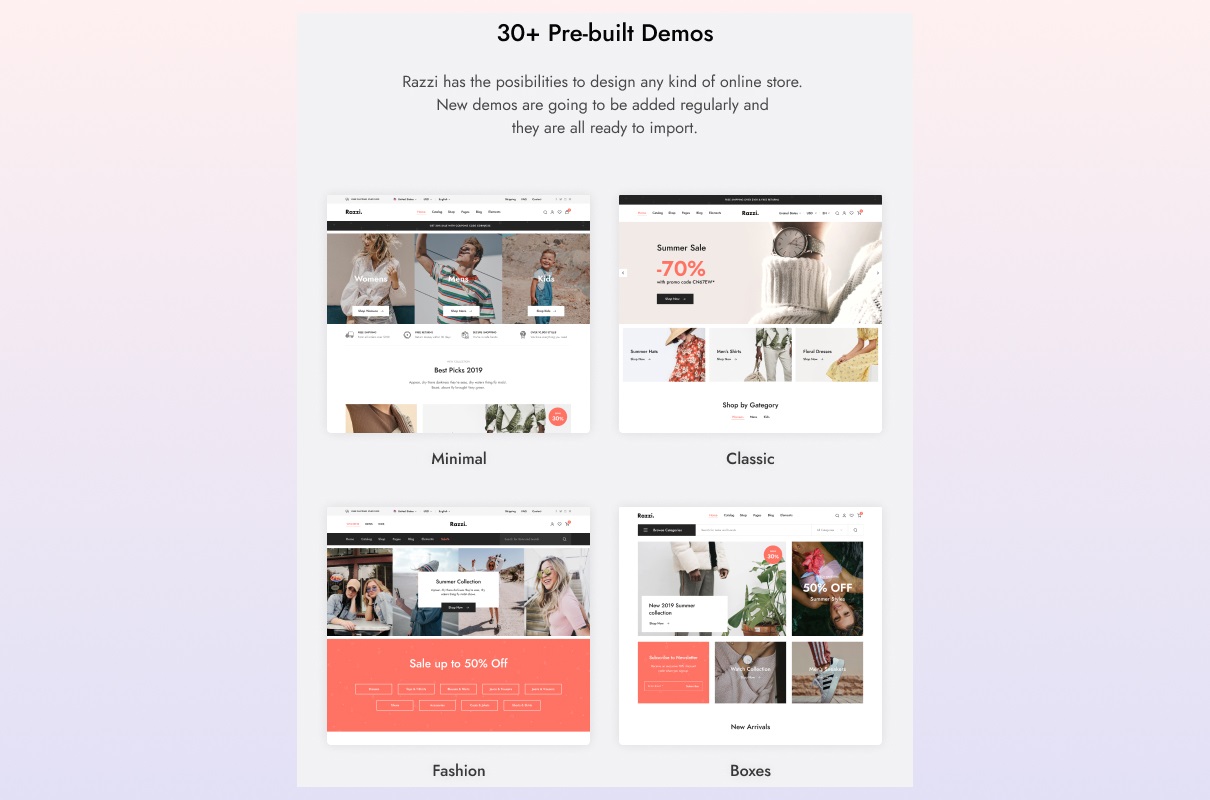 If you run some retail store but want to increase it worldwide and make your business around for the long run. Having an e-commerce website is incredibly important, and the Razzi WordPress is the best decision.
These days, shopping is easier and more convenient than ever before. Now with the click of a button, people can buy anything, anywhere, anytime — without needing to go to a bunch of shops and spend a lot of time in check-out lines.
Also, it is suitable for any type of product, including electronics, fashion, furniture, shoes, accessories, bookstore, beauty, luxury jewelry, and go on. Using this template — you will be able to sell all kinds of products online — seamlessly take orders, and deliver them to shoppers.
Additionally, by buying this item, you will have a product quick view option where you can give your customers go-to information available with just a glance. This pop-up helps them quickly analyze colors, sizes, materials, prices, or whether an item is available or unavailable. In addition, it comes with a lightweight package, which means it has industry-leading performance and lightning-fast speed page loading. Its great optimization provides your customers with the most seamless user experience, which is essential for the first impression.
All You Need. All in One.
Drfuri designed a template with an unexpectedly wide range of features and deep customization, allowing you to get detailed and stunning layouts in a perfectly simple way.
Razzi delivers the most out of the pre-ready pages with exciting and professional designs, as visitors will be comfortable browsing and interacting with them. It includes over 30+ pre-built pages in a stunning, clean, and remarkably modern design, allowing you to create any kind of online store — and, first things first, a successful store. Moreover, to make your shop more unique, the author offers five shop layouts, five product layouts, and 9+ cards with different functionality, enabling incredible-looking blocks across the entire website.
All these advantages let you perfectly present your product and create a website in a matter of hours. So you will be able to spend a lot more time walking your dog, having a good time with your family or whatever it is. With the Razzi WordPress theme, you can do online business — make money — and make your dreams come true! It is capable of transforming the creation process, providing a wide range of features and plug-ins, from SEO optimization to the visual page builder.
SEO friendly layouts
SEO is a powerful digital marketing tool that is an effective way to grow your online business.
This feature in your online store helps increase your brand name, drive more traffic than your competitors, and make your products visible to more customers, which is critical when running an e-commerce store.
Multiple devices supported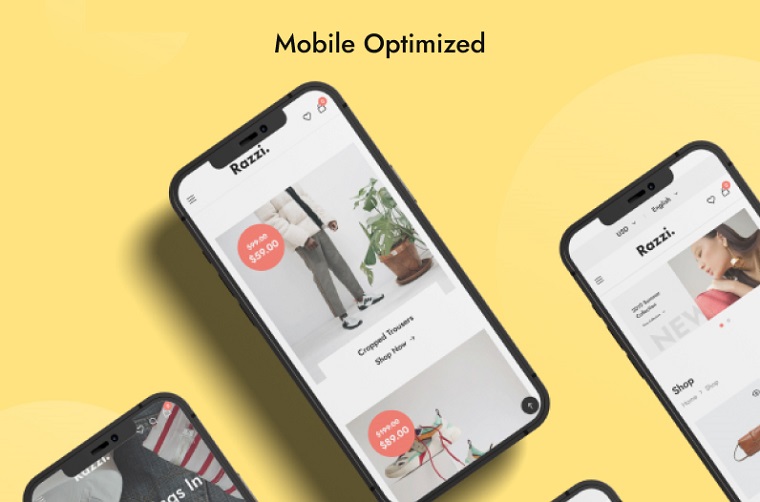 There is no secret that people rely on their phones every day for whatever it is: googling information, listening to songs, watching movies, and even making shopping. Thanks to this feature, the website is capable of adapting to any device, allowing shoppers to buy anywhere, at any time.
Mega menu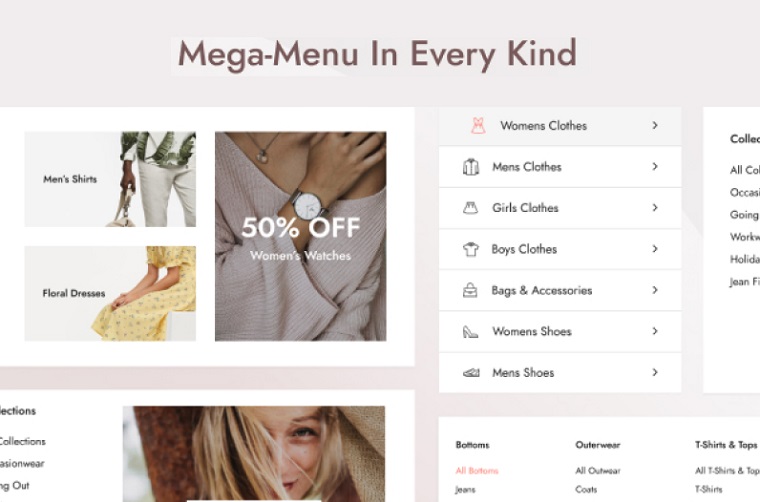 With a Mega menu or Drop-down menu, you will be able to organize and add an unlimited number of products right into your store's navigation. You may easily customize it with a built-in mega-menu builder to your liking.
Thousands of Ways to Make a Website Multifunctional
Elementor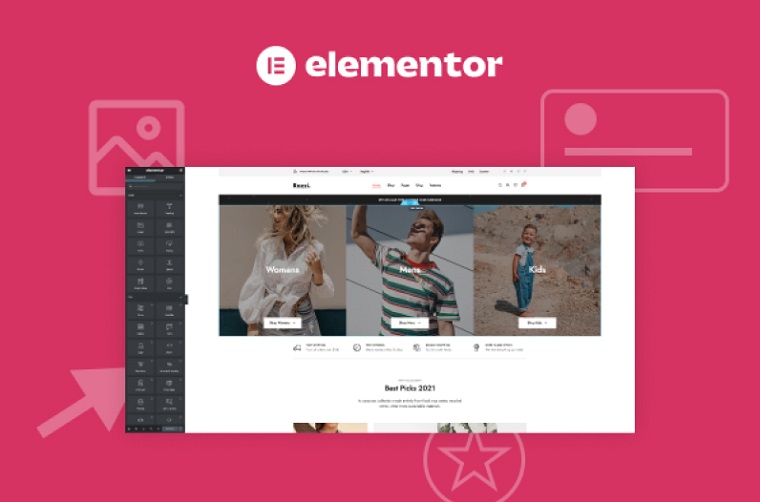 Elementor is a powerful page-building plug-in that delivers next-level tools and features to create a website with an elegant and astonishing design. Packed with drag-and-drop and live editing features, offering users a remarkable new way to interact with the content. Now you can move the content into any page area, giving you much more flexibility for changing without using code. Moreover, including support for real-time editing allows you to build the layout and see how it is visually changed without quitting the software.
WooCommerce
WooCommerece helps everyone who wants to sell online, including small, medium, or large-scale retailers. With many features included, you can create an online store and manage it in minutes.
This free plug-in has all the needed tools right out of the box, allowing you to quickly set up the e-commerce site and start selling like a pro. Moreover, it offers an app for the easiest way to manage — even when you are away.
AJAX Live Search
This plug-in adds live search functionality to the search engine by displaying results from the first character input. Having it in your store makes it easier for customers to find the right ones and buy them quickly.
AJAX Products Filter
This feature allows consumers to search for desired items more efficiently and conveniently. Filters combine many categories: size, color, price, rating, model, or brand name. So if you sell many different products, this feature is essential in your e-commerce website.
Razzi Documentation
It delivers clear documentation where you will find step-by-step instructions on installing, setting up, and using.
Users Support
The author provides the necessary support to help users get the most out of the theme in a short amount of time. So you will get a warranty for a specified time period of up to six months. If you would like to contact the author — do it via the profile page.
A Quick Start Guide to Using Elementor
If you are a beginner and still not using Elementor or any kind of page builder. Here's a quick video tutorial that brakes all things down on how to use this software most quickly and efficiently.
Project Info
Date:

05.9.2023

Client:

drfuri

Categories:

WordPress

Tags:

Business, Electronics, Fashion, Food