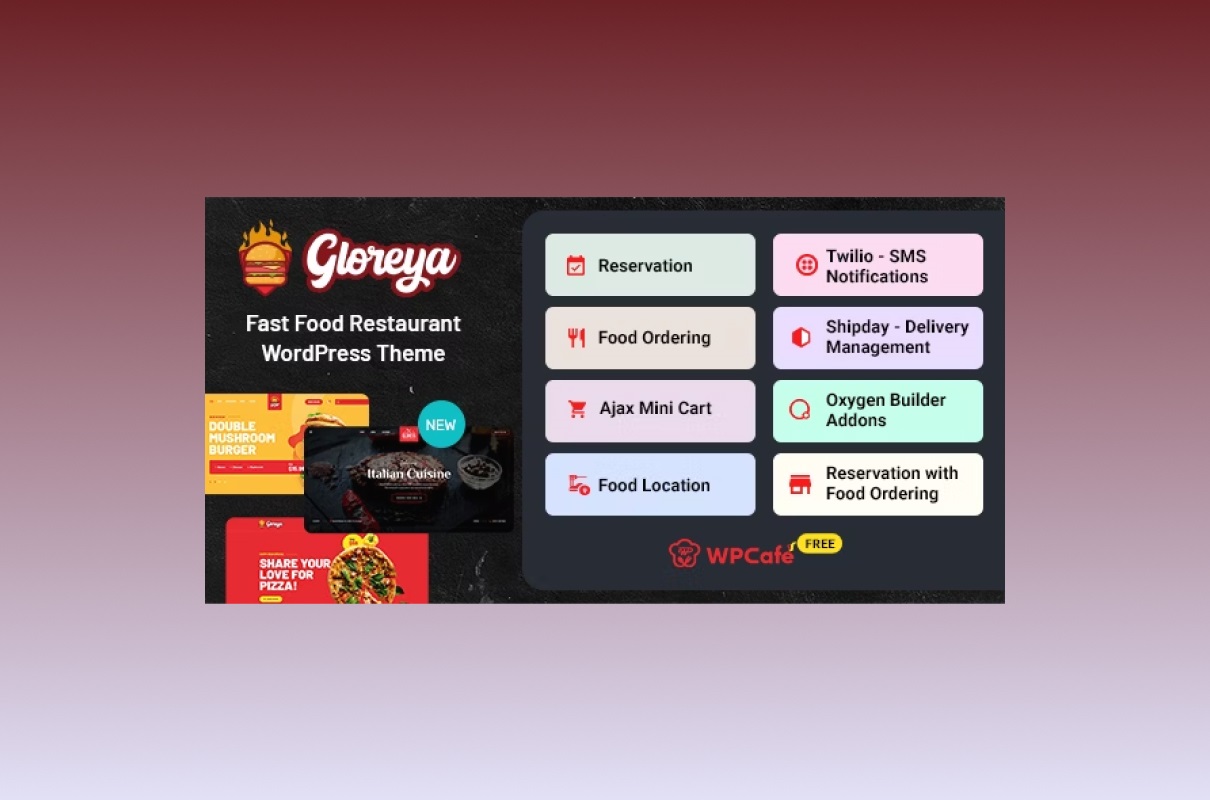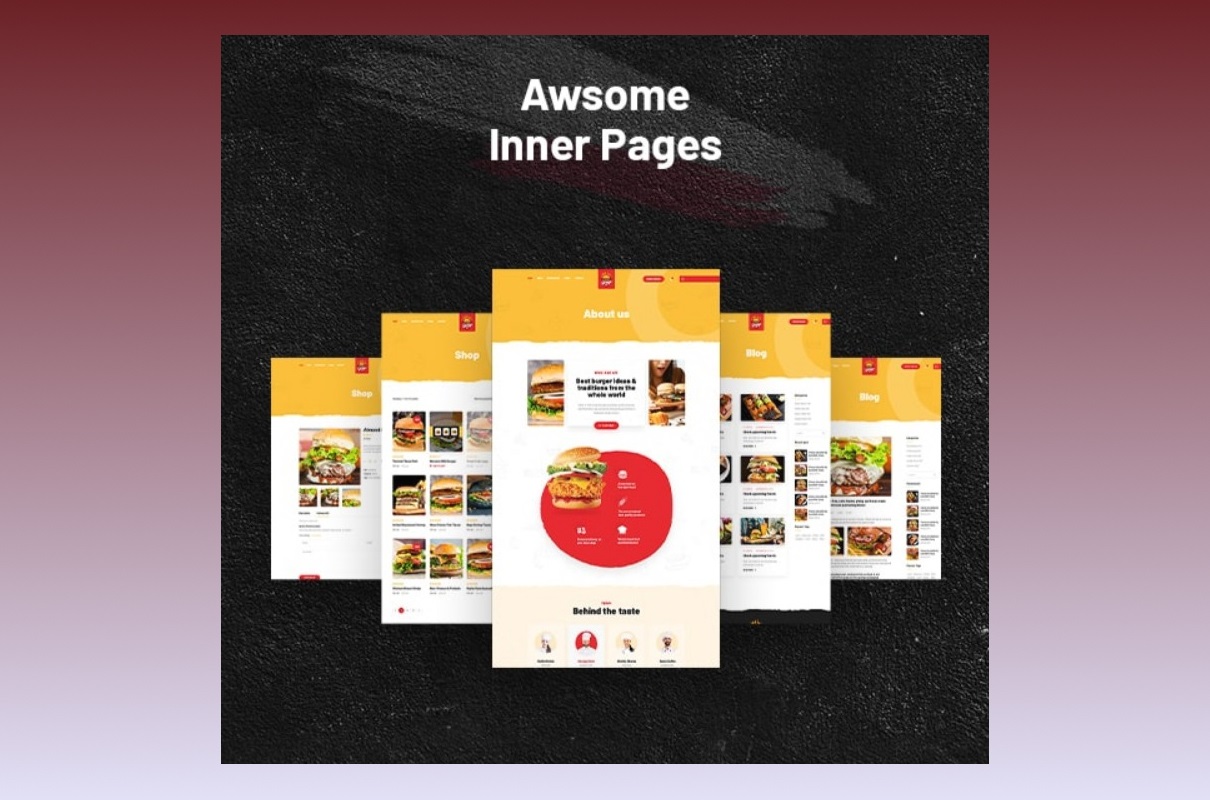 Are you looking to open your food delivery restaurant? It's easy with the Gloreya WordPress theme!
Delivery is playing a huge role, especially in big cities. Now customers are expecting more than just lukewarm pizza or burger. They want a full-fledged menu and order anything they want right at their door. So these days is essential to have a restaurant designed entirely to be delivered to customers. Gloreya gives you the ability to create a professional website for Fast Food, Bakeries, Vegan and Organic Foods, and Burgers. You can also set up Coffee Shops or Pizza Shops and everything related to this niche. Why is it so dope?
Firstly, it's quick and easy. When your life is running fast, and occasionally you don't want to waste a lot of time cooking. Now your customers may spend much more time with their lovers and friends.
Secondly, it's everywhere. Now, people may be away, but they're still going to get the fastest, most varied, and tastiest food. Even more impressive is that the author created it responsively, allowing easy access to any food in their city, and all the order processing is done on the device.
Let's cut to the chase and find out what allows you to build an incredible-looking website.
Fantastic Features Make Building Easier Than Ever
TrippleS has designed this item with all the modern, user-friendly, and SEO rules in mind.
It is fully customizable with a lot of powerful and essential features, allowing you to get what you want and the way you want. It comes with three home pages in a clean and airly-looking design. There are also three different header styles and many awesome inner pages, letting you personalize your template in incredible and unique ways. Plus, the Gloreya WordPress theme is designed with users in mind, so it has a user-friendly interface with convenient online order pages.
The author combined these all-powerful features in one item so you could effortlessly build professional-looking layouts. For more creative control, you can add many other plug-ins at any time. So it brings a whole new method to creating.
Well, the author delivers lots of capability for pros and beginners — it's simple and intuitive. Now, you may build or redesign every element in just a few clicks, even if you aren't a professional web designer or developer.
Search Engine Optimization
Search engine optimization involves optimizing content to be found organically on search engines. When you're googling something, the search engine searches through all the sites in its index to find the most relevant results.
Thanks to this feature, your website will always be on top and more likely to draw attention to potential customers. However, if you want to increase your results in the search engine and drive more traffic to your website — this is enabled by well-thought-out keywords.
Works seamlessly with multiple devices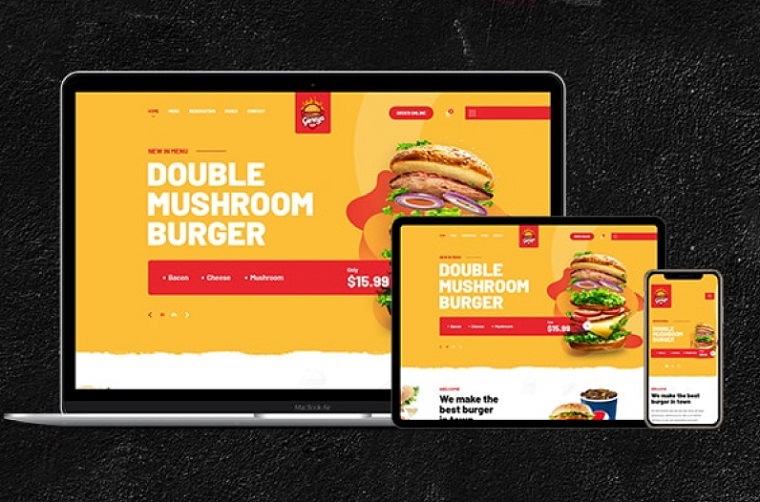 Millions and millions of people are experiencing phones every day to searching information, buy goods or order food to their door. Therefore, your website should be easy to use, flexible, and perfectly fit any screen and resolution, which allows you to get as many new customers as possible. Phones are taking over, and Gloreya is ready with the best responsive design experience for your visitors.
Mega Menu
This feature lets you add unlimited categories to the menu, such as a menu, contact, about us, shop, drinks, desserts, and more. Categories are a great way to navigate the site. The biggest thing about using Mega Menu is when visitors tap or hover over a specific category — they'll see many more items inside it.
This feature gives you an easy way to make your site compact and uncluttered. However, it's possible to completely redesign the menu to your requirements, such as font, color, and size, or add images if you want to.
Impressive, highly fluid animation
Visitors will be amazed by its excellent performance, mind-blowing fluid animation, and speed loading they never see on a site, enabling them to quick navigation through the pages without delay. Its incredibly highly fluid animation, stunning design, vivid colors, and impressive parallax effect provide the best user experience for customers.
One-click demo installation
It comes with an amazing one-click installation function that gives you a fast, easy way to install entire demo content — and then customize it to meet your specific needs.
Plug-ins That Make Building Websites Easier Like 1-2-3
Elementor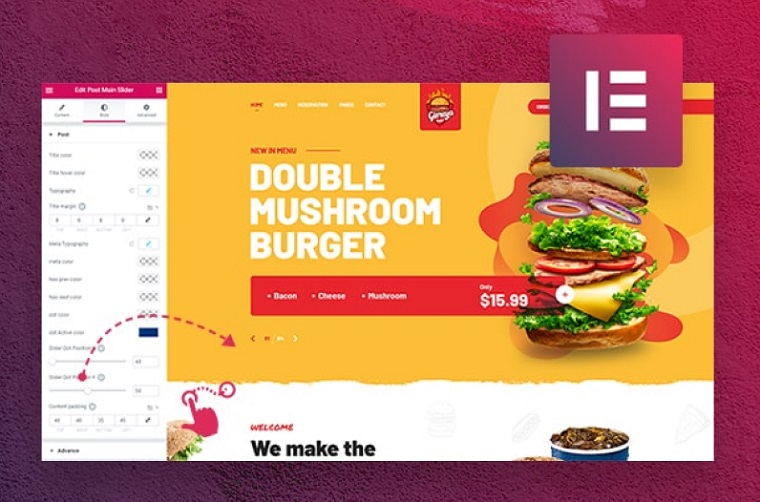 This plug-in was developed especially for WordPress which allows you to quickly build your professional-looking website without touching a speck of code — perfect for beginners. It delivers hundreds of beautifully designed high-converting templates that are automatically responsive and look great on any device.
Now you'll absolutely fly through customizing templates effortlessly and quickly thanks to the two most important features: drag-and-drop and live editing.
Drag-and-drop allows you to move each section to any new location on the site. You can make it the easiest and fastest way possible without needing to write any line of code.
Live Editing gives you the possibility to create or modify any part of the layout in real time. You'll visually see how your site is changing and how it will look to visitors so that you can make changes on the fly.
WooCommerce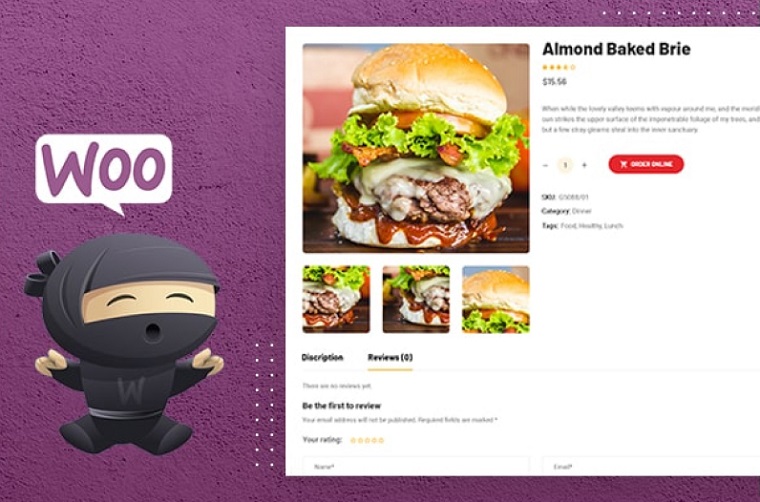 Whether you're running an online store or a food delivery, then WooCommerce is the go-to e-commerce platform loved by managers.
It has everything you need to bring e-commerce to life and start selling online in a minute. And more, it's absolutely for free.
What's even more impressive is that it's capable of working on any device. So now you'll be able to manage your online business on the go. WooCommerce on your phone is key, making go-to information always available at your fingertips.
Contact Form 7
The Contact Form 7 application allows you to quickly create forms with various fields for collecting information. It gives you many ways to stay engaged with your current customers. But if you're running a food delivery business, they may subscribe to the newsletter to receive new information in the latest future.
This plug-in is easy to use and fully customizable, whether it is a font, size, color, or number of fields. Also, it can be live in any section of the site.
Revolution Slider 6
It combines powerful tools and next-generation animation features to create the most impressive and smooth visual effects. With over 200+ ready-made templates, you add stunning animation to any element. For dynamic animation tasks, like parallax, Revolution Slider delivers the required functionalities for creating it, allowing you to provide more eye-catching and smooth visual effects to the site.
Support Documentation
To help you to discover this template, you'll receive a free copy of our extensive documentation via e-mail after your order. First, download the documentation from your email. Then follow the steps to use and complete the setup process. Once you do, you'll be able to use the template more efficiently.
Help on the Fly
By buying this product, you'll get excellent customer service as well. Please follow the link and tap on the "GET Support" button for additional helpful tips. Any questions about using or setting up the template support team will answer as soon as possible.
A Step-by-step Introduction to Elementor
Before you can start designing and building a site with Elementor, you need to watch this little quick guide of using and setting it — perfect for beginners.
Project Info
Date:

05.8.2023

Client:

trippleS

Categories:

WordPress

Tags:

Food, Restaurant