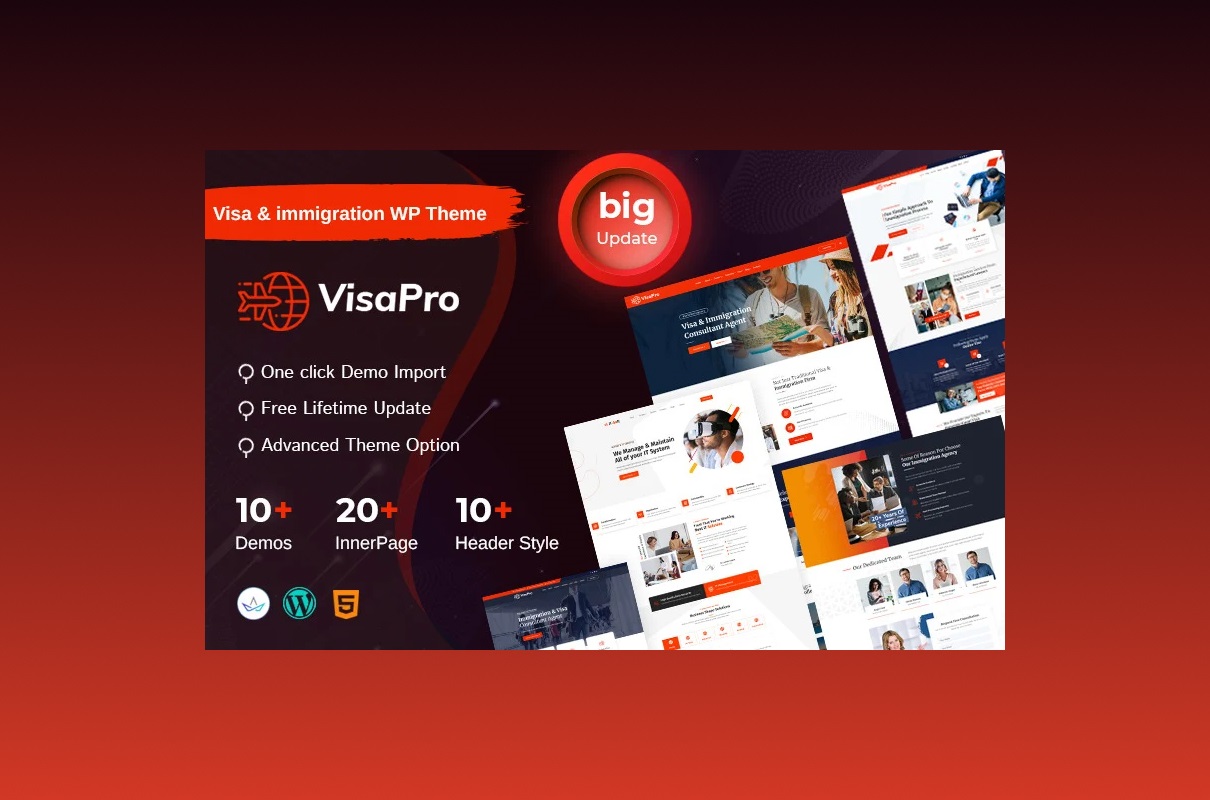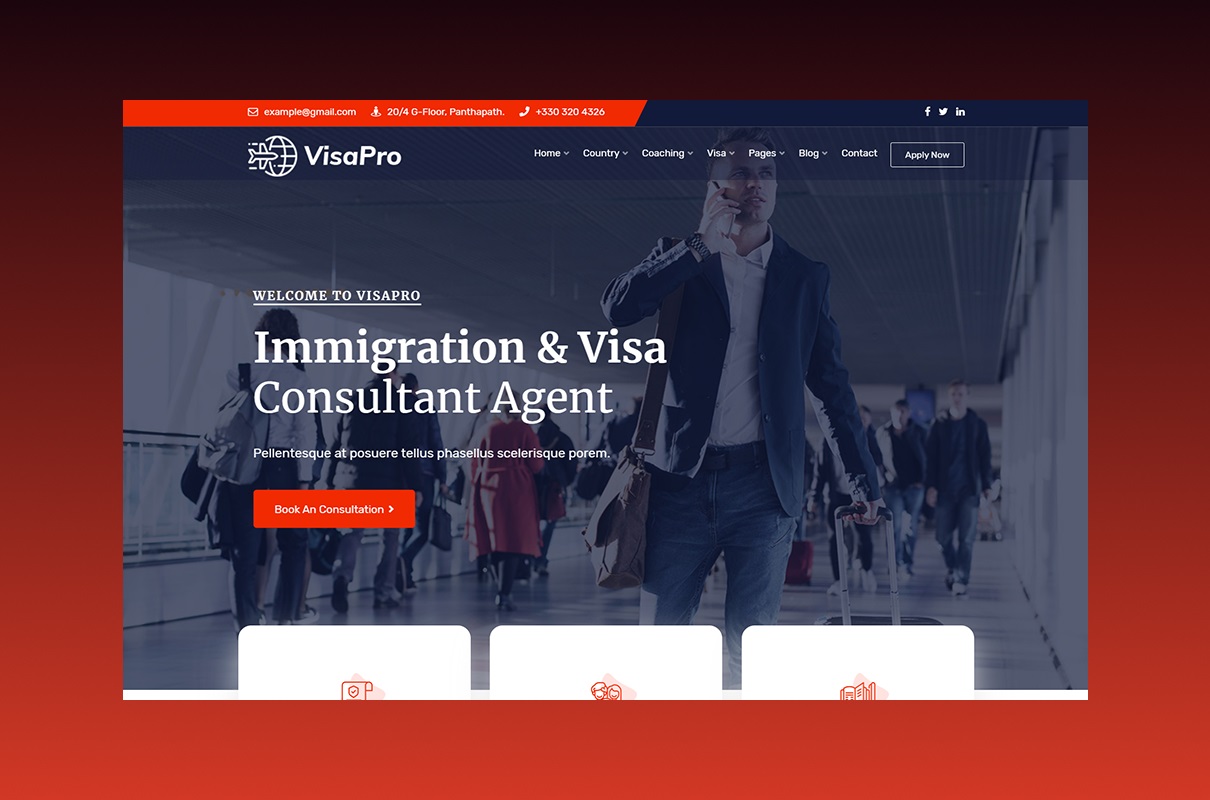 Meet the VisaPro WordPress theme! This theme is suitable for creating attractive websites for many types of businesses, including visa consulting, immigration agencies, corporate agencies, and many more. The template contains everything you need to get your website up and running in a short amount of time. Here, you will find many functional, powerful, and flexible tools to help build a unique and universal website. Furthermore, the author has created a design that will satisfy all current requirements, thus allowing you to save time and energy while deepening your ability to create original content. You can get everything you have dreamed of with just one mouse click. By the way, no matter what your skill level is, you may easily employ the template. So, the building process has become more comfortable and enjoyable.
Let's Dive Deeper and Find out What Benefits Visa Pro Offers
The VisaPro theme, created by DREAMIT, is by far one of the best ready-made templates for those running a visa or immigration business. This theme has several great tools and plugins to create a stunning site. You can freely make all kinds of modifications to the site, such as carousels, fonts, colors, sliders, blocks, etc. It gives your creativity full rein to create an inspiring and unique site for your clients. VisaPro has the biggest Google font library, with more than 500+ different font styles.
Furthermore, you get SEO-friendly pages that allow being at the search top and attracting as many customers as possible. Thanks to the theme's drag-and-drop feature, you may drag elements as you want with just one click. With its many other features, you can build stunning, beautiful designs more easily and joyfully.
Search Engine Optimization
With search engine optimization, it is easy to get many customers. Because of this, all pages are well-optimized in this theme to help you attract as many customers as possible. Also, if well-crafted tags are chosen and used effectively, they can positively affect promotion.
Entirely Responsive Layouts
Thanks to this fantastic and essential feature, your website displays correctly on all devices! Your visitors will always be comfortable browsing your website regardless of what device they are using, whether it is a mobile phone, tablet, or desktop computer.
Smooth Scrolling
Using this plugin will make your visitors feel delighted with their experience on your website. It will allow you to scroll smoothly through your pages and make your site optimized. In other words, it makes your site more comfortable to use. Getting this plugin for free by following this link.
Retina Ready
If your clients own a device with a high pixel density, this feature is necessary for them. It enables you to view high-quality photos in bright, detailed colors, meaning that your product's images will be reproduced as faithfully as possible and in the smallest details.
One-Click Demo Import
It is very easy to import all the content of your page and theme with this excellent import demo option. Moreover, you do not need to do many actions because it might be done in just a few clicks.
Cross-browser Compatibility
The website will display and function correctly in all major browsers, including Opera, Chrome, Safari, Mozilla Firefox, and much more.
Powerful Plugins For Your Creativity
It is worth noting that plugins can make small changes or significantly impact your website, depending on their capabilities. Many plugins are available to improve your function, create a slider, alter your buttons, or animate. And one more important thing is that you can even back up your website in the event of data loss. Plugins may be necessary if you are involved with e-commerce or wish to offer online appointment booking to your customers. It also needs to point out that you can download free plugins that are flexible and useful. Please follow this link to see the plugin library.
Contact Form 7
Using this plugin, your customers can contact you easily and quickly. Your site can include a contact form in a separate block. In spite of the fact that the theme comes with a form, Contact Form 7 offers more functionality and is free.
AJAX cart
This plugin allows shoppers to see detailed information about a product without visiting the product's page. Moreover, they can use a pop-up cart to select products without reloading the page.
Redux Framework
In WordPress themes and plugins, Redux is a popular, advanced, and free option panel framework. As a result of its flexibility, you can configure your WordPress template in just a few clicks and in any way you desire.
Google Map
This plugin allows your visitors to see the exact location of your facilities, regardless of whether they are offices, branches, or other types of facilities.
The Most Famous and Multifunctional Page Builders
Elementor
You can create stunning, unique pages using Elementor's visual editor in just a few clicks! Thanks to this awesome page builder, now, in creating beautiful pages, you will not need any HTML, CSS, or JavaScript knowledge. For example, you can modify headers, footers, buttons, menus, and more. More than that, you can tweak every element of your website in real-time, so you can see the results immediately, understand how the site exactly looks and works, and directly make any changes you want. Moreover, Elementor has more than 100 widgets, an intuitive admin panel, and many useful features, allowing you to get the site you dreamed of and, at the same time, get the satisfaction of the process.
KingComposer
Due to its multiple unique and adjustable features, this editor allows you to easily customize your page's appearance in a wide range of ways. Plus, it is simple and easy to use, has a real-time option allowing you to view your work without delay, and lets you get it all done quickly and easily. All actions happen instantly and save you tons of time!
We Offer Beautiful, Hand-crafted Designs to Help You Get Started
It is imperative to have a website design that is eye-catching and comfortable for customers. It keeps their attention and desires to dive into your content for as long as possible. Whenever users visit a well-designed site, they feel a sense of trust. To achieve this, you should strive for a modern, bright, airy, and good-looking design.
VisaPro WordPress theme offers 10+ unique pages with different categories. Moreover, you get 40+ unique and stunning inner pages that you can modify every part of them. Also, it includes 10+ footers and 15+ headers in different styles and colors. All of this will allow you to surprise your users nicely.
Awesome Design Always Makes a Good Impression on Visitors
It is worth noting that to attract and retain customers, the visual part of your website is very important. It is more likely that your customers will explore your product in depth and more thoroughly if the design is modern, stylish, and easy to understand. The author supplies many cool features and plugins to help you change the page's appearance. As a result of all this, you will be able to customize your site design in a unique and personal manner.
Clear Theme Documentation
Once you purchase the VisaPro WordPress theme, you will receive helpful and easy-to-use documentation. All the necessary information you may find in this practical manual regarding the installation and configuration of the template. If you require more details, please do not pause to contact the author.
Qualified Support by the Author
Feel free to submit a report if you have questions about this theme or encounter some problems while installing, configuring, or using it. There is always a theme's author available to assist you, so you can be confident that you will receive prompt and professional assistance.
Project Info
Date:

11.23.2022

Client:

DREAMIT

Categories:

WordPress

Tags:

Business