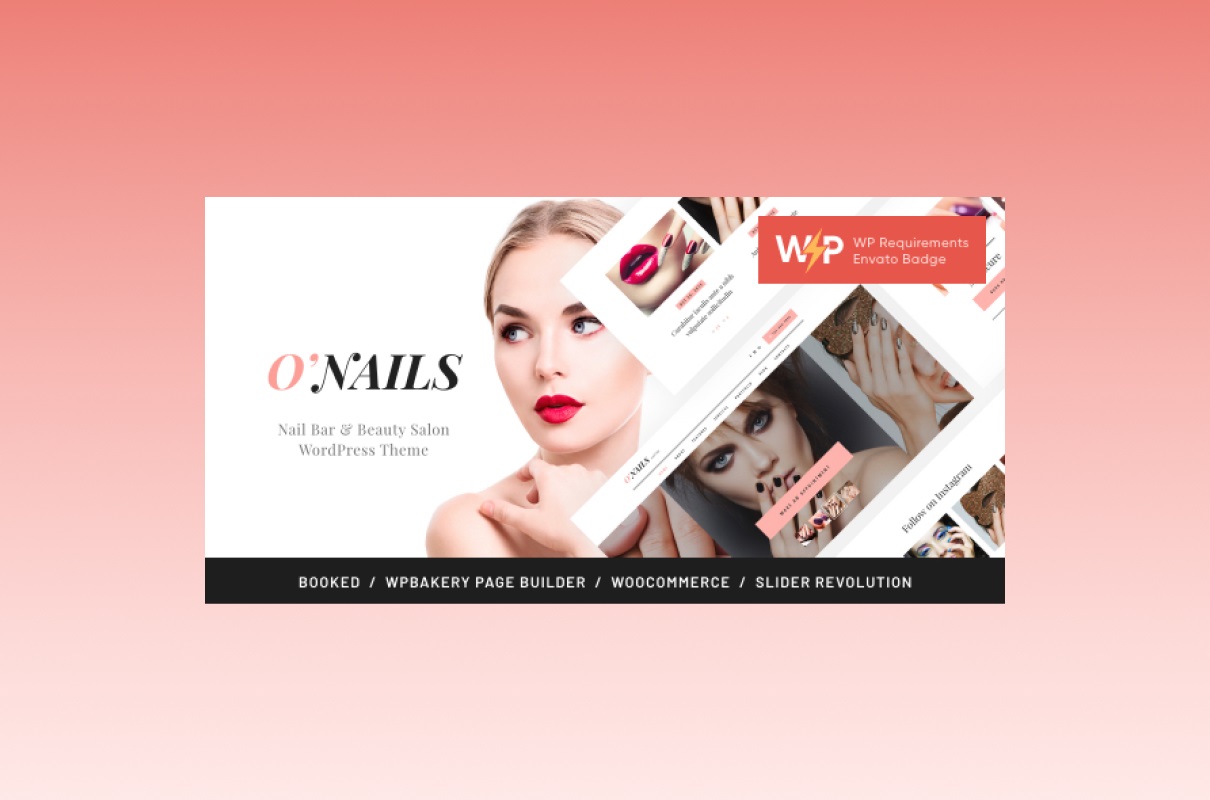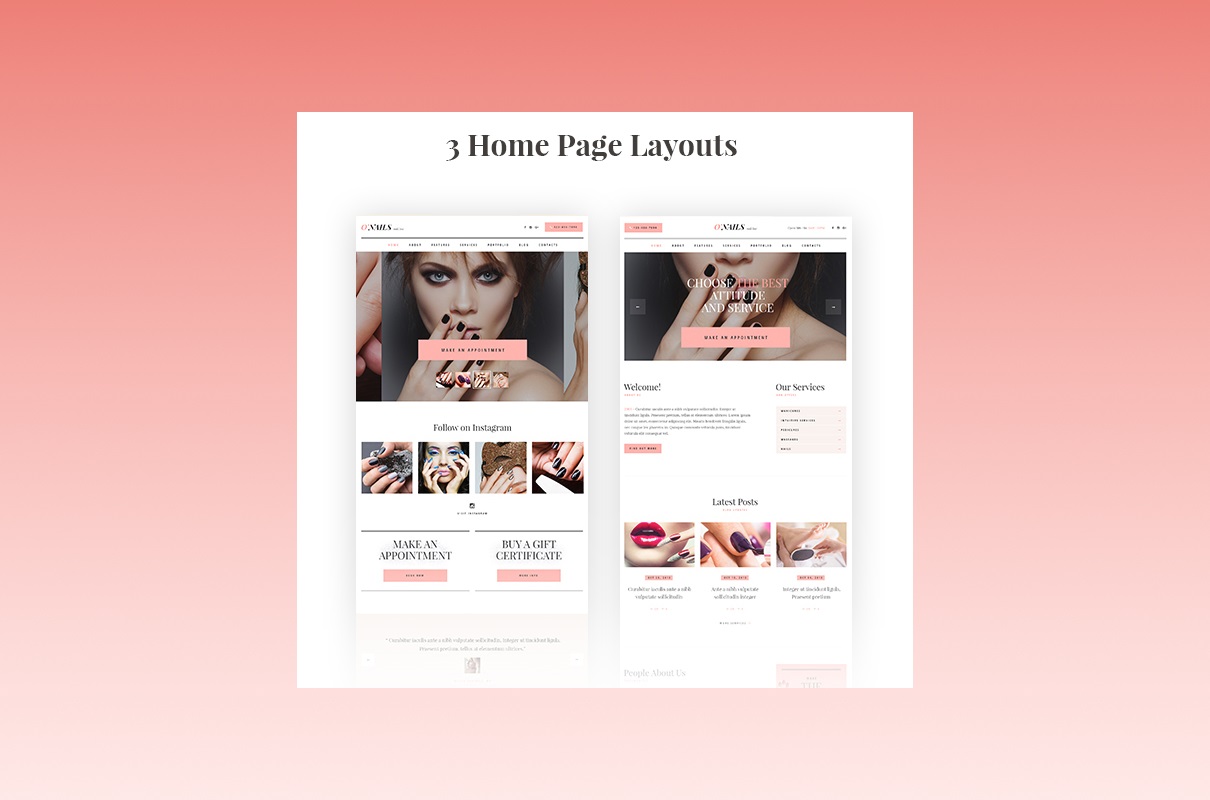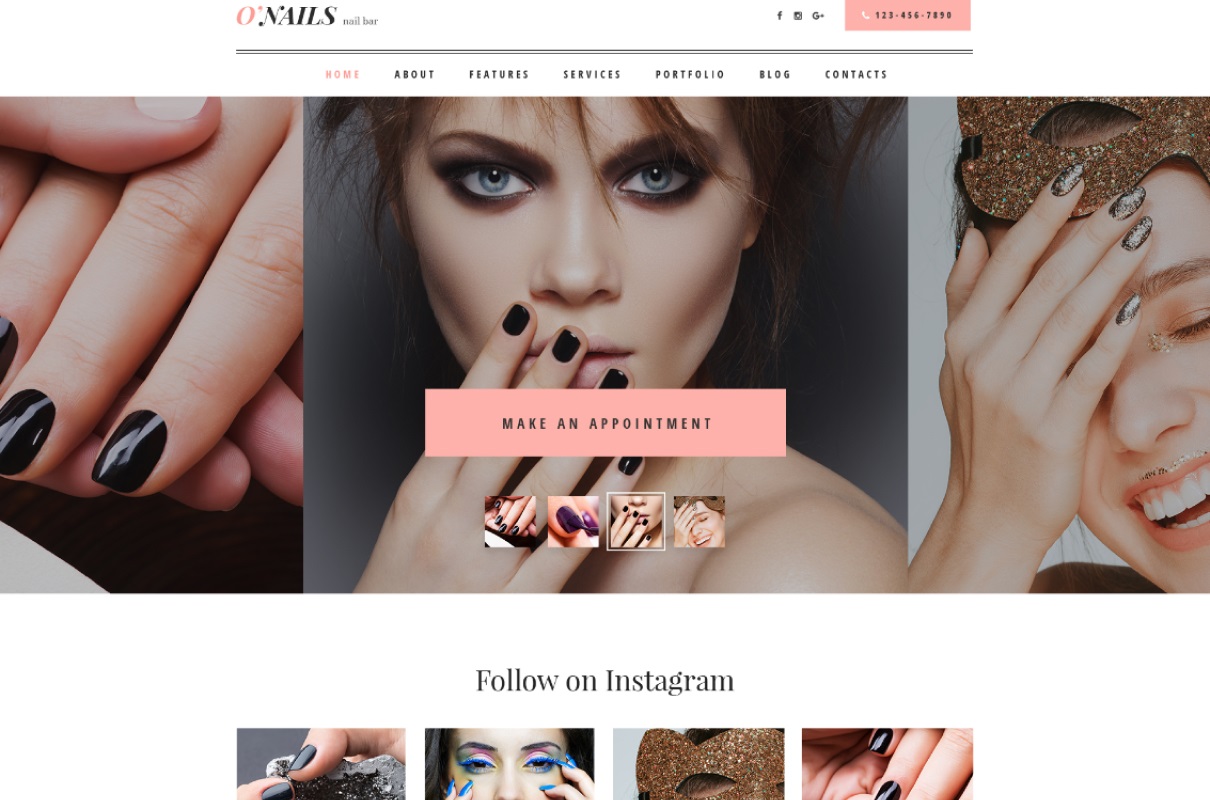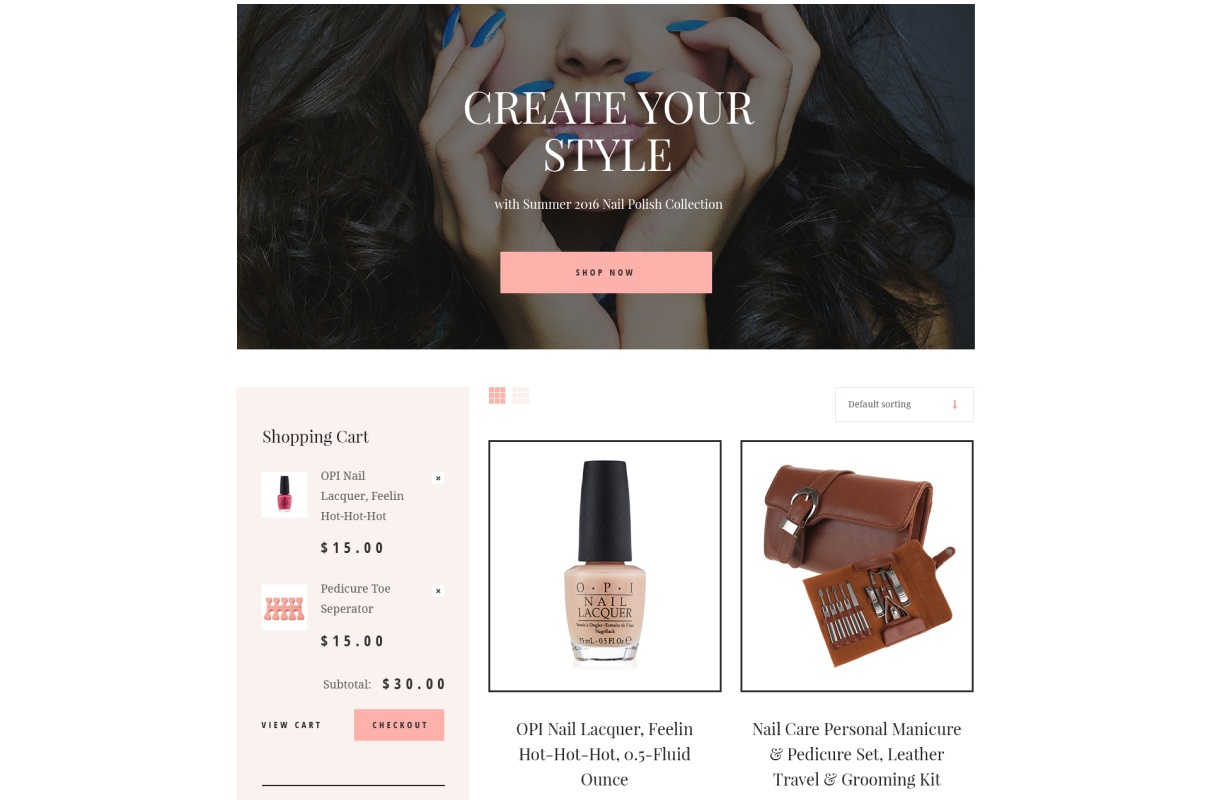 The O'Nails WordPress theme is a perfect example of quality and beautiful design, which will help you to attract as many potential customers as possible.
The template works perfectly on any device, letting web pages adapt to the size of any display. It's all possible because of Fully Responsive layouts. On top of that, Retina Ready. You'll be able to use a ton of cool plug-ins and features, but it's kept incredibly lightweight and runs the PageSpeed Insights test completely fast. Moreover, everything comes together with three stunning home pages that meet all marketing requirements.
O'Nails is fully customizable since giving many capabilities and empowering beginners to do more, and much easier with a user-friendly drag & drop page builder. It provides plenty of options and premium sliders that let you showcase your products in the most remarkable way possible. In addition, due to the One Click Demo Import — you can get your theme up and running in just a few clicks!
How O'Nails Could Be Useful for You
Before we dive into the main features, let's talk about how this template will be valuable to you.
These days, one of the most popular industries is the beauty industry. Every single year it keeps thriving. As you know, a person's appearance is the first thing we notice upon meeting them for the first time. But more importantly, beauty is more than just "putting on lipstick." It's amazing how the beauty industry helps so many people to solve real problems with their appearance, allowing them to feel confident in society.
There are lots of opportunities for entrepreneurs as the industry grows. Today, anyone can start their journey in the beauty business. It's worth noting that you only need a little capital to get started. Most of the individual entrepreneurs who start in this industry — are starting right at home. That's amazing.
However, to promote, you need to tell people about your brand to get potential clients. And someone uses social media such as Facebook, Twitter, Instagram, YouTube, and all that social media that took off. But now, for up and running, there's one way to establish your online presence more cheaply beyond social media. It's creating your own website without hiring professional web studios. You might ask, "How?" Buy a ready-made template.
O'Nails is a perfect WordPress theme to meet most of the needs in the beauty industry, whether it is a Makeup Bar, Nail Salon, Beauty Salon, Spa, Skincare, Body Treatments, Eyebrow and Eyelash Services, Barber Salon, Massage Center, Haircare, Lash Salon, Manicure and Pedicure Services, and much more. Everything you ever dreamed of, with this template — it's possible to turn your wildest dreams into a reality!
Key O'Nails WordPress Theme Features
AncoraThemes has created a great project, perfect for businesses providing services and selling products online. It's easy to navigate. It delivers product pages, the latest posts, convenient AJAX searching, and more. Now, your customers have an outstanding shopping experience. Also, O'Nails has a terrific calendar that lets clients who want to make an appointment choose the perfect time.
Let's take a close look at some of the key benefits:
Retina Ready
There are so many devices with Retina displays out there. They have incredible contrast, high brightness, and incredible color accuracy. This feature optimizes all content for Retina displays, providing an astonishing new level of sharpness and detail — whether it is images or text. Now visitors may see your work in the best quality possible.
SEO-friendly layouts
The main goal of SEO is to improve the traffic quality from organic search results. All of this is done through different methods, such as keyword research, optimizing webpage content, building quality links, and creating engaging content.
The author knows how important for you to have clients more likely to find your salon on the internet first than competitors. Many people prefer to search engines like Google or Bing when searching for something online. And thanks to the author, your site will have a higher search engine ranking, which drive more potential clients and increase your income.
Multiple devices supported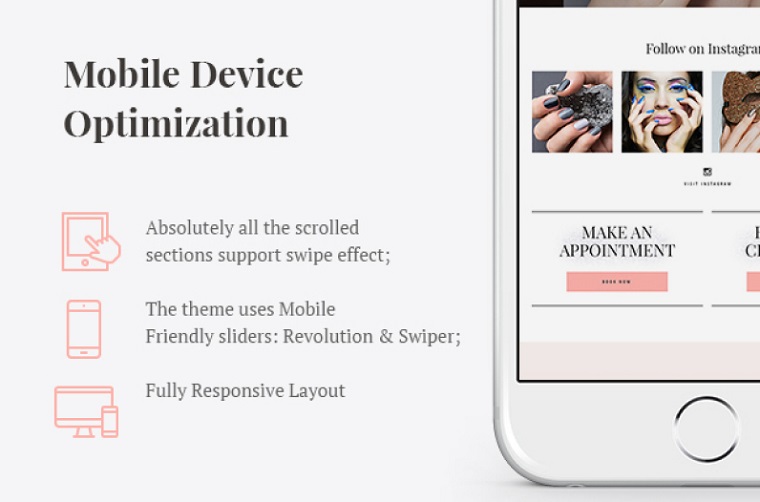 With responsive design, visitors can explore your site seamlessly regardless of their devices. For this reason, the O'Nails WordPress theme is developed for any device. Content elements automatically resize themselves as needed making visitors' experience more approachable whether they use a smartphone, tablet, laptop, or desktop. Now you don't need to worry about creating every layout from scratch.
Mega menu
A multi-level menu is crucial to any website offering services since it enables you to add unlimited categories. One of the standout features — it provides smooth navigation through pages and an excellent user experience. Moreover, it saves screen space, making the design airy, more elegant, and professional. On top of that, Mega Menu is incredibly easy to use and highly customizable, allowing users of all levels to utilize it on the fly.
Major browsers compatibility
These days, there are so many different web browsers to choose from! And your site has to work perfectly on all of them. Due to this template, visitors will be able to access through all major browsers, such as Chrome, Opera, Mozilla Firefox, and Microsoft Edge. iOS users may also use Safari.
Full localization
It's safe to say that English is the most widely spoken language. However, you might have to build your beauty business in countries or regions where other languages are used. It's crucial to have a website that can be displayed in your native language. The WPML plug-in supports many languages, allowing you to set the language you need.
Plug-ins Compatibility
Slider Revolution
Slider Revolution provides a powerful way to transform the look of the page. With revolutionary visual builder technology, you can build websites in new ways and bring your ideas to move. For example, you may seamlessly create multiple incredible effects, such as particle effects, bubble morph, parallax, and even 3d scroll. It also allows you to adjust text or images in a few clicks, making them revolve, bounce, rotate, flip, or use templates to add a lot of professional animations.
With a massive template library of up to 250+, creators may build, edit, and publish more complex sites and work with visual effects without touching lines of code. And it's developed to create fully responsive content — so you don't need to worry about how it'll look on small screens. On top of that, Slider Revolution is remarkably intuitive; it's easy to jump between tools at any point and create pro-level visuals at incredible speeds. Elevate your creativity with the Slider Revolution.
WooCommerce
Let's see what exactly WooCommerce is.
Suppose you have never used any e-Commerce platform. That's not a big deal; WooCommerce is incredibly easy to use. It has an intuitive toolbar which is way more efficient than any competitor is, especially when it comes down to starting managing online salons immediately.
With the plug-in, you'll have access to a bunch of powerful tools and technologies that'll make your work super uncomplicated. Now, you can effortlessly track all bookings just sitting at home. Using the dashboard, you can view a list of bookings. And to sort them — go to "Filter bookings" and select filtering by date, status, etc. Plus, it allows you to search for bookings if you have some individual ones. WooCommerce provides many useful options to help you manage like a pro.
The incredible variety of payment methods available makes this e-Commerce platform truly valuable. It supports credit cards, PayPal, Stripe, and more — all payment processes are secure and fast.
What you can do with WooCommerce when setting up and running your online store is fantastic. Now it's easier than ever to run and grow your business online. You'll love working this way!
WPBakery
WPBakery was developed with performance top of mind. It helps you build layouts that look and feel like professional ones so that you can transform your vision into a design as simply as possible. WPBakery is a powerful and easy-to-use page builder that gives users the tools, add-ons, templates, and pro features, letting them conveniently craft complex layouts like a pro, even if they're new to this.
Take advantage of many core technologies, like the ability to drag-and-drop elements and live editing, which speeds up the creation process ten times. With drag-and-drop technology, users can interact with content the way they want. Now it's possible to customize blocks by simply moving a mouse, dragging and dropping each element into any area; it could be buttons, text, images, icons, design elements, etc. No more coding skills — all changes are done in a few clicks.
Plus, it provides a set of stunning templates that meet a high standard, optimized for excellent performance, and has everything you need to set up a ready-to-use website in minutes. Our team is sure these benefits provide great experiences for users of all levels.
Excellent Support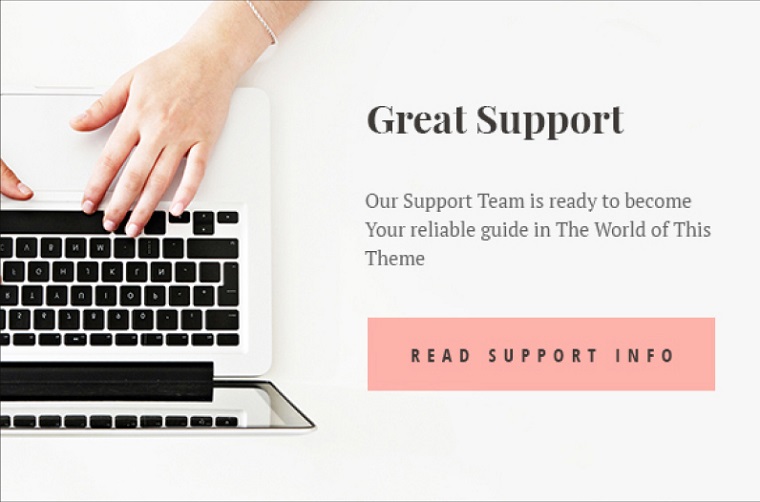 Periods of use might be complicated for someone, but after purchasing an item besides plug-ins, features, and the latest updates, it comes with up to a six-month warranty. The warranty covers any problems you might experience during utilization, and the author will always break down everything for you. Time to respond will take one business day.
Extensive Documentation
For beginners, the documentation is a helpful resource, as it covers all aspects of installation and utilization. But can become more valuable for those who want to explore more complicated things, such as the theme's functionalities or capabilities. Furthermore, feel free to let the author know if you have any questions!
Watch This to be Familiar With WPbakery
This video will guide you through all the basics of this incredible page builder for WordPress. We'll cover everything step by step breaking down all the capabilities and different features of this platform, including the drag-and-drop interface, adding content elements, images, and changing colors. So by the end of this video, you'll be able to utilize like a pro and craft a fully functional online salon or store.
Project Info
Date:

07.24.2023

Client:

AncoraThemes

Categories:

WordPress

Tags:

Beauty, Business