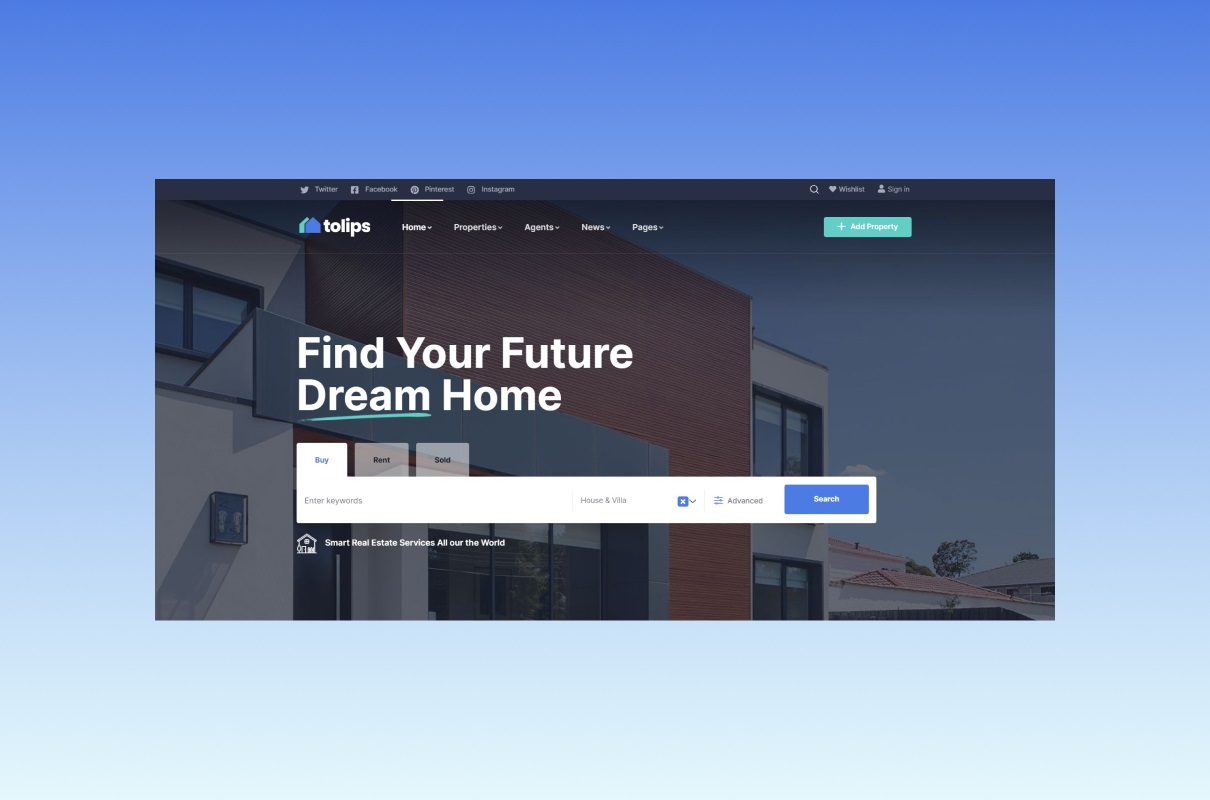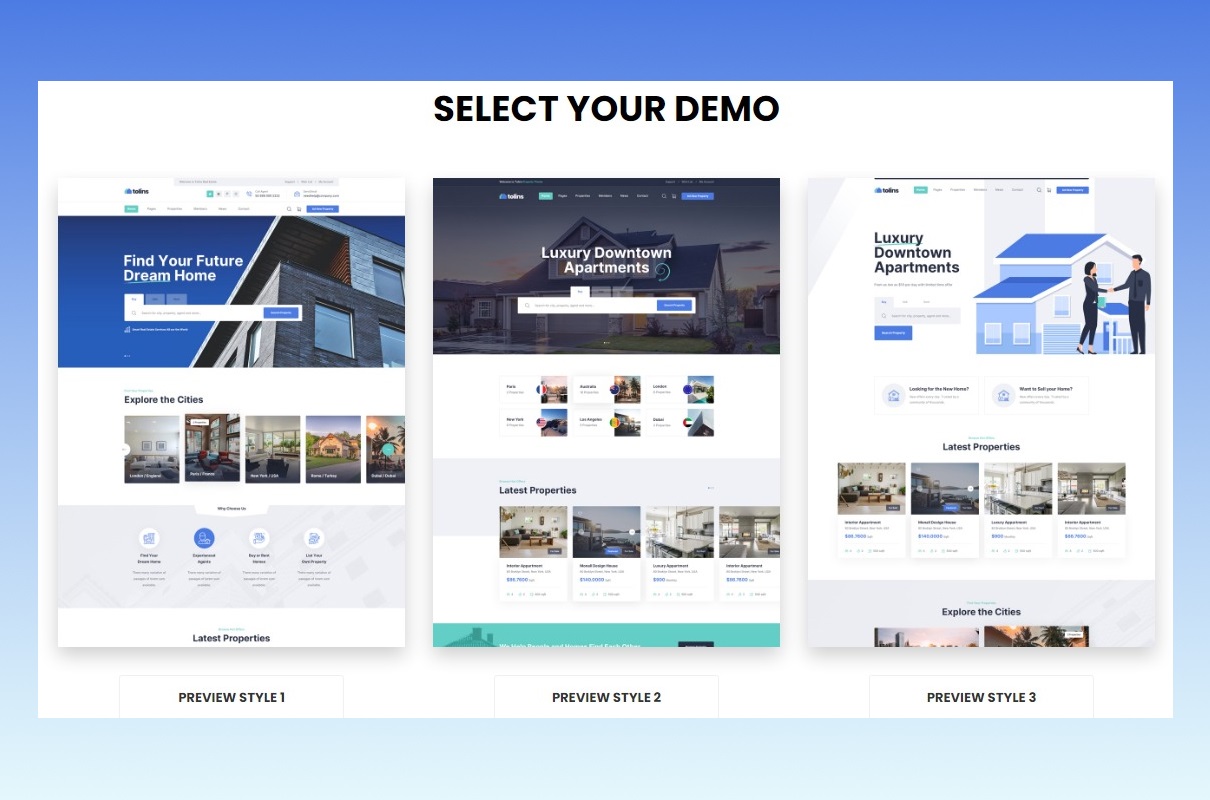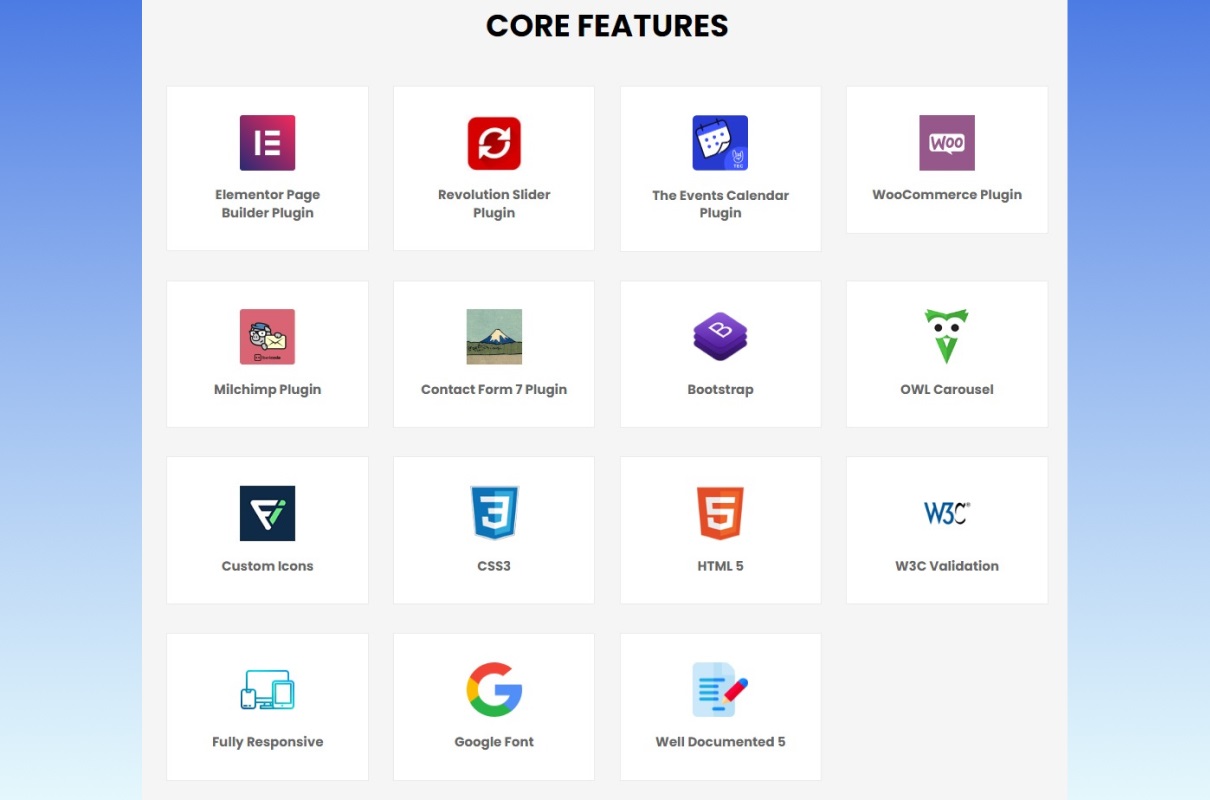 If you want to start a business or already have one. Then building a professional and attractive website is one of the main things! Suppose you want to create a website for your real estate business or list a couple of properties for rent. The Tolips WordPress theme is a great choice to do it.
Real estate is one of the many industries completely dependent on the Internet. Such a site is guaranteed to attract a lot of attention from tenants, landlords, and real estate agents alike. In addition to being designed for real estate agents, vacation rentals, flats, brokerages, apartment managers, realtors, single properties, etc., the template is also ideal for apartment and house rentals. Overall, for everything that brings the real estate business together.
Finding a new apartment is more than just a move. It is something more significant. For this reason, the site must be user-friendly and easy for customers to use. Tolips delivers clean design and trendy layouts, focusing visitors on houses, apartments, condos, etc. With a retina-ready feature, they might see the complete details of the houses, apartments, or rooms in the best quality. In addition, it contains a convenient feedback form that will speed up the process of completing the sale or lease of a property, which will increase your profits as a real estate agent, broker, or owner.
Now, launching your own website from scratch is easier than ever before. You do not need to hire a web designer to achieve this goal. Purchasing this ready-made template means making your dream come true!
Pleasant, Effortless Editing With the Tolips WordPress Theme
Gavias provides its users with an excellent product that includes everything they need for a successful website.
Want to see the new features in action? Tolips has many useful built-in plugins, meaning you can spend less time looking them up on the internet. With drag-and-drop, changing the page is much easier because it doesn't need to change the code at all. Now you can do this by dragging a specific element to another area.
Now, using handy and multifunctional features in just a few clicks, there's no problem building an eye-catching and unique design that will draw new visitors.
Tolips WordPress theme is suitable for any person. It delivers to us three different main pages. A few of them are in a standard style with a big main screen with an image. Some layouts use graphic illustrations, which is an excellent and modern solution.
What's even more impressive about using Tolips is the dive into the creative process with the most powerful page builder, Elementor. Starting to use this software is possible to create a pixel-perfect design. Moreover, with a live editor, you may see in real-time how your layout is changing and how exactly it will look in the end.
Keep reading to understand better the theme's capabilities for improving your layouts in a short time.
SEO-friendly Pages
When launching a website, the most critical thing is getting to the top of Google's search results. This means that you will be the first one clients come across. So having this outstanding feature, you will be able to get a high position in search results.
Finally, well-chosen and properly formulated tags also contribute to the promotion of your website.
Fully Responsive in Any Device
This feature lets visitors view your site on any device, be it a phone, tablet, or desktop computer.
How does it work?
When the layout is adaptive for any screen, each element will transform smoothly to fit your screen so that the design looks right and they are comfortable using it.
Perfect Performance Optimization
One of the most important factors Google considers when ranking web pages is the speed at which they load.
The highly optimized Tolips WordPress theme package delivers many necessary effects, such as smooth site scrolling, fast button response, smooth slide animation, and quick page loading.
All these benefits help your visitors feel more comfortable while exploring and help you rank high in the search engine.
Fast and Easy One-Click Installation
This feature allows you to make your layout look exactly like the demo content and then modify it freely.
Bootstrap Framework
An HTML and CSS framework that provides styles for the main HTML components. It is one of the most popular frameworks on the web.
With Bootstrap, web-based projects can be developed and responsively focused on mobile devices.
Custom Icons
Icons are another way to make your design stunning. They are very easy to customize; for example, changing the color, adding a gradient or a shadow, etc.
There are two main styles: outline icons and filled icons, which give you a huge range of possibilities, making your layout design one of a kind.
Essential Extensions That Bring a New Vision to the Building Processes
The primary function of plugins is to improve the functionality of your site. With their help, you can either improve existing processes or add entirely new ones. Thus, it is possible to create any website – from a blog to a large online store, as the library has more than 50,000 plugins for any purpose.
Thanks to them, you can easily make beautiful sliders, improve SEO optimization and even enhance page loading speeds.
Most importantly, and what makes them suitable for everyone, many valuable and feature-rich plugins are completely free and able to solve any task.
Elementor
Say hello to the next-level page builder. Elementor is one of the leading editors for building lovely layouts without requiring coding expertise.
It includes more than 100 widgets for creating elements that shape the content and visual part of the layout. And best of all, that's a powerful tool for creating anything since it includes sections and even pre-made pages.
The main question that comes to everyone's mind is, is this software paid for?
Elementor offers its users multiple plans to choose from, including a free-of-charge one. Moreover, the free plan fully handles the basics tasks and comes with a drag-and-drop function, 40+ basic widgets, and 30+ templates.
Revolution Slider 6
The Slider Revolution plugin is a powerful visual effects tool that will allow you to unleash creativity and provide you with new and innovative ways to create.
It has such an intuitive interface that working under these conditions is a real pleasure. Moreover, one of its innovations is saving all your settings for later use.
Overall, creating sliders is very easy with all the advantages.
Sell Effective With WooCommerce
WooCommerce is a free plugin with an extensive library of features for creating and managing your store. Its functionality allows adding products, filtering prices, displaying customer reviews, tagging products, and much more, which makes your store user-friendly and comprehensive.
It is important to note that in order to take advantage of all the features and feel all of the power available, you must purchase a Paid Plan.
A Few Words About WordPress
Currently, WordPress is the most convenient and popular CMS platform for creating any type of site. So let's see what makes it so unique and outstanding.
Firstly, it is easy to use and has a lot of powerful and useful built-in tools.
Secondly, the interface is intuitive and well-organized, so even a novice platform owner can handle any task without spending a lot of time and effort on it.
Thirdly, WordPress is free web hosting. All you have to do is create an account and safely start building your dream in a short amount of time.
Last but not least, the best customer service you'll ever get, and it's available 24/7.
Practical Documentation of Tolips
To help you discover the Tolips better, the author has included detailed documentation that will be sent directly to your e-mail address after purchasing one. It describes everything about how to install, configure and work with it.
In addition, the author is willing to provide additional help at any moment, responding quickly and finding solutions.
Quick Support
Along with great offers and deals, customers also desire excellent customer service. In order to meet customers' needs, the author always tries to help them out and provide the most effective solutions at any time.
Watch the Video to Get to Know Elementor
This video explains how to use Elementor and how to configure it. In addition to changing the site's skin and editing blocks, the course also shows how to add various elements.
What's more impressive is that it's a very easy-to-use software fitting for any user level.
Project Info
Date:

04.4.2023

Client:

Gavias

Categories:

WordPress

Tags:

Real Estate