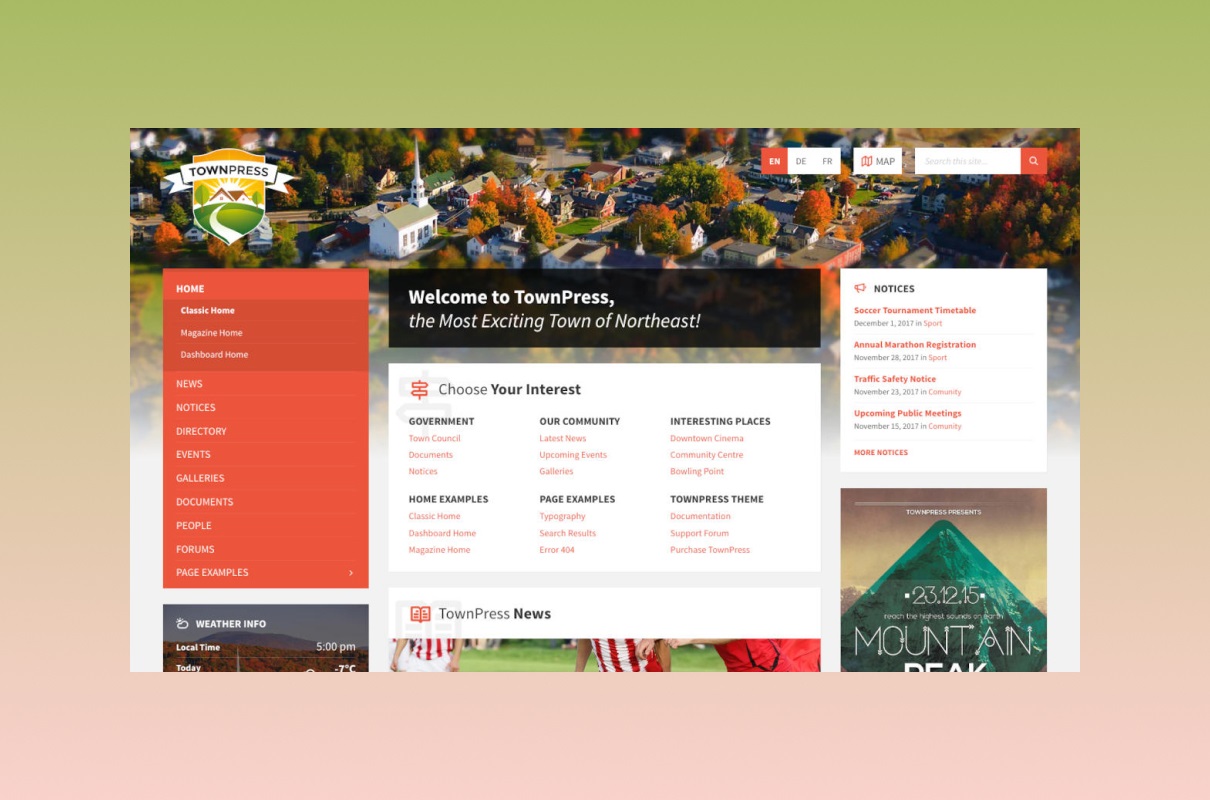 Suppose you want a colorful, modern, premium municipal and government theme. You are lucky because TownPress WordPress Theme provides excellent value for your money. This is mainly useful for websites for municipalities, parishes, towns, cities, government departments of cities, and others related to this.
With this template, you may use powerful tools to create a complete picture of your city because we all want more tourists and visitors. For this reason, they should know as much about it as possible. Moreover, this incredible item has many niche-specific features that will give essential information, such as local weather widgets, listing directories, upcoming events, town documents, and galleries. Thanks to the responsive design, tourists can immediately search for fascinating information about the attractions in your city while on the go — all available right at their fingertips.
Does the Municipality Need to Have a Website?
Nowadays, it is crucial to have a good website to keep its residents informed of local events and news about the city, town, or county. Despite the extreme importance of a website in today's world, too many municipalities still need an online presence. And for good reason, because people use the Internet every day. The younger generation, and even some of the older generation, expect their local government to have one.
Here are a few reasons why you should have one:
Your city and its attractions can be seen and explored anywhere.
Residents stay up-to-date on all news, announcements, and events.
With its help, you make it possible to conduct surveys effectively.
Residents may ask a question or leave an application, which greatly reduces the burden on the authorities and saves citizens time in queues.
Main Features
This theme is super flexible and makes working with all kinds of content seamless. Plus, there are tons of pre-built post types to choose from! So users will always get the most up-to-date information. So users will always be up-to-date with the latest news.
Let's take a look at what is included:
Directory — This is a perfect solution for displaying a directory of your municipality's businesses with all the necessary reference information, allowing visitors to discover insights into all the local businesses they are interested in.
Documents — It allows users to view various information, such as your contracts, city reports, funding, community development, etc. You may upload them to your WordPress installation or share them as external links.
Events — This excellent system helps you easily and quickly plan city events with accurate location, date, and time details.
Galleries — If you want to showcase your town's most incredible spots, landmarks, and buildings, using stunning photo galleries is the perfect way.
News — Keeping your municipality citizens, visitors, and members of the public well-informed is essential, and I am here to assist you with that.
General Features
Features are crucial in the themes you choose. These are the elements that make up the functionality and design of your site. They allow you to customize your store — make it unique to your brand — and enhance the user experience for your customers.
See the list of features offered by Boighor below:
Mobile-friendly design
Nowadays, the smartphone has become an indispensable companion that helps people stay connected, have fun, watch movies, listen to songs, and get things done — even when they are on the go.
While creating completely new pages, this feature allows you to build them once since the content will be able to resize itself as needed automatically and feels at home on any device — whether smartphone, tablet, or desktop.
Search Engine Optimization
TownPress makes your pages more relevant to users and thus more likely to rank highly with Google and other search engines, which allows the site to rank highly in search results.
Here are a few tips on how to get your website higher:
One of the most important things is making sure your website's content is presented in an organized way. Putting essential information right up front helps visitors to clearly and quickly understand what your site is all about.
Using catchy titles, clear subheadings, relevant tags, and useful descriptions significantly impacts promotion, letting you drive more potential visitors.
Custom color schemes
Easily customize your color scheme by selecting the primary colors through the admin panel with just a few clicks.
RTL support
It is important to note that some languages are written and read from left to right, and there are a million people who spoke on those languages. For this reason, the author makes it even easier for everyone to use your site by adding an excellent feature to help you connect with even more users.
Major browsers compatibility
The sample is compatible with all web browsers, including Chrome, Safari, Firefox, Opera, and beyond. One thing to keep in mind — for excellent website performance, we recommend utilizing the latest web browsers.
What is WordPress?
Back in the day, if you wanted to create a site, you had to hire a programmer or web developer to do it for you. It could cost hundreds or even thousands of dollars. WordPress has changed all that. Anyone may easily install this free software to build and publish their website. You do not need to know the codes to get your site up and running extremely quickly.
There are several reasons why people prefer WordPress over other tools. Firstly, it is easy to customize the look of your web page. Moreover, it offers almost unlimited customization features, giving you endless possibilities to bring any crazy idea to life. Secondly, users depend on WordPress to create any type of site, which is why it delivers a vast library of professional tools. And if you are new to this, to interact seamlessly with them, there are many tutorials designed to help you learn all about it.
Overall, this is a platform where people may build, manage, and edit without needing coding knowledge. So instead of writing lines of code to start a blog post — all you have to do is click a button.
Design it in New Ways. Design it With Gutenberg.
Thanks to Gutenberg, website creators can now unleash their creativity in new ways. It brings an all-new Block Editor for WordPress that allows users to be more flexible in their creation process. Moreover, Gutenberg delivers a powerful set of tools for seamless editing — everything is available at just a glance on the user-friendly panel. To make it more flexible, you will get blocks that enable you to add images, paraphrases, videos, audio, code, and more.
Gutenberg makes editing more effortless than ever and enables users to interact with content in completely new ways. In addition, for many people who are just getting started and are not familiar with WordPress, follow this link — and you have access to the detailed guide, which covers all basics of using it.
Support
When you buy TownPress, you can access all the latest updates and a six-month warranty. Additionally, if you ever come across any issues, please feel free to reach out to the author. To stay in touch — follow this link to the profile page and use the message form.
Detailed Documentation
This guide provides a comprehensive overview of the theme's functionalities and offers simple instructions on how to use them effectively. It is important to note that if you have encountered any particular difficulties, do not hesitate to contact the author for professional help.
Short Video About How to Use Plug-ins
If you are interested in customizing your WordPress template, here is a really helpful video tutorial that gives you step-by-step the process of installing and utilizing plug-ins. So if you want to build your site multifunctional and work the way you want — it is worth checking out.
Project Info
Date:

07.19.2023

Client:

LSVRthemes

Categories:

WordPress

Tags:

Charity, Society