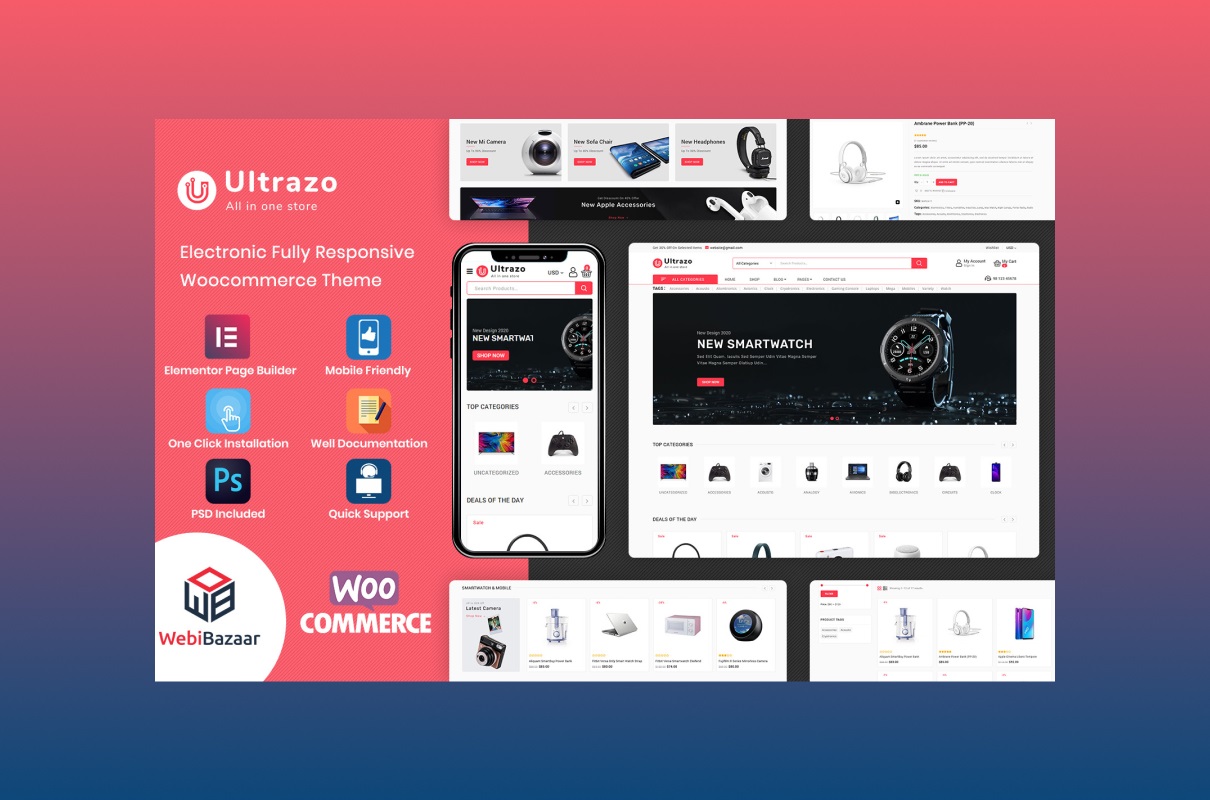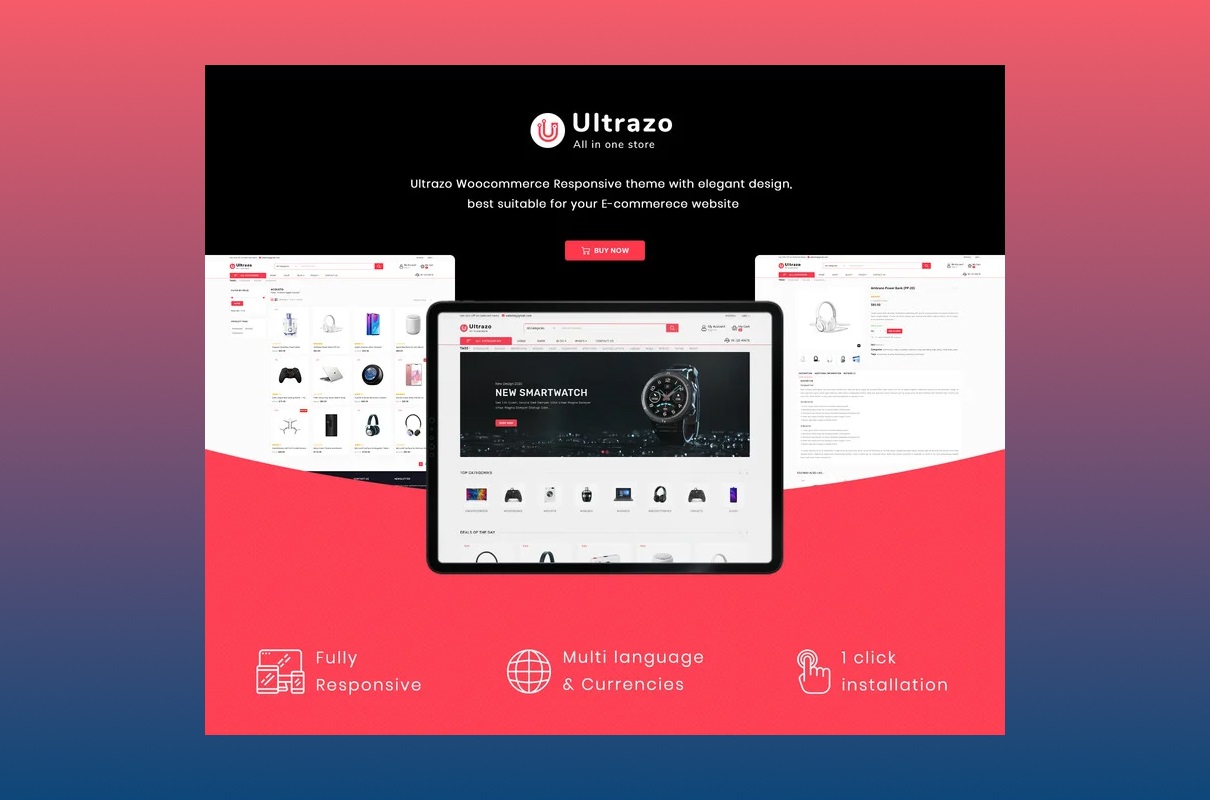 Electronic commerce is constantly developing all over the world. Many entrepreneurs have transformed their businesses from offline to online. Because it is very convenient, it saves time and money. The model is useful for anyone, especially if you sell electronics such as mobile phones, laptops, computers, drones, cameras, and headphones. You also have a chance to sell modern home merchandise, furniture, or household appliances. Of course, you can make a site for something else. That makes Ultrazo cool. It is versatile and equipped with a large number of functions. It is a mega menu, contact form 7, ajax wishlist, ajax cart, ajax Quickview, newsletter, countdown goods, modern design, different blogs, support forms, testimonials, etc.
With drag-and-drop functionality, editing your project is nothing but fun. Importing the demo version takes only a few minutes. Navigation is an important option for any site. With the help of an intuitive design and a search line, your visitor may easily find any product. Then they complete the purchase without any extra effort. And you get all this without any coding. Make sure we offer you the best for yourself.
Key Advantages of Ultrazo WordPress Theme
With our offer, you get a huge gift box in the form of characteristics. Features are the main elements of any site. Not only do you benefit, but so do your customers.
Awesome admin panel
Thanks to this, you create a unique, high-quality product. You organize information panels and customize sections' appearance, layouts, placement of diverse elements, etc. If you don't like the default look of the board, you might change it. Make the backend view according to your taste. You can choose a skin for the header:
info;
light;
primary;
dark;
warning;
success;
danger;
alert.
Change the look of any elements, widgets, or layouts. Operate validators to build forms. In the case of Ultrazo, you add an e-commerce section. After that, the dashboard becomes more accessible. Customize UI settings such as typography, animations, buttons, portlets, progress bars, etc. It is much better to work with a beautiful panel. People are emotional beings, so they often purchase because of this characteristic. Not only the template itself should look perfect. If the board looks like a million dollars, it is much more difficult for a person to abandon the purchase. The internal visualization, which is clear and intuitive, assists you in organizing the process of changes quickly. It is important always to analyze the completed work. Therefore, you may access analytical data and statistics (general and for a specific person).
Everything you need for your online store is there
Sell merchandise with pleasure. First, divide the categories to improve navigation on the site. The basket must be. It is a place where there are goods that customers want to buy. This way, buyers check the selected product and learn about the total price. You have two options for designing the shopping cart as a pop-up and a separate page. The pop-up basket is most often used. This way, the number of actions required to obtain a result is reduced. For example, a separate page is necessary when simultaneously taking many goods. Then before making the payment, the customers ought to check the contents of the shopping cart. It is also essential when you have expensive merchandise. Then the possibility of a quick purchase decreases. When you have a separate page, you might utilize the cross-sell block. In this way, you can recommend related goods and increase your income.
You have the possibility to insert carousels. That helps people explore more of the range. Grids allow you to find what you require faster. With our template, the buyer only needs to point to the product, and they will instantly learn more detailed information. Well, of course, a quick review. So the customer buys the item for a small number of actions. That saves him time.
ElementsKit Elementor addons
Since Ultrazo comes with Elementor Page Builder, you use ElementsKit. It is a cool addon with many modules:
Mega Menu;
Layout Library;
Header Footer Builder, etc.
In addition, ElementsKit is equipped with more than 40 widgets (Team member, Pricing table, Accordion, tab, Countdown Timer, testimonial, etc.). All these are your secret weapons for creating a real miracle in web design. Image Picker allows you to take new photos with the camera and insert images from the library. Incredibly flexible Ajax Select2 provides a selection box with support for search, infinite scrolling, adding tags, and other operations. Operate different layouts. You have variations of home pages. Attention, there are more than 400 ready-to-use sections. You insert it into your web resource with one click on the icon. It's just magic! If you require blocks, the team has developed 250 pieces for you. Why waste time building a website from scratch? Select a design from the library.
The basis of the Elements Kit is modular. You can turn certain components on and off in your settings panel. That allows you to prevent your website from being overloaded with extra JS or CSS. It is how you get a fast website. A library of exclusive and ready-to-use blocks and layouts helps save your valuable time. Any view for your page is available to you. Showcase your accounts on social networks such as Twitter, Facebook, Linkedin, and Instagram. That's how you increase your status. In addition, when people share your content, it allows you to grow your audience.
Best widgets ever
All widgets are fully customizable. Let us tell you about some of them in more detail.
Heading. Just like a book, a website is judged by its title. Create a fantastic Heading Title, Heading description, and Heading subtitles. We offer you a cool widget with various designs (background color text, background image, gradient subheading style, a blue header, the top subheading, and separator style).
Button. Every web resource needs knobs. You have access to the amazing. Change their text and color and attach animation effects. Build call-to-action buttons. If you're selling something online, it's a must to have a CTA. This Elementor button addon lets you choose different styles. There are special knobs for lists, WordPress and WooCommerce, videos, links in the form of an Elementor box, etc. Also, add a cool add-to-cart button in gradient style.
Accordion. To save space on the web resource, you require this option. This way, you display your posts in a condensed form. The accordion can be a solid color, shadow box, FAQ, floating camera, etc.
Team. Show off all your team members. Specify their data: names, surnames, biography, position, and accounts in social networks. You may create a separate window for each of them. Don't forget to include an image. When buyers see a team, it instills trust in them. By describing each member, you bring them closer to the buyer. There are diverse styles at your disposal: shadow, gradient, a round or long image, and others.
Tab. Customize the tabs as you like. Display them horizontally or vertically. Select the best style for you. You might make fill of any color and add a vertical gradient or animation. It is not an exhaustive list.
Top NFT Templates This Year
The whole world is talking about NFTs these days. Interest in this is constantly increasing. It is a new market that brings considerable profit. If you want a place specifically for NFT, we suggest you look at the best samples.
Project Info
Date:

09.22.2022

Client:

WEBIBAZAAR

Categories:

WordPress

Tags:

Computers