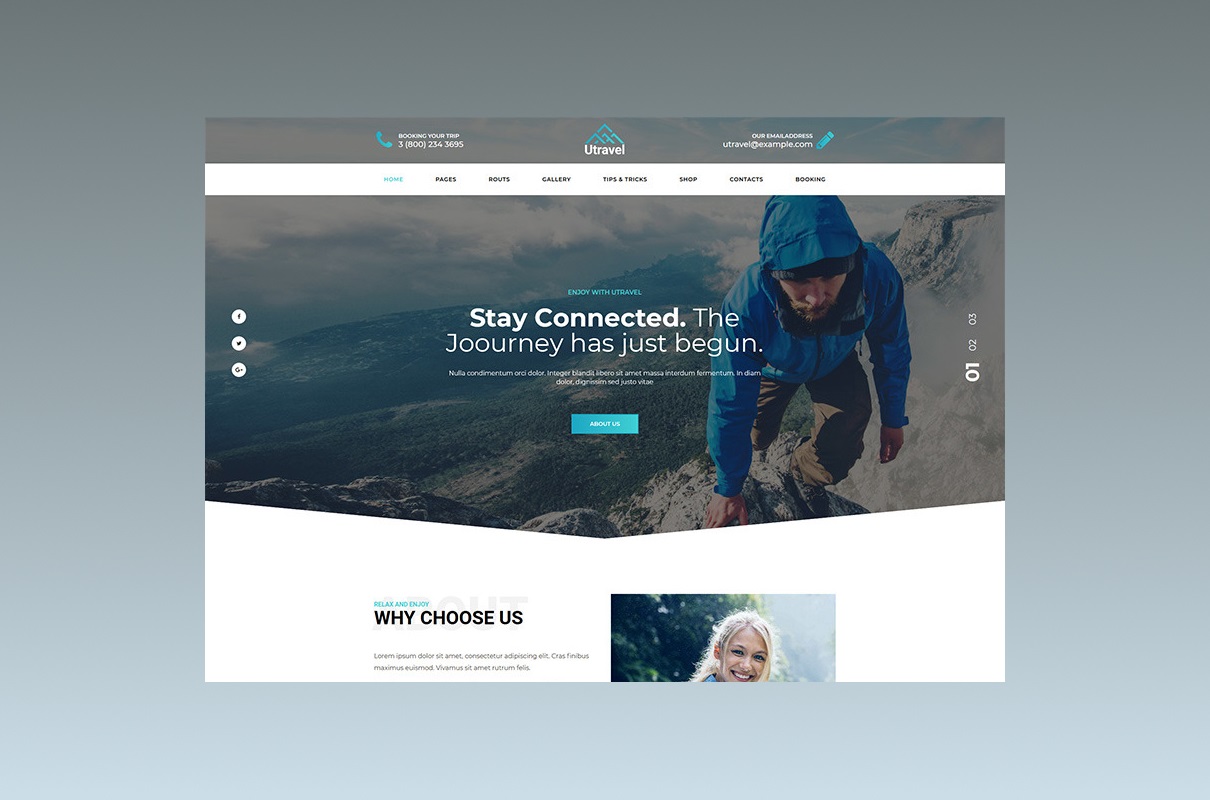 Nowadays, it is very essential to be visually appealing. TemplateMonster presents the multi-functional Utravel WordPress theme, allowing you to fulfill your dreams in web design's area. So this powerful ready-made template for creating websites related to many outdoor activities, including hiking clubs, backpacking, camping, travel agency, and more. So, these days you no longer have to go to a web agency and waste your time asking them to create a website for you. When you start using Utravel, you may easily create a website independently with just one click. And what's even more impressive is that you can do it without experience, but it still looks skillful, which plays a key role in creating an eye-catching website.
Get Impressed With the Main Features of the Utravel WordPress Theme
YETITEAM has created a particular Utravel WordPress theme for those involved in outdoor recreation services. This theme has a user-friendly interface and easy-to-use, helping visitors to browse pages more comfortably and stay on your site as long as possible. It also has many useful functions such as a gallery, magazine, booking function, and many others. Being on the top is essential, so the Utravel WordPress theme offers SEO-friendly pages, allowing you to rank high on search engines and attract as many customers as possible. Site customization options are also available, thanks to which you can change carousels, fonts, colors, sliders, blocks, etc.
Utravel allows you to build a unique and universal website employing many powerful and multi-functional tools. In addition, the author has designed a product that meets all modern requirements, so there is no reason to worry that you will not get a really stylish and user-friendly website. Creating a website has never been more effortless and enjoyable, while the process has taken on new colors. So, let's dive deeper and explore some of the features that Utravel has included.
Responsive For All Devices
The web has evolved to the point where there are no excuses anymore. Your website needs to look great and work well on all devices. Thus, responsiveness is an essential feature of a website theme. The evolution of mobile and many other devices is continuing, so it doesn't matter if you use a mobile phone, tablet, or desktop computer. The Utravel WordPress theme looks great on any platform!
Perfect Performance Optimization
The highly optimized Utravel WordPress theme package offers multiple essential effects for comfortable use, such as smooth site scrolling, fast button response, fluid slide animation, and quick page loading. As a result of all these advantages, your website will be much more comfortable and easier to navigate.
SEO-friendly Pages
If your pages are well-optimized for search engines, you always appear at the top of Google search results. For this reason, the Utravel WordPress theme has SEO-friendly pages ready to go. Moreover, you can add well-crafted tags that also have a positive effect on the promotion of your site at the top of the search results.
Dropdown Menu
With a drop-down menu or submenu on your site, visitors may see more menu items if they hover over it or click on it. Due to this great feature, you can add an unlimited number of additional items to your website, and keep it looking clean and professional, which is extremely important.
Built-in Social Media
This feature allows you to reflect your social networks on the site. So this allows your users to discover more close about your workflow or current news. In addition, having a social media account can help you acquire new and unique clients since, nowadays, most people learn about us and our products through social media.
Necessary Plugins That Will Boost the Performance of Your Site
Almost any type of website can be created by plugins, from e-commerce stores to portfolios and directories. With their assistance, you may build a great slider, add animation to any element, enhance the contact form, and much more. In other words, you are free to add new or expand existing features to your website. WordPress has a massive plugin library, helping you to make your website more functional and easy to use. Follow this link to get lots of extensive collection of WordPress plugins. In addition, below, you will see several plugins that will significantly help expand the functionality and accelerate the creation of beautiful and outstanding pages.
Elementor Website Builder
Elementor is the market-leading website builder for WordPress, allowing website builders to create professional and exciting sites with this powerful builder in just a few clicks. Due to this excellent page builder, you don't need to know HTML, CSS, or JavaScript to create beautiful websites. For example, you can change headers, footers, buttons, menus, and more. What's more, you can customize every element of your site in real-time with the built-in drag-and-drop editor, allowing you to edit and create pages while seeing exactly how they will look. In addition, Elementor has more than 100 widgets, an intuitive admin panel for any level of user, and many features, that help you build the website of your dreams.
Yoast SEO
The key to ranking highly in search engines is to beat your competitors. You can reach that goal if your website is faster, more powerful, and better than those with similar outdoor activities. Thus, this plugin will help you achieve better SEO optimization, allowing you to get better positions in search results. Please follow this link if you want to get this plugin.
Google Map
Google map plugin allows visitors to locate your facility on a map, regardless of whether it is a branch, store, office, or anything else you want them to find.
Magnificent Pages are the Best Way to Grab Visitors' Attention
An eye-catching design and user-friendly interface are essential to attracting and retaining customers today since the visual aspect of your site plays a huge role. The perfect, clean, and airy design inspired us and grabbed our attention. In other words, if your visitors are satisfied with your site, they will likely spend more time studying it. You have access to various features and plugins provided by the theme's author, which will enable you to enhance the design and functionality of your site and make it even more vibrant and appealing.
Practical and Comprehensive Documentation
The extended documentation will be sent directly to your email address after you purchase the Utravel WordPress theme. In it, you will find everything you need to install, configure and use the template and many other practical answers. However, if you have some questions or issues, you can reach the theme's author for more details if you need them.
Qualified Support From the Author
If you have any questions about this theme or have difficulties using it, setting it up, or installing it, do not hesitate to report it. In such matters, the author is always ready to assist, and you can be sure that you will receive qualified and necessary help as soon as possible.
Valuable Video Tutorial How to Use WordPress Plugins
The Utravel WordPress theme includes many elements and features, but one of the most significant is plugins. They make it easier for you to build and modify your site. The goal of this video is to show you how to use plugins effectively and comprehend what they allow you to do.
Project Info
Date:

12.29.2022

Client:

YETITEAM

Categories:

WordPress

Tags:

Sport, Travel