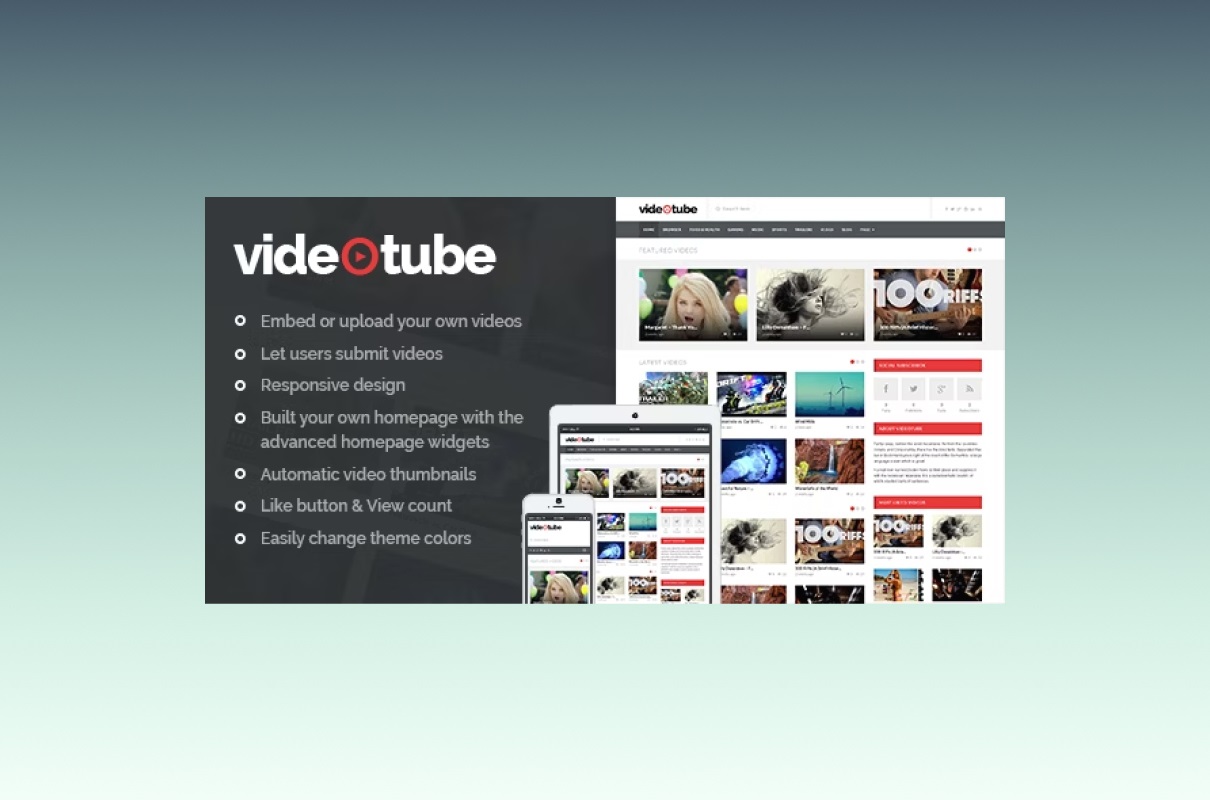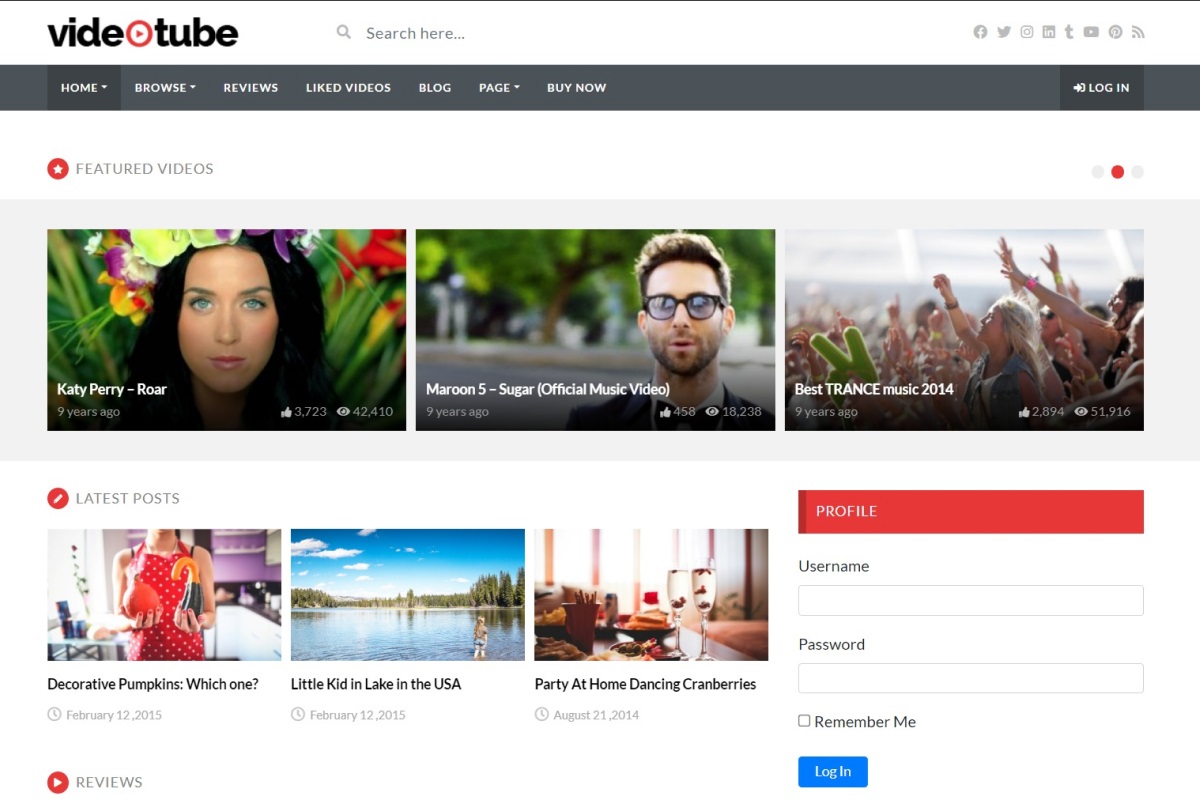 Videotube is one of the high-rating themes in the market. It has a clean, good-looking, and modern layout, while its retina-ready and super responsiveness makes it perfect for all kinds of devices. In addition, due to one remarkable quality, it stands out from the rest — it's capable of embedding videos from YouTube, Vimeo, Dailymotion, Hulu, Facebook, Twitter, and Streamable. What's even more surprisingly impressive is it lets visitors share their favorite ones on social media, which makes it indisputably the best theme.
Videotube is a highly customizable template packed with many necessary features to provide an unbelievable user experience while watching your favorite videos. The notable feature is that it has a self-made video player. When a visitor scrolls down, the player is pinned at the bottom right side of the page. So it allows viewers to scroll down and, at the same time, watch the video. A big part of this template is a fantastic visual composer WPBakery. Now, creating or editing is extremely easy.
Take Your Appearance and Functionality to the Next Level
The phpface offers some incredible additions, letting you unleash your creativity and attract visitors with a strikingly elegant design. Let's start with an overview of what you get. With the VideoTube, every user has a Color Scheme that may change the appearance. From the admin panel user can switch the colors. It comes in seven gorgeous colors: Default, Orange, Splash Orange, Splash Red, Wood, Green, and a great shade of Blue.
One of the best things to stay out of the crowd is to have a unique design. You'll get out-of-the-box 10+ Hompages templates in many different variations — from Left and Right Sidebar to Fullwidth three, four, and even six Columns, and much more. This gives you an easy way to stay unique without building something from scratch — all skins you'll be able to choose via the dashboard.
Also, it comes with 13 widgets packed with many powerful options, each of which allows you to add more functionality to your site. This lets you pick the right widgets to meet your requirements. For example, visitors see recent or popular videos and other valuable features that attract a potential audience.
Top VideoTube Features
Search Engine Optimization
SEO is how you set up your site to be more likely on that number one page. You are in luck because the template is designed to be SEO-friendly. The author's primary goal is to make all pages appear higher in search results, whether it is Google, Bing, and Yahoo. Thanks to this, search engines way better index pages and raise them at the top of search results — helping people find your video portal without spending a lot of time browsing.
Responsive Design
People get so much done with their smartphones: capturing the essential moments, gaming, calling and texting, listening to music, and watching favorite videos. However, they can switch devices throughout the day, and having a website that adapts to various screens makes visitors' experiences more approachable and helps them watch across all devices. Thanks to the VideoTube — pages will be able to automatically adapt to screen changes while displaying the same content as perfectly as it should.
Major Browsers Compatibility
The author is mindful of all users as iOS and Windows users. The template is designed to be compatible with all web browsers, including Safari, Chrome, Firefox, Opera, and more. However, if you experience lousy site performance, please ensure you have the latest version of the browser running on your device.
Fully Customizable
It means that the template is very convenient to customize, mainly when you utilize a WPBakery, which includes many powerful tools and add-ons, and they all are intuitive to use. It's easy to build custom layouts or customize existing ones effortfully. This is a fantastic solution for those who don't have coding knowledge yet have access to the remarkable technology, allowing build and customize by dragging and dropping.
Translation Ready
English is the most commonly used language among most people. But there are many countries with different nationalities and regions where other languages are used. Therefore, it's essential to remember this and ensure visitors freely select the language they want. This feature provides you with a vast assortment of languages.
Dropdown Menu
The Drop-down Menu is a perfect tool for organizing titles and items in the main site menu. This type of organization makes it easier for visitors to navigate, quickly find what they're looking for and makes the visual appearance look 100% better and professional. Now you may effortlessly build an incredibly dynamic Multi-level Menu that looks amazing on both desktop and mobile devices.
Custom Logo
The author has already created a logo, but an individual logo is necessary for rebranding because it's the virtual face. In that case, this sample provides tools in order to help you design your logo in a short amount of time.
Build WordPress Website. Build With WPbakery.
WPBakery is a fantastic tool that will exceed all your expectations. It delivers powerful tools, professional features, add-ons, and more. Thanks to those many advantages — you have complete freedom in building a website. So you'll be capable of customizing or editing content in fun new ways. There are a couple of industry-leading features: drag-and-drop and live editing.
With those two features, you can easily create any site — from a blog to multipage sites just a few clicks! You don't have to do anything — drag and drop content elements to the place you want them to be without using a grid — and they automatically adjust. As WPBakery is a visual editor, you can see how the site is visually changing on the fly while you're editing sections. To see how it looks on a smartphone, you may simply switch to mobile and make changes for that as well. Now editing process is a cut above.
Plus, you may not always want to create from scratch utilizing blocks; sometimes, you want something that's already been pre-built for you. It includes an incredible templates library, letting you customize professionally designed templates and quickly bring a unique and eye-catching appearance in minutes.
Get the pro page builder for free that lets you edit templates as easily as a professional developer — everything can be done without writing any lines of code. Are you looking to create your website? Look no further than WPBakery!
The Author is Always Here to Support
After purchasing an item, it comes with plug-ins, features, and the latest updates. But that's not everything! It offers up to a six-month warranty. All of these benefits are combined into a single price. The warranty covers any problems you might experience during use. The author is always here for you to help anytime.
Detailed Documentation
The documentation is very useful for beginners by providing everything you need about installation and use. But can become more necessary for those who want to explore more complex aspects, such as the theme's functionalities or capabilities. If you have questions at all, feel free to let the author know.
Short Video About How to Utilize WPbakery
This video tutorial covers all the basics of the visual composer and provides the most effective ways that allow you to use it confidently in just a few minutes.
Project Info
Date:

07.19.2023

Client:

phpface

Categories:

WordPress

Tags:

Video