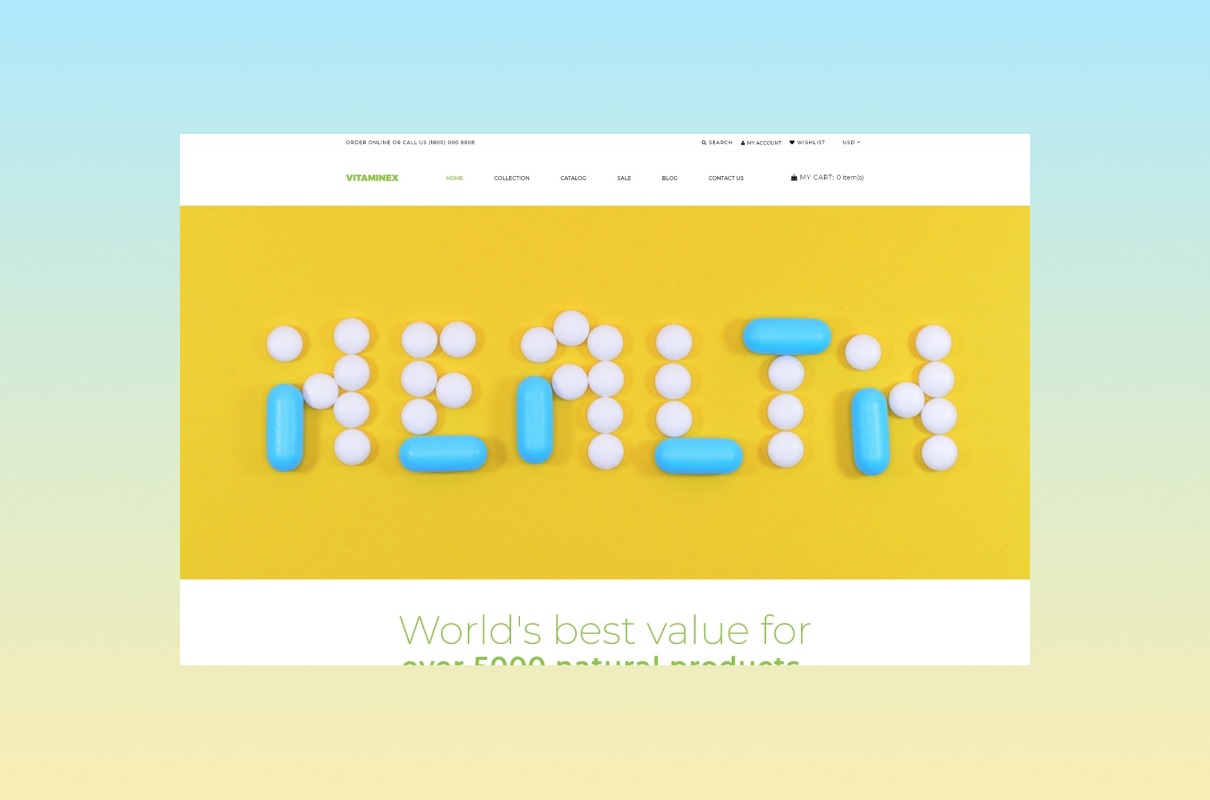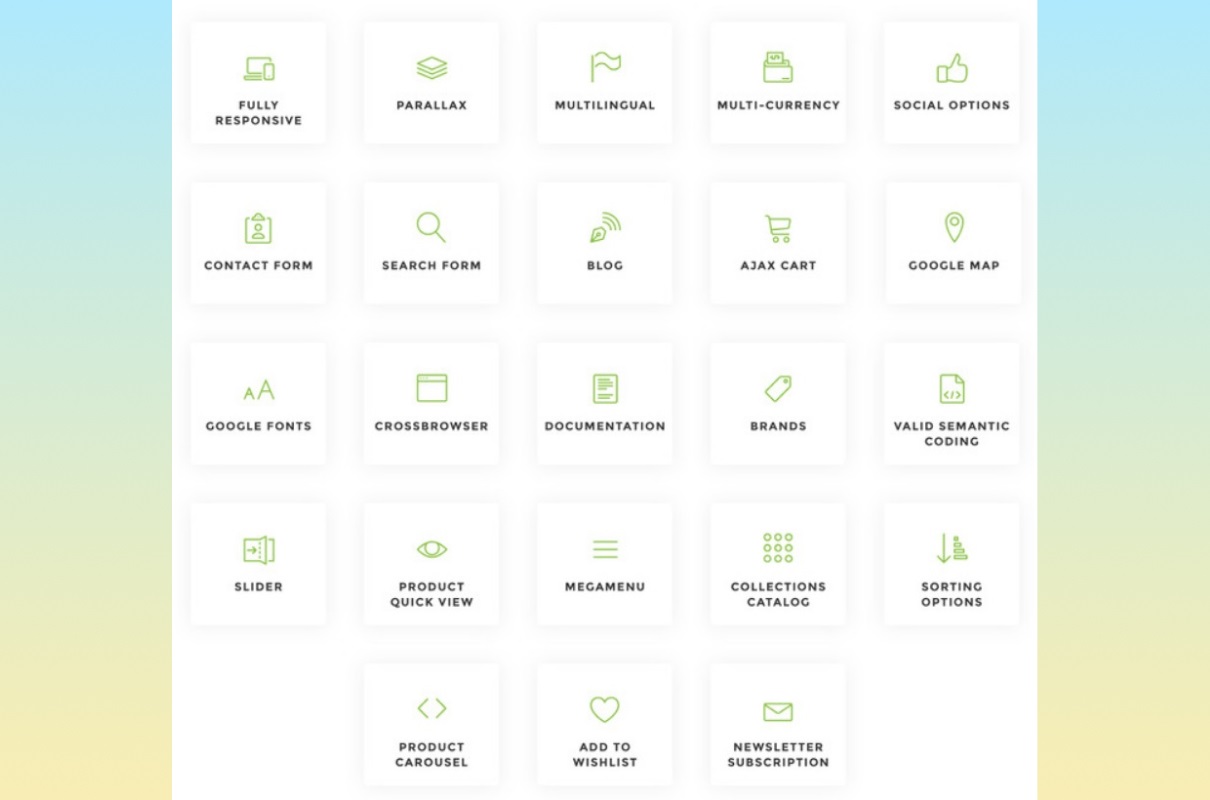 There's a huge opportunity to grow an e-commerce business for all sorts of products. When it comes to creating your own site — ready-made templates are the best solution, especially if you're on a tighter budget. And Vitaminex, it's a great choice for selling nutritional supplements, beauty and healthcare items, drugs, and anything related to health.
People usually at least pick a few hours out of one day to focus on themselves. They try to create more balanced meals and include more fresh foods in their diets. They also care for their bodies, skin, hair, and overall health. This is why there're so many skincare products, supplements, and more that help us improve our lives greatly.
Using this template, you'll find an outlook on the health industry, and you can start making money immediately.
Beautiful, Customizable Template
Vitaminex is a modern template. It brings endless possibilities and has literally everything you need to build a completely brand-new website. With an airy, elegant, and trendy page design, it's possible to attract a lot more new visitors to your drugstore.
It offers a totally professional-looking and 100% responsive set of pages. Moreover, there're a lot of ready-to-go sections, giving you an extensive array of creations, such as:
Gallery;
Banners;
Instagram Feed;
Lookbook Sections;
Map;
Text columns with images;
Countdown;
Blog Articles;
Custom Content;
Featured Products;
Product Column;
Newsletter;
Collection List;
Collection Banners;
Collection Tabs.
With such a variety of sections, you can build the online store that you're going for. Make it unique, informative, and stand out from the crowd.
Take Full Advantage of Vitaminex Shopify Theme
ROCKTHEMES has developed this theme with many possibilities and valuable features to make users feel confident when launching their first website. In addition, it is incredibly flexible and fully customizable, so you will find it easy to work with and create pages precisely the way you want — all in minutes.
Let's get familiar with all advantages that you get right out of the box:
Responsive design
People depend on their phones to help them play games, view media, accomplish any task, and even do the shopping online. This item is designed for all devices. Thanks to this, your text, images, and layouts will be automatically scaled according to any user screen resolution and device, whether it's a smartphone, tablet, or computer.
Scroll to top
This feature lets visitors quickly and smoothly scroll to the top of the site by clicking the button. Once your customers reach the bottom of the site — an "UP" arrow button will appear in the bottom right corner.
Slider
Using the slider, you will be able to add categories in unlimited amounts. It allows you to showcase more products in less space which helps you to save a lot of space and not clutter the page. Plus, this slider allows adding videos, images, and all necessary information, such as price, product name, discounts, short descriptions, or whatever it is.
Quick view
With this feature, visitors can see the necessary info about the product without leaving the page. It's helping you save customers time by letting them quickly analyze whether they need and immediately add it to the cart.
SEO friendly
The author created Vitaminex in such a way as to make it highly rated by search engines. All pages are SEO-friendly. It helps you drive more traffic to your drugstore.
Additionally, you can up your content by adding keywords to satisfy your target audience. Use headlines, subheadings, and titles you think people will be searching for. Well-thought-out words play an essential role in marketing.
Cross-browser
This feature is one of the most important when launching a website. It gives the ability to support multiple web browsers such as Safari, Chrome, Opera, Microsoft Edge, and beyond.
Friendly support
These services can be provided by organizations or individual entrepreneurs and can cover a wide range of issues, including setting up, installing, using, and more. Moreover, with a Vitaminex, you will get up to six months of support from the author in case you run into any issues.
Well Documentation
The author provides thorough documentation to assist you easily and quickly using the Vitaminex. You'll receive an email with a complete step-by-step manual and handy tips as soon as your order arrives.
Got a Dream? Make it with Shopify.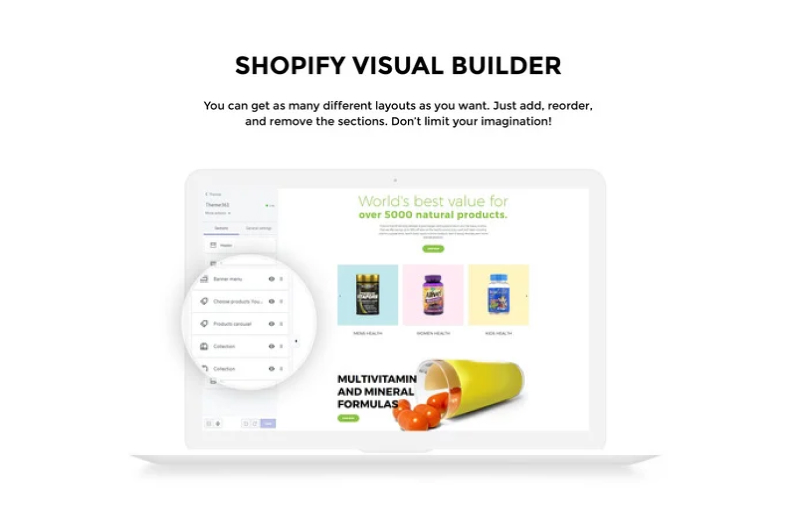 By purchasing this template, you get one of the coolest online store creation platforms available today — Shopify. It's developed to remove barriers, and a great advantage of this platform is it suits absolutely everyone — from inexperienced individual sellers/entrepreneurs to huge chain companies.
With this e-commerce platform, you can quickly and seamlessly bring your online drugstore to life and start selling your products. All configuration is done on the handy admin panel on the left side of your screen, and it's simple to work with right out of the box. All options are available with just a glance. It's really convenient. Of course, like every Shopify user, you will be amazed by the truly remarkable way to customize a template with built-in drag-and-drop technology. Now customizing, editing, or dragging each element is easier than ever. And with Live Time editing, it delivers a powerful and straightforward way to get everything done without touching any line of code. You'll love working this way!
Another part of this platform that helps in launching your online business is managing. It's great for doing all kinds of things, like quickly processing orders, tracking stats, taking orders, payment processing, and much more. And using Marketing Tools, you can sell anywhere. You'll be able to sell on social media like Facebook or Instagram. And, of course, you can list your products on major marketplaces such as Amazon, eBay, and more.
Additionally, it delivers an app that will give users the ability seamlessly get the information they need right when needed. Now you may grow your online business setting at home — and keep an eye on your cash flow while chilling with friends.
Build a Great Website for Better User Experience
There're simple principles behind great websites. In this part of the article, we give you a few practical tips on how to run a user-friendly website. So please keep that in mind.
Images
One of the most important things is to upload images that will attract attention. Because, as you know, buyers can't see your products in person. So you have to ensure that they're professional and sharp. Good images are essential for increasing sales — so add as many photos from different angles as possible.
Easy of use
Don't mess with navigation. It's a powerful tool to get around the website, so make navigation simple and conventional. Think of navigation like elevator buttons. Elevator buttons are always in the same place. Put your menu in the top right or top center of your website. Bayside that, you can be more creative and put it vertically in a left or right-hand sidebar. Make it as easy as possible for visitors to navigate through the website.
Appearance
These days, there're many beautiful and stylish sites out there. So, first of all, people don't read the website — they scan it. Sometimes, people spend just two to five seconds checking it out to decide whether they want to stay or leave. A modern, clean, and stylish design will attract the attention of any visitor and make them explore what you're offering as long as possible.
Comments
The comment section is an incredibly important part of any online store. Comments are an efficient way for shoppers to communicate with each other. With comments, customers provide social proof of how good the product is. It helps other people make decisions, especially when it comes to shopping online.
These tips help you accomplish the goal of making a successful online store on your own. Now visitors may interact with your site intuitively and enjoyably.
Watch This to Get More Familiar with Shopify
This video provides step-by-step guidance on how to set up an online store using the Shopify platform. Some of the key areas that a typical tutorial might cover include:
Creating a Shopify account;
Setting up a theme;
Adding products;
Setting up payment options;
Managing orders;
Managing your store.
Overall, this video aims to provide a comprehensive guide on how to set up and manage an online store.
Project Info
Date:

08.4.2023

Client:

ROCKTHEMES

Categories:

Shopify

Tags:

Medical, Multipage