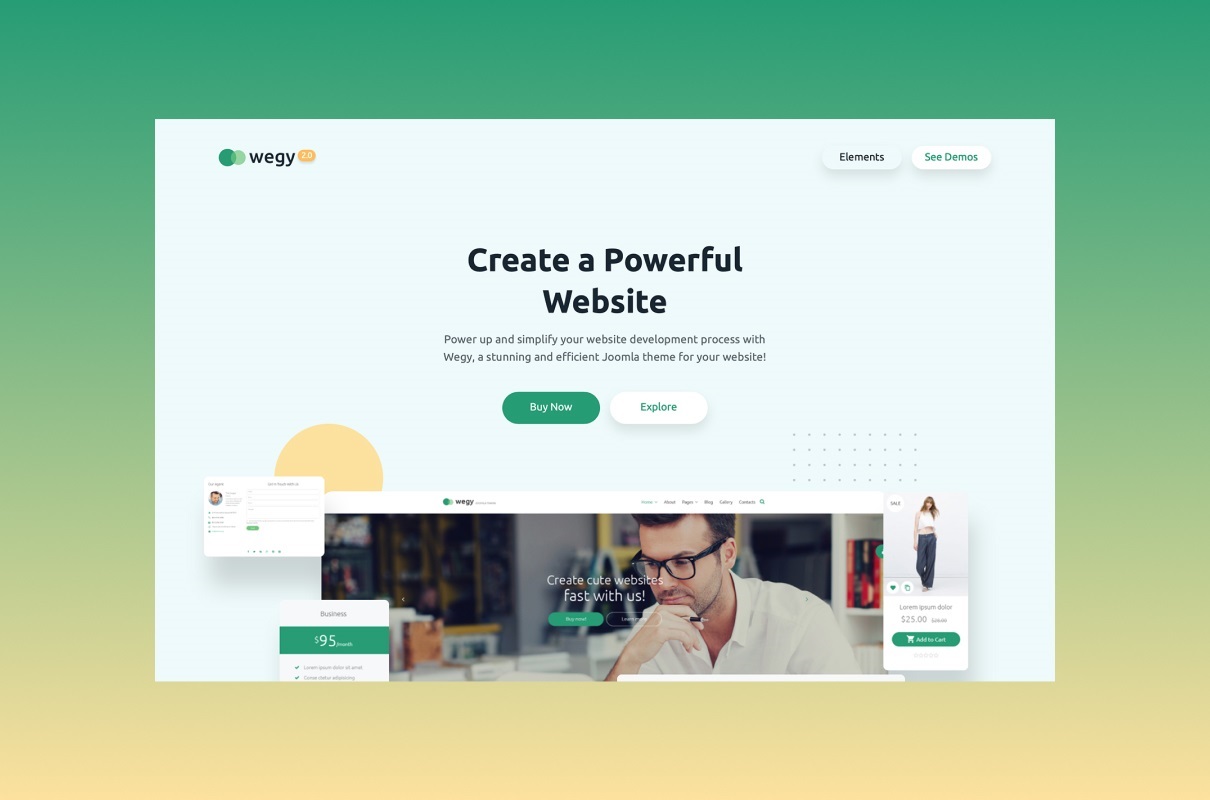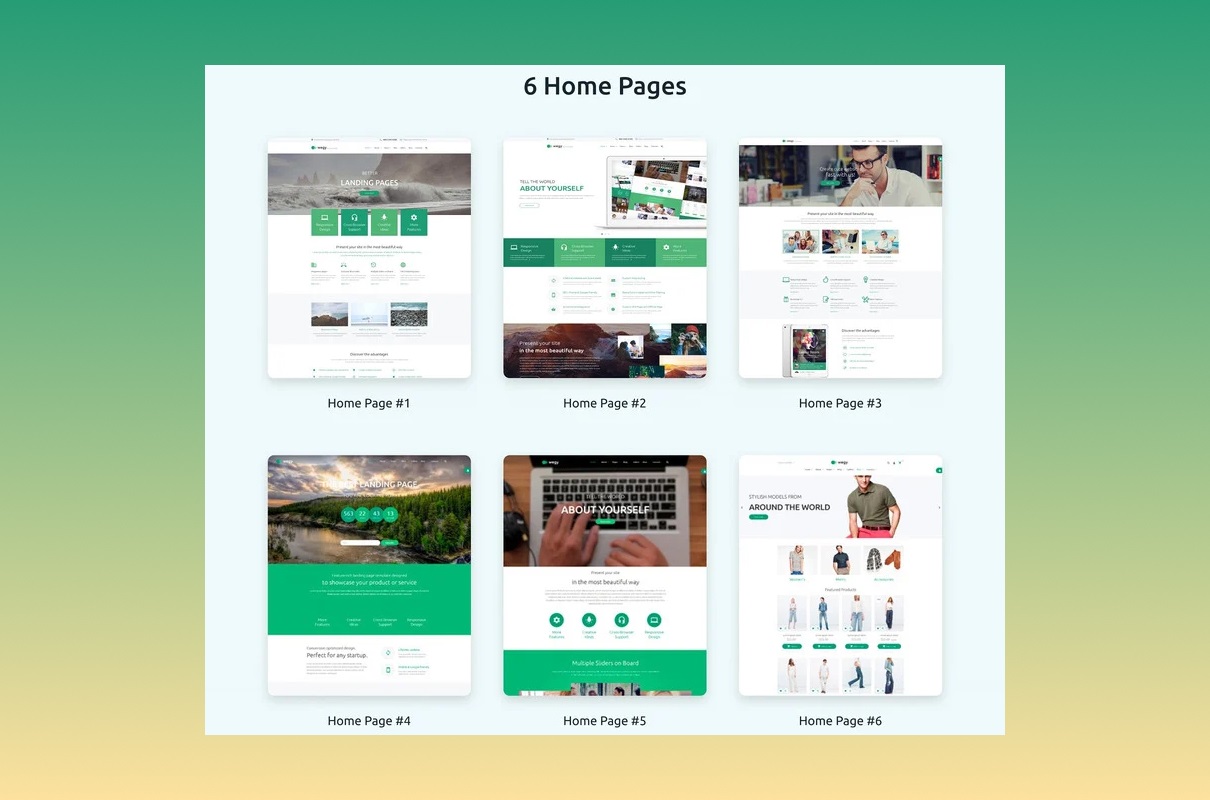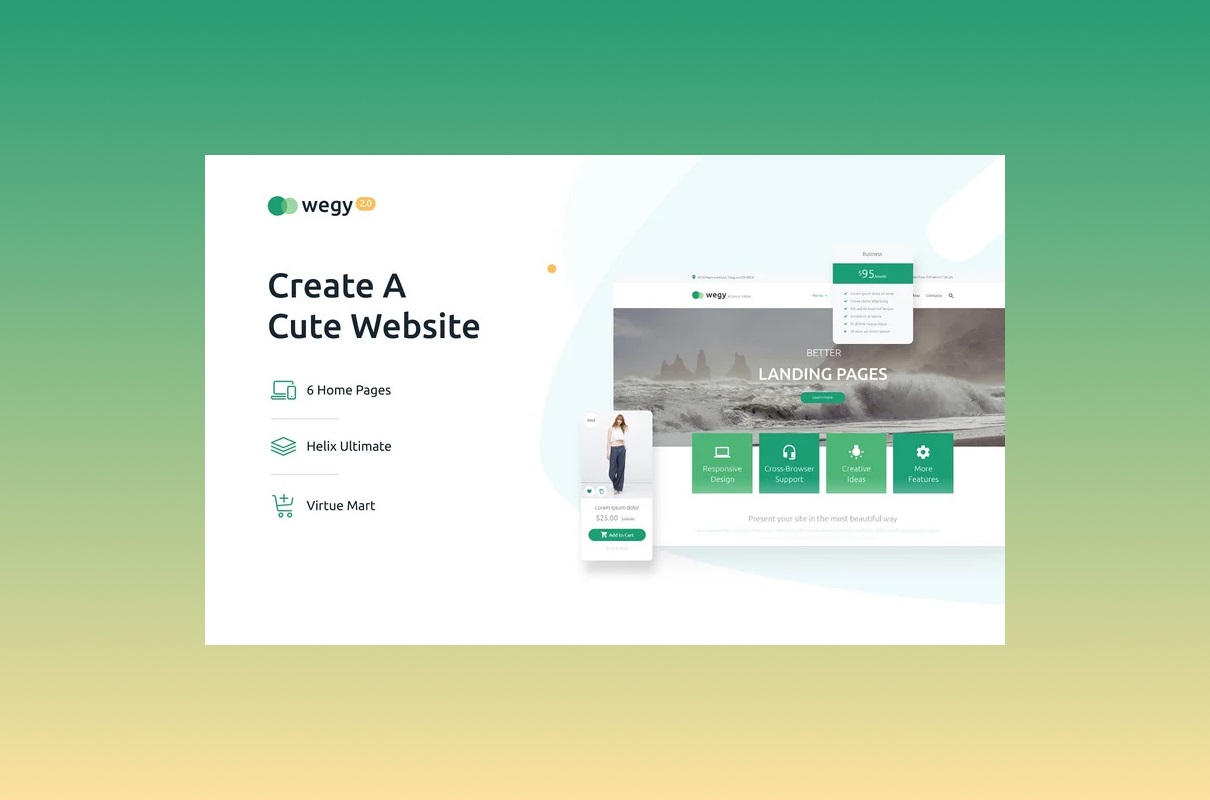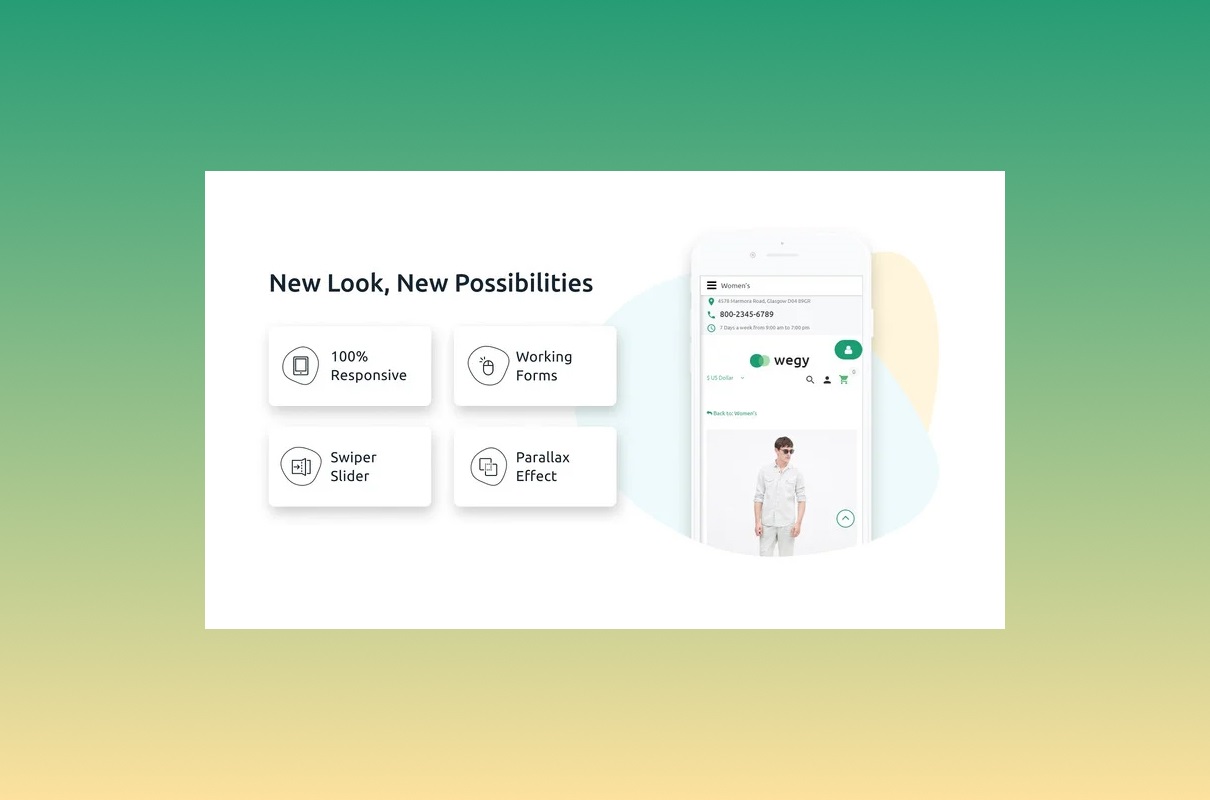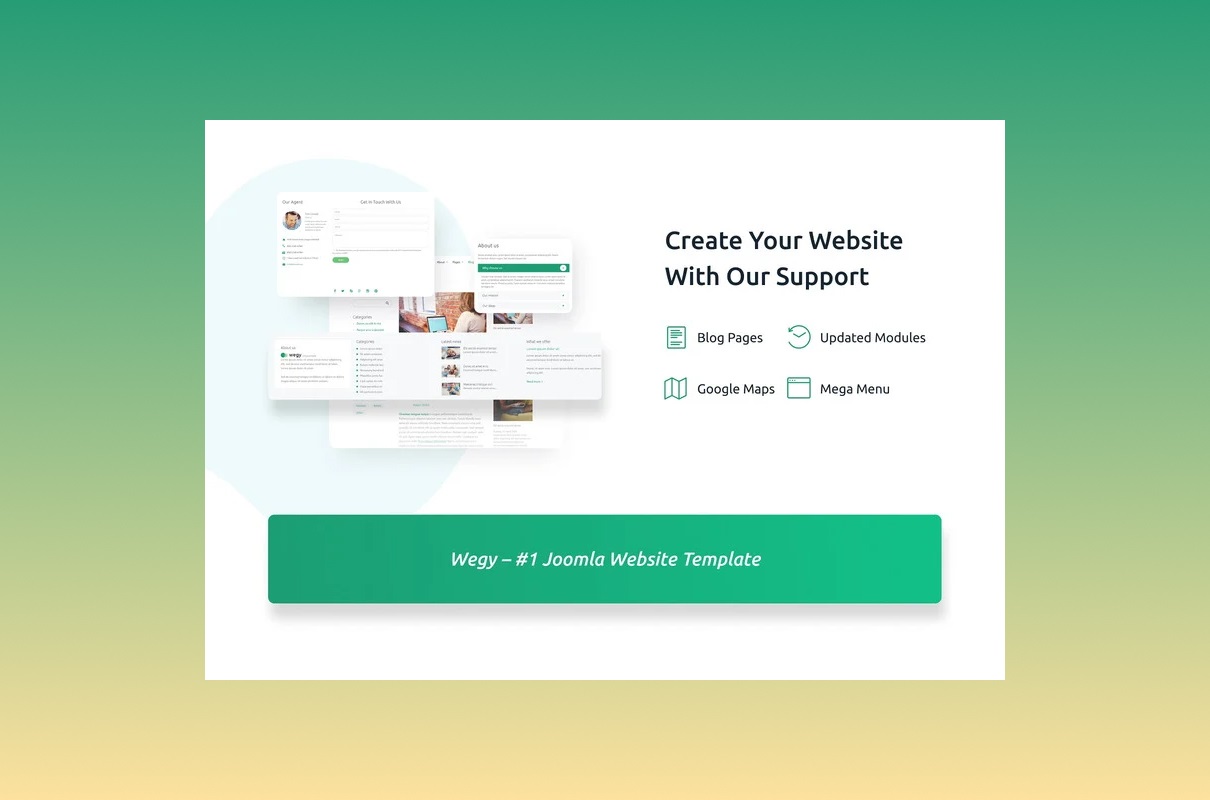 If you are the owner of a small bakery on the corner of two streets, or you have a factory for producing pasta products – in any case, you need a website. People increasingly use search engines such as Google to find goods or services. Therefore, if you want a successful business, present it on the Internet. You have two ways to create an online resource: hire specialists or utilize a template to accomplish everything yourself. The second option saves money because you don't require to hire people. In addition, you do everything yourself; you participate in creating each element. Get to know the Wegy Joomla theme. It is your best friend to produce an online resource that takes your breath away. It is a multi-functional pattern with a cool design, extensive features, and unquestionable customer support.
Key Features of Wegy Joomla Theme
The website performs various tasks such as selling goods, advertising services, disseminating information, supporting customers, etc. All this requires appropriate equipment. At the heart of any layout are its functions. Our Wegy Joomla theme gives you unlimited possibilities.
Perfect Design
The face of your project is its design. It is an important factor affecting the attitude of customers towards you. The design should reflect the company's idea. It would help if you considered individual style. It is a powerful way to attract a regular audience. In this way, you increase the trust of buyers. When developing a web resource design, you must build something special to differentiate yourself from your competitors. Wegy Joomla theme gives you many options with which it is easy to create something incredible. Focus not only on appearance but also on ergonomics. With the help of the mega menu, it is easy to add, change and delete material. Important for any website are:
download speed;
a pleasant appearance that corresponds to trends;
convenient and navigation;
so that all functions are working.
You can add a search bar with which it will be easier for users to find the information they need. This option will help you increase your SEO.
There is a very interesting fact, which everyone should know who fond of web designing. Visitors most often pay attention to the information displayed at the top of the site. Type the keywords there. However, it would help if you did not forget graphic elements since it is difficult for customers to perceive only textual information. So, you should spice up your content with images. Hit everyone with its great navigation. Construct it so that everyone might quickly find what they want.
The site does not have to be confusing. Nobody wants to sweat. Also, an interesting element that we recommend you employ. When a person has already spent some time on your page, he may not know how to return to the main window. We recommend you a standard method of solving the problem. People accomplish this intuitively – after clicking on the logo, they get to the home page.
Home page for every taste
It's the first thing a person sees after clicking on a link. You should seriously think about it. It is the business card of your project, which should make only a positive impression. You're lucky because our staff has already prepared several ready-made options for you. Follow this link and view them. We are sure they will be able to attract everyone's attention. Our team carefully analyzed all possibilities. They made it so that you provide the basic information about your business. Your service becomes desirable with such a beautiful beginning. Keep some tips about it.
Make sure that the colors match the topic of your business. For example, if it is an oceanarium, blue should occupy most of it; if it is a zoo – bright colors; if it is a pharmacy – calm and light.
A huge number of fonts are available to you with Wegy Joomla theme. Forget Times New Roman; pick something more interesting. But don't push it. No need to use many different ones. However, no matter how interesting and cool the font is, it must be readable.
We insist that you add an image to the main page because it is difficult to perceive only letters. It should be only a high-quality, preferably an original picture. Video is also relevant. Film a video presentation or advertisement of your product, etc. Remember, videos take up a lot of space, which can cause your page to load slowly. Therefore, evaluate how successful it is.
Think carefully about where to place this or another material. Try to utilize our ready-made layouts. They were worked on by professionals who know where to put the picture, title, menu, search line, etc.
Smart site creation with Helix Ultimate
You develop your Wegy Joomla theme with this designer without a single line of code. Programming skills are not required; you skillfully get a cool result. You may construct absolutely any layout you like. Then you drag and drop it where you want. You save your time with Helix Ultimate. The menu occupies a particular place in this constructor. View different options in real-time. The live interface lets you customize any layout. Special menu items have been highlighted with icons.
This powerful builder helps you add a mega menu. Think about how to establish a hierarchy. We know it's easy to accomplish, especially with the drag-and-drop feature. Your project looks esthetic with Helix Ultimate. You have access to any detail. You feel like a true boss here. CSS/JS/SCSS files are easy to attach to the project. Add a custom code after the body tag, and you'll improve your website.
Bootstrap – unlimited tools
You have a lot of open-source tools at your disposal. It has a modular structure. The main tools are grids, templates, typography, multimedia, tables, navigation, forms, icon font, and notifications. That is all you require to assemble a website. This CSS/HTML framework is fast and scalable and may be used for any content management system Prestashop, OpenCart, Bitrix, Magento, Joomla, WordPress, etc. In Bootstrap, you have the opportunity to edit the already changed components. Format headings, quotes, paragraphs, subheadings, etc. Create notifications in four standard formats (warning, hint, success, and error). Bootstrap pays special attention to navigation because it matters. Side and main menu, page-by-page navigation, and more at the highest level.
Joomla! The Best Platform That Expands The Possibilities of The Website Owner
To organize a site, the first thing to accomplish is to choose software. There are hundreds of CMS available. The solution is important because it helps to make your job easier. You edit all material without the involvement of third-party specialists. Development of an online resource on CMS takes significantly less time. In addition, it is cheaper. Finding specialists is sometimes very difficult. The assistance of professionals is usually expensive. If you are creating a site yourself and don't have a professional team, this content management system is what you need. If we compare it with WordPress, the first one is recommended for beginners. The interface of this platform is very simple and flexible. The platform helps to produce any resources: with an extensive system, one-page, or large online stores. Let's take a look at the benefits:
Filtering during the search. Sort various information, for example, by popularity, relevance, or publication date.
Media manager that lets you manage materials. You might see customers' reactions to your posts if you install an additional extension.
Registration according to category. There are several categories, each of which has corresponding rules (what can be edited, for example).
Setting up a multi-level menu doesn't require too much effort. A drop-down list with any number of tabs is also available.
Blocks on different topics: blog, advertising, a feedback window, etc.
It is not the whole list of advantages of this platform. It's amazing every time.
Joomla Templates From TemplateMonster Video
After reviewing some of the benefits of this content management system, you are interested. Browse samples from TemplateMonster now. It's an incredible service with beautiful, flexible, and convenient layouts. When you visit their website, you enter a real wonderland. Make sure of this yourself. This video shows some of their work.
Project Info
Date:

11.16.2022

Client:

ROCKTHEMES

Categories:

Joomla

Tags:

Business