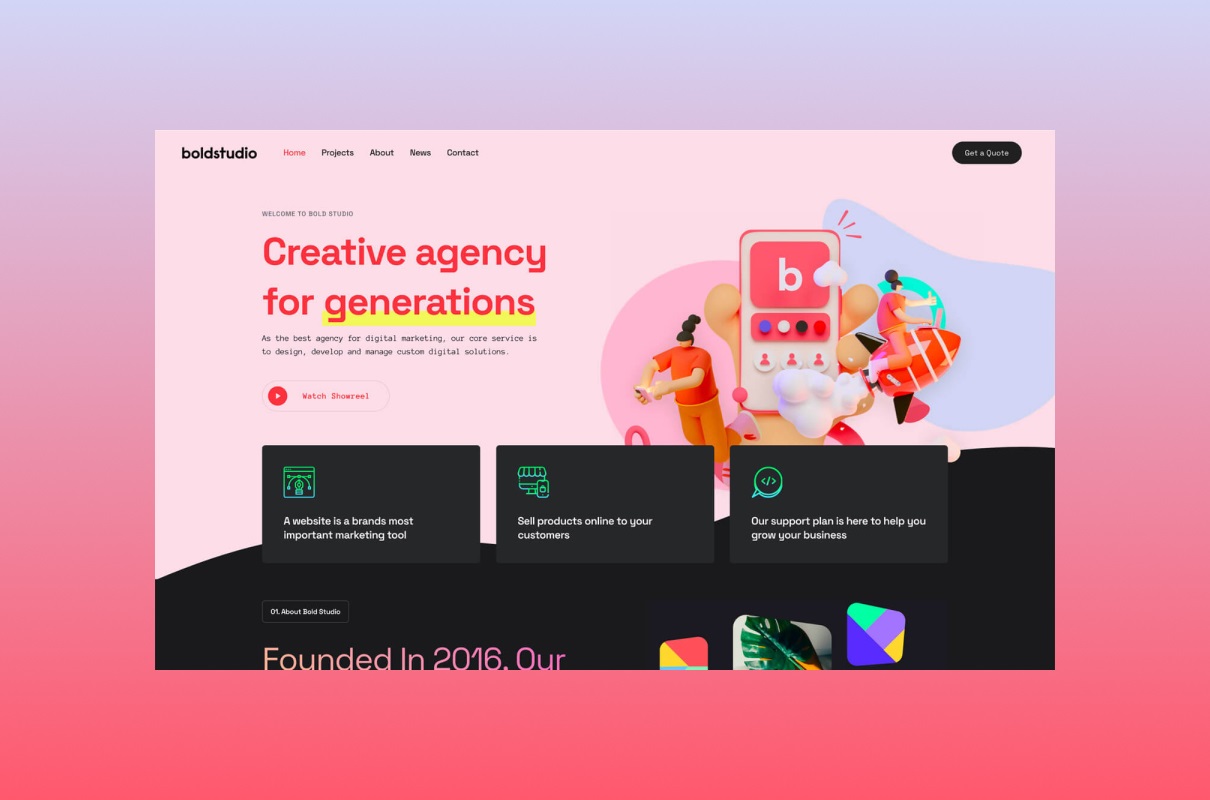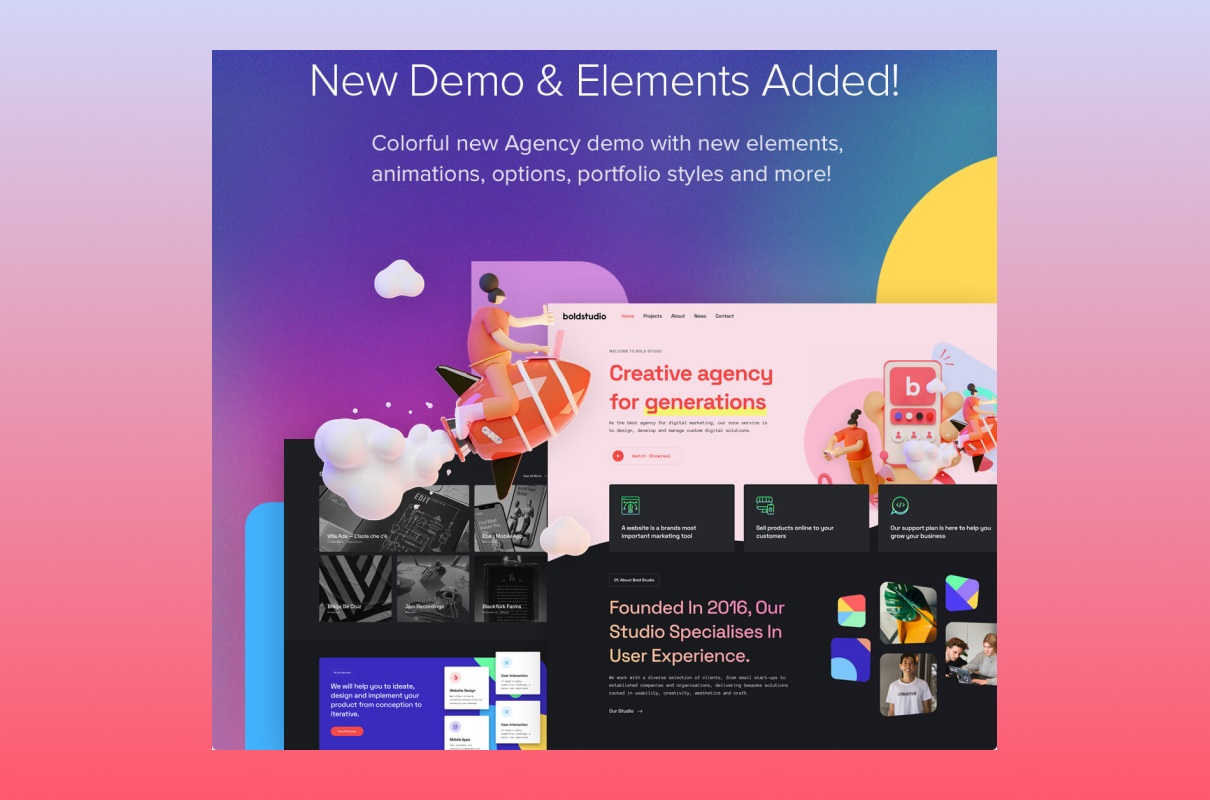 If you are a person who is close to art, knows how to think creatively, and earns thanks to it, you need a website. Many companies or individuals create websites to sell goods and services, find or share information, communicate with other users, have fun, and more. With the help of an online resource, you have the opportunity to find new clients, advertise yourself and your activities, and ultimately earn money. Your best friend is Werkstatt theme. This unique sample helps artists, photographers, photo bloggers, and others to establish impressive portfolios. We suggest you try the demo version to ensure you require it. Choose the best demo version and explore the One Click Demo Imports function. This plugin works brilliantly. All you have to do is to add your stuff. Well, click here and take advantage of our offer. Many visitors have already bought this layout and are making money. Time flies, don't delay!
Key Features of Werkstatt WordPress Template
The most important components of a website are its functions. You use these particles to produce, edit, and maintain the site. Having taken advantage of our offer, you get many benefits. Let's take a closer look at some of them.
Drag and drop everything that you want
In graphical interfaces, the most convenient way to edit material on a website is to drag and drop (using a computer mouse or touch screen). That significantly speeds up the customization process. Drag and drop anything: images, photos, posts, texts, collages, etc. In combination with Visual Composer, you have access to many elements that you might edit easily and simply without coding skills.
Integrated with WooCommerce
WooCommerce is an easy-to-use, flexible platform that helps create stores. You have the opportunity to generate separate pages for different types of products for placing an order and developing a shopping cart and buyer's account. These are not all the advantages of this platform. Add payment systems, manage orders, and conduct analytics. Customize the store to your taste. The developers have produced ready-made shop layouts:
Shop – Full-Width Columns;
Shop – Left Sidebar;
Shop – Right Sidebar;
Product Detail;
Product Detail – Right Aligned;
Shopping Cart;
Checkout.
Enter detailed information in the product description, and share photos and reviews. Be sure to specify the price and available sizes. Monitor statistics on the number of goods sold, the number of payments, the presence of rejections, and more. It helps you as a seller to improve yourself and your business. Some statistics are displayed in the form of graphs. It is convenient.
Music for everyone
Music is an integral part of our life. People, especially the youth, listen to music every day. It might be on the way home or to work, training, cleaning, etc. Music has the ability to influence our mood, and sometimes it may push us to some actions. It is not an easy task because music can cause both positive and negative emotions. You only need positive ones. The customer is likelier to buy a product or explore your services in a good mood. Choose a melody or song carefully (don't forget about copyright), and take care of the volume (not too quiet and not too loud). You may not only insert background music but also set sound effects when clicking and menu animation. Set the background only to the home page, for example. This option makes your site more dynamic and creative.
The possibility of blogging
Whatever kind of website you're building, consider a blog. This activity requires effort, but the result will not keep you waiting. If you do not want to buy advertising for your resource, spend your time entering a blog. Try to write interesting articles, search for new and reliable information, and publish frequently. At the same time, the content on your site is increasing. Adapt this content to your topic. For example, if you provide the services of a photographer, then write about photography, directing, cameras, tips for beginners, how to maintain a portfolio, etc. If your content is interesting, people will share it. In this way, the flow of potential customers increases. By clicking on your blog link, they see your products and services. The best topics for writing your work:
secrets and tricks relevant to your field;
articles where you tell someone to do something (in the style of "how to…");
product comparison;
selections (in TOP-10 style);
breaking news in your area;
video reviews or descriptions of how to explore your products or services;
and, of course, entertaining content (Internet users love it).
Our team has developed several ready-made designs for your blog:
Grid.
Masonry.
Hover Grid.
Center Big Images.
Horizontal Grid.
Left Big Images
Detail page
Left Small Images.
Take advantage of this opportunity.
Unique Design
The appearance of your website is important. Focus not only on the external characteristics of the site but also on the internal ones. Your website should be perfect, beautiful, and easy to use. It should bring only pleasure to visitors. Werkstatt WordPress pattern gives you many opportunities, such as fixed section navigation, multiple listing styles with filters, and AJAX downloading alternatives. Visitors often pay attention to fonts, so you need to have only the best ones on your site.
Our offer allows you to access more than 2450 Adobe Typekit fonts and more than 800 Google fonts. Font design is of great importance in web design. You can choose one or more options for your project, but we do not recommend choosing too many different ones. It makes your site look cluttered. In addition, the font you select must be readable. Information that is impossible to read creates many problems for customers. Select the right size, colour, contrast, headset, and brightness. Make sure the headset is supported on every device.
Insert SVG icons. Our team successfully manages all licenses and conducts internal audits on an ongoing basis. Your theme will update automatically. We have selected a large number of styles for your menu. Choose the most convenient for you and your customers. Using the template we prepared, our design allows you to build a great site where you tell about yourself and your company. There are also ready-made layouts for the contact page, where you specify phone numbers, e-mails, and addresses. Indicate where your office is located on the map, which helps increase the company's trust. Smooth animations are also possible with our sample.
Who Can Use Werkstatt Theme?
It is happiness when your life is connected with art. You have the opportunity to be close to many beautiful things. When you are inspired, you create sculptures, music, photographs, paintings, poems, design projects, etc. To show your creations to people, you should have a portfolio. In the age of active Internet development, you can generate a collection of your completed works online. It is a great opportunity, and you do not destroy the forest by using paper, you do not waste your time on the decoration of the assembly, etc.
We have prepared a huge number of college options. Place photos beside each other, side by side, flip images, caption them, and more. Your possibilities are unlimited. Moreover, even if you don't work in the art world, you may buy our sample and customize it for your type of activity. Download Werkstatt WordPress and develop your business quickly and in the best way.
What Does A Successful Portfolio Need?
First of all, you need inspiration, just like any other artist. Where to get it? Everything is very easy. View successful ready-made portfolios. Find famous personalities in your field and analyze their work. Explore structure, content, collages, blocks, graphic elements, and more. Think about the concept you want to see in yourself. Choose a style: strict minimalism, hi-tech, classic, corporate, retro, art deco, or others.
Your projects are the focus of the entire resource. That is why they must be perfect. In the beginning, we recommend publishing the best ones. Also, describe them to give the viewer the information they require immediately. Posting all your projects is unnecessary; it is enough to leave only a few. Clients can evaluate your professionalism. Do not forget to update the material and add new cool projects. Thus, clients understand that you are not sitting idle.
Upload only high-quality photos and videos. Bad photos indicate your unprofessionalism.
With the help of our page builder, you may establish sections and classify your works according to various criteria. Please do it. You and your customers need it.
Add the page "About yourself". Write there who you are and how you ended up here. Tell us about your experience, your philosophy of life, and the values that guide you.
It is also important to remember such banal things as contact information, reviews, search engine optimization, adaptive design, and more. You can do it all with our template.
WordPress Portfolio Website Examples | Web Design Inspiration Video
Don't know where to find inspiration for creating your portfolio? Click here and see exciting examples. Build something beautiful with us.
Project Info
Date:

09.9.2022

Client:

fuelthemes

Categories:

WordPress

Tags:

Business