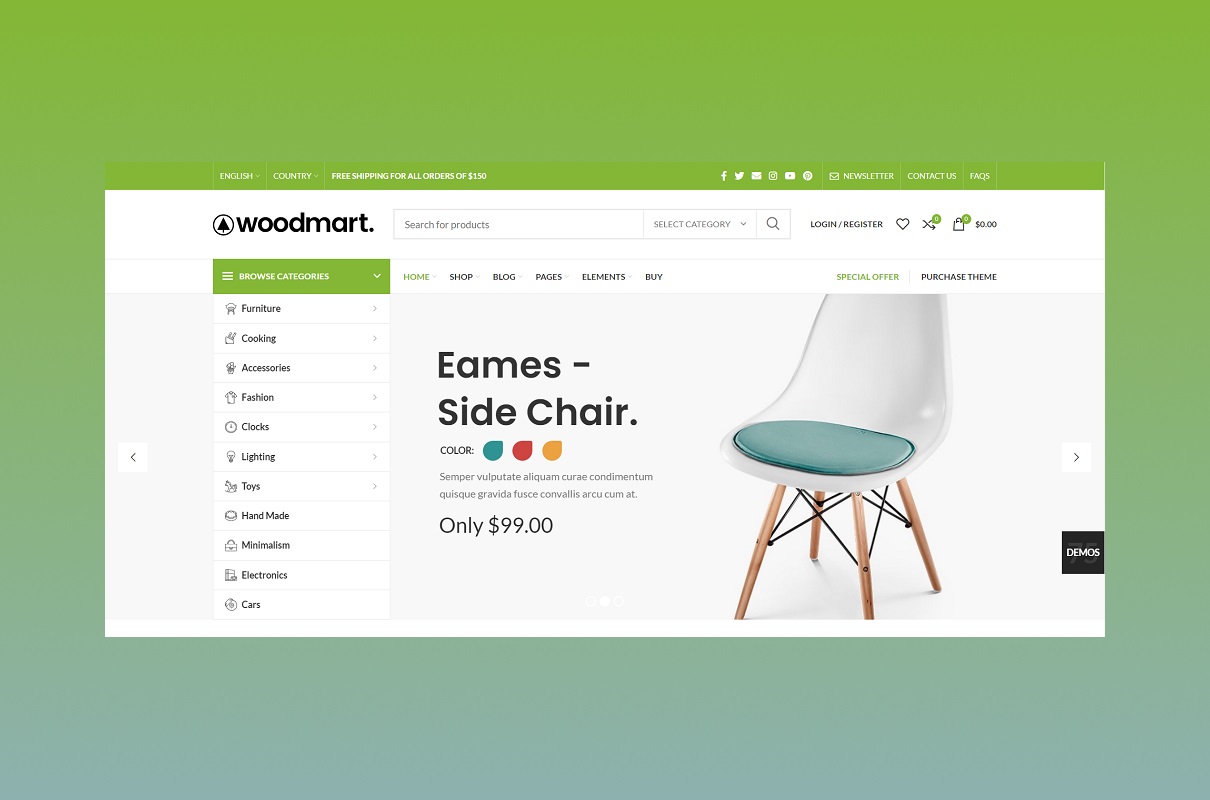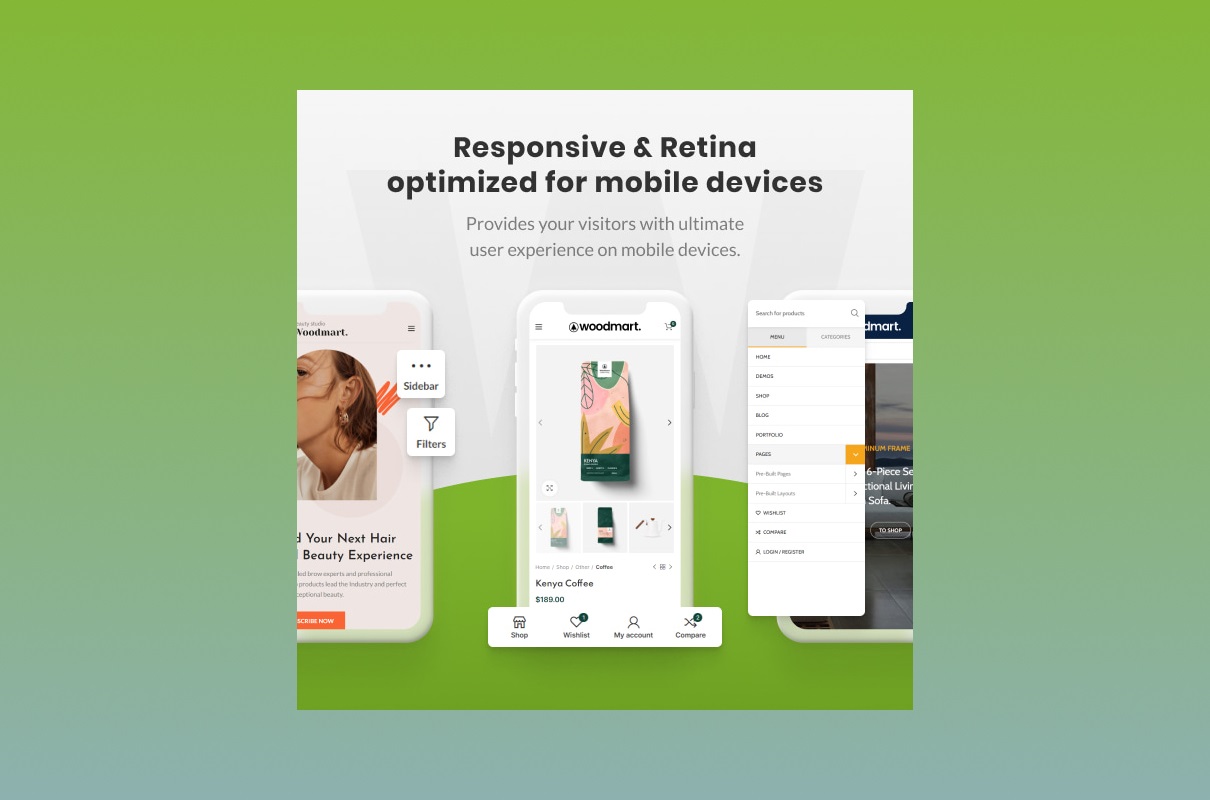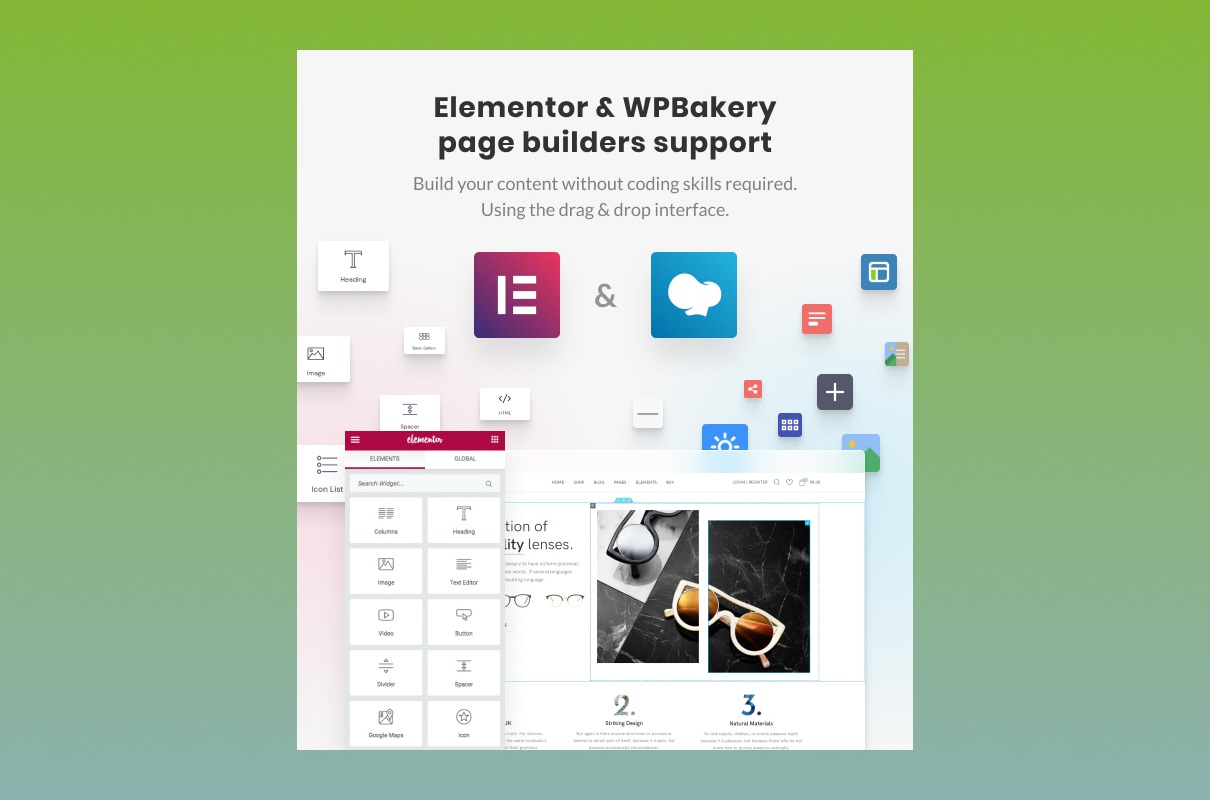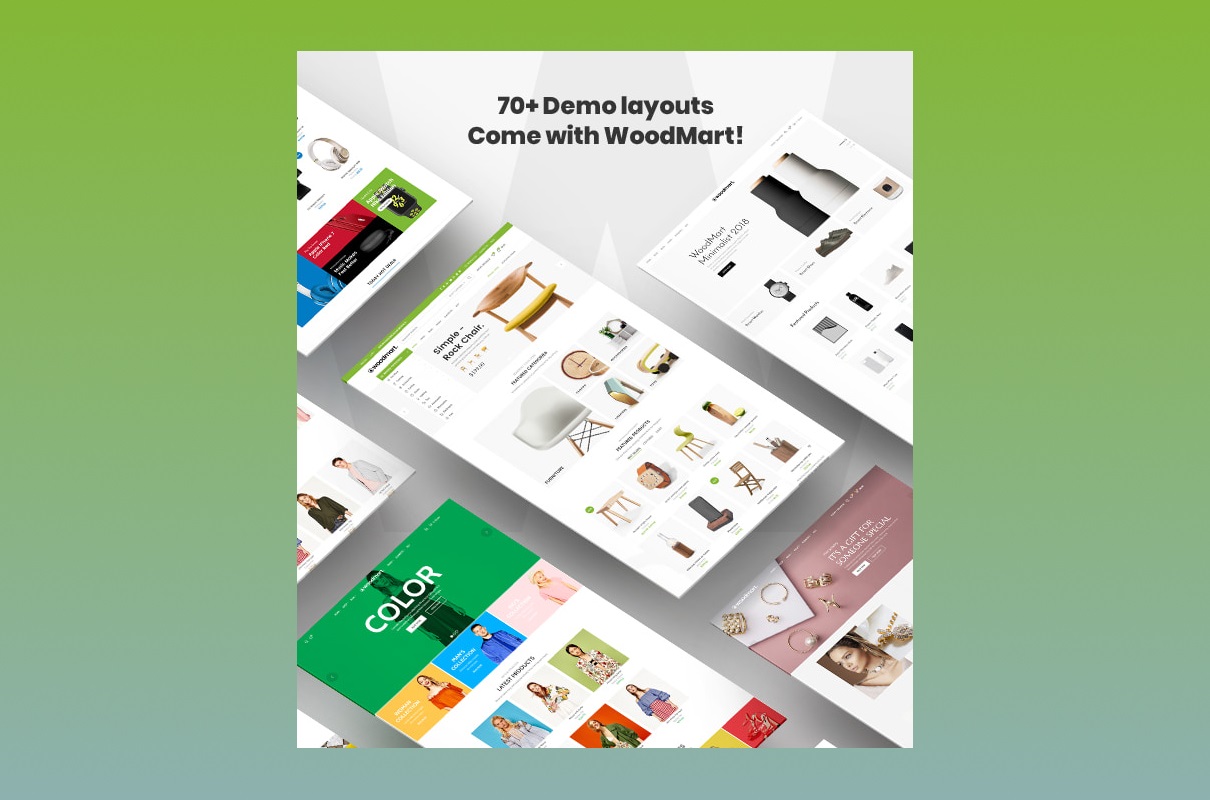 Ecommerce continues to gain momentum, showing growth even in countries with a crisis. Creating and organizing the work of an online store does not require any specific skills since work on the technical aspect can be delegated to specialized specialists, and you have the opportunity to configure other management-related processes yourself. The best investment is an online store if you don't know what kind of entrepreneurial activity to start. It is quite simple; if you follow this path, you will be able to save cash. When beginning this activity, you do not necessarily need to rent an office or hire a large number of employees. Delivery issues are solved easily; there are a large number of shipping companies ready to help you. However, like any other business, you need a website. Meet our WoodMart theme, one of the best WordPress models for any store. It is a premium template compatible with WooCommerce 6.5+ and WordPress 6.0+ versions. You have the possibility to produce any type of online selling resource. Begin monetizing your work. Set up the activity in such a way to have passive earnings.
Main benefits of WoodMart WordPress Theme
It is a unique eCommerce solution for you. When you buy a sample, you get everything at once. You don't need to spend money and purchase additional plugins. You have everything you need to set up your business. Layout compatible with a lot of plugins; see below:
Elementor
That cool platform allows you to develop a professional website without programming skills. You have a chance to intuitively establish your masterpiece with a perfect pixel and a completely clear drag and drop constructor. You build and modify your store without a single line of code with a live design editor. Elementor already contains dozens of ready-made functions and processes that help you create something inspiring. Edit anything on your website: Footer, Header, spacing, Archive Page, padding, Single Post, margins as you wish to the very last pixels. You have access to more than 40 widgets:
Background Overlays
Headline Effects
CSS Transform
Box Shadow
Hover Effects
Gradient Backgrounds
Shape Dividers
Animations
Mask Options
And many more. You should use effective methods for your work process to be optimized and fast. We suggest you use previously agreed colors and fonts on the website, drag and drop multimedia files directly from my desktop, mark widgets as favorites, and generate a plan for the future resource so that there is an opportunity to use it again. Dynamic Content assists you take your activity to the top level. You get a lot of handy tools like a full keyboard navigation menu, HTML 5 semantic, permanent accessibility improvement of features, widgets, and so on. Furthermore, with Elementor, you have the opportunity to join the community with over 120K members. Here you may ask any questions, receive valuable advice, get feedback, and discuss new qualities with other users and not only that.
WooCommerce
It is the most popular open-source eCommerce solution. To sell goods and services online, you must familiarize yourself with this platform. Open-resource freedom allows you to retain full title to your store's material and data forever. The platform is flexible; it perfectly combines two powerful tools, content and commerce. Create pop-out templates for your store in any sphere in just a few moments. You have the opportunity to add products, demonstrate their quality and goods variations, instantly upload material, offer discounts and promotions, etc. You get the benefits that SEO WordPress gives you; with this, you can climb to the top of search queries. The Setup Wizard allows you to add many free options in one click. WooCommerce Payment (Available in the USA, Ireland, United Kingdom, Australia, Canada, New Zealand, France, Spain, Germany, and Italy) presents you the opportunity to choose how to receive your income independently. Thanks to over one hundred payment gateways, you may accept the payment safely (PayPal, Stripe, Square, etc.).
WooCommerce Tax assists you in getting automated calculations. With WooCommerce Admin, you may monitor the most important indicators of activity. In this way, you analyze your company and improve it, which leads to an increase in the audience and profits. In the information panels, you have the possibility to check the marketing center, where you get valuable advice and fresh ideas. Expand your audience through HubSpot, Google Ads, Mailchimp, and Facebook. With every release, documentation is updated. It is important because, with that, you have the opportunity to develop the online resource required.
Yoast SEO for everyone
This system has worked since 2008. It has helped millions of customers improve their positions in search engines. To be at the top of search queries, you need to be cooler than all competitors. Your online resource should be better, faster, and more powerful. That is one of the most popular WordPress plugins. It has already helped people just like you become stronger because it has many cool features such as:
Meta tags and canonical URLs (automated technical SEO upgrades)
XML sitemaps (make it easier for Google to realize your masterpiece)
Fast loading. Nobody likes to wait. When faced with a long download, most users go to another link. To avoid this, use our pattern. Thanks to the innovative way of data management in WordPress, your site loads without interruptions.
Full control. You have the opportunity to manage all navigation. Your visitors and search engines always know where they are.
 An in-depth Schema.org integration. That helps search engines understand all your content, so you get good results faster.
Analysis. Yoast gives you such valuable tool as SEO analysis. Content is king, so write killer material for your online resource.
Readability. Yoast ensures that visitors have a chance to read and understand the information you give.
Wide variety of demo models
Over 70 pre-built demos. Oh my God! It's incredible! You have the possibility to produce practically everything. Save your precious time. You needn't develop the website from scratch. WoodMart comes to you with ready-made sites. Try them with a single click. It doesn't matter to us what type of business you are running; with our demos, you will find what you need. What could we offer you?
Classic (Demo Default and Demo Megamarket).
Decor (home decor, ceiling decor, wall decor, vase decor, holiday decor).
Retail (sell anything that you want).
Black Friday (discounts and promotions are a cool way to attract customers. With this opportunity, you will attract a lot of attention from buyers. Advantages: elimination of unsold goods, sale of related products).
Hand-made (Bumper stickers, magnets, t-shirts, hoodies & sweaters, mugs, mouse pads, enamel pins, stickers, coasters, face masks (in the COVID age), pillows, towels, jewelers, candles, art and prints, and so on).
Fashion Minimalism/Color (Apparel, clothing lines for women, men, and children; footwear, anything worn on the feet such as boots, shoes, and sandals; sportswear; traditional; formal wear; accessories; watches & jewelry; luggage; cosmetics; textiles; vintage and secondhand).
Electronics (televisions, media recording devices, computers, cellular phones, tablets, smartwatches, camcorders, audio equipment, cameras, GPS, and car audio equipment).
Glasses (any type of glasses: single vision, Bifocals, trifocals, progressives, sunglasses, reading glasses, digital protection (blue light blocking), safety glasses).
Tools (tape measure, electric drill and bits, torch, screwdriver, hammer, adjustable wrench, hand saw, torpedo level).
Coffee (If you are a coffee shop owner or sell grains or equipment for making coffee and related products, you should go here).
Books (literary fiction, mysteries, thrillers, horrors, historicals, romances, western, and so on for book shops, libraries, printing houses).
WPBakery Page Builder
Use one of the most popular WordPress plugins to create online resources, WPBakerу Page Builder. Thanks to this option, you build cool pages easily and quickly. Programming skills are not required. With that, you control and change your creation and check how the theme or its part looks on other websites (the preview function is included in one click). Moreover, WPBakerу Page Builder can determine the type of components you download and highlight them in a specific color. That helps you orient yourself in navigation. The WPBakery Page Builder backend editor is a favorite of many users. This option will help you quickly add, edit or delete any material. There are two ways to get VPBakery:
Buy the plugin on the CodeCanyon market (official representative) and install it on the theme you use in your work. According to the developers, the plugin works correctly with 99% of themes.
Buy a template on ThemeForest (one of the top template stores in the world), which will already include the WPBakery constructor for free. The plugin can be obtained conditionally free of charge if you buy a premium template like the WoodMart theme for your site.
Fully Customizable
You might think that setting up an entire business is very difficult, but with WoodMart WordPress, you won't have to put in any effort to create something beautiful. There are a lot of settings, but the administrative panel is so easy that you may quickly learn to cope with it. The sample is smart, fast, and perfect in general. You have the ability to change colors and fonts, add multimedia content, upload multiple product variants, etc. The last one is very necessary for an online store. WoodMart theme is a smart layout; you have the opportunity to have one listing but show what colors are available for that product, sizes, styles, etc. Your buyer adds the product to the cart without reloading the website. The buyer does not waste time and is not nervous about failures so that they will be satisfied. If the buyer is satisfied, he will return to your store soon and not go to competitors.
How to create a menu in your WoodMart Theme with Elementor builder – Video Tutorial
Still, it would help if you tried to develop an exciting online resource. Before starting the detailed work, read the instructions on how to use the various functions. You have to be aware, and then you have a chance to take advantage of all of them. The menu is probably the most important component during site development. From the menu, you have the possibility to move around your creation and quickly go from one section to another. In this video, you will learn how to create a menu and how to add style to a menu using Elementor. It is a website builder that is helpful and open source. Your masterpiece is to be extended and integrated further with this plugin.
Project Info
Date:

08.23.2022

Client:

xtemos

Categories:

WordPress

Tags:

Business