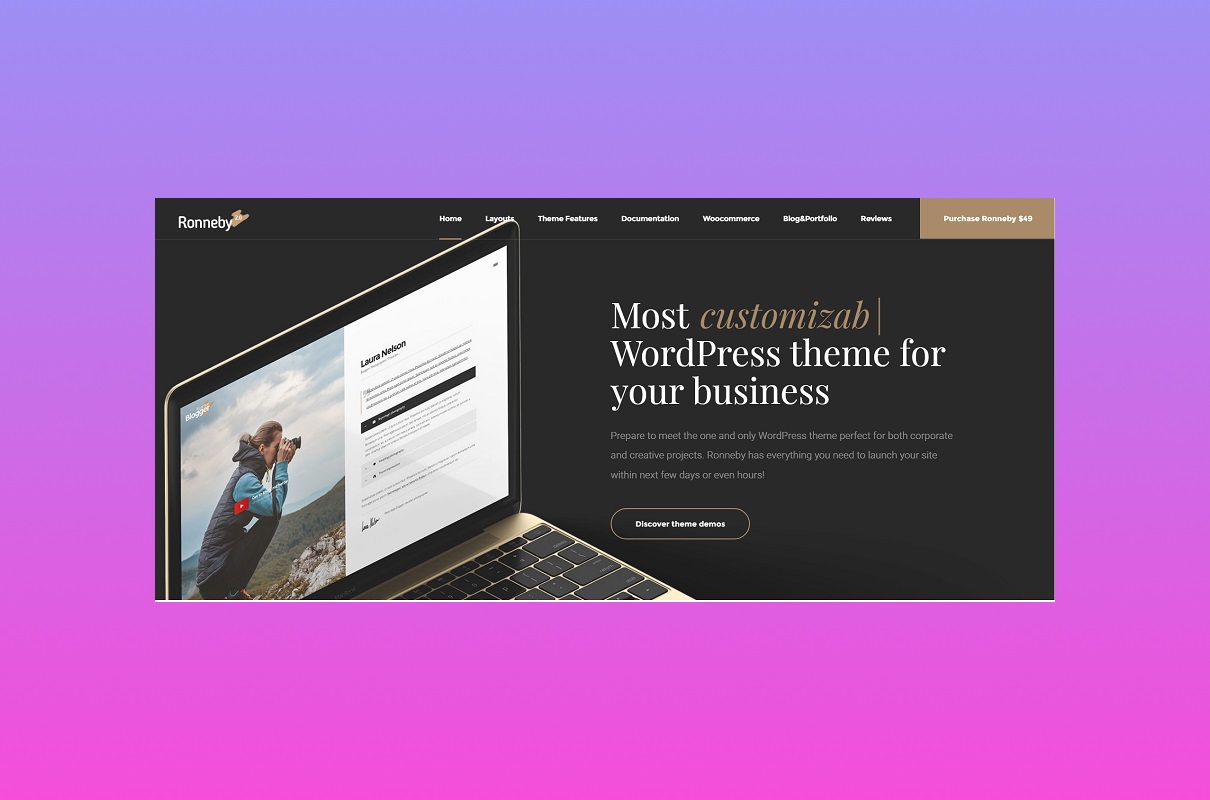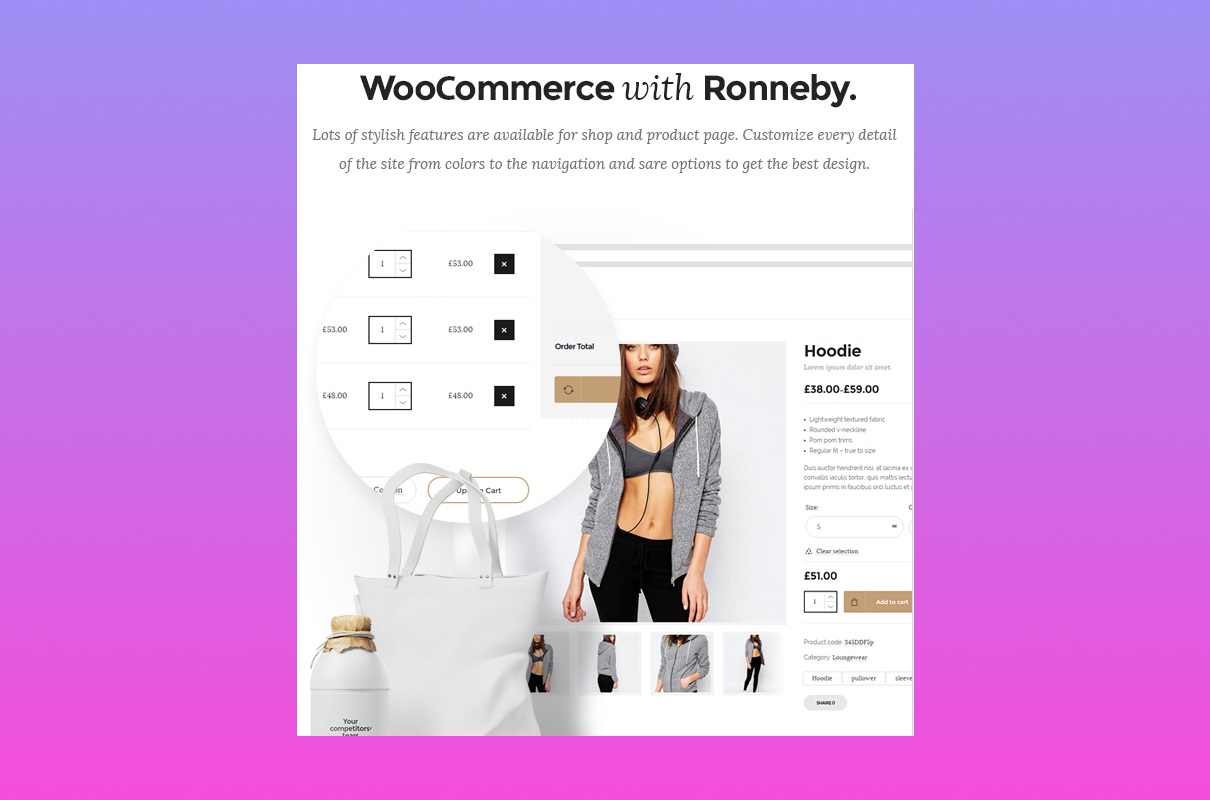 We've covered you if you need a cool, multifunctional creative layout for your project. First of all, choose a content management system. WordPress is numero uno. It's a fast and reliable way to produce something incredible and exciting. On this platform, you manage your content light and breezy. In addition, almost half of the sites on the Internet run on this platform. Create a cool online project without any barriers. No coding skills are required. We offer the Ronneby theme to you. Trust us; you will be pleased with your choice.
Build websites for a store, car service, real estate agency, restaurant, blog, portfolio, and more. The sample has many premium expansions, such as Slider Revolution, WPBakery Page Builder, and others. Many DFD custom shortcodes allow you to make the project of your dreams. The adaptive display causes you accessible to everyone. Well, take your chance. Please take advantage of our Ronneby theme and make your website successful.
Key Features of Ronneby Theme
The Ronneby WordPress layout is endowed with many advantages. We described only a few of them below. To find more info, follow the link and check it out.
Sell on the WooCommerce platform.
Create your online store with our Ronneby theme. WooCommerce is one of the most powerful platforms for selling various products. The plugin allows you to set up your web work as a top-notch and convenient store. Share your goods, sort them by type, and specify the color, quantity, price, etc. Produce a shopping cart so that customers have the possibility to add their wishes to it. Buyers choose a payment method convenient for them. With the help of the carousel function, customers have the opportunity to view product photos and get visual pleasure. A mobile application is also available to you. So you have the chance to edit your store anywhere. The WooCommerce community is very large. It grows every day. Be in time to join him. The ability to sell products allows you to attract more visitors to your online resource, increase your income and bring popularity to the company.
Codding free interface
Take it easy if you don't know any programming language or know how to code. With our convenient interface, you feel like a real programming genius. Edit anything on the website and share any of your material. You have many fonts, icons, collages, and already ready-made templates at your disposal. More than 40 shortcodes were created by our team so that you may customize the project without much effort. Our admin panel is convenient and multifunctional. You require it if you want to create web work that takes your breath away. You have a chance to utilize all the available options, even if you are a newbie. And there are quite a few of them.
We have prepared different header styles for you to do everything in the best way. Change languages in just a click. Add a login form, social networks, various banners, etc. Come up with thousands of sites that never repeat themselves. The page builder gives you access to multiple elements such as buttons, texts, pictures, etc. You edit all this with the drag and drop function; it is very comfortable for you. In addition, the Frontend editor allows you to style your material in real time.
Premium plugins included
By buying the Ronneby theme, you get the best plugins for your exploration for free. It is very beneficial. There is no requirement to purchase additional expansions. We have already selected the best of them.
Revolution Slider. Even if you are a beginner, you may build visual elements with a WOW effect. More than 9 million users worldwide utilize this plugin. It shows the trust of customers. You construct carousels and slides without a single line of coding. Impress your audience with stunning design, incredible special effects, and great animation. You'll work wonders in minutes thanks to the intuitive interface and drag-and-drop functionality.
WPBakery Page Builder. It is a real professional in Frontend and Backend editing. The best team of experienced and talented developers provides top-notch solutions for you. If you have any questions, contact our support service. There is also much information in the study guide, knowledge base, and Video Academy. All this is free of charge for you.
Advanced Custom Fields. Operating this expansion, you have a lot of tools to control all the screens. In a few clicks, attach fields to WordPress (media, comments, users, taxonomy terms, posts, etc.).
Mega menu. Navigation is something without which there cannot accomplish in today's market conditions. Please consider your resource's subject matter and scope to make it right. Style the menu, add colors, fonts, different sections, and more. A horizontal or vertical menu is usually selected. Internet visitors are used to it, so it's convenient and versatile. Remember the accessibility of the menu view on mobile devices. For example, if the menu opens when the mouse hovers over it, it won't work on mobile devices. Use a hierarchical structure for your website. It is especially relevant for online stores.
More than 100 ready-to-explore demo templates
We have developed demo versions on any topic. All visual explanations have an incredibly attractive design. They impress everyone at first sight. Design is important. It is the first thing that the visitor sees. You mustn't hire specialists; the best of them have already taken care of you. View all demonstration versions available for you on this link. Here are a few of them:
Cortesia fashion;
Abadon business tool;
North night camping;
Law attorney elementor;
Luxurious hotel;
Secret models agency;
Building and architecture;
Vintage creative agency;
Tradittional elementor;
3D scrolling one page.
This way has an additional advantage – no require to puzzle over and produce the site from scratch on your own. Check functionality, colors, fonts, animations, and more. Download the demonstration in just a click, share your content, and enjoy your business. In addition, by clicking on the selected demo, you may make sure that it is exactly what you wish, free of charge. Check functionality, colors, fonts, animations, and more.
Responsive web design
Having a beautiful website where your company is growing is not enough nowadays. With the development of technology in the field of mobile device manufacturing, responsive design is a must. This function helps ensure your web resource's correct appearance on any screen size. People click on your link and get a great picture. Everything is visible and very convenient; there is no requirement to put anything closer to press buttons. The variety of devices used to utilize the Internet is constantly increasing. Tablets, smartphones, laptops, smartwatches, and smart TVs are gaining popularity yearly.
Previously, people could only open a website on a desktop computer, but everything has changed. That is why you must have an adaptive web design function. Especially with the help of mobile devices, visitors may open your web resource anywhere (on the street, in the car, park, at school, or work). Most websites are responsive, so you must comply with modern criteria. Otherwise, people can switch to your competitors. Are you sure you want this? We are confident that it is not. Therefore, it is unsurprising that people buy products in online stores and look for contact information about hotels, car services, restaurants, or other establishments through their smartphones. You must be ready for it. With our Ronneby theme, you handle it easily.
Who Can Use Ronneby Theme?
Our offer is universal. Regardless of what type of business you are engaged in, our template is suitable for you. We have ready-made visual explanations for you if you are a hotel or restaurant owner. You may also explore our Ronneby theme for your construction company or furniture production. The opening of agencies is also possible with us, for example:
web;
wedding;
digital;
travel;
model;
corporate;
lawyer's;
creative, and many more.
Blogging activities are also available. It's a cool tool for marketing. Such activity has many advantages. Provide information about your products or services by writing articles. Convince your clients that they want to deal with you. Throw in some text, a table, statistics, etc., so the material is constantly updated. Write tips, tricks, and reviews about your props. Instructions for exploring goods are also very popular. Add the ability to share posts on social networks so more people will click on the link. Our authors, who are professionals in their field, have developed several demonstrations for this type of activity:
Get some tips on how to blog properly.
Publish different articles: interviews, informational, reviews, comparisons, news, video and photo selections, etc. Experiment, try new things. Monitor what is popular, and see where the most comments are left. It means that a large audience is interested in it.
Systematize it. Organize your schedule; for example, publish new posts once every two days. Too frequent or infrequent posts negatively affect the project's development.
Only verified ads. Advertising allows you to monetize your business. Became responsible for this. Publish only verified information. Too many ads are harmful to you.
Keep an eye on your competitors. It helps you to choose the right material.
The posts should be grammatically correct and unique.
How To Install A Demo Version of Template Purchased On The Site Themeforest?
First, you need to purchase the layout you wish. After making the transfer, you receive an archive containing several folders with files. Usually, you get a PDF manual that explains the installation process. The license and demo are also in the folder. Plugins are typically present.
To install the selected template, you have to follow the standard procedure. Download it from the site management console or via File Transfer Protocol.
Next, you will notice a folder with the XML extensions (usually used on Themeforest). If there are several of them, install only one. Don't install all of them one after another; it is not necessary.
The next step is to import the demonstration from the XML file. We enter the WordPress management console; there is a management menu on the left; we choose "Tools" and then "Import".
After a new section opens, we choose the right content management system.
We install the WordPress Importer plugin.
Go to the available link and activate it.
On the installation sector of the XML file, click the "Browse" button. Next, select the desired visual explanation file on your computer's hard drive. Load it.
It is worth noting! The import process may take 10-20 minutes, depending on the hosting. If you see an error message, there are not enough resources for the download. To make sure that everything went successfully, refresh the front page. The design and colors must change. Also, in the console on the left, go to "Pages", "Posts", or Portfolio (if you have one). Several new documents were supposed to appear there.
Step-by-step WordPress Video Tutorial How To Add Categories?
Do you know what WordPress categories are? To group related posts, you need to learn about Sample Categories, Uncategorized Categories, and the Structure of Categories. Here is a detailed guide. The ability to modify helps you feel confident to be better than the competition.
Project Info
Date:

09.12.2022

Client:

DFDevelopment

Categories:

WordPress

Tags:

Business