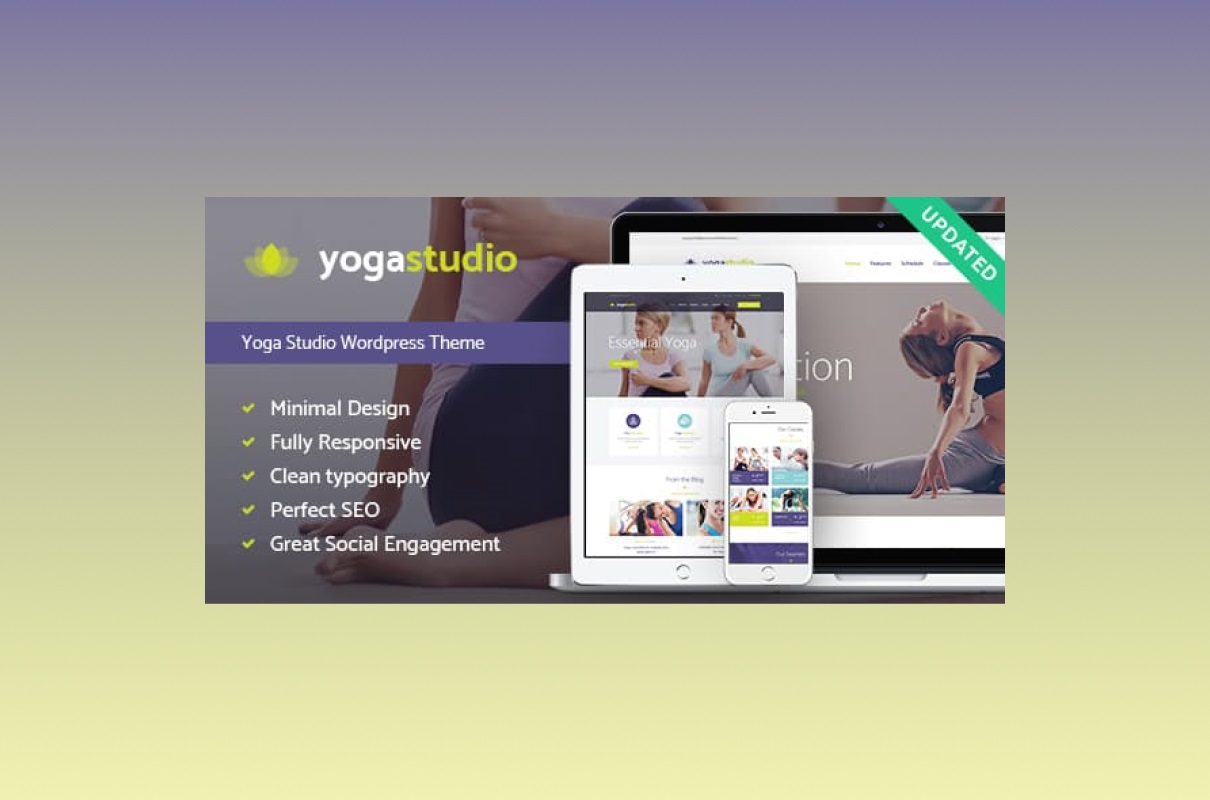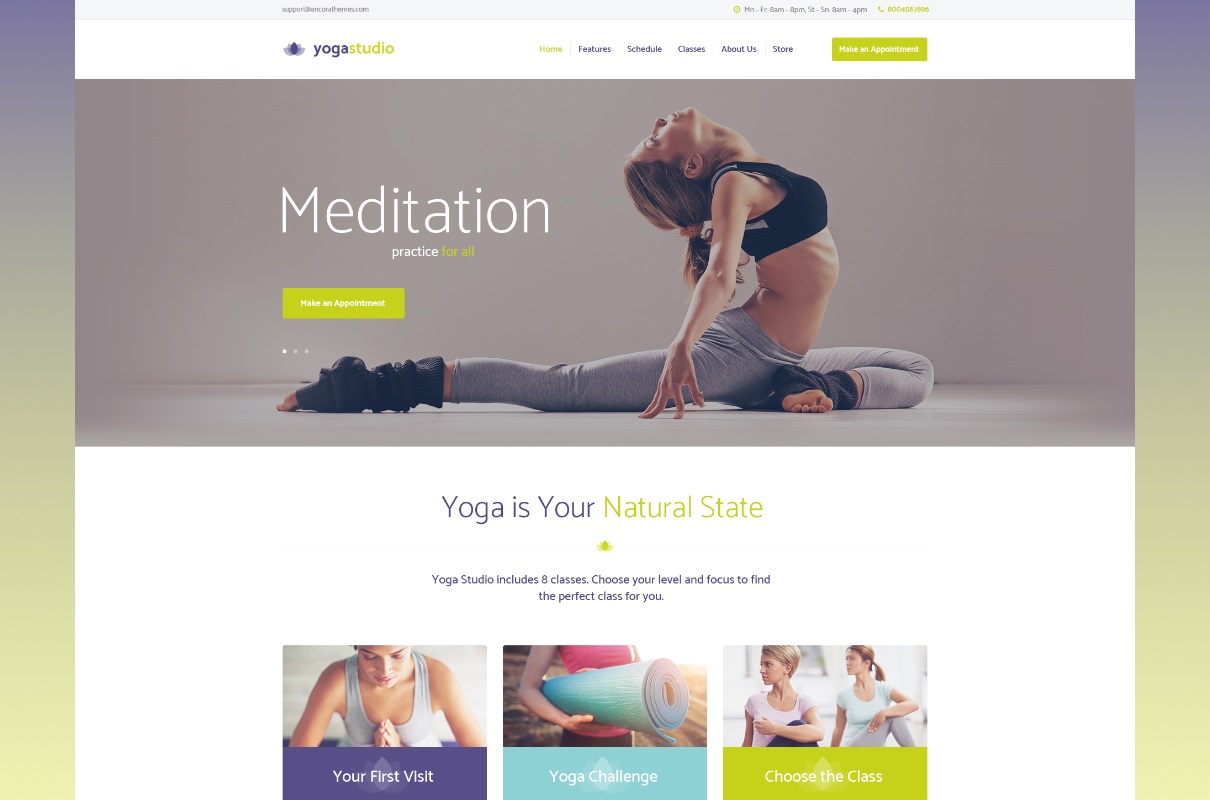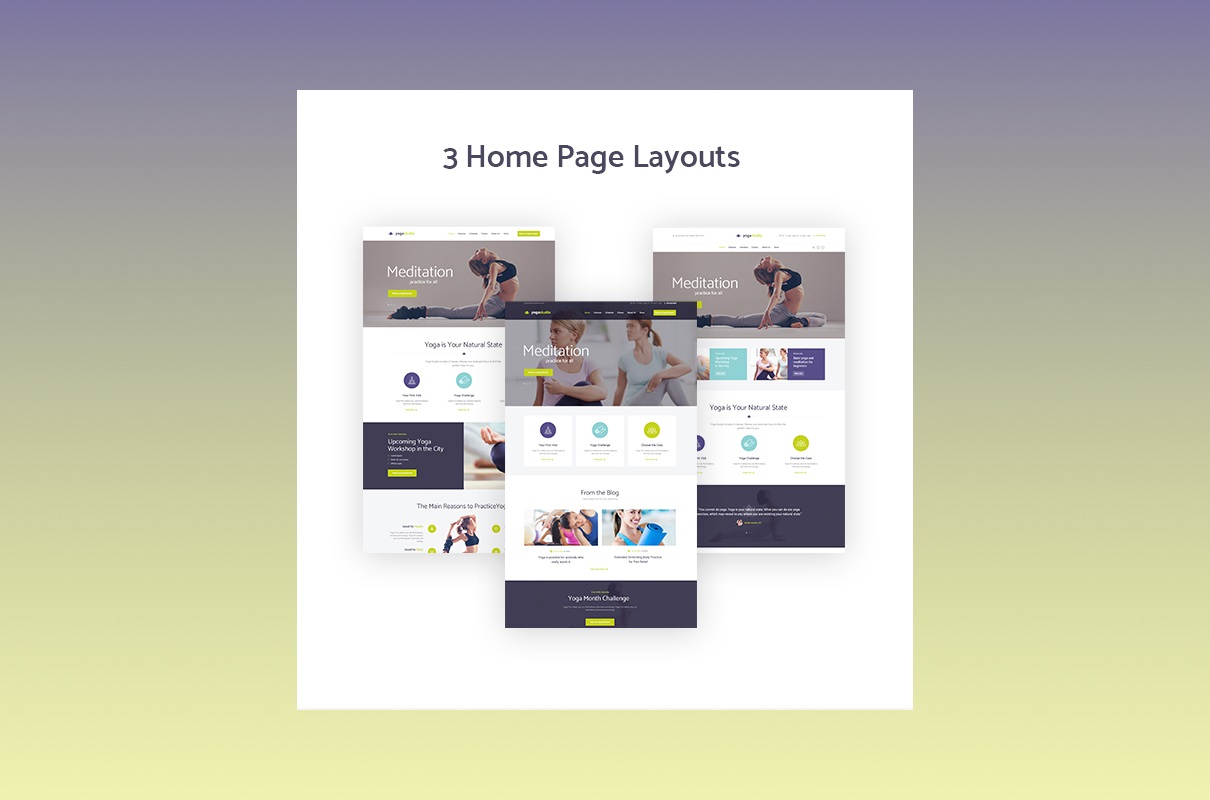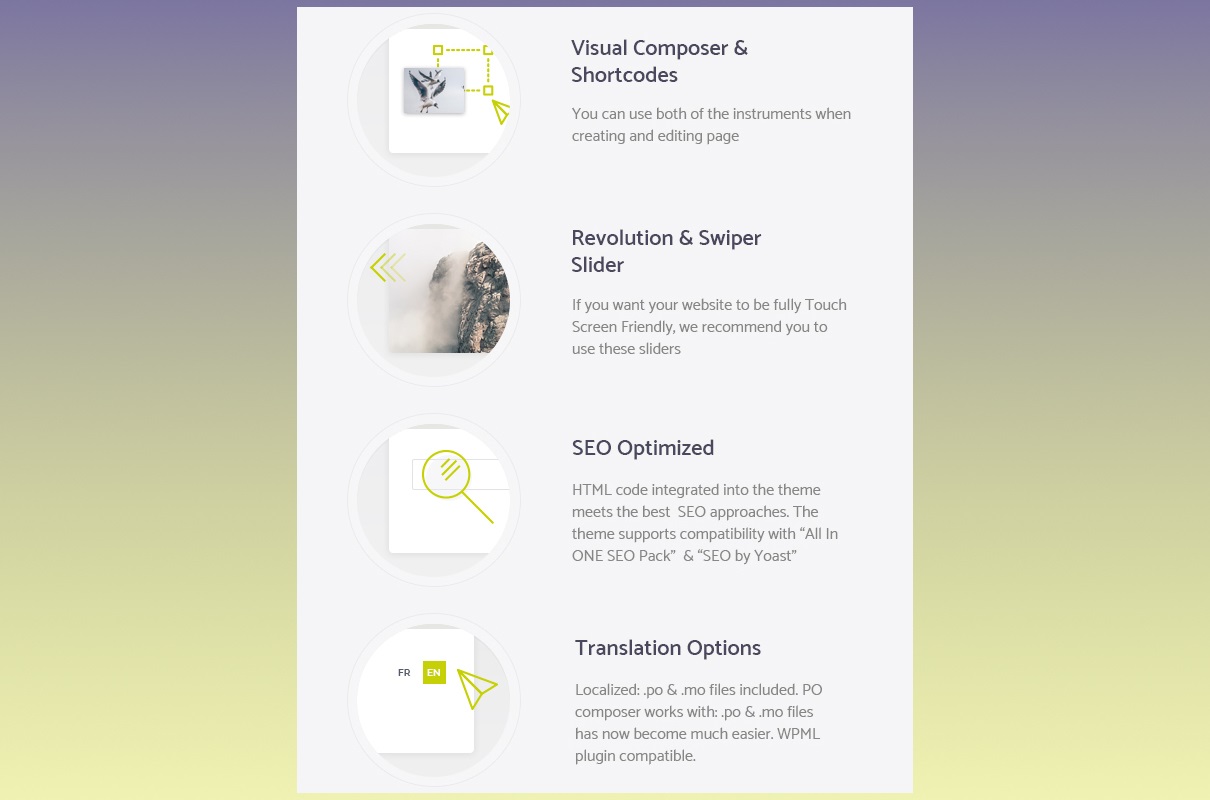 These days, any company must have a well-designed and visually appealing site. It plays an important role in the word about your services. Building a website can be a daunting task. However, Yogastudio is a full-featured template that includes everything you need to launch a website on the fly. Thanks to the author's professional approach, each page has a clean, modern, and sophisticated design. In addition, the layout is highly flexible, which will help you seamlessly customize it to meet your brand's identity perfectly. So you'll be astonished by what you may do with it.
Yogastudio is fully customizable, empowering you to add your content and plug-ins with the powerful WPbakey page builder! It allows you to add widgets, sliders, icons, new fonts, buttons, images, logos, timelines, and much more elements so that you craft something completely yours.
Showcase your services in their best light. Yogastudio gives you the capability to run a yoga school, retreat center, yoga cafe, sport yoga, pregnancy yoga, and beyond. On top of that, it's developed for massage, gym, spa, beauty, fitness classes, body care, health care, etc. And it also suits perfectly for individual entrepreneurs like instructors or personal services at home. With this item — everyone may create their own professional web presence. Anything you've ever imagined is possible!
Why Body Care is so Popular These Days
The health and fitness industry has been growing for the past dozen years. Moreover, it's accelerating. Nowadays, more and more people have fitness club memberships and look after their health.
What is driving this boom?
Firstly, as you know, organic food has become increasingly popular in recent years. Consumers are moving away from industrial foods in favor of organic products. These products usually have a higher price tag, but now consumers are becoming more health-conscious, making them more likely to attend fitness clubs, beauty salons, etc.
Secondly, many of us have tight schedules. That's why home exercise is gaining popularity. Now you may enjoy content without leaving the apartment. More and more people in the fitness world are choosing to share their exercise routines that can be done at home. Now, if people can't find the time to go to the gym, they may quickly take streaming exercise classes and work out in front of the TV anytime they want — early morning, afternoon, or even at night. Now you need a smartphone to subscribe and access thousands of video workouts. It's super convenient!
Thirdly, there are so many technologies out there that allow you to take care of your body and health. With their help, it's possible to calculate and personalize our training zones based on our health status. It's convenient and does workout more effectively! They support you across multiple aspects of health, including heart, activity, medications, sleeping, and more. All these technologies are developed to make the workout experience more powerful and precise for every athlete.
Conclusion: You've definitely made the right decision to launch your website in the sports, beauty, or health industry! There's no better time to reach your clients online than now, allowing them to book an appointment from anywhere. So if you've been all over the place looking for ways to get money online — you'll be astonished at how quickly you start generating income.
Key Yogastudio WordPress Theme Features
AncoraThemes wanted to make it easy for people to build their websites without hiring a professional. Yogastudio WordPress theme has lots of great features and options to help you get the best online presence.
Now, let's dive deeper into the significant advantages of our theme:
Search Engine Optimization
Search Engine Optimization allows you to put your website on solid ground. SEO improves the search engine ranking, drives more traffic, and helps clients find your services. This template is designed with a modern style, clean code, and easy accessibility, which ensures high indexing by search engines such as Google, Bing, and Yahoo, placing your website higher in search results and being visible to a large audience.
Dropdown Menu
Having a multi-level menu on a website that offers services as it allows for adding limitless categories. Additionally, you may add multiple content types, such as text, icons, or images. The main reason is to provide an excellent user experience and navigation through the web pages as conveniently as possible. This feature helps to free up screen space — giving the design a more refined and professional feel.
Excellent Quality
ThemeForest is more than just a usual marketplace. They care about keeping their customers happy and satisfied. That's why they always try to offer industry-leading quality products.
Cross-browser Compatibility
These days, available so many different browsers. This template is perfect to run on all of them. So it's geared to get the maximum number of customers. Visitors will be able to browse how they like, from whatever they like — whether it is Chrome, Opera, Mozilla Firefox, Microsoft Edge, or Safari. And with excellent performance, it's even faster than ever before.
Retina Ready Supported
High-resolution displays such as retina screens have become increasingly popular. They have incredible contrast, high brightness, and stunning color accuracy. The Retina-ready feature delivers high-quality online graphics that provide crystal clear, crisp content, producing flawless image fidelity — which lets visitors see every detail pixel by pixel.
Responsive Design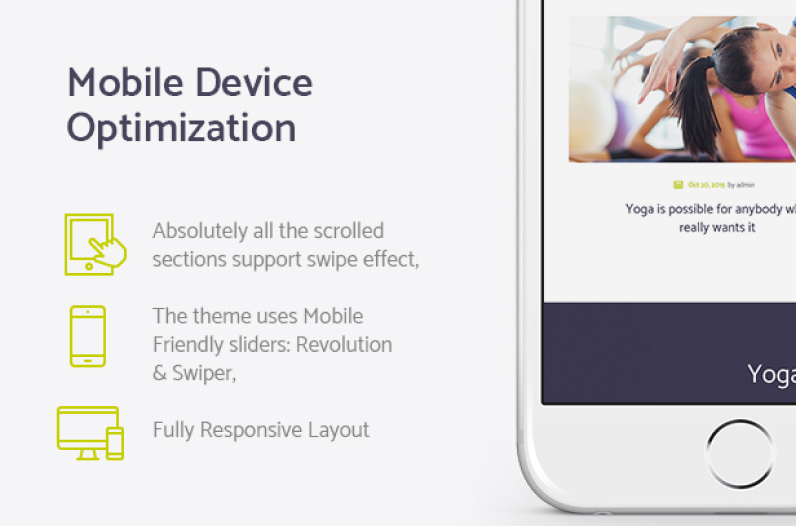 People use their devices in very different ways, including surfing the web. Your online resource has to be able to display perfectly on any device. Thanks to this feature, this template supports a responsive and fluid interface — all the elements will automatically change in width and height, as needed to look perfect for every possible screen resolution. Having Responsive Design ensures all visitors get a great experience, whether they view the site from a smartphone, tablet, laptop, or desktop computer.
Multi-languages
Clients want to view the content no matter where they're in the world. The author takes care of all users, so the WPML plug-in supports multiple languages, allowing you to translate content into your native language. Moreover, it's possible to place a language switch in the menu for tourists or immigrants that automatically translates the content into a selected language.
Powerful Plug-ins That Empower Your Capability
WPBakery
WPBakery was designed with industry-leading performance, powerful capabilities, and an extremely user-friendly interface. This plug-in will also enable users to take their layouts to an entirely new level, making them look professional and edit complex layouts as seamlessly as wasn't possible before. And its tools and add-ons enable you to create an entirely new one in a few minutes. Everything you could dream of is possible — even if you're a beginner.
On top of that, there are a bunch of premium templates you can choose from. WPBakery has the best templates of any page builder. You have a look and feel of lots of white space, whole typography, and plenty of room for photography. All this lets you bring great, modern, clean, and entirely different websites to life.
Our advanced technologies enhance your workflow in everything you do. Whether editing existing sections or creating new ones — all can be done with incredible features such as drag-and-drop and real-time editing. All this speeds up the creation process ten times. Now you can interact with the content as quickly as possible by dragging and dropping each element anywhere, even pixel by pixel, whether it is text, images, buttons, icons, design elements, etc. With support for responsive design, users may switch to mobile and make changes for that as well. Additionally, no coding skills are required, which makes WPBakery undeniably best for all users.
WooCommerce
WooCommerce it's one of the best e-commerce platforms because it has all these incredible features that help sales for one, and secondly, you may take complete control over your managing processes with this platform. In addition, it delivers an incredibly easy-to-use interface for entrepreneurs. With its user-friendly interface, beginners may start managing with immediacy.
Furthermore, which will be extremely necessary for your business, this platform is capable of tracking all client's bookings. WooCommerce provides many useful options to help enhance the functionality of your WordPress site. Also, it supports a variety of Payment Gateways such as credit cards, PayPal, Stripe, and many others. All payment processes are secure and fast.
Slider Revolution
Slider Revolution provides a powerful way to transform the look of the page. Get the only pro visual builder that lets you bring your ideas to move and add animation effects to any element in the easiest way possible.
The tools are placed so you can work intuitively, jumping between them at any point quickly. The new interface is designed to look like many popular video editors. So if you're familiar with those — it will simplify the creation process. With incredible flexibility, adding many animation effects to the sliders, text, or images is simple. Whether it is particle effects, bubble morph, bounce, parallax, revolve, rotate, 3D scroll, 3D flip, blur, and more.
Plus, there are a bunch of custom templates in here that they already have pre-made. The library includes up to 250+ items. Build unique sites or sliders with astonishing visual effects without touching lines of code. All content is fully responsive and displays perfectly on small screens as well.
Detailed Documentation
This documentation might be a beneficial resource for those unfamiliar with the theme utilization process. Plus, this documentation provides an in-depth guide on setting up necessary components properly and using them efficiently. Remember, whether you're a pro or a beginner, feel free to ask if you run into any issues!
The Author is Always Here to Support

After paying for it, you'll get access to cool plug-ins, awesome features, and the latest updates. But that's not everything! It offers a warranty of up to a six-month. So if you have issues with utilizing the theme or integrating plug-ins — feel free to ask. The author is here to help users at every point in their journey. And guarantees you'll receive a response and a solution to your questions within one business day.
WPbakery: Learn How to Use It
This amiable presentation provides a step-by-step type of tutorial communication for the true WPbekary novice starting from scratch. Also, this video is fantastic for someone who already knows a little bit about this plug-in, has a basic knowledge of creating web pages, and is now interested in getting more about how to scope some key functionality to become more professional. It breaks down all the features, such as the drag-and-drop interface, adding content elements, images, and changing colors. This video will be useful to many.
Project Info
Date:

07.24.2023

Client:

AncoraThemes

Categories:

WordPress

Tags:

Beauty, Sport