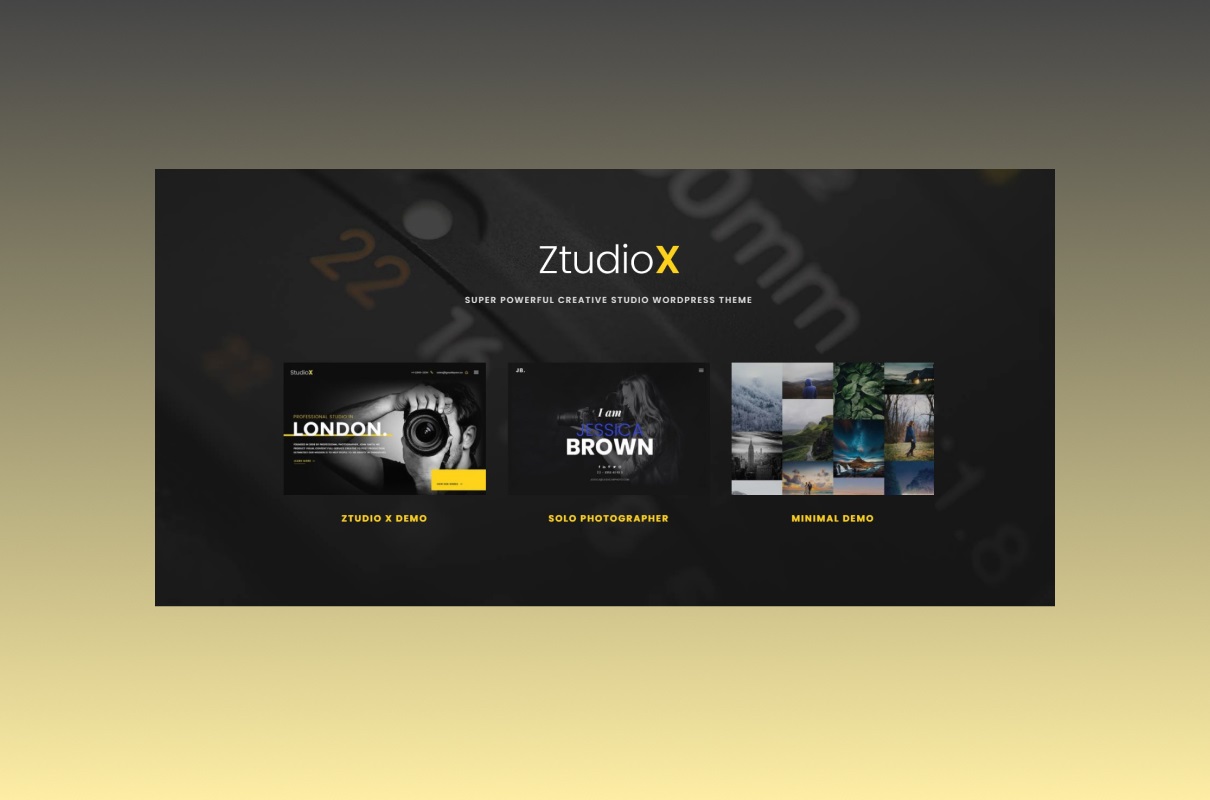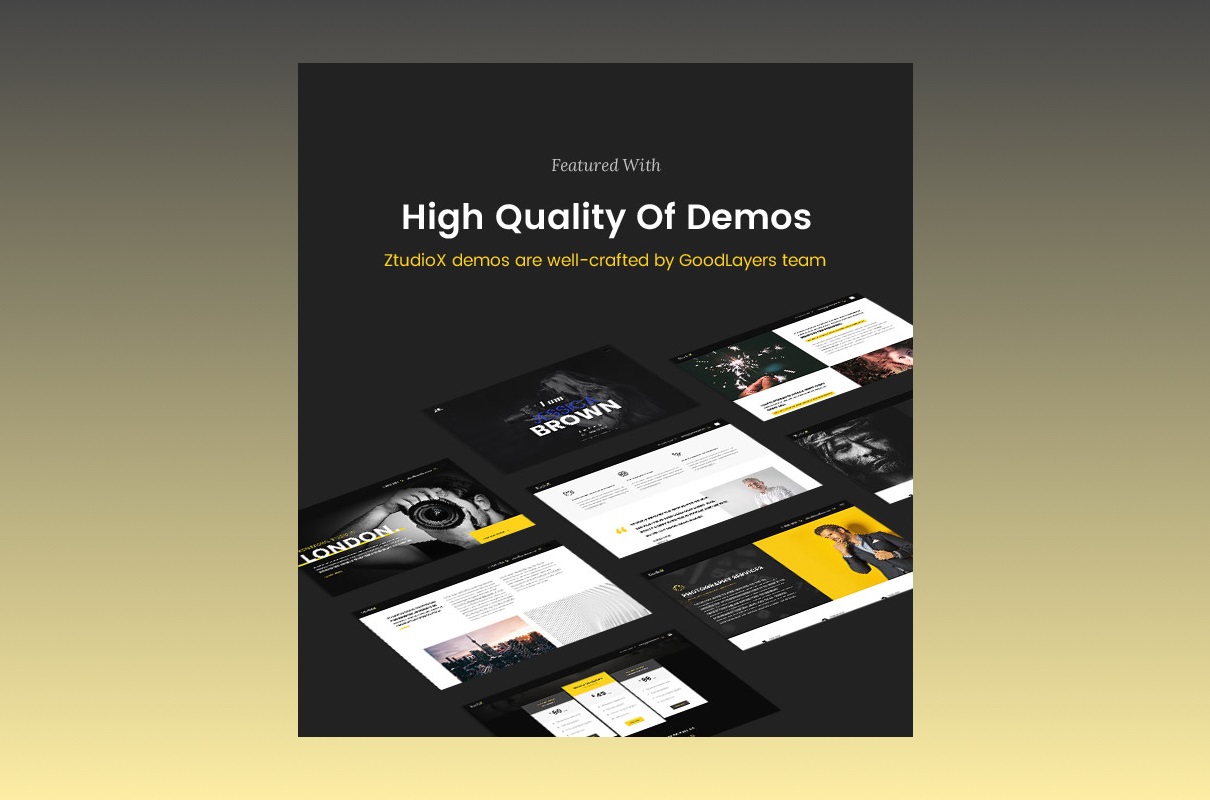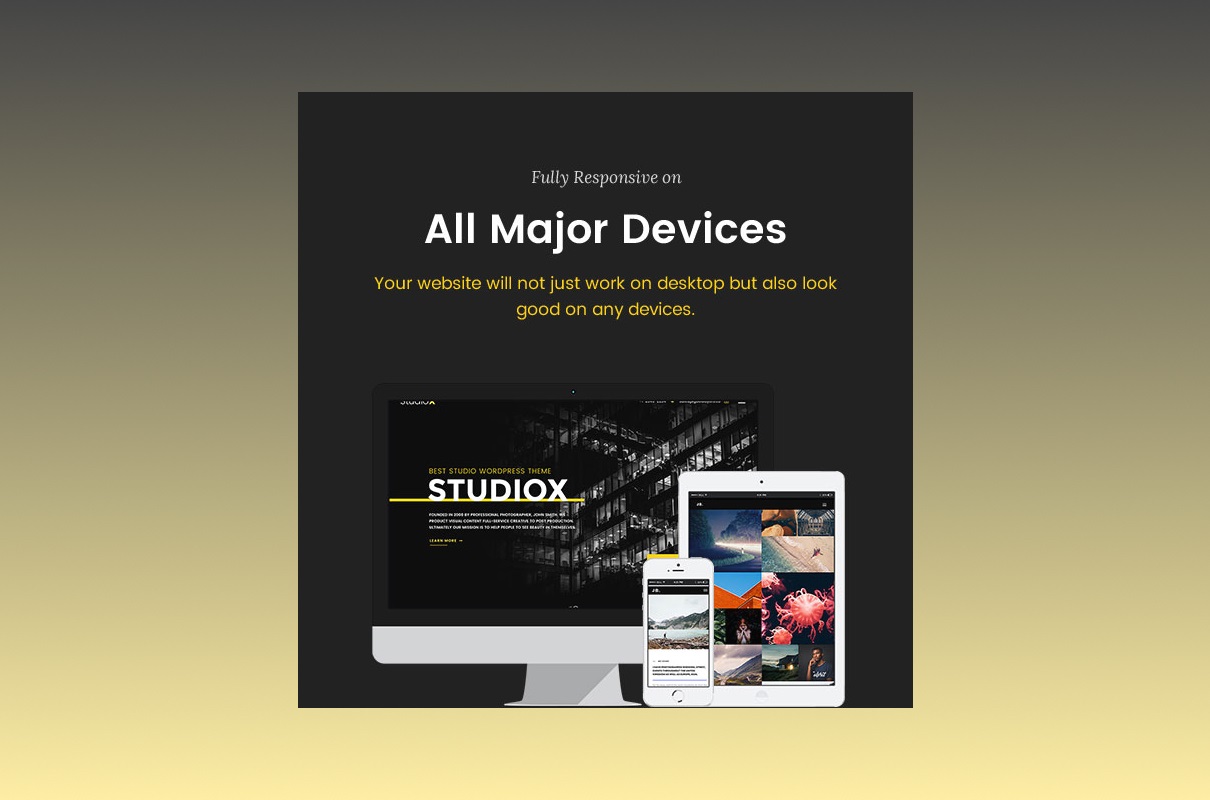 Ztudio X allows creating a professional website, allowing you to reach new heights in the photography business. Whether you're running a Photo studio, Creative agency, Photography agency, Creative Studio, or even making it possible to run the Post Production service.
Moreover, it's also the perfect solution whether you're a photographer or filmmaker and want to build a portfolio site to show off your work. So this theme is suitable for a photographer, producer, or pro film and movie maker, allowing them to boost their visibility and attract new clients by showing their personalities in one place and standing out from the rest of the crowd.
Additionally, this template offers a "Pricing block" feature to list all the services you may offer your customers and specify how much they'll cost. Furthermore, Visitors can effortlessly navigate and enjoy the content on any device, ensuring an optimal user experience.
Design the Visual Part to Your Liking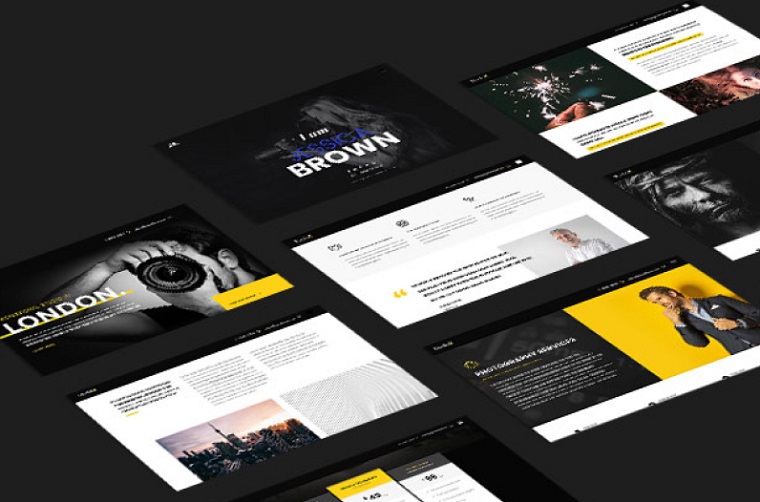 This product offers enhanced personalization options through high-quality pages and versatile tools. It enables you to express your unique vision and elevate the overall look of your site.
It delivers three different types of demos in incredible and minimal designs in black and white colors, which is perfect for studios or solo photographers. Besides that, it comes with many stunning inner pages, delivering incredible variety for many categories, such as Studio Rate, Our Services, Portfolio, Blog, Gallery, and others.
More about quantity: 14 Blog Layouts, 9 Portfolio Layouts, 6 Gallery Layouts, 19 Header Layouts, and 6 Footer Layouts.
With the wider variability, you have more possibilities to design your portfolio or agency in different ways possible. Moreover, this sample has an unlimited color palate that improves the visual part, which is great for creating unique, remarkable, and eye-catchy pages in no minutes.
Powerful Features to Grow Your Business Online
The GoodLayers carefully designed the template with a bunch of features ranging from SEO optimization to a mega menu, which includes different tools to provide various looks and feels. So all these automatically make it flexible and multifunctional.
Spectacular performance
The author also made a big advancement in site performance. It works seamlessly by quickly loading on web browsers. And now, visitors can start interacting and exploring the content in no second. This feature makes the site user-friendly, enabling a more convenient way to browse pages, thereby improving user experience.
Search Engine Optimization
SEO is a powerful and essential tool for organic growth in digital marketing. Thanks to this feature, you will be able to boost your site's ranking in search results, allowing it to be found in search engines such as Google, Yahoo, and Bing.
Here're a few tips on how to make rank higher in search engines:
Add well-designed keywords and tags.
Compose relevant descriptions and headlines according to client intent.
Work seamlessly across multiple devices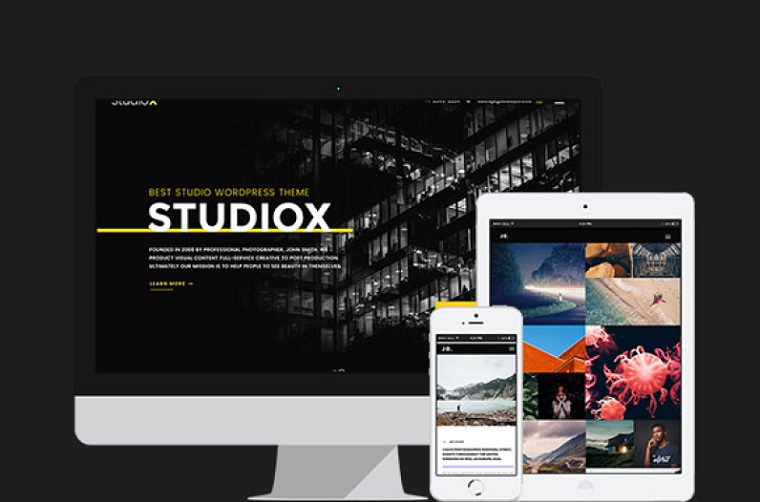 As people access the Internet through an increasing number of devices, smartphones are becoming more and more a part of our daily lives. We can rely on them for any task.
Nowadays, your website must be easy to use and capable of viewing across all screen sizes. So this is the essential feature that makes websites responsive and enables them to automatically re-size and looks fantastic on any of the screens and resolutions — from smartphones and tablets to large 4K displays.
Quick Demo import
It's super easy and convenient to build a beautiful web resource with just a few clicks. You can seamlessly import demo content, turn site creation into an exciting process, and create wherever inspiration strikes.
Powerful Plug-ins. Design It Your Way.
Plug-ins are the most affordable way to improve templates. And WordPress users have been blown away by the vast library with over 50,000 items. Their powerful impact, versatility, and capabilities are used in so many websites in so many different ways. And what's more — it delivers a lot of them for free.
Having plug-ins on your website makes it even more powerful and capable and delivers even more functionality.
Ztudio X WordPress theme already includes a few built-in plug-ins, which are automatically set up and are free to use:
GoodLayers page builder
This powerful page builder remains undeniably the necessary tool for website creation, giving you so much room for personalization and new ways to build it more user-friendly, stunning, and functional.
It delivers many useful features and building tools, providing flexibility in editing layouts so you can personalize the site further. If you want to move anything, it's easy with a "drag-and-drop" feature. All you need to do is hold any element and drag it anywhere in the layout. It has never been easier to get just what you want without coding.
Now, with "Live Editing," you may easily edit an entire section to try out different design styles that automatically change on the site in real-time, allowing you to identify how it looks to visitors and seamlessly redesign it — in seconds until your website lives up to your vision.
WooCommerce
This plug-in delivers a lot of necessary e-commerce features right out of the box for free, so you may add them to your website and make it multifunctional. This platform gives you the ability to track statistics, easily monitor all orders by clients or automate the order fulfillment process, and much more — all in one place.
WooCommerce has a user-friendly interface, so you don't need to be a pro manager to interact with it. In addition, it allows you to get commercial processes done on the go from your smartphone with the supported app.
Revolution Slider
With Revolution Slider, users can now add highly fluid animation and dynamic effects to any content element that they wouldn't think were possible to make by themselves in a matter of minutes.
It comes with over 200 pre-built templates, so everyone may create something unique and astonishing that used to be available only to pros. So you'll be amazed by its powerful tools and capabilities that make it possible to make a product carousel, product slider, dynamic banner, and much more, allowing you to showcase your photos, videos, whatever it is at their absolute best.
Contact Form 7
Want to keep in touch with your clients and get feedback about your work? With this plug-in, it's easily possible for customers to get in touch with you after filing private information, such as name, email, or phone. And they also may leave a message.
In-depth Documentation
The author delivers extensive documentation to gain more insight into using the theme and to really capitalize on the benefits of Ztudio X. After ordering, go to your email address and find the message with the documentation. Tap it and follow the instructions until you are done.
Support
For beginners using the Ztudio X can bring up a lot of questions. After ordering, you're curious about how to use and set it up properly, and the author is always ready to go through the most important questions with you and suggest the best solution to help out. Moreover, with the following to the author profile page, you can simply and securely email by contact form.
Simple Guide How to Use Plug-ins
Ready to use WordPress to customize the template? Here's a quick video tutorial on using and installing plug-ins.
Project Info
Date:

05.24.2023

Client:

GoodLayers

Categories:

WordPress

Tags:

Photo Gallery, Photography