Many job applicants are sure that getting a position in a prestigious company is almost impossible. This stereotype has some truth because HR managers are very demanding and meticulous these days. They carefully review CVs and cover letters, paying attention not only to your skills but also to the design of applications to select the best candidates. In this case, the eye-catching curriculum vitae is your weapon. And no, you don't have to invest in a ready-made example for your brilliant project. Microsoft Word resume templates free come to the rescue.
Using the functionality of the themes, you create a unique personal statement and make a positive impression on the employer with the prospect of getting a position. Furthermore, layouts allow you to demonstrate your ability to present information creatively and stand out from the competition. There is no doubt that these are the qualities that HR managers value in potential employees!
Why are free themes worthy options, and where to find top-notch variants? It's time to clarify these issues!
Why A Compelling Resume Is A Key to Landing A Job?
CV is one of the most effective jobs search tools. You may place it on the Internet in the public domain for all companies or send it individually to the desired organization. In both cases, it should be a brilliant business card project that sets you apart from the flow of people. There are several reasons why a professional personal statement predetermines your career growth.
First of all, the job application contains brief information about your experience, education, and personal character traits. After reviewing this data, the employer immediately evaluates your worth in a particular company. What's more, the curriculum vitae offers to showcase your writing and language skills. Remember that literacy and the ability to structure a document play an important role in employment.
In addition to knowledge and level of education, a personal statement shows your creativity. As you know, modern HR managers hunt for unique candidates with eye-catching CVs. Therefore, design, typography, headings, and images are something to work on to win commitment. Great news – you may also choose a ready-made solution! Refer to the collection of Microsoft Word resume templates free, and be sure of excellent results!
In short, a catchy introduction plays a primary role and helps to form the first impression of you. Discard laziness and doubts to spend a few hours preparing it to secure a decent future for yourself!
Microsoft Word Resume Templates Free: Features & Characteristics
The main task of the resume is to draw attention to your candidacy and show your skills in the best light. What applicants do not resort to in order to achieve this goal and make a CV at the highest level! You needn't reinvent the wheel using Microsoft Word resume templates free.
Layouts are developed by experienced authors and have all the tools to build a unique project. Even though the solutions are without charge, they provide powerful functionality and fast work. They combine catchy elements, visually clear structure, clean typography, and a good choice of shades. All these particles increase the text's readability and allow you to emphasize certain information.
A very important detail is that the themes are easy to use and fully customizable. Thus, using Microsoft Word, you edit the product inside and out. Images, headings, fonts, shades – you change everything to bring your ideas to life. Thus, without overpaying, you receive the perfect basis for your project and the real key to a successful career.
Check out the main features of Microsoft Word resume templates free and see their value:
Trendy design
The look of your personal statement will be amazing with the themes, as they are developed with the latest trends in mind.
Contemporary icons
Visualize text and make it memorable by adding graphic elements.
Web fonts
Clean typography is essential for CV readability. Choose suitable fonts for headings and body text to create a cohesive picture.
Color palette
Changing the shades is not a problem because all kinds of shades are at your disposal.
Microsoft Word compatible
You needn't download any additional software to work with layouts.
Ready to print
If you need to submit a curriculum vitae on paper, stay calm. The collection layouts accept this challenge. They have high-quality graphics and are ready to print.
Guidelines included
It is not a problem if you are new to IT and working with documents for the first time. Create an amazing document without the hassle with reliable tips.
Successful Job Application with Microsoft Word Resume Templates Free
Do you know that employers spend an average of 1-2 minutes reading a resume? At the same time, the first impression is formed in just 10 seconds. It means you haven't much time to interest the manager and win a job interview. Therefore, your curriculum vitae should be catchy from the very beginning. What other secrets are there to preparing a successful introduction?
When compiling a successful personal statement, you need to try your best to be out of the competition. A great trick to building a successful resource is to be guided by sales rules. Imagine that a CV is a product you need to present impressively to hook the buyer and get him to buy it. It makes sense because the HR manager, as the buyer, chooses worthy employees based on the content and appearance. Therefore, include only your positive qualities in your project and prove your worth as a specialist.
In addition, there are several secrets and rules for preparing an excellent resource.
Structure the material
Present the material logically and consistently so that no confusion arises. Moreover, a successful document should be easy to navigate and easy to navigate. Microsoft Word resume templates free fully ensure the fulfillment of this point and allow you to present the data attractively.
Brevity
Concentrate on those points that interest a particular company, without long and useless texts.
Objectivity
Feel free to highlight your accomplishments and strengths, but don't sugarcoat the information. Also, talk about specific victories by expressing them in numbers and statistics to interest the employer.
Show off jobs and company names
Rest assured, popular company names are what an HR manager looks for in a CV in the first place. Talk about your experience because it may be decisive.
Use short but precise statements that characterize you as a professional
Remember that every phrase in the job application should increase the desire to invite you for an interview and hire you.
How to Choose the Perfect Microsoft Word Free CV Theme?
If you are convinced of the need for a quality curriculum vitae and want to create an amazing project with Microsoft Word resume templates free, then choosing a layout is a very important step. Users devote enough time to this stage since their career depends on it. A top-notch CV theme allows you to attractively place information, emphasize the most important points and add visual elements to grab attention. In addition, a quality mockup offers ease of use, full editability, and compatibility with popular programs.
To choose the appropriate variant, use a few tips:
Decide on a marketplace for buying an IT solution. Remember that the resource must be reliable and have positive customer reviews. One of these is TempleMonster. The company has an excellent reputation and a wide range of goods. Click here and choose the greatest option for you.
Visualize the design. Think about what colors your project should be in and its structure. Then find a similar one and make it even better.
Check the compatibility of the layout with the program in which you work.
Read the description and reviews carefully. It helps you evaluate the project and be confident in your decision. By the way, stay calm if the selected option has not met all your expectations and requirements. Understand the disadvantages and choose a better solution.
A Top-notch Collection of Microsoft Word Resume Templates Free
There are many ready-made options for your CV or cover letter on the Internet. In addition to premium products, you find plenty of complimentary themes. They have an equally attractive look and powerful functionality, so it is the greatest solution for those who dislike big investments. The TemplateMonster collection brings to your attention cool layouts for the perfect personal statement. However, there are so many products on the market that even customers with clear preferences get confused and cannot choose the right one.
If you are one of those, then this selection is for you. Check out the top 10 layouts and make the right choice without wasting time.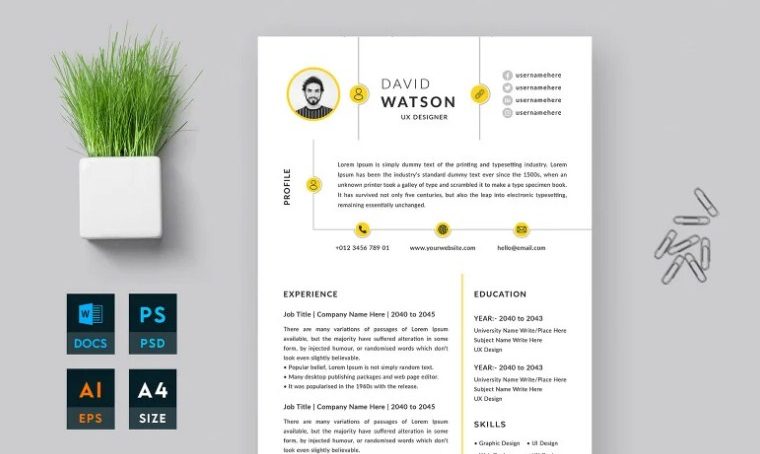 If you are still looking for a resume highlighting your uniqueness, then you are in the right place! This theme has a minimalist design, impressive icons, shapes, and well-chosen typography. It has a convenient structure and, therefore, visually understandable navigation. It means you place data about work experience, education, and ways of contacting you in a harmonious and readable way. In addition, the resource is fully customizable, so you easily edit tones, headings, and fonts to achieve the perfect result. Standard A4 size and high-quality graphics ensure print readiness. Try it and see for yourself!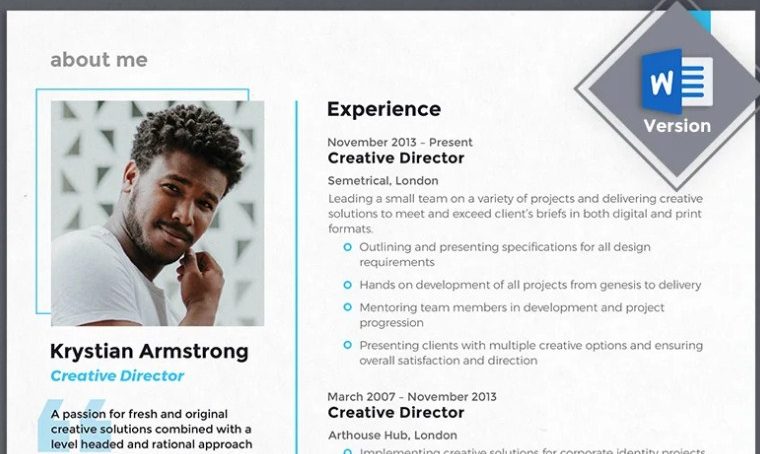 Would you like mockups for a CV, a motivation letter, and a business card in one set? Then this option is an excellent solution for you. The product allows you to create all the necessary documents for successful employment without wasting time. Using the layout, you add information about previous posts, skills, knowledge of languages ​​, and even your hobbies! Unique icons complement the text material and visualize the most important points, making them memorable. The colors and fonts are perfectly matched and complete the project eye-catching. However, thanks to easy editing, you add your thoughts and change these elements to your liking. Rest assured, the delight of the employer is guaranteed!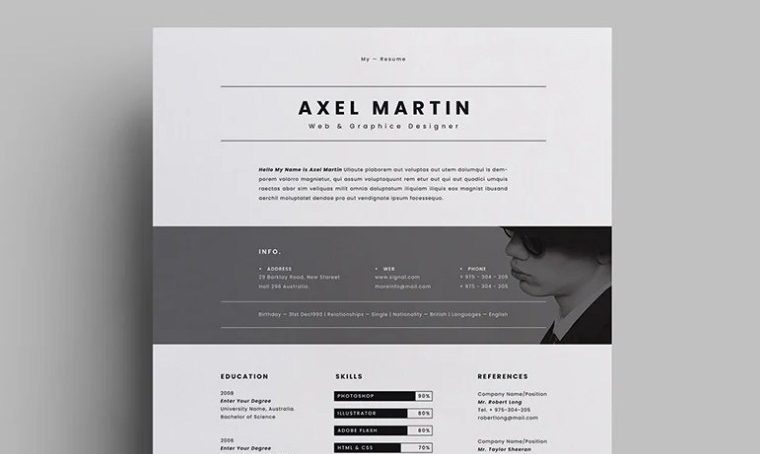 To your attention is an excellent solution for a web designer. The layout is developed with the latest trends in mind and helps to emphasize your advantages as a specialist. A smart black and white palette lend a business-like touch to a curriculum vitae. However, it is wrong that such colors are boring. Attractive typography, modularity, and unusual structure give uniqueness to CV.
Furthermore, the placement of the image and its shape attract attention and impress the employer. Modern icons complete the picture and enliven the text material. Unleash your potential and land the job you want with this Microsoft Word resume template free.
How about a catchy curriculum vitae with a great structure and logo? The presented layout provides all the tools to create it! Design with various shapes, modern fonts, and space for different information is at your disposal. The product allows you to familiarize the employer with your skills, work experience, and even goals and ambitions. There is a block for contact details and modern thematic icons to focus on this. Editing is done using Microsoft Office without any additional programs. Print-ready is also provided so that you can submit paper documents. Discard doubts and try it right now!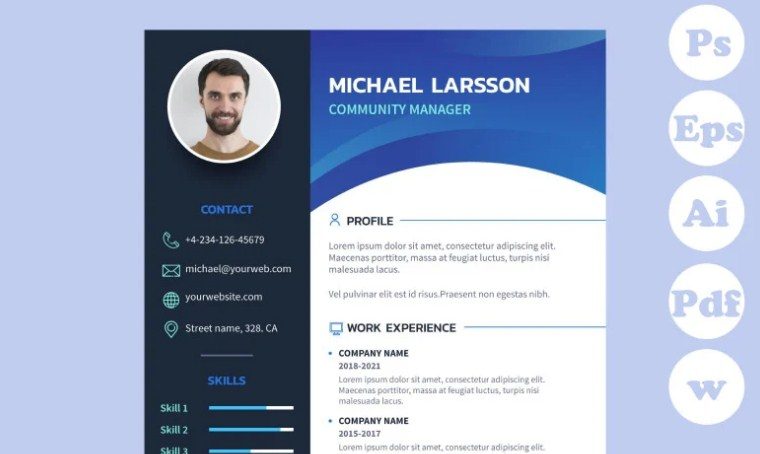 Are you a talented professional looking for an effective way to express yourself? With this layout, your job application is doomed to success. The main components of this product are a successful combination of cues, visually understandable placement of information blocks, and high-quality graphic elements. All this helps to hook the employer and take a worthy position in the company. In addition, the theme is easily changeable, so adding a twist is not a problem. A color picker, fonts, and modern icons are also included. Arm yourself with these tools and start your journey to success.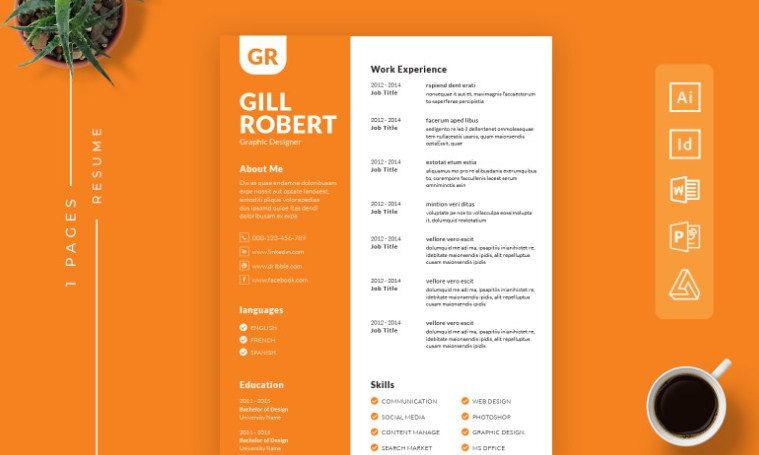 If you still think minimalism can't be bright, this layout completely dispels this stereotype. It is an amazing option for creative people who want to prove their uniqueness and value. It allows you to place all the necessary data from personal characteristics of intentions to work experience in chronological order. And one more piece of good news, the theme is well structured, so the information does not look chaotic and does not clutter up the page. Among the tools at your disposal are A4 size, print-ready, and a cool selection of fonts. Take your chance to build a career and create a perfect application.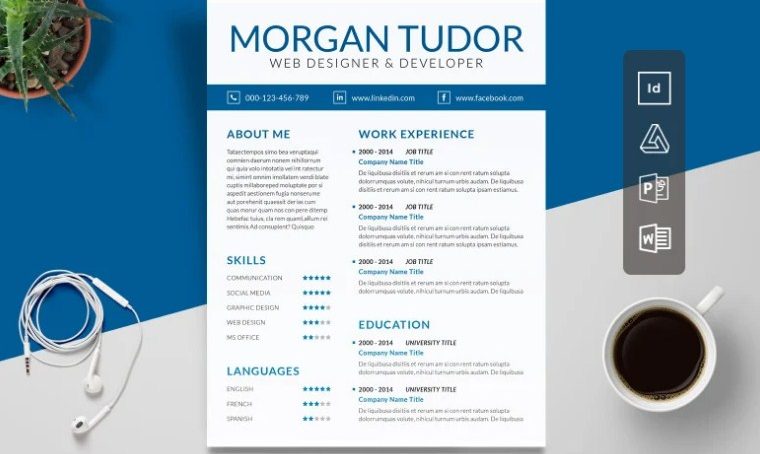 Here is a brilliant set of CV and cover letter templates. You receive an attractive look and the ability to harmoniously place information and visualize it with the help of icons. In addition, there is an impressive selection of web fonts to ensure clean typography and high readability. Full editability, ease of use, and support files are also included. Another cool thing is that the file is print-ready, so submitting paper documents is no problem. And all it is for nothing! Don't hesitate and start moving towards your dream at zero cost.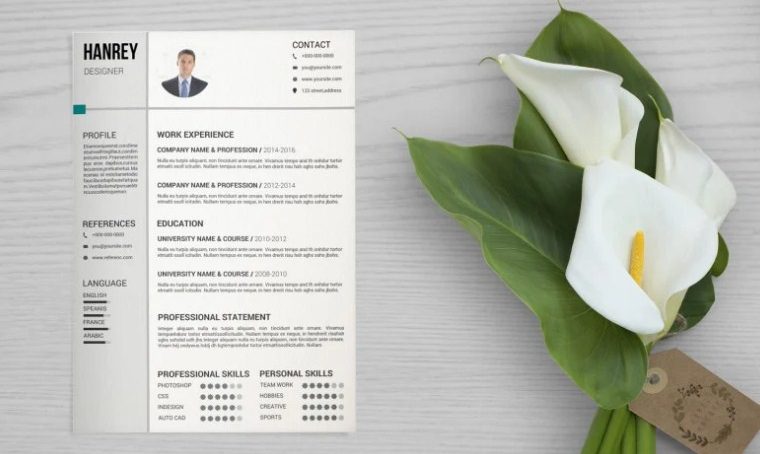 Are you still wondering how to fit all the necessary material on one sheet? Microsoft Word resume templates free are experts in this field. In particular, the proposed layout. It offers all the features for successful employment, such as clean typography, winning color combinations, and modern icons. In addition, all the necessary blocks to tell about yourself in the ideal light, from personal and professional skills to contact details. IT knowledge and experience in web design are not required to edit the theme. Download and see for yourself!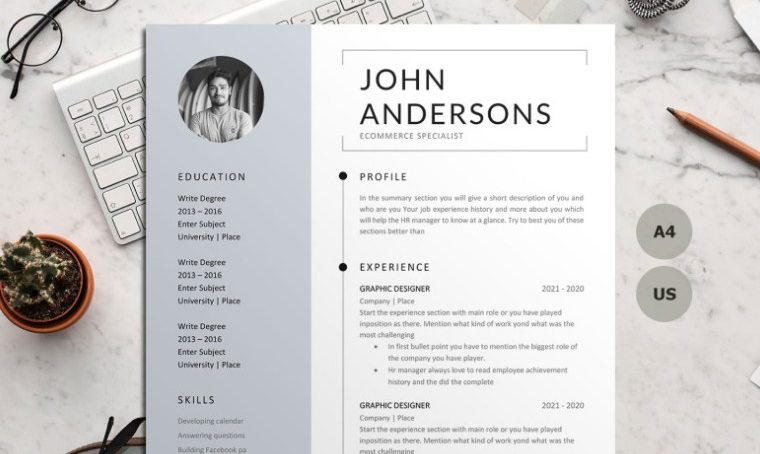 Minimalism is unique and catchy. This layout proves that claim. Despite the black and white shades and few elements, the papers look great, thanks to the various shapes and fonts. In addition, you have plenty of thematic icons at your disposal for visualizing text content. Clean typography ensures the document's readability, so the HR manager will immediately pay attention to the right material. The pages are A4, so there are no problems when printing. A cover letter is also included in the kit, so easy job placement is guaranteed!
Free Variants VS Premium One
The Microsoft Word resume template free collection provides brilliant options for your project. They have a unique look and wide functionality and provide high performance. It is an ideal option if you want to start a career without investment and succeed. However, more demanding customers may complain about the limited range of complementary solutions. Then premium resume themes come to the rescue. They have an affordable price and many more design options for various programs. Be sure that even the most demanding user finds what he needs in this collection. Both versions are unique and rich in features, so choose the appropriate option based on your preferences and goals.
Conclusions
In conclusion, because there is very high competition between qualified specialists in the labor market, you need to stand out from the crowd to gain attention. A catchy curriculum vitae is an excellent tool and assistant in this matter. Therefore, creating a CV is a responsible step that requires due attention and time. It makes up the first impression of a potential employee and is often the deciding factor in hiring. To receive a decent project, you need to consider many points, including design rules, unique content, and design.
The Microsoft Word resume template free is the perfect solution to avoid spending hours developing a personal statement from scratch. They have an excellent appearance and meet all the latest trends. Great variety, wide functionality, and no investment! Sounds like an ideal start to a successful career. Evaluate the pros and cons of layouts and start the path to your dream right now!
Portfolio on The Internet – The Path to Your Own Business
If you decide to take your career to the next level and start your own business, then an attractive portfolio on the Internet is what you need. A personal website is the most effective solution to make yourself known to a wide audience and tell about your skills. By the way, here you may attach your resume for employment and order your services.
TemplateMonster's YouTube channel has collected the best examples of web portfolio pages that inspire you to create your masterpiece. Follow the link and get new ideas to advance your career!
Microsoft Word Resume Templates Free FAQ
Can I edit Microsoft Word resume templates free with Google Docs?
Yes. Themes adapt to the functionality of Google Docs, so you easily edit the file. All changes will be automatically saved in Microsoft Office format.
Is it possible to download several without charge CV layouts at once?
Of course. TemplateMonster allows you to download at least all products for your projects.
Will I receive a set of fonts with personal statement themes, or will I have to pay extra?
Yes. The author provides a download link for fonts, so you change them at no additional cost.
What do I need to get Microsoft Word resume templates free?
To download a theme for free, you need to share it on social networks. Then the download link will be active, and the download is available.