At least a couple of times in life, each person faces the need to search for a job. Of course, every seeker wants to take a desired seat in the company in a highly paid position. What is the first move they make to appear before HR in a positive light and have a chance to be invited to an interview to get the job of a dream? Undoubtedly, they create a resume. If you are looking for employment, selecting Microsoft Word resume templates will be the best decision. These products have a wide range of advantages, after studying which you will ensure this purchase is worth it.
This article will tell you more about the offers and how to benefit from them. You will also see a great collection of the top products of the TemplateMonster marketplace as it provides a wide selection of high-quality assets. By learning tips on choosing and filling them, you will feel like a person who makes the right choice in favor of creating an eye-catching CV. And it will be true. So, let's get it started!
What Are Microsoft Word Resume Templates
The black-and-white CV written in the usual Times New Roman font will not help you stand out from other candidates regardless of your industry. Today creativeness and uniqueness are welcome. If you think that creating an outstanding application requires special design software, it is not like that. You can make it in good old Microsoft Word, develop your brand, and share your experience and career goals. Due to ready-made templates, you can introduce yourself from the right side and don't waste much time on it.
The design provides a unique combination of places for your photo and text, attractively decorated with fonts and other visual elements. Thus, you don't need to create an application from scratch because it is enough to fill the pre-made layouts with your information. With them, you may focus on getting the job and not worry about what font will suit you better. So, it is time to learn about features that come with the themes and how you will benefit from them.
Top Features of Microsoft Word Resume Themes for Impressive Self-Presentation
Ready layouts represent well-organized blocks for placing your content. However, a modern and impressive visual appearance is not the only advantage you get with them. Various features make people purchase pre-made themes instead of creating everything from scratch.
Main Advantages
Trendy and clear design. Too complex styles may confuse and distract from the essential that will cause the opposite impression rather and may compromise your professionalism. That is why the templates come with a minimalistic and neat visual appearance.
Print-ready. Although digital resumes today are more popular and required, sometimes you may need a physical copy of your CV. If HR asks for it, it will not be a problem because the TemplateMonster marketplace offers assets optimized for printing with an A4 format.
2 in 1 – layout for CV and cover letter. Some companies require candidates applying for a high position with a well-paid salary to write their vision for a few questions. It may be any question starting from your plans for the future to the goals you set for a new post. In such a situation, the 2-in-1 feature will be handy because the cover letter and CV are made in a uniform design style and color scheme that creates a complete presentation.
Free Google fonts. Nothing better decorating your document than original fonts. They add individuality and uniqueness to your project that will help to stand out from other candidates for the same vacancy. And you don't need to pay to get such a result because most assets come with a free pack of fonts to improve your design.
Cool graphics. You can add uniqueness with amazing graphics embedded in the themes. Besides, resizable icons are included, so you easily edit them to make your page's appearance more interesting and engaging.
24/7 support. Most of the ready digital products come with round-the-clock support. So, if you want to clarify details of the layouts or ask questions about their editing, you are free to contact the support team instead of searching for the answers yourself.
Main Reasons to Purchase Microsoft Word Resume Templates
Today CV plays a huge role and serves as your face in the labor market and professional world. The first acquaintance with a candidate occurs through the electronic variant study. If the described experience, skills, and vision presented on the pages fit the company ideology, the person will be invited for the next step of familiarity for an interview. The final purpose is to get a highly paid and status job. And for such a result, you have to fight because sometimes the number willing to a certain position may be in the tens. So, the importance of a high-quality, impressive, and professional-looking CV is clear. And it is the first reason to purchase a premade theme for creating such a great self-presentation.
The second one is an affordable price which is about 15$. It will not bankrupt you but would be a significant input into your first impression before HR and a positive reputation.
The third reason to purchase the theme is the modern and stylish visual appearance and graphics. Of course, some developments users can get for free, but getting a truly cool and impressive project is possible using premium themes.
The last main reason to consider buying a ready layout is the ease of use. The interface is simple to understand and intuitive. Besides, many developers attach instructions for using, so you will have hints on how to employ tools and take the maximum from the embedded opportunities.
So, there is no doubt about buying finished designs because their benefits are obvious. Let's get down to where to find the most suitable assets and how to select the best option.
Where to Find the Best Microsoft Word Resume Templates
Consider visiting TemplateMonster, the marketplace with many years of experience and numerous clients worldwide. It provides innumerable solutions with affordable prices to any taste and need, so everybody will find a perfect instrument for achieving the objective. Besides, the marketplace regularly makes discounts for unique and well-designed assets to delight customers. And you can be sure that all products are updated to the latest trends in the digital world because developers monitor them carefully to provide you with the best options. So, you can choose among various offers from different creators, but their common is high quality, without a doubt.
Collection 2022 of The Top Microsoft Word Resume Templates
View this collection of designs to get inspired and ensure they have nothing in common with those regular resumes that HR is so bored with. You will notice their well-placed blocks for your personal information and the diversity of element combinations that create a one-of-a-kind visual appearance.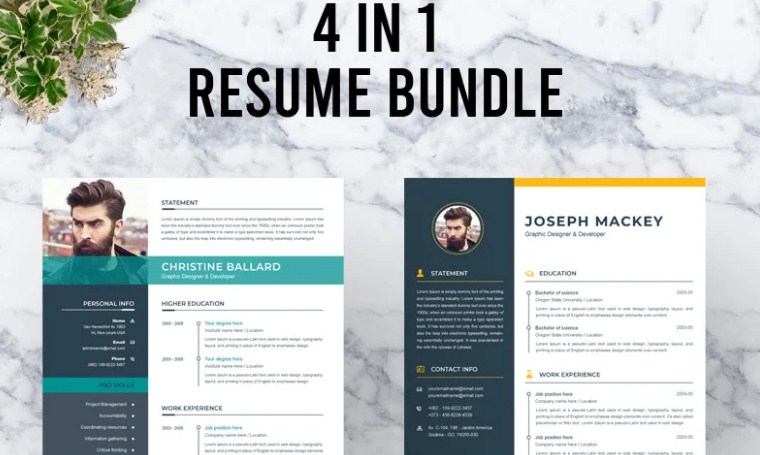 The modern layout is professionally organized so that the project will be noticed regardless of the number of applications. It is easy to edit and adapt to any purpose and opportunity. Compatibility with such famous graphic editors as Illustrator and Photoshop will be a boon for those who know how to work in them. And stylish visual appearance can emphasize the candidate's best and help prove the professionalism of the potential staff member.
This solution is one of the top bestsellers in the marketplace. Due to a clean and high-class design, the project grabs HR's attention at first glance. Then he starts reading information about the seeker presented in a well-structured and attractive form. Everything looks elegant and professional, which will fit any profession. Besides, the asset includes the next features:
A4 paper size : (210mmx297mm);
US letter size : (8.5inx11in);
2 in 1 (resume and cover letter);
fully layered theme;
100% print ready files;
easily editable and customizable.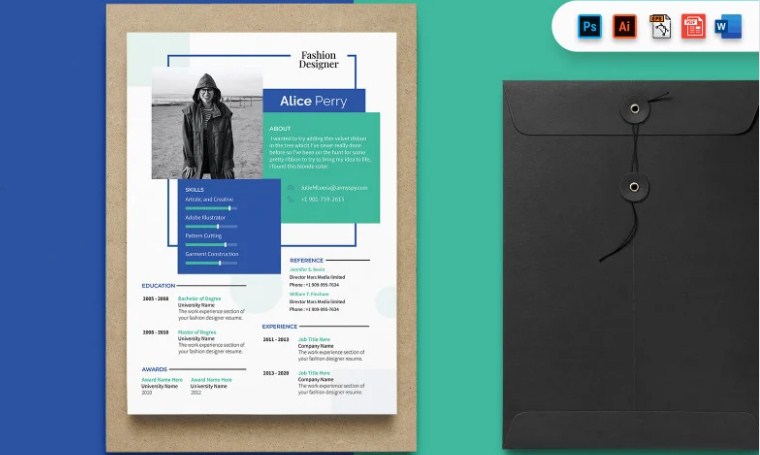 Choose this asset to stand out amongst the competition and introduce yourself. The creative content placement allows any specialist searching for a job to be unique and memorable. Stunning graphics make a hiring manager not take his eyes off of your file and put your candidature a priority for the position. And as the layout is fully editable, its changing will not take much time or effort, even from a person who doesn't know about graphic editors.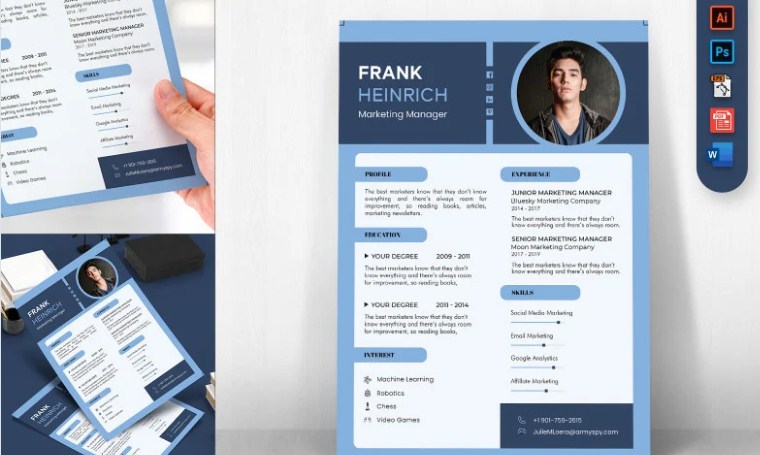 Meet one more amazing theme that conquers from the first view. A great combination of different shades of the blue helps to highlight the essentials and make a complete picture of the personality, including age, education, experience, skills, contact information, etc. Fonts also add uniqueness to this file, so find the link to their use in the download package. And you can ensure the editing process will be simple and quick as all solutions in the collection are easily editable.
The CV of the model, actress, or other professions where appearance plays a huge role will significantly differ from that of the sales manager or a lawyer. That is why TemplateMonster's developers made a category with products for creative people to let actors present themselves from the right side before the audition. An exquisite design contains places for photos full length and portraits and text information like the filmography, acting skills, performances, etc. Everyone can easily place these details on early-prepared layouts and send an outstanding CV to the desired place.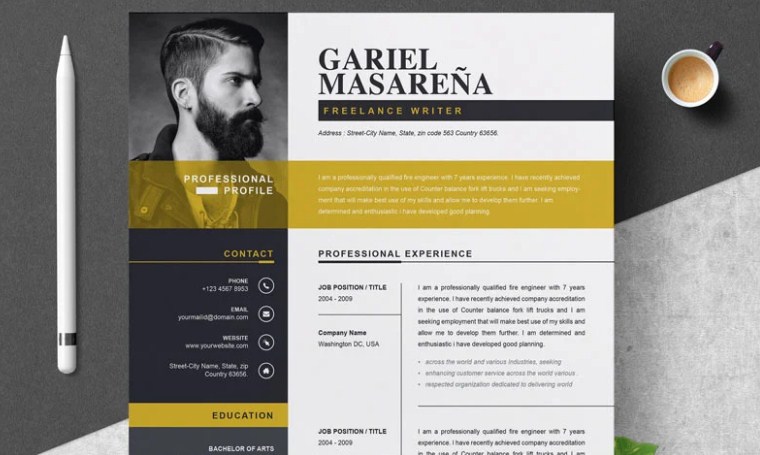 One more modern bestseller is Gariel Masarena, which is made in color combinations of gray and yellow. It has a fantastic well-designed structure where a specialist places the main information about the university, courses, companies he has worked with before, and contacts. The employer will appreciate an easy-to-understand and elegant document. Besides, this product also contains an accompanying letter with the same design style that makes a candidate's self-presentation look professional and complete.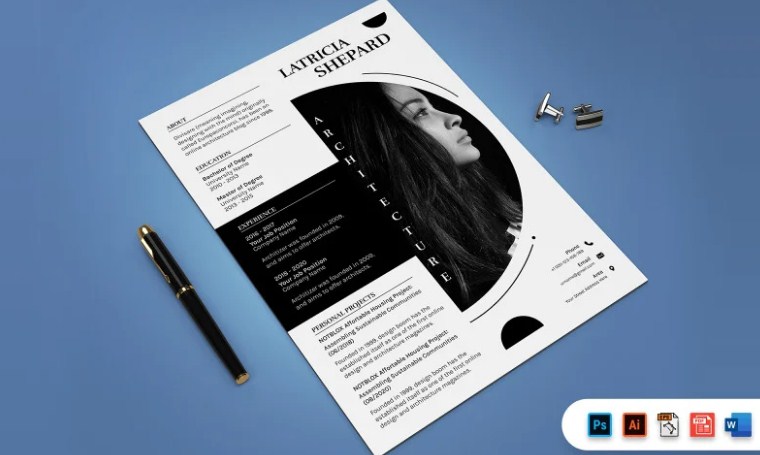 The stylish visual look of this product impresses and proves that the candidate has fantastic taste and fashion sense. It should be reflected in the CV of various professions, especially creative ones like fashion designers, architects, interior or exterior designers, etc. That is why selecting this file guarantees a resume to be outstanding and memorable. Check out its features:
WORD, PSD, AI, EPS, and PDF files for different graphic editors of your choice;
fully editable;
A4 size (8.27×11.69);
300 DPI;
well-organized and vector layers;
the link for using fonts and images is in the download package.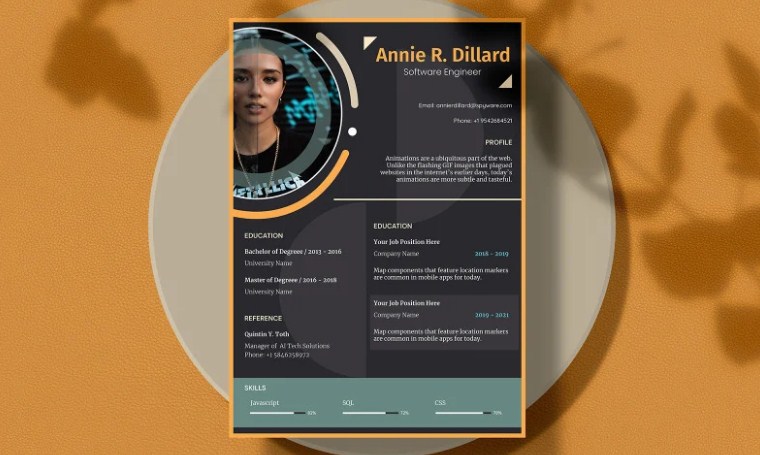 No hiring manager has seen such a stunning application to a software engineer or related position. Every design element plays on the candidate's hand, presenting his experience and skills from the right side that will prove his professionalism and serious intentions. With this product, your personality will never go unnoticed! So, pick this solution, edit it easily and get the post in your dream company.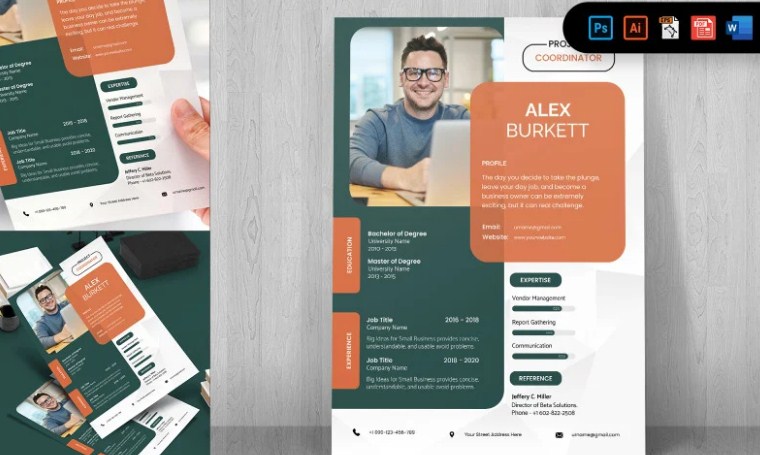 Positive color accents and pleasant element composition of this novelty attract rapidly. It fits male and female professions, emphasizing the seeker's advantages with color and font. And don't think that colorful shades on the layout instead of gray ones will not suit strict professions. Office workers, project coordinators, accountants, programmers, and other representatives can benefit from this theme. So, purchase it and get an invitation to an interview with the help of an amazing project!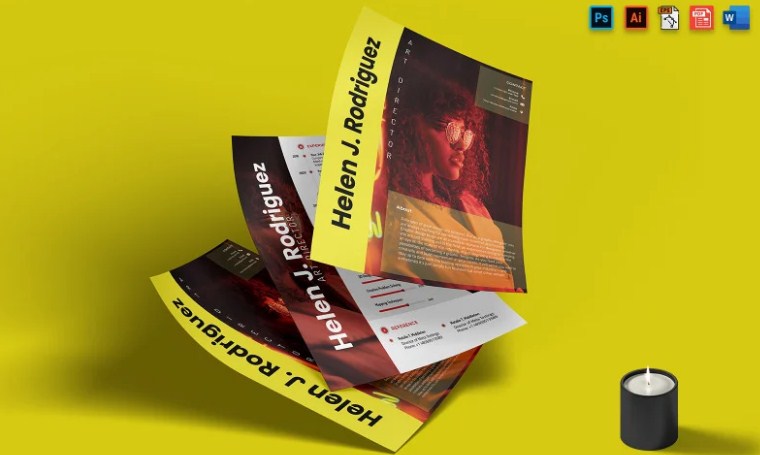 It is one more great solution in its execution. The left vertical panel where a seeker writes his name in big letters will catch an employer's attention and showcases his creative approach to the work. Unusual content placement makes a good impression due to its uniqueness and will stand this file out from others. It perfectly suits creative professions such as artists, actors, photographers, designers, architects, etc. So, purchase this solution and use your flight of fancy to get the desired job.
How to Choose Your Perfect Match
As you can see, the collection offers various solutions for any position, whether a lawyer, software engineer, art director, web analyst, or any other. Based on a well-designed template, the project attracts the employer's attention and helps you stand out from other candidates. But how to choose the perfect one among this stunning variety?
Firstly, check out what activity areas the TemplateMonster's themes cover:
business and services;
fashion and beauty;
sports, outdoors, and travel;
design and photography;
food and restaurant;
education and books;
home and family;
society and people;
computers and Internet;
real estate;
entertainment, games, and nightlife;
art and culture.
Besides, each category is divided into more specific activity areas. Developers made all layouts of a certain type suitable for the particular job specifics, so you get a perfect design.
Secondly, refer to the product filter on the marketplace to narrow the search and see the most relevant assets:
Choose the desired color scheme. Certain tones and shades can influence an employer's mood while he gets acquainted with your CV.
Study the rating. If you can't select between several proposals, use this parameter to see what products have more customer reviews. However, consider that amazing novelty may have no review because no customer has bought it yet.
Bestseller or new item. Everyone who wants to pick the item from previous clients' experiences should sort by a bestseller category. This button you will see at the upper part of the list. Meantime, if you want to be one of the first buyers of a cool novelty, select the Newest product category to see the latest works from designers.
Few Tips to Create A Successful CV
When people see the desired vacancy, they usually do everything they can to send an application as quickly as possible. However, quickly does not mean successfully. There is no need to be among the first to send a CV if it is concocted for a quick hand. Spending a few more hours is better to create the page that will make the right impression on the hiring manager and not go to the stack of unexciting letters. So, how to catch HR's eye and encourage him to invite you for an interview? Check out the main tips for emphasizing your personality and experience from the best side.
What to write and what to avoid in your resume
Keep no more two pages. There is no need to send an employer your entire life story. Your CV should have information concise and to the point without long sentences or paragraphs.
Right on target. Don't try to save time by sending the same file to many companies; the better will not be. Research the company and what skills the employer expects you have. Change your file for each role you apply for, and your effort will be appreciated.
Add only facts. Lying on a CV to look more fittable to the vacancy may be the end of your career in this company before it starts. The lie will come out anyway, which can happen during the interview or on the first working couple days.
Write related education. Apart from noting the higher education, write details about what additional courses you finished or refreshed training attended.
Keep it current. Always up-to-date your file whether you are seeking a job or not.
Check out errors. Even if you are sure of your writing skills, use a spellchecker or ask someone to recheck your text part because mistakes can lower the employer's interest in your candidacy.
Maths is a good idea. If you back up your achievements with numbers, it will play on your hand because they add specificity and make your self-presentation more convincing.
Make it look impressive. As was mentioned before, standard CVs are boring, and you should catch the hiring manager's eyes.
Add keywords. If you input your job title, open the Internet to search what words are commonly mentioned. Add them to your project to help a search engine to stand your CV from others (a must-have if you upload it to a job site).
Wrapping Up
Considering the full information you learned about ready-made layouts, you can ensure that using one of them for creating a CV is the best decision to make. This process will be simple, and the result will be outstanding. You get everything you need for a successful self-presentation and taking a cherished position in the company of your dream. So, don't delay to visit TemplateMonster, choose the most suitable theme, and start making an impressive resume!
Frequently Asked Questions
How to pick the best Microsoft Word resume templates?
This question appears first when a person decides to use a pre-made template. The TemplateMonster collection provides numerous ready options, so the first step is to determine the desired look, whether you want an impressive and vivid version or the opposite, more calm, minimalistic one. The second one is to use the sidebar to mark the criteria you wish, like color and price. After seeing the most relevant items, pick the one that fits your taste and requirements, read the attached description and make an order.
May I edit Microsoft Word resume templates without any skills?
Editing these assets is a simple process even if you have never done it before, so don't worry. They are easy to use and adapted for users without experience, so you can easily figure out how to work with the asset and change its elements.
Can I purchase several Microsoft Word resume templates for different projects?
If you need to create multiple projects with various assets, your best option will be MonsterONE. This service gives access to many products in the collection. By signing up for a subscription, you download as many templates as you want unlimitedly, paying only one monthly fee. It saves your money significantly and lets you create one-of-a-kind works.
How to edit Microsoft Word resume templates?
Most of the themes come with detailed instructions. These documents contain step-by-step manuals for effortless and great work. You can also read the description before purchasing or contact the support team to clarify some details.